<![endif]-->
Wilhelmina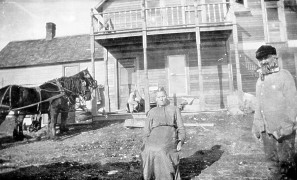 Christian Jr
Children of Christian & Wilhelmina (Wohlert) Kusel
Note: My priority is to get pictures of Christian Jr & Wilhelmina's children
and also official documentation.
Preferably wedding pictures or family pictures & birth/death certificates!
Any other pictures you choose to send is fine. The only pictures you send me that I (may) add to this web site will be of Wilhelm's children so you don't have to worry about any pictures you send me of the younger generations being displayed on the Internet.
Any pictures of living/younger generations that would be shown will be by specific request from me and approved by you.
If you can have a neighbor or business scan your pictures into a computer please have them scan the pictures at 300 dpi & at least 12 inches at the widest point (whether it's vertical or horizontal) and save them in JPG format.
If you have duplicates made please send them but if you only have one picture and can't get it duplicated please don't send the original by mail. We don't want to take the chance that it may get lost.
---
Rosa Friedrichsen

family information and pictures requested

Herman Friedrichsen

- mostly complete

Clara Wiese

- mostly complete

William Friedrichsen

- mostly complete

Helena David

- mostly complete

Julia Borkowski

- mostly complete

Flora Polzien

- mostly complete

Edward Friedrichsen

- mostly complete

Emil Friedrichsen

- mostly complete
---
Charles Kusel

information and pictures requested

Never married
---
Henry Kusel

family information and pictures requested

Roy Kusel -

died in infancy

Louis Kusel

- mostly complete

Grace Rhodes

- mostly complete

Lola Florer

- mostly complete

Irene Brockman

- mostly complete
---
Matilda Wulf

family information and pictures requested

Christian Wulf

- mostly complete

Laura Wulf -

Looking for a contact for this family

Edna Peters -

mostly complete
---
Lena Carlson

family information and pictures requested

Ralph Carlson -

mostly complete

Clarence Carlson -

mostly complete

Leonard Carlson -

mostly complete

Esther Henslee -

mostly complete

Alvin Carlson -

mostly complete
---
Anna Martens

family information and pictures requested

Lillian Marken -

incomplete

Edward Martens -

incomplete
---
Edith Adams

family information and pictures requested

Amelia Schole -

incomplete

Florence Brunken -

mostly complete

Harvey Adams -

mostly complete