Identifying and Preserving Manning area Citizen history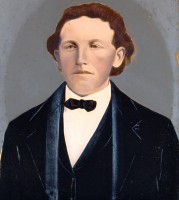 Joachim Mundt -- grandfather of the late Bernice (Mundt) Spiese.
---
Over the last 8 years people have contacted me by e-mail looking for help with identifying family pictures they have from the Manning, Iowa area.
Most of the time the photos are in a frame labeled Lyden Studio, Manning, Iowa.
Unfortunately their relatives who could identify the pictures are deceased.
For those of you who are trying to get pictures of Manning area people/places identified and finding more information about those photos please e-mail me and I'll post your scanned pictures for you on this web page.
---
Helping people identify their pictures.

We need help identifying 3 Kleespies pictures
https://www.davidkusel.com/manning1/preserve/kleespies.htm
Added August 30, 2003.

Swearingen descendants need help identifying 3 pictures (Wonderleigh or Wunderlich)
https://www.davidkusel.com/manning1/preserve/wonderleigh.htm
Added August 22, 2003.

Glenda (Hinze) Begnoche was asking for help in identifying 4 children (now identified)
There was Hinz & Hinze confusion.
https://www.davidkusel.com/manning1/preserve/hinz.htm

Alice Burley looking for information on Langbehn & Jochimes names.
https://www.davidkusel.com/manning1/preserve/burley/burley.htm

Howard Erbst from southern California sent me this picture and looking for information on Jurgen Wunderlich and his three wives.
https://www.davidkusel.com/manning1/preserve/burley/wunderlich.htm

Manning's V.F.W. organization is looking for help with identifying 40 pictures of WWII veterans.
https://www.davidkusel.com/veteran/temp02/hframe.htm
---
I encourage anyone looking for Manning information to please post a message on