JOHN PARKER Sr., Sheffield, England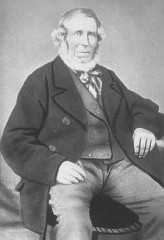 JOHN & MARY PARKER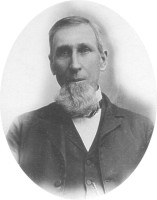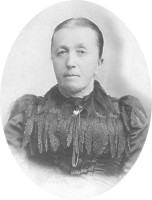 ---
OLD SOLDIER CALLED.
Many people of Manning and vicinity were pained to learn last Thursday, that John Parker, one of the pioneers of Manning had died.
Too, his army comrads were much grieved to lose one of their active members.
John Parker was born, in Langton, near Wragley, Lincolnshire England, March 16, 1833 and died at his home adjoining Manning on Dec. 17th, 1913, aged 81 years 9 months and 1 day. He was the eldest son of John and Elizabeth (Taylor) Parker. His youth and early manhood was spent in England. In 1857 he came to America locating in Canada.
On June 1st, 1860 he came to Dixon, Illinois. In the early part of 1861 he enlisted in Co., H. Third Missouri Calvary and spent three Years and nine months in the defense of the Union. After the war he returned to Dixon, Illinois and engaged in farming and blacksmithing. On March 1st 1866 he was united in marriage to Miss Mary Levan.
To this union were born six children, five daughters and one son. In order of their birth they are as follows: Jennie M., who is living on the old homestead; Ida, wife of Charles Rocksien, of Manning, Iowa; Clara, also at home, Grace, widow of Homer Waugh, of Drain, Oregon; Minnie, who is on the old homestead, and Charles W. Parker of Draper, South Dakota. Mrs. Parker passed from this life at the homestead, on the 13th day of October, 1907.
The deceased is survived by his six children, ten grand children, and one brother. Since his early manhood he was an active member of the M. E. church: and died with the noble thought that the ending of this life on earth is the beginning of a grander and nobler life beyond the grave.
He was a member and took an active interest in McPherson Post No. 33, G.A.R. of Manning, Iowa, serving as its chaplain for many years. John Parker was a man in every sense of the word. In February 1879 he and his wife came to Manning and settled on a farm just northeast of Manning. They were pioneers here and suffered all the privations of the pioneer. Their fine home is but a monument of their labors and savings.
In his death the world loses a man whose living in it made the world better.
The funeral was held Monday from the M. E. church, Rev. Lyles and. Rev. Harvey, a former pastor, conducting the services. Following the services, kind hands laid the body to rest in the Manning cemetery.
The many friends of the deceased sympathize deeply with the bereaved in their loss of their father.
Mrs. John Parker Dead.
The Long and Useful Life of a Beloved Christian Lady Ended.
Mary Levan Parker was born in Germany, Kingdom of Prussia, District of Travers, on the banks of the river Mossel, December 13, 1842; died at Manning, Iowa, October 13, 1907, aged 64 years and 10 months.
In the year 1846 the family came to America and settled at Jamestown, Pennsylvania, where her childhood days were spent. In 1857 they moved from Jamestown to Dixon, Illinois.
She was married to John Parker in 1866, and continued their residence at Dixon until 1879, when they came to Iowa, settling on the farm which now is their home.
There are six children in the family, and all living: Jennie, Mrs. Ida Rocksien, Clara and Minnie, of Manning; Mrs. Grace Waugh of Chicago, and Charles of Algona, Iowa.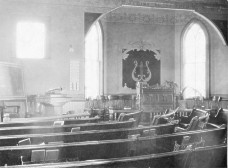 Methodist Church (November 11, 1909)

In her fifteenth year she was converted and joined the Methodist Episcopal Church. She was one of the charter members of the Church in Manning, and rendered very efficient service to the struggling church in the pioneer times, and continued such service to the end. She not only gave her presence and labor to the kingdom of God, but was a systematic giver of her means, always setting aside as certain amount of her income for this purpose.
During the last few months of her life she was not able to attend the church services, for which she often expressed a regret, stating that the Sabbath days seemed so long without the privilege of the church services.

Sister Parker was a good woman dominant in her life. How often have those beautiful hands wiped away the falling tear, soothed the fever-scorched brow, and those lips have kissed away trouble from the aching heart. Well may the children, in retrospective with the poet, cry:
Backward, turn backward, O time, in your flight,
Make me a child again just for tonight.
Mother, come back from the echoless shore,
Take me to your heart as of yore;
Kiss from my forehead he furrows of care,
Sooth the few silver threads out of my hair;
Over my slumbers your loving watch keep,
Rock me to sleep, mother, rock me to sleep.


In the last few months of her life she was a great sufferer, yet she bore it all with Christian resignation and fortitude, with implicit confidence in the divine word, "If it so be that we suffer with Him, that we also may be glorified together. Reckoning that the sufferings of this present time are not worthy to be compared with the glory that shall be revealed in us."
Her life was exemplary, forgetting her own sufferings, she administered to the needs of others. The highest ministry on earth is to help a soul in the time of need. This she did in the spirit of Him who said, "He that giveth a cup of cold water only in the name of a disciple, he shall in no wise loose his reward." She always helped the needy and gave as serving and giving to the Lord. In her christian life she was reserved and quiet.

The principles and spirit of the gospel were deeply imbedded in her everyday life.
And is this all we should say of her, the wife, the mother, the christian, the beloved of all who knew her? Does the noble life end and her labors cease? No! The great God smiles to write her name in the "Lamb's Book of Life," and her works do follow her. On earth a christian, in heaven a crowned princess. She was an honest woman, with spotless character. A christian, the highest title ever given to mortal beings. Her life was noble, bright, happy, industrious, peaceful and kind, loved and respected by all. Once among us, but now; among the blood-washed throng, with placid face she surveys the environs of the Heavenly Eden; with hallowed feet she walks the gold-paved streets of the New Jerusalem, the everlasting city of God. Palms of, victory in her hands, songs of praise in her mouth, she now enjoys the emolument of the righteous. Let the grief-stricken husband cease to mourn and the sorrowing children cease to weep. You have no mother on earth, but you have a sainted mother in Heaven. After months of suffering she is freed at last.
The soul was wafted from the tenement of mouldering clay to another abode where, let it be hoped, there is a reward for the sacrifices and suffering down home in the ....... not legible
A highly respected citizen of Carroll county who donned the blue for three years and valiantly fought in defense of the stars and stripes on the battle fields of the south is John Parker, a retired agriculturist of Warren township. He was born in Langton, England, on the 16th of March, 1833, being a son of John and Elizabeth (Taylor) Parker, also natives of Langton.

Parker Home Place


This has been home of Melvin & Marge Kusel for over 45 years.

This intersection of East Street has been known as Parker's Corner for many years.
John Parker spent the first twenty four years of his life in the mother Country, acquiring his education in the common schools, after the completion of which he learned the blacksmith's trade. In 1857 he took passage for America, locating in Canada, where he remained for three years. On the 1st of June, 1860, he crossed into the United States, settling in Dixon, Illinois, where he continued to follow his trade. When the call came for troops in the '60s, he responded, going to the front with Company H, Third Missouri Cavalry. He saw considerable active fighting as well as field duty while serving in the Department of the Northwest and assisted in driving the rebels out of Missouri. During the winter of 1864 he crossed the Arkansas on the ice at Little Rock, where he was later mustered out, after having spent three years and nine months in the service. Although he never sustained any wounds on the field of battle, Mr. Parker was left quite deaf as the result of exposure, but aside from this affliction, which naturally has grown more pronounced with the passing of time, he enjoys most excellent health at seventy­eight. After receiving his discharge he returned to Dixon, Illinois, where he was subsequently married, following which he located on a farm which he cultivated until 1879. In the latter year he moved to Iowa, purchasing one hundred and sixty acres of land in Warren township, Carroll county, upon which he has ever since continued to reside. Success following his efforts he was later able to add to his tract, ,which was located on section 16, a quarter of section 17. He has since disposed of one hundred acres of the latter, investing the proceeds in one hundred and sixty acres in South Dakota. In 1909 Mr. Parker divided up his property among his children, giving the old homestead to his three unmarried daughters, who rent out the land. He continues to make his home on the farm where he has resided for over thirty­two years.
On the 1st of March, 1866, Mr. Parker was united in marriage to Miss Mary Leivan, of Dixon, Illinois. Mrs. Parker was born in the district of Trier, Prussia, Germany, on the 13th of December, 1842, and was a daughter of Matthias and Anna Mary (Mischel) Leivan, the mother having passed away when her daughter was six weeks of age. Matthias Leivan was also a native of Trier on the river Mosel, his natal day being the 13th of November, 1813. At the age of twenty­one he entered the German army, serving for four years in the Ninth Regiment of Hussars. After his period of service had expired he was married to Anna Mary Mischel, their union being solemnized in 1839. Mr. Leivan emigrated to the United States with his four year­old daughter in 1846, locating in Pennsylvania. In 1857 he removed to Dixon, Illinois, and there he passed away on the 15th of May, 1893. To Mr. and Mrs. Parker there were born five daughters and one son, the order of their birth being as follows: Jennie M., who is living on the old homestead; Ida, the wife of Charles Rocksien, of Manning, who has two children, Pearl and Lee; Clara, also at home; Grace, the widow of Homer Waugh, of Zion City, Illinois; Minnie, who is on the old homestead; and Charles W., of Draper, South Dakota, who married Mildred George, of Coon Rapids, Iowa, to whom has been born one daughter, Mabel. Mrs. Parker is deceased, having passed away on the old homestead on the 13th of October, 1907.
This was the home of Ida (Parker) Rocksien for many years.

It is south of the Parker Home place on East street.

It is presently owned by the Genzen family.
The entire family affiliate with the Methodist Episcopal church, of which Mrs. Parker was also a member. Mr. Parker maintains relations with his old comrades of the field through the medium of his membership in McPherson Post, NO. 33, G. A. R., of Manning, Iowa, of which body he was chaplain for many years. Ever since he was granted the right of suffrage through naturalization Mr. Parker has voted with the republican party. He was the first school director in the Manning district, which at that time had the supervision over three schools, continuing in this capacity for several years. Mr. Parker has made many friends, whose regard has grown with the passing of time, during the long period of his residence in Warren township.
---
Aged Manning Man Dies.
Joseph Rocksien died at Manning on Saturday morning and his remains were interred in the Carroll cemetery yesterday afternoon. Mr. Rocksien was 87 years of age and was born in Mecklenberg, Germany. He came to the United States 55 years ago and had lived in Carroll county since 1889.
During 1891 he lived on a farm east of this city and then moved to Manning.
He is survived by three sons, Charles of Manning; Albert of Montgomery; W.J. of Plattsmouth, Nebraska, and Louisa, Mrs. Swearingen of Happy, Texas. The first three named were in attendance at the funeral which was conducted at 1 o'clock yesterday afternoon at the Charles Rocksien home in Manning ..... not legible
Joseph Rocksien is Pearl & Lee Rocksien's paternal grandfather.
Spinster Sister of Mary Levana Parker
"The Sword of the Spirit ..... is the Word of God."
Ephesians 6:17
October 9, 1919
Anna Marie Levan, eldest of a large family of children, born to Matthias and Anna Lavan on 11th day of October 1840 passed away October 3, 1919. From her birth-place in Travis in the District of Trier, Prussia. She came to America at the age of 6, lived in Johnston, Pennsylvania for 22 years -- moving to Dixon, Illinois until 1880 when she came to Manning.
Near Dixon she practiced inherited habits of thrift, industry and frugality which gave her competence in her later years.
Her education was not in books, as schools were few in her childhood days and not readily accessible but with all she was well read and well grounded in domestic arts of weaving, spinning, knitting and household duties and became self-taught and proficient in the practical talents of education.
In her younger days she desired to become a foreign missionary but failing in this area she educated a Chinese boy who became an active worker and missionary among his native people.
For nearly 40 years she owned the farm adjoining Manning on the north, disposing of same in the spring of 1919. From her residence on this farm she saw Manning grow from nothing to a little city of nearly 2000 souls and the property increase in value fifty-fold.
Ann Levan, as she was commonly called, was a woman of deep character and many virtues. She was rugged and strong like the mighty oak, but sound and true and faithful in all things even unto death. She was a kind neighbor, a good citizen and a believer in the "Life beyond".
Back to top
Back to History of Manning Pioneers