JOHN J. KRUSE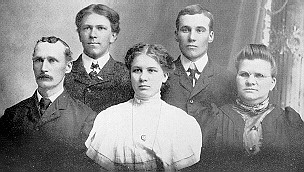 John J. Kruse,, a retired farmer of Warren township now residing in Manning, was born in Schleswig­Holstein, Germany, on the 25th of August, 1850. He is a son of Jacob and Cecelia (Troe) Kruse, also natives of Schleswig­Holstein. There the father engaged in farming until his demise, but the mother emigrated to, the United States in 1878, locating in Clinton county, Iowa, with a son, and there she passed away the following year. In the family were seven children: Henry, Mary M. and Jorgen, all of whom are deceased; Claus, who is a resident of Germany; Hans J., living in Manning; Peter, a resident of Shadron, Nebraska; and John J., our subject.

The first twenty­seven years of his life John J. Kruse spent in the land of his birth, at the expiration of which period he decided to come to the United States, and crossing the Atlantic, he made his way to Clinton county, Iowa. For three years thereafter he worked as a farm hand, during which time he managed to save enough out of his meager earnings to enable him to buy ninety­five acres of land in Warren township. Later he added to this another tract of one hundred and forty­five acres, which he most successfully cultivated for many years. It was one of the well improved and highly cultivated farms of the township when he retired in 1910, at which time he sold eighty acres of his property. Coming to Manning he erected a very pleasant residence, now occupied by himself and family, and is enjoying the well merited ease earned by long years of labor.

On the 25th of February, 1880, Mr. Kruse was united in marriage to Miss Dora Meier, a daughter of Christopher and Minnie Meier, of Clinton county, Iowa. Her parents were both natives of Hanover, Germany, where the father always engaged in farming. They were among the early settlers of Clinton county, where Mr. Meier continued to be identified with agricultural pursuits until his demise. His widow is still living and now makes her home in Manning. He was a member of the Lutheran church, of which Mrs. Meier is also a communicant, and politically he was a democrat. Mrs. Kruse is a native of Clinton county, her natal day being the 28th of April, 1855. To Mr. and Mrs. Kruse have been born four children: Charley, now deceased; Ella, at home; John F., a resident of Des Moines; and Cecelia, deceased.
The children were confirmed in the Lutheran church, of which both Mr. and Mrs. Kruse are members. He is very fond of all outdoor sports, particularly hunting and fishing, and for eleven years has been president of the Manning Rifle Club. His political allegiance is given the democratic party, and he has served as township trustee, school director and road supervisor, holding one office or another for twenty­six years. He is one of those who expended the energy and vitality of his early years in such a manner that he is now able to enjoy the rest which is the well merited reward of intelligently directed effort.
Back to top
Back to History of Manning Pioneers