CARSON HOFFMANN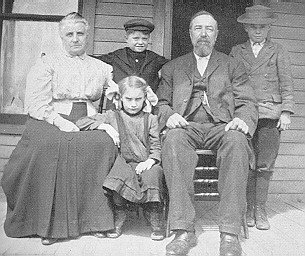 Mr & Mrs Carson Hoffmann - LeRoy, Evelyn and Earl Heckman
Carson Hoffmann, who for many years was engaged in farming in Washington township, but is now living retired in Manning, was born in Schleswig­Holstein, Germany, on the 13th of October, 1851, being a son of John and Frauke (Thede) Hoffmann. The parents were also natives of Schleswig­Holstein, the father's natal day having been the 3rd of December 1818, and that of the mother the 23rd of March, 1818. Mr. Hoffmann, who was a carpenter in the fatherland, emigrated to the United States with his wife and family in 1866. They located in Scott county where he and his elder sons worked as farm hands for a time. In 1870 he was able to buy forty acres of land which he cultivated for five years, then disposing of it be came to Carroll county. He bought eighty acres of land in Washington township which he operated until his retirement about 1884 to Manning, where he passed away on the 6th of December, 1889. Mrs. Hoffmann survived until the 11th of December, 1896. They were both members of the Lutheran church, and in politics he was a democrat. They were the parents of six children, all of whom are residents of Manning: Margaret, the wife of Henry Severs; Wiebke, who married Christian Grube; John, who is engaged in the. lumber business; Carson, our subject; Frauke, the wife of Henry Herman; and Henry, who is a retired business man.
A youth of fifteen years when his parents emigrated to this country Carson Hoffmann had acquired his education in the schools of Germany. During the early years of their residence in Iowa he worked out as a farm hand, but in 1875, together with his father he purchased one hundred and sixty land in Washington township, Carroll county. He cultivated his acres of land with growing success, adding to his holdings at divers times, until he acquired two hundred and forty acres of fine farming land. He cleared and improved his property, bringing his fields to a high state of cultivation. In 1893 he withdrew from active farming and came to Manning, where he is now living retired.
Mr. Hoffmann, who has married twice, chose for his first wife Miss Margaret Rohnferdt, their union being solemnized on the 28th of February, 1880. She was a daughter of Fred and Margaret (Jenk) Rohnferdt, natives of Schleswig­Holstein, from which country they emigrated to the United States, locating in Clinton county, Iowa. There Mrs. Hoffmann was born on the 3rd of March, 1864, being reared on the farm which her father cultivated for many years. The parents were both members of the Lutheran church, and Mr. Rohnferdt fraternally was identified with the Masonic order and the Knights of Pythias, while he voted with the democrats. To Mr., and Mrs. Hoffmann was born one daughter, Dora, the wife of Louis Hackmann, of Des Moines, Iowa, and the mother of three children: Roy, Evelyn and Earl. His first wife passing away on the 6th of June, 1892, Mr. Hoffmann was again married on the 2nd of April, 1894, to Mrs. Margaret Schlapkohl, widow of Henry Schlapkohl and a daughter of Hans and Cecelia (Urban) Luetje. They were also natives of Schleswig-Holstein, where they resided until 1874, when the mother emigrated to this country with her family, the father, who was a moulder in a foundry, having died in Germany.

Both Mr. and Mrs. Hoffmann hold membership in the Lutheran church, and fraternally he is identified with the Independent Order of Odd Fellows. Ever since granted the right of franchise Mr. Hoffmann has cast his ballot for the democratic candidates and served for one year as school director. During the period of his agricultural activity he met with a degree of success which now makes it possible for him to live retired, having acquired a competence which provides himself and wife with all the comforts of life.
Back to top
Back to History of Manning Pioneers