Heesch

--- another name now part of the Grau branch.

Based on Church records in Bad Bramstedt, Germany we now know that Maria, Detlef Jr., Gottlieb, Johann & Jochim are the children of Detlev Grau & Elsabe Blunck.

Maria Grau Heesch & Detlef Jr. Grau
(brother & sister)
1 Detlev Grau
Elsabe Blunck

2 Maria Grau
Johann Heesch

3 Heinrich Detlef Heesch
Veeden Christena Sievers

4 Emma Johanna Heesch
John Christian Schrum

5 Helen Schrum
Vernon Tiefenthaler

6 Anne Tiefenthaler
Neil Muhlbauer

Note: Elroy Schrum is a brother to Helen Schrum and Sharon (Schrum) Kelderman is a daughter of Elroy.

1 Detlev Grau 1793 - 4/12/1877
Elsabe Blunck 11/6/1792 - 1/10/1843

2 Detlef Jacob Grau 7/27/1833 in Bramstedt, Germany 10/1/1923
Sophia Sachlaben 10/20/1832 Grossenaspe, Germany 11/27/1903

3 August Grau May 17, 1863 in Grossenaspe, Germany 9/25/1922
Maria Hansen 1/14/1863 in Sehestedt, Germany 10/27/1934

4 Ida Grau 2/19/1891 - 11/8/1980
August Kusel

5 Amos Kusel 3/27/1920 - 9/1/1970
Dorothy Ehrichs Kusel

6 David Kusel 8/1/1956

Generation #6 (Dave Kusel, Sharon Kelderman & Anne Muhlbauer) are 4th cousins.
The Heesch/Grau connection opened up when Lynn Carlson contacted me in March of 2003 and left this message (below) on my web page bulletin board.
It was from her information that I found out a whole new Grau branch of relatives in Manning we never realized were Grau descendants.

Hi,
I am looking for info about the families of Heinrich Detlev Heesch and his wife Christine (or "Veeden") Sievers.
Heinrich was born 8 November 1855 to Johann Heesch and Maria Grau who lived near Bad Bramstedt, Schleswig Holstein.
He worked at a machine shop in Germany and came to the US when he was about 21 years old. He had relatives (the Graus) living in Carroll County and came to Manning at some point.
Heinrich married Wiebke Christine Sievers 8 November 1890. I am told Christine worked at a dressmaking shop in Manning and had been a pattern maker in Germany. Christine was born in Bunsoh, near Albersdorf, Schleswig Holstein 27 January 1866. Christine's daughter Anna, born in Germany 27 August 1886. I have no record of her father. She came to Manning about 1891 with her aunt Alwine Sievers. Alwine later married Jasper Schroeder in 1893. Brothers Herman and Heinrich Sievers and relative Peter Kuhl may also have come to the US from Germany at some point. Peter Kuhl may have been a musician and played with a band in the region.
Anna Sievers Heesch married Christian Henry Frerk 25 September 1907. Chris and Anna farmed near Manning. Their oldest child, Milda Alvina Christina Frerk was born 14 March 1909. Their son Walter was born 28 January 1911 in Carroll County. Daughter Marlowe was born 18 June 1916 at Lone Tree, South Dakota, and Richard was born 17 December 1922 at Hatfield, Minnesota.
I would appreciate any information about the Sievers, Heesch or Frerk names in Manning or Carroll County.
Thank you
Lynn Carlson.

Heesch & Grau girls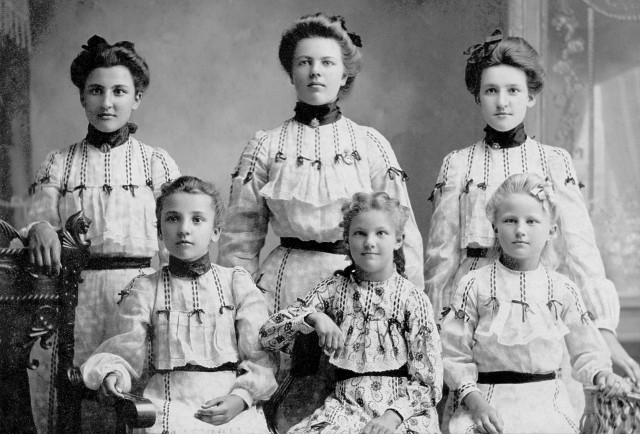 Back: Carolena Grau Hell, Anna Heesch Frerk, Amanda Grau Martens
Front: Emma Grau Pfoltner, Emma Heesch Schrum, Marie Heesch Schaap
Heesch & Grau photo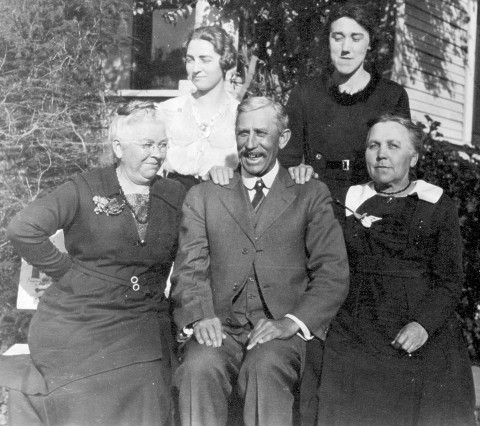 Back Row: Unknown, Clara Grau Cox
Front Row: Mrs. Veeden (Sievers) --- wife of Heinrich Heesch, August Grau, Mary Hansen Grau --- wife of August.


Veeden's husband (Heinrich Heesch) and August Grau are 1st cousins.
Clara is the daughter of August & Mary.
---
Trying to figure out more pieces of the Heesch puzzle in Manning, Iowa.
Henry Heesch

Our Oldest Man Gone
Henry Heesch was born in Germany March 18, 1824. He grew to manhood in his native land and was married to Miss Marie Fischer of Germany, to which union were born two sons and two daughters. The sons preceded their father to that other world from which there is no return. The daughters survive and are Mrs. Gus Brietkreutz of Swift Current, Canada and Mrs. Dora Mergele of Manning, Iowa.
His married life was brief covering a period of but ten years. His wife was laid away in Germany. At the age of thirty years he removed to the United States, settling near Renville, Minnesota. Here he lived for several years when he concluded to try his fortune in the farther west and took a government claim near Minot, ND. Here he lived until the infirmities of age rendered an active life impossible. He then came to Manning and spent the rest of his days with his daughter, Mrs. Mergele. That was about eleven years ago, when he arrived in Manning.
He was confirmed in the Lutheran church when a young man and to that faith he adhered during his life. His life was much longer that the usual allotment. But few attain to such years. He is or was perhaps the oldest citizen in the community, the oldest in the county, and very few older in the state. He was an upright citizen, very genial, and social in his manner, and was very highly respected and esteemed by those who knew him.
Arriving in Manning when he was over four score years old, his age naturally compelled him to lead a quiet life, so that opportunities or a large acquaintance were not possible, yet he always proved a companionable neighbor and acquaintance. He was a man of reasonable good health to the last. Within forty eight hours of his death he sat up in his chair reading the current news of the day. Thus he cometh to his grave in a full age, like as a stock of corn cometh in his season. His age at death was 94 years, 9 months and 3 days. The immediate relatives who survive to mourn his death are his two daughters mentioned above, 15 grandchildren and a number of great grandchildren, together with a nephew in Minnesota.
A private funeral was held at the home of Mrs. Mergele, his daughter, December 24, 1918, at 1 p.m. after which the remains were laid away in the Manning cemetery. Reverend A.T. Aller officiating.
---
Henry Heesch is buried in the Manning City Cemetery.
Section A Row #9 north - south.
Notes on Manning cemetery records.
Henry Heesch is buried next to William G. Mergele
Dora Heesch Mergele is buried next to George Mergele (probably husband) and also Heinrich & Cathrine Schrum.
All of the above are buried in section A in rows 9 & 10.
---
Ruth Ohde of Manning who is a granddaughter of Ida Detlefs also has a Heesch connection.
Her name was Margaretha (Heesch) Ohde-Roggendorf.
On a family picture --- Ida Detlefs had an aunt Anna Heesch listed and also a grandpa Heesch from Germany. At this point the name of the grandfather is not known or what part of Germany he came from.
Ruth is looking up family information to see if she can determine more facts on her Heesch family tree.
---
Henry D. & Christena (Sievers) Heesch family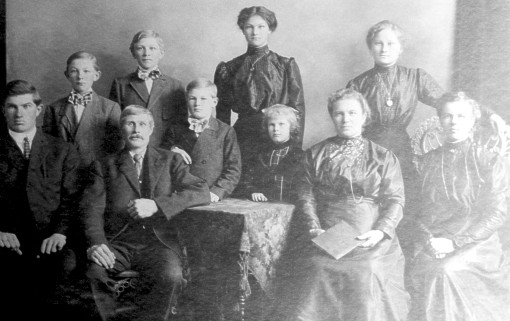 Children: John, William, Herman, Emil, Anna Frerk, Emma Schrum, Marie Schapp & Irene Donaldson