I included a lot of extended family pictures and some of them have no IDs, so please help out and also let me know if you see any errors...
Dale and Doris were very gracious over the years by sharing their old pictures and history with me so I could scan those items.
Lots of military history in their family...
Dave
Moshier, Texas' Rio Grande Valley Entertainer of the Year for 2023, will perform at the Hausbarn Heritage Park in Manning Thursday, June 22. The event is being co-sponsored by the Park and Two Palms Grilling of Audubon.
There is no cover charge for the performance.
A 2-hour tour of the Hausbarn Heritage Park is offered from 2-4:30 by calling 712-655-3131. Included will be the 1660 German Hausbarn which housed both livestock and people; the 1915-1918 Mission-style home, carriage house, barn, and farm buildings; and the 1913 Trinity Church.
The Roten Bar Tavern will open at 4 pm, and Two Palms Grilling opens at 5 pm. Moshier will play from 6 to 9 pm.
Mosher is originally from Big Lake, Minnesota, and is playing different venues in Missouri, South Dakota, and Iowa, on his way from Texas to Minnesota this month.
He started playing the accordion when he was eight. During his high-energy shows, he sings while playing the accordion and a keyboard. He does line dances, polkas, waltzes - he gets his audience on the dance floor.
Texas has been his home for more than 30 years. Moshier performs nearly every day, catering to both the winter residents and year-rounders. His audience includes young people, locals, and snowbirds - all who share a love of music and dancing. Songs range from Sweet Caroline and Elvira, to Wagon Wheel and Who the H+++ is Alice?
Moshier began touring professionally at the age of 25, and has opened for Tammy Wynette, Chubby Checkers, Eddie Rabbit, and Pam Tillis. He says he provides a "full band sound with a one-man band."
Residents of Central Illinois, my husband and I had just enjoyed taking a close-up look at Trinity Lutheran Church on the edge of town, then the brakes started acting wonky as we headed to Level B for lunch with my brother and sister-in-law.
After heading downtown to do a little shopping together, my husband Andy noticed brake fluid was leaking from underneath our car.
It was the Saturday afternoon of Memorial Day Weekend, and virtually every repair shop in the area was closed until Tuesday.
The brake fluid alarm went off as we crept along the back streets in our 2016 Ford Fusion to the local Casey's to buy more fluid.
I looked up auto repair shops on my phone and even called a few, but all were closed.
A listing for John's Auto Repair caught my eye, and when I let the phone ring long enough the greeting said he usually took lunch between noon and 1 p.m. It was about 12:50 p.m., so we made our way slowly to his shop to see if it was open.
Andy was able to walk right in, but there was no one inside.
As we waited, my brother Keith and his wife joined us out of concern for our situation.
John Altenhein, who had been gardening nearby, soon walked in and quickly discovered that our brake line had ruptured but was pessimistic about being able to make the repair.
It seems that this particular part on newer cars almost never goes bad and thus it is not usually kept in stock.
John made a couple calls, however, and located one at O'Reilly Auto Parts in Denison.
While Keith and Jan made the hour round-trip to fetch the part, Andy and I did visit a couple shops downtown and were warmly received by Oh My Goodness and Sweet Treats Ice Cream Shoppe.
It appears that if we had wanted to rent a car, we would have somehow have to have gotten to Fort Dodge or Ames, neither of which is anywhere close to Manning.
But we were soon on our way after Keith returned with the part and John installed it for us.
Manning, Iowa, will forever have a special place in our hearts, and we will definitely be back.
Andy and Theresa Fulk
A little background on the Altenhein family.
John's dad, Bill, worked at Save-Mor Food Store which was located in the old Ford Garage (Plastico in 2023)...Paul Volquartsen was the owner/manager. This business operated from 1964 through 1973.
I don't have or can't find a picture right now of this building when it was the J&S office but here are a few pix when Glen Jensen & Gerald Schroeder (J&S) owned and operated this business.
But I was busy with my Video Camera so I captured a lot of those events during that celebration.
Grandfather Radeleff was born June 8, 1847 in Damlos Holstein, Germany and Grandmother Charlotte Radeleff was born on Feb. 23, 1851 in Kletzen Holstein Germany. Just where they met and married I don't know. I don't know when her parents came to this country. A lot of people from Germany at that time settled in the Midwest. Her parents, or my great grandfather's last name was Georgius, I don't know the first name. He must have farmed around the area some place as my grandfather married and settled in Manning. He, raised ten children (my father, Charles was the oldest) five boys and five girls. The oldest girl, Rosalind, lived to be a hundred years old.
I understand my grandfather was on the town council at the time the water system and water tower was built. He organized an athletic club in the old hall, and the fire department, but not sure on that part. He operated a nursery in southwest Manning and had an ice house and delivery service in the same part of town on the small creek that splits the town. His home was close by and may still be there. Just when they moved from Manning, I am not sure, but think about 1905 or 1906. They moved to Springville, California for Grandmother's health but she didn't live to see her new home he had built for her. She died in 1909 on my father's birthday, Nov. 10. My father was 29 years old at the time.
The druggist has a lot of pictures of my family. I sent some back to him to reproduce and I picked them up in 1975, some he had that I didn't. I found some material on Grandfather in the town library. I can't tell too much about Grandfather Radeleff because the first time I saw him was in 1923 when I was twelve years old.
My father, Charles Theodore, was born Nov. 10, 1876 in Crawford County, Iowa. He died Sept. 11, 1961 in Oildale, California. My mother was Nellie Jansen, born May 13, 1890 in Clinton County, Iowa. She died Oct. 23, 1958 in Oildale, California. They were married January 11, 1911.
Now to my father, Charles Radeleff's, story. When he was 16 or 17 he wanted to be a blacksmith.
He was a man who liked to work with his hands, he could do things with steel that no one else could. He learned the trade in Manning, a blacksmith that used to be in the U.S. Army taught him. He did lots of horseshoeing and worked at the blacksmith business for 62 years, until he was 80 years old. I worked with him for 15 of them.
He left Manning when he was 20 years old and he and two other fellows bought a wagon and team of horses and supplies and headed across Kansas and Oklahoma a year after the Land Rush in Oklahoma. The other two men quit and went home but Dad stayed and went to work for a railroad grading gang. At that time they were building the Texas and Pacific and Kansas and Pacific railroads across both states. He worked four years there.
Father went home to Manning in 1904. He bought a blacksmith shop in South Manning. He attended the World Fair in St. Louis. He ran the South Manning shop for awhile, then I understand he moved his business up on Main Street, just where I don't know. My cousins, the Fisher Brothers, own one of the old shops adjoining their garage. Later he bought the property east of the Manning Creamery. He invented a dump truck and cab for Model T Ford trucks and sold them throughout the Midwest and Canada. He held two patents in the United States and one in Canada. After World War 1 he lost his business, then moved to California in 1923. My youngest brother, Lyle, was four months, brother Howard was six, and I was twelve. My mother named both brothers after Dr. Carlyle, Howard, Carl, and Lyle.
Sincerely, Henry F. Radeleff
One last item of history - sadly, when new abstracts are re-issued, a lot of the old original abstracts are replaced and thrown away.
Thank God, John Altenhein had the presence of mind to keep this old abstract when the new one was issued when he purchased the property.
So if you are purchasing a property/house and the old/original abstract exists - KEEP it and then let me scan it!!!
READ IF over 65 and have property in Iowa.


https://www.desmoinesregister.com/.../iowans.../70223326007

(a Facebook address)
What this means is if you are over 65 and the contract, deed, etc. has your name, you need to apply for the new homestead exemption. So now those over 65 by January 1, 2023 will get 2 homestead exemption, a military exemption if it applies. If you turn 65 after July 1 you need to apply for the following year by July 1, 2024

Richard Brusegaard
Richard "Dick" Brusegaard, 79, passed away on May 13, 2023, from heart failure.
Dick was born April 6, 1944, in Grand Forks, North Dakota, to Ruth and Ray Brusegaard. After serving 8 years in the U.S. Air Force, he and his wife, Barb (Mundt), moved to Omaha and began working in the HVAC industry. In 1976, Dick opened his own business of 37 years, Environmental Systems Services.
Dick is survived by his wife Barb and children, Jon (Connie) Brusegaard, Kim (Mike) Stuart, Paul (Sarah) Brusegaard, and Kate (Mike) Coates; 14 grandchildren; 3 great-grandchildren; siblings Barb (Bob) Pohl, Marsha (Deacon Tom) Cerar, Ken (Pam) Brusegaard, and Kathy (Don) Graves.
He was preceded in death by his granddaughter Emma Rice and grandson Casey Erwin.
Memorials directed to the family will be donated to The Fisher House Foundation in Dick's honor or you can donate directly to connect.fisherhouse.org/campaign/Dick-Brusegaard.
Celebration of Life and Luncheon will be held Monday, June 26, 2023, 1 pm - 4 pm at the VFW at 8904 Military Rd, Omaha, NE.
---
1962 MHS graduates Pamla Jean Bellows, Janice May Borkowski, Lorrell James Borkowski, Raymond E. Bosche, Kay Margot Bowers, Glenna Kay Brady, Georgia Gale Brus, Robert A. Brus, Kay F. Dalgety, Geraldine L. Dammann, Joann Lee Dobler, Allen Ray Ehlers, Dale Frederick Ehlers, Donna J. Emert, Gerald Frank Handlos, Carol Ann Hansen, Kathryn Ann Hass, Diane M. Heithoff, Gerald E. Hill, Jerolyn Joy Hinz, Gary David King, Diane Alma Klocke, Douglas William Kruse, Roger Dean Kuhl, Ginette Marie Kuker, Mahlon Yale Lamp, Sherril Kay Martens, Kathleen A. Meiers,

Barbara Ann Mundt

, Charlene D. Musfeldt, Dale E. Musfeldt, Ronald J. Odendahl, Linda M. Ohde, Gloria Jean Schroeder, Lowell Lewis Schroeder, Ronald H. Schroeder, Marjean Kay Segebart, Mary Jane I. Sextro, Barbara K. Sonksen, Beverly Sue Thompson (valedictorian), Lois C. Vehrs, Carol Sue Vetter, Judith Loretta Vogl (salutatorian), Kathleen M. Wagner.

1962 former students: Kent Austin, Robert Billmeier, Betty Bosche, Jeannette Breidert, Deanna Dent, Lynette Eich, Joan Fisher, John Ford, Robert Galvin, Dennis Hagedorn, Joel Harris, Barbara Hemerson, Peggy Hockett, Allen Kienast, Joseph Loucks, Dennis Maasen, Pearl Miller, Kathy Musfeldt, William Platter, Ronald Schroeder, Louise Synhorst, Elaine Trella, Darrel Wiese

Thanks to one of the 1962 classmates for catching the error of having Ron Schroeder as both a graduate and former member.
He did graduate and his name somehow accidentally was added to the former database when we worked on it in 2007 & 2008.

If anyone finds errors on my web pages or occasional Manning Monitor articles, please let me know so I can correct them.
Thanks,
Dave

Barbara Mundt

I've been capturing video, sounds, and pictures in Manning/area since 1965, so I've been tuned in to things around us that most people don't even know are there or just ignore them.
I've wanted to capture this sound since it is so iconic and has been squeaking in Manning since the early 1930s.
Listen to it and see if you can guess what it is.
Also in the first part of the audio you can hear several birds - what are they? Another common sound/sight in Manning, probably since the late 1880s or early 90s.

Squeak & what bird species

This video should help most people figure out where the squeak is coming from.
Click to see the short video

A few years ago there was a debate to remove/replace this swing.
I made my viewpoint known that if it was going to be removed that it needed to be preserved/saved somewhere.
Of course my opinions have no clout but I was glad it was decided for now that the swing STAYS.
As best I can tell, this swing was installed during the early 1930s.

By the way, the birds you hear are Chimney Swifts - still very common in Manning since a lot of old style chimney's still exist...the largest one being the old blood plant chimney.


Scott Mills & his wife to be honored at the "Trail to nowhere" event on Saturday

As I continue to work on Manning history, I stumble back on interesting points of Manning's history...here is one of them.

110 years ago

World Champions
July 1913




Circa 1915

Now there was really no way to prove the statement of "World" champs at that time, and 110 years later no way to disprove it, but it is a FUN point about Manning's history none-the-less.

I posted this feature in 2012 which has more information.
MFD Running Team

I never thought I learned/remembered much from my schooling in Manning but from time to time I'll be visiting with someone and I'll remember something I learned in the 1960s and early 1970s.
I was asking if Iowa history was taught in our school while visiting with some students, teachers, and other adults at the Heritage Park clean-up and I mentioned how I remembered that the Ocheyedan Mound was always considered the highest point in Iowa but that a cattle yard on a farmer's property was actually a little higher.
Well one of the adults spoke up and said that Pike's Peak was the highest point...I just responded that maybe Ocheyedan Mound was the highest manmade point.
But after searching the Internet, I found out that Pike's Peak isn't even close...so it is good to know that my memory is still in good shape.
When I tell people stories and history about Manning, I'm always concerned if I'm remembering correctly or maybe dreaming some of it up - fortunately I must have inherited some of my mother's amazing ability to recall memories from her past.

While taking pictures of the volunteers cleaning up the Manning Heritage Park I notice 2 boys making bird sounds/calls.
I was surprised to see them making sounds the way kids did decades ago...didn't realize kids today even knew about those techniques.
One boy was using a blade of grass to make duck calls and the other boy was cupping his hands together and blowing air through his thumbs, while using his fingers to make dove calls.
I remember Kent Wiese, a classmate of mine, making these dove calls in the late 1960s through the mid-1970s, and could also play some simple songs.
Anyway, here is a short video of the 2 boys showing their musical talents.

Bird sounds

Having been a farmer my whole life, I've observed many changing weather patterns, from winters that tended to be more snowy in the 1960s, then going through the 3-year continuous drought of 1975 through 1977 which in some ways was worse than the Dust Bowl Days of the "Dirty 30s," then the 1990s decade of flooding and many record rainfalls, also various other weather events such as windstorms, hailstorms, icestorms, record breaking cold and hot days, etc.
I also have a perspective from all of the old pictures I've scanned back to the late 1800s where people were outside in short sleeve shirts in the dead of winter or wearing coats in summertime.

Even if I was 100 years old my perspective would be just a blip in time...but I also visited with hundreds of old timers and they would tell me their perspectives about the weather they observed, but again, their perspectives were just a small blip in time.

On May 11, 2023, I observed a weather event I hadn't seen in many years, maybe a decade or two...our summer weather events basically come up from the Southwest, but on the 11th, the rain blew in from the East/Southeast.
I looked at a weather radar map and sure enough the front was moving from the East/Southeast in Iowa and Nebraska.
---
For 40 years I've been recording when our Barn Swallows show up and they have consistently arrived April 27 or 28 each year, until this year which is the first time I can remember that they showed up in May - I saw them on the elevator leg guy wires in the afternoon of May 2.
Generally the Wrens also show up when the swallows do but so far I haven't heard them yet.
For 7 or 8 years I've said that our springs are starting later than they had the previous 20 to 30 years, basically the cold weather is hanging in there longer in April like it did 40+ years ago.

The Robins even showed up much later this year by about a month...the first ones I saw this year were March 5 and the Killdeer showed up March 29 - the Juncos headed north around April 1.

I've never kept track of wasps and bees, but I had my first wasp invade my car today (May 3), so they are coming out of hibernation, I guess.
The dandelions are starting to bloom so the bees will be seeking them out soon.

The frogs in my pond started croaking in late April...pretty soon the toads will start to twitter during the mating season.

In memory of Shirley Puck

Click to see the tribute

The Easter Bunny visits Manning

Click to see fun!


Marty Orr has some amazing Pioneer plans for next spring - so get ready!

The owners of Ramsey's Market tried to help out and serve the Manning community with a grocery store - let's not lose any more businesses!!!
These businessmen and businesswomen spend a lot of their time and money believing in Manning...Do you?

In memory of Diane (Klocke) Kauten


Peter Fechter - January 14, 1944 shot dead on August 17, 1962


Peter's body finally being carried away by an East German guard.

Statue honoring Peter

"A statue, depicting dying Peter Fechter being carried away by East German border guards who shot him down at the former death strip at Bernauer Strasse in Berlin, lies on the ground after being vandalized. The temporary sculpture which was installed on Saturday, June 11, 2011, was destroyed by unknown people on Wednesday, June 24, 2011. The sculpture by Florian Brauer was inspired by an iconic photo taken on August 17, 1962."

Does this look familiar to the destruction of statues and monuments in the US over the last several years?

The information below will explain the pictures above.

While working on the family story linked down below about a Manning Alumus, one thing led to another and I discovered I didn't have 2 obituaries for family members of that alumnus and then while transcribing the one obituary, another story highlighted on that same page of the 1962 newspaper caught my eye.
West to Bar Soviets Driving Armored Cars
As soon as I read this sentence in that article I knew immediately what it was about.
The youth was left to bleed to death at the wall while just beyond it, in West Berlin.

I had a flashback to 1997 when my cousin, Jon Ahrendsen, invited me to go along with him to Germany to trace our common ancestors.
To make a long story short, we visited the Berlin Museum and I vividly recall taking a picture of the display on the wall of the young man who died while scaling the "Iron Curtain."
Here is a picture I captured from the Internet and 2 articles about this young man and his struggle to gain his freedom from Socialism.

Peter Fechter, helplessly bleeding to death in the "death strip", August 17, 1962
(Photo: Polizeihistorische Sammlung/Der Polizeipräsident in Berlin)


Here is the article I noticed while working on the obituary.
West to Bar Soviets Driving Armored Cars
WASHINGTON (AP)
The Western allies are reported ready to tell the Soviet Union it cannot use armored cars to bring Soviet soldiers to the Soviet war memorial in West Berlin.
U.S., British, and French representatives are believed agreed in principle that such an order be issued, but its exact timing has not yet been decided.
The State Department refused comment as reports of the order circulated Thursday night in diplomatic quarters here.
Last Saturday the Soviet Union began using bigger and heavier armored vehicles to transport its soldiers from East to West Berlin for sentry duty at the Soviet war memorial in the British sector.
The heavier carriers were put into service after angry West Berliners hurled stones at the buses that had transported the Soviet soldiers to the monument.


The stoning was an angry reaction to the slaying of a fleeing East German by Communist border guards at the Berlin wall. The youth (18) was left to bleed to death at the wall while just beyond it, in West Berlin, West Germans and allied troops stood by helplessly.


U.S. authorities have been wary lest the Soviets use the armored cars as a wedge for parading Soviet military might around West Berlin.
Carroll Times Herald September 7, 1962

This is an article that goes with the picture above.
East German guards gun down a young man trying to escape across the Berlin Wall into West Berlin and leave him to bleed to death. It was one of the ugliest incidents to take place at one of the ugliest symbols of the Cold War.
The 1962 incident occurred almost a year to the day that construction began on the Berlin Wall. In August 1961, East Berlin authorities began stringing barbed wire across the boundary between East and West Berlin. In just a matter of days, a concrete block wall was under construction, complete with guard towers. In the months that followed, more barbed wire, machine guns, searchlights, guard posts, dogs, mines, and concrete barriers were set up, completely separating the two halves of the city. American officials condemned the communist action, but did nothing to halt construction of the wall.
On August 17, 1962, two young men from East Berlin attempted to scramble to freedom across the wall. One was successful in climbing the last barbed wire fence and, though suffering numerous cuts, made it safely to West Berlin. While horrified West German guards watched, the second young man was shot by machine guns on the East Berlin side. He fell but managed to stand up again, reach the wall, and begin to climb over. More shots rang out. The young man was hit in the back, screamed, and fell backwards off of the wall. For nearly an hour, he lay bleeding to death and crying for help. West German guards threw bandages to the man, and an angry crowd of West Berlin citizens screamed at the East German security men who seemed content to let the young man die. He finally did die, and East German guards scurried to where he lay and removed his body.
During the history of the Berlin Wall (1961 to 1989), nearly 80 people were killed trying to cross from East to West Berlin. East German officials always claimed that the wall was erected to protect the communist regime from the pernicious influences of Western capitalism and culture. In the nearly 30 years that the wall existed, however, no one was ever shot trying to enter East Berlin.

Change the wording on these 2 highlighted sentences just above and use them to describe the southern border of the US when political idiots kept comparing the wall being built, to stop illegals from entering the US, to the Socialist wall that Russia built to keep East Germans IN.

I keep hearing a lot of people telling us how horrible the US is and how many of its citizens are "ist" yet the illegals from all over the world, including from socialist/communist countries, keep flooding into the US...if we are such a bad country then why don't we have to build a wall to keep the US citizens from fleeing their terrible plight - we sure wouldn't need a wall since the rest of the world wants nothing to do with our horrible country (sarcasm).

Here is the photo I took of the huge display on the wall in the Berlin Museum in 1997 that showed the teenage boy bleeding to death.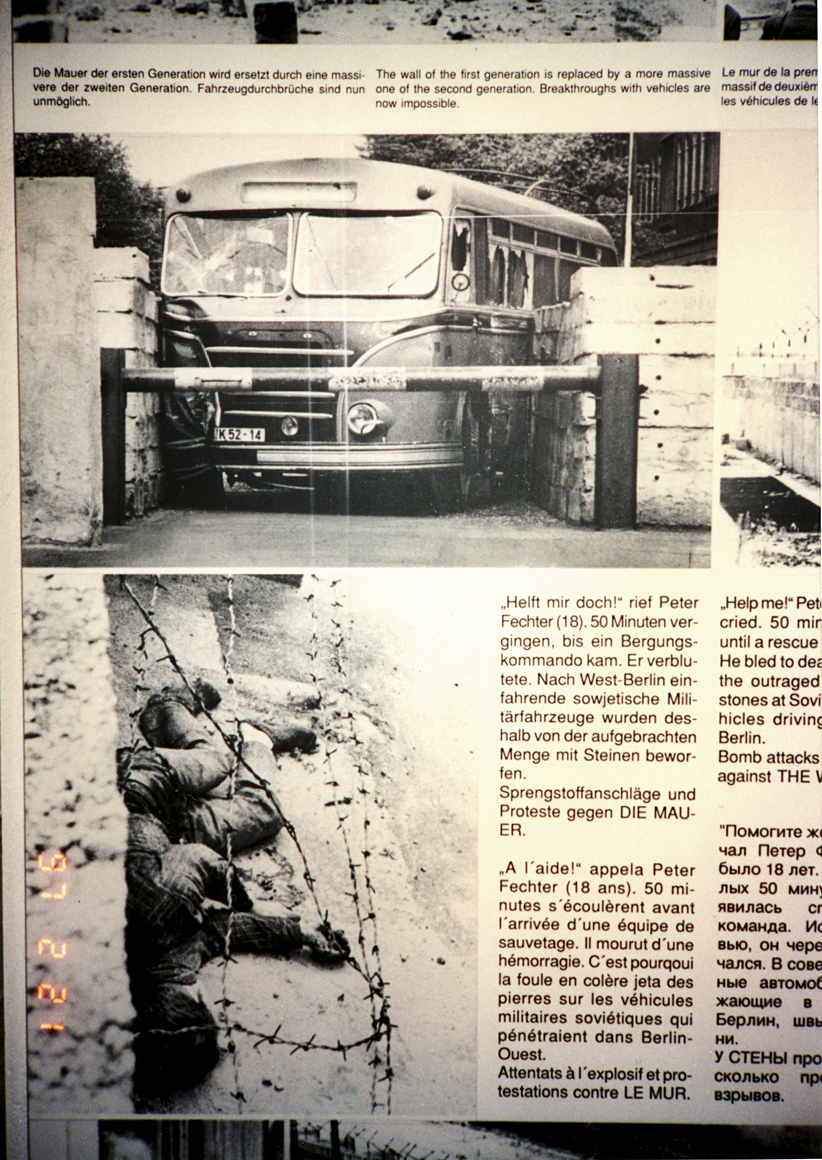 While in Germany, I met Peter Kusel who is related to me but we could not find the direct lines because so many church records, cemeteries, and other documents were destroyed during WWII and by the Russians/East German regime.
This is the link to Peter's tribute I made after he passed away in 2020...along with his story of fleeing to West Germany to escape being a captive/slave to Socialism and pictures I took of the wall that was still standing, and more from the Berlin Museum.
Peter Kusel's story

I often talk/write about how proud we should be of our ancestors and those who came before us, but then I got to thinking - would our ancestors be proud of what we are doing and have accomplished in our lifetime...
This thought popped into my head when I received another e-mail from a person who I got to know as a kid in school activities and at the Rec Center...now he isn't someone who is more prominent than anyone else his age or in our society but he has accomplished a lot of impressive things over the years.
His family ancestry isn't necessarily more prominent than anyone else's, but it too, is very impressive.
One thing I've noticed is that this person and his family does not seek recognition and this little tribute I made was my idea and no one from that family suggested I do this - to the contrary, I know when I make tributes that most people/families feel uncomfortable and just prefer to go quietly about their daily lives.
But I think pretty much everyone's story should be documented and told...at least in some small way if nothing else.
Everyone has an amazing ancestral background, but most don't know what it was or who their ancestors were, and sadly some don't care.
Please click on the link below to find out who I'm referring to and some ancestral background on his family.
Click to see the story

In memory of Larry Miller

In memory of Pamela Hargens
April 18, 2023


April 15, 2023


My last purchase at Ramsey's Market - which was a typical purchase around every 2 weeks.

I purchased 99% of my groceries in Manning, and only on rare occasions when I had to drive to Carroll, to get something not available here in Manning, I never purchased any food items I could get here - but would maybe purchase something different that wasn't sold in Manning.
Manning people didn't have to purchase all of their food items here, but many purchased NOTHING here.
At least I can hold my head up high for being a supporter of Manning & Manning businesses which goes back to my parents and their parents, etc who were loyal supporters of Manning...Ehrichs relatives on my mom's side of the family owned/operated grocery stores in Aspinwall & Manning.

I also won't have to listen to the whiners and complainers about how high the prices are at the local store - NOW they can gripe in the other towns.
I could write a book of comments from people made to me when I went through the checkout line - I always had a full cart, many times 2 carts and they had 1 or 2 items...probably what they forgot to purchase at the grocery store in some other town.
I even had some people mumble in a low tone that I could save a lot of money by going out of town.
I never preached to anyone about their buying habits but always defended our local business owners, sadly, many who also drove out of town when they could have purchased at least some of the items here at a Manning business.
Then there are some tax paid employees who drove out of town.
So sad that Manning citizens once supported 4 different grocery stores and now we have none.

Times are changing...well those times most people are supporting today are going to bite us all in the %$#$$ someday soon.

In memory of Janice Lakers
Click to see the tribute

March 29, 2023 50th anniversary ceremony of the end of the Vietnam War

Click to see/hear the ceremony

Masterpiece Manning: Encounter With The Arts
May 6, 2023
Music at the Hausbarn
Saturday, May 6, 2023 6:00 PM
Hausbarn Konference Centre
Manning Film Festival
Sunday, May 7, 2023 at the IKM-Manning School from 1:00 to 5:00


Click to read about the Croghan family


Click to read about Brent Moore

While working on more obituaries and Manning history, Connie Petersen ran across these 2 interesting articles for me...something I don't recall ever hearing about.


May 23, 1940 Manning Beauty Parade
"Miss Manning" Chosen There Tuesday Night
The beauty parade sponsored by the Manning and Irwin merchants was held in the Manning Opera House Tuesday, June 4, 1940. From 60 girls entered in the contest, three were selected from Irwin and three from Manning.
The first-place winners were announced as Miss Irwin and Miss Manning and will compete at Marshalltown this fall in the Miss Iowa State contest. Representatives from 90 Iowa towns have been selected and more contests will be held in different parts of the state to compete here.
The following were selected in order on the basis of poise, grace, looks, and carriage: Mary Humphreys (Miss Irwin) representing Carter's Cafe; Virginia Thomsen, wearing the Steenhusen Hardware banner, and Betty Carter representing the Will Auto Company.
LaRae Vandeman (Miss Manning) representing Ella's Beauty Shop; Pearl Armstrong, entered by Paulsen's, and Marilyn Anderson, Vera's Beauty Shop.
The following program preceded the judging: Vocal solo - Mary Humphreys. Vocal duet - Darlene and Glen Greteman, Templeton.
Baritone horn solo - Wallace Kruse, accompanied by Helen Schrum.
Acrobatic exhibition by Joyce Bingham and Beverly Peters.
Several overtures were played by the Wallace Kruse orchestra, "Six Hits and a Miss." It also played during the beauty parade.
Carroll Daily Herald June 6, 1940
MHS Band 1938 Back: Wally Kruse, Donald Schrum, Betty Grelck, Francis Zerwas, George Pfoltner, Amos Rutz
Third: on tuba Frank Miller, Pat Wood, LaRae Vandeman, Virginia Vandeman, Dorothy Dethlefs, Elaine Schroeder, Jean Schrum, Lester Siem, LaVerne Meyer, Dorothy Scanlan, LeRoy Hass on tuba
Second: Harold Turpin - bandmaster, Lorraine Kuhl, Margaret Lake, Dale Bingham, Lilah Schrum, Ruth Schelldorf, JoAdele Meyers, Louise Schrum, Louise Kuhl, Naomi Ross, Doris Reinhold, Shirley Bailey
Front: Ray Schrum, Jim Ansorge

1939 Tumbling class

Back: Ruth Rostermundt, Mary Campbell, Leola Keat, Pauline Cramer, Marian Ohrt, Marilyn Mohr, ??
Third: Agnes Blum, LaVerne Meyer, Marilyn Anderson, Irene Stoberl, Margaret Lake, Viola Rostermundt, Virgene Schacht, Edna Flenker
Second: Dorothea Schrum, Norma Keairnes, ?Leona Schrum? LaRae Vandeman, Gladys Baumann - teacher, Genevieve Blum, Lila Louise Dalgety, Joyce Strathman
Front: Virginia Greteman, Donna Keat, Clarice Keat, Phyllis Joens, Betty Grelck, Norma Dietz, Joy Moore, Virginia Vandeman

Manning Schuetzen Verein Hall - later donated to the Manning Fire Department
Also called the Opera House as mentioned in the pageant story above.
I quite often write about this structure and how it should have never been razed in 1975...like so many other historic Manning buildings...and I also realize it takes money to preserve them and who was going to do that.
But still so sad when they are torn down...gone forever.
1940 MHS graduates: Lyle Arp, Florence Bueltel, Albert Claussen, Phylis Dalgety, Lucille Eckley, Roger Eich, Ermyle Fielweber, Jean Firth, Merlin Hargens, LeRoy Hass, Harold Hoffmann, Viola Joens, Viola Juels, Norma Claire Keairnes, Clarice Keat, Kenneth Keat, Eunice Kempf, Paul Kempf, Robert Kruse, Wallace Kruse, Jeanne Kuhl, James Livingston, Margaret Mentzer, JoAdele Meyers (valedictorian), Charles Gale Moore, Harold Nickum, Maxine Nickum, Arlene Niehaus, Dean Noble, Richard Ohm, Dorothy Pahde, George Pfoltner, Donald Ramsey, Naomi Ross, Ruth Rostermundt, Dorothy Scanlan (salutatorian), LaVerne Schroeder, Jean Schrum, Wayne Schrum, Labert Stahl, Betty Steen, Irene Stoberl, Virgene Umland, LaRae Vandeman, Gerhardt Voge, Selma Wiese, Francis Zerwas
1940 former students: Howard Wayne Accola, Daryl Allen, James Armstrong, Wayne Cole, Edna Flenker, Betty Gillett, Arthur Halford, Idols Hubbard, Douglas Roger Jaeger, Betty Anne Klyver, Donald Kuhse, Jean Lippold, Chester Mohr, Jeanette Paysen, Winford Doug Rogers, Lester Schrum, Pat Stangl, Eugene Thomsen, Billy Ullman, Bill Volquartsen, Phyllis West, Billy Wheeler, Georgia Woodard

Does anyone know the location or contact information for Charles Scott who taught mathematics at Manning in 1972?
He was a Vietnam Veteran and I'd like to get some military information/pix for him to add to the Manning Veterans' book.
For that matter, any teacher at Manning who served that you know of their whereabouts - please let me know.
The list of Manning connected names who served keeps growing almost daily.

Let me know if you can't get the 2 MP3 files linked below to play.
At first they would only play with Internet Explorer.
I tried to open them in my Pinnacle Studio and it wouldn't recognize the files.
So the recorder I purchased must be using a different codec that isn't compatible with most audio players - I'll have to go to their web site to see if they have a fix.

I was able to resolve the problem by converting the mp3 files from the recorder, with a converter program I downloaded - I just converted the mp3 file from the recorder to the same mp3 version format and that fixed the problem.
Always amazing at how people can design technology and create programs that aren't more universally compatible.
---
I've recorded so much Manning history over the decades that I've forgotten quite a bit I've done.
I was working with Janice Ress on Marion Ream's pictures she gave me to preserve.
After we were done Jan said I want you to listen to something with me.
She dug out her cassette player and tape and brought it over for us to play.
She said this is the copy you made for me of the 1981 Sisters of the Swish and Der Manning Liederkranz...
I had to think a little and sure enough I remember asking those groups to have a special recording session in the VFW Hall.
Down below are the two sides of the tape, along with the songs and vocalists.
It is totally amazing to listen to now. I believe the songs are playing just a little slow but still sound amazing for the technology of the time.
I purchased a $35 tape to USB recorder and will be converting some more audio cassettes, when I find them and hopefully find the original 1981 tape I made to see if it plays a little faster and clearer.
The Liederkranz songs are much better - probably because I reset the mic/stands and adjusted the recording levels a little lower after the Swish were done performing.

I used my 2 "voice" mics to record the close-up singers and the other voice mic to pick up the general sound of the group.
Later on when I started video taping more community events I started purchasing better mics that would pick up sound/songs/singing in the distance.
The voice mics were more designed for close-up speaking.
I had one mic set for the individual vocalists to sing into and another mic to pick up the group.

Oh if I only had the digital recorders back then that I have now!!!
BUT even with lower quality by today's standards - it is really fun to listen to the performers, several who are no longer living.
The Swish used kazoos, washboards, kettles & pots for drums, and homemade instruments to make the music.
Ruth Hiatt is a RIOT when she sings Good ole Mountain Dew - if you knew her she was a character the way it is and loved to act in community plays, so she was NEVER afraid to get up in front of the public!!!
Centennial Sisters of the Swish
Esther (Anstoeter) Williams on the accordion
Diane (Dalgety) Genzen introduced some of the songs

Beer Barrel Polka
Roll Out the Barrell
Apple Peaches Pumkin Pie - Esther Williams
Wooden Heart - Darlene (Genzen) Vollstedt
Blue Skirt Waltz
Du Du liegst mir im Herzen - Ruth (Brady) Hiatt
Out Behind the Barn - Susan (Grundmeier) Schilling
Oh Lord, It's hard to be humble - Esther Williams
Lucille - Maureen (Williams) Halbur
Ei Ei Ei O Polka - Esther Williams
Mountain Dew - Ruth (Brady) Hiatt
Barbara Polka
Just Because - Darlene (Genzen) Vollstedt - duet with Esther Williams
In Heaven there is no beer - Beverly (Dalgety) Irlbeck
Hokey Pokey - Susan (Grundmeier) Schilling
Wabash Cannon Ball - Ruth (Brady) Hiatt with Arlo Pfannkuch on his "vacuum cleaner" whistle. Arlo sold vacuum cleaners and converted one to make whistle sounds.
Baby Face - Susan (Grundmeier) Schilling
Street Fair Polka
So Long


Sisters of the Swish & Der Manning Liederkranz

Der Manning Liederkranz
Becky Noble - director

Harmony
Build a Mountain
After Dark, A Roving
Wait till the sun shines Nellie - Melvin Renze, Larry Genzen, ?3rd vocalist?
Good ole summertime
Battle Hymn of the Republic
---
If you were a member of the band or choir, please send me the names you remember who participated in 1981.
Here are some names I remember and more from Susie Schilling...
Sisters of the Swish: Janice Ress, Nancy (Stoberl) Stammer, Lila (Mohr) Schroeder, Elaine (Karsten) Struve, Marilyn (Vennink) Pfannkuch, Pam (Kusel) Kusel, Linda (Meggers) Frank, Lois (Weems) Wegner, Gertrude (Farley) Dammann, Rose Anne (Muhlbauer) Nulle, Marlys (Rutherford) Karsten, Elaine (Hansen) Schroeder, Virginia (Dammann) Johnson, Jan (Riesselman) Moore, Lucille (Lamp) Boell, Darlene (Haberl) Willenborg, Jan (Karsten) Lorenzen

Liederkranz: Claus Bunz, Nulle, Larry Schultes, Mike Ferneding, Tom Henderson, Gordell Lamp, Keith Kelderman, Richard Crandall, Lester Joens, Leroy Schultes, Kenneth Puck, Duane Monson, Arthur Rix, Ron Halbur, Raymond Pratt, Wesley Nulle, Warren Puck

Nothing of importance unless you are an Ehrichs or Kusel descendant of the Manning/Aspinwall area...
2023 is the 150th anniversary for the Ehrichs clan who started moving into this area in 1873.
Next year will be the Kusel 150th anniversary with Kusels "invading" the area in 1874.

If my mother was still living I'd probably try to set up anniversary reunions but without her life's experiences and knowledge of the area and the family, it would be very difficult for me to set up.
Anyway, this is to let the relatives know of this amazing historical milestone.
Remember that Manning, Aspinwall, Templeton, Manilla, Gray, etc. weren't here at this point...they started popping up when the 3 railroads came through the area (Manning) starting with the Northwestern in 1880, then the Milwaukee in 1881, followed by the Great Western in 1903.

So there has been a "lot of water under the bridge" since then.

Just think about it - no roads other than an occasional "Indian path" generally made by the roaming Bison here and there, no bridges, no trees for firewood or sawing for construction, predator wolves, Prairie rattlesnakes, wetlands to get your Prairie schooners stuck in, and Prairie grasses up to 6 feet tall as far as the eye could see - along with occasional Prairie fires - the nearest neighbor probably miles away, and the only railroad was the Northwestern 15 miles north that traversed through what are now the towns of Arcadia, Vail, & Westside.
And a lot of people think they have it tough today!!!

Please visit the Manning Exchange for local news, articles, and information...a work in progress.

Many upcoming events.

Korean War Veterans continues


There are lots of Manning Veterans of the Korean era with no pictures or information.
Will you be in the Manning Veterans' book???
Unless more post-WWII Veterans come forward there will be a lot of 1946 to present day Manning connected Veterans missing from the book.

For those of you who are occasional visitors to the Manning Exchange - please make sure to click on the "archived articles" section where previous featured stories are kept.

Click to visit the Manning Exchange

1 example from the Logeland Studio wedding packets.

There are still quite a few Logeland Studio wedding packets available.

Click to read about this important project.
It will help to financially support the Manning Veterans' history book project.

"Let it be known that he who wears the military order of the purple heart has given of his blood in the defense of his homeland and shall forever be revered by his fellow countrymen."
George Washington, August 7, 1782
Just as a reminder: the Manning History book committee continues to work on a Manning area Veterans' history book project.
For those of you who are Veterans or have/had Veterans in your family - will you come forward?
The history book committee will do their best to get as many pictures and information about the 1000+ Manning Veterans but we can't do it all by ourselves.
How many small communities do you know have published 5 history books? The first one was the History of Manning 1898, then the 1981 Manning Centennial book, next the 2006 Manning Quasqui book, and most recently the 2009 Manning School history book. Probably the last book to be published will be the upcoming Manning Veterans' book - unless someone comes forward in the next generation to take over these projects after I'm gone. Will you help with the Veterans' history book project? If you are a Manning connected Veteran or are presently serving and do not submit your military connected pictures and infomation you probably won't be in this once-in-a-life-time Manning Veterans' history book. With a limited number of volunteers we can only do so much on our own but will try to get pictures of as many Veterans as we can. There are over 1000 Manning Veterans so we have a long ways to go before the book can be published.
Manning Veterans are slowly coming forward and below is another example. We hope to eventually get more pictures and information for Mike to put in the book but for now this is what I have to show to you.
Amos Rutz WWII
One thing that many Veterans and people who are submitting information have not fully understood is that this next Manning history book is specifically a Veterans' only book. It won't be like the Centennial or Quasqui history books were, where there is a Veterans' section along with other community aspects. We are aiming for a 2-volume book (around 1090 total pages) which will really be unique!!!
This book will be ALL Veterans' information (and the post auxiliaries) - hence it won't be a "Name, Rank, and Serial Number" only history but we want a complete history for each Veteran.
For instance - below is Louis Boell's picture and the information that was published in the Veteran section of the 1982 Aspinwall Centennial history book. It has the basic information but we are looking for more and I spoke to Louie by phone and he sent more pictures and information - also for his brothers.

To see what Louis submitted click on the link underneath "Are you a Manning Veteran" shown below.

Note: we also want some family background such as parents and grandparents. All too often you will only see just the Veteran's name with their basic military information but without the family connections it will be difficult for future historians and genealogists to know for sure who this person belongs to.

Are you a Manning connected Veteran?

I would like to hear from you!!!
We are starting a Manning Veteran history book project and if you don't come forward you may not be included in the book. NOT because we want to intentionally leave you out but because you didn't come forward.
Same goes for those of you who have Veterans in your family who have passed away. If you don't come forward and help by submitting Veteran connected pictures and information your Veteran may not be included in this once in a life-time Manning Veterans' history book.

Please e-mail me about your Veteran questions manningveterans@davidkusel.com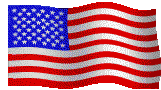 The United States flag
is proudly displayed here and NO other flag is as IMPORTANT!
1 Manning citizen served in the War of 1812
104 served in the Civil War
1 served in the Indian War
5 served in the Spanish American War
350+ served during WWI
650+ served during WWII
87+ served in the Korean war era
65+ (more names need to be found) served in the Vietnam era
55+ (many more names need to be found) served from 1975 to present
29 paid the ultimate price with their lives defending the U.S. Flag
Are you a Manning Veteran?
Are you currently serving and have a Manning connection?
We are starting the Manning Veterans' history book project
Don't wait until you see "Deadline" or it WILL be too late!!!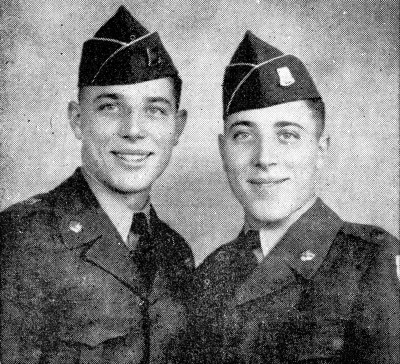 Click to read promos for the Veteran book


There are a lot of WWI and some WWII Veterans pictures with no IDs.

Before you spend time scanning pictures
please look at these instructions


I appreciate your efforts scanning pictures for me but if you only make low resolution scans you are really wasting your time. High resolution scans are the best and only way to really preserve those old pictures.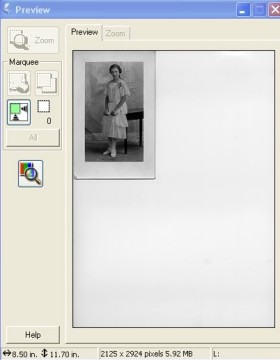 Click to see the tutorial
If you simply don't want those old family pictures you inherited please don't throw them - send them my way.
A lot of times I can recognize a face or location in those old pix.
---
One thing to keep in mind while you are looking for pictures - if they are glued in old scrap books please do NOT try to pull them out or cut them out. I can scan the whole page of the scrapbook and crop out the pictures you want to use in the book. If you attempt to forcibly remove the pictures you will probably damage them and when I scan them that damage will probably show up. This means I'll either have to use my graphics program to touch up the damage which can take a lot of time, or if they are badly damaged I just may not even take the time to scan them.
---
Back to the top