Some songs from 1968
Aretha Franklin "I Say A Little Prayer For You"
Bobby Goldsboro "Honey"
Cowsills "Hair"
Denny Zager and Rick Evans - duo from Omaha NE "In The Year 2525"
Dion "Abraham Martin And John"
"Hawaii Five-O (TV Theme)"
Mary Hopkin "Those were the days"
"Oh Happy Day" The Edwin Hawkins Singers
"Wichita Lineman" Glen Campbell

Ronald P. Vogl

Click to see the tribute

LaRay Freese

MHS 1968

LaRay Freese, formerly of Manning, Iowa passed away on July 27, 2022, at the age of 72.

LaRay was the son of Harvey and Clara Freese, and brother of Cyla and Nylene. Upon graduation from school in 1968, LaRay served in the United States Army in Vietnam and then was honorably discharged.

He completed a degree in computer technology and then moved to Tulsa, Oklahoma to work. He married Polly in 1973 and had a daughter, Jennifer, in 1977. He had four grandsons that he loved to spend time with as often as he could.

LaRay was preceded in death by his father, Harvey Freese, and his best friend and brother-in-law Kenneth Schrum.

He is survived by: mother Clara Freese; wife Polly Freese, daughter, Jennifer Freese, grandsons Dejon Scyffore, Kamron Scyffore, Kaizen Freese, and Kenton Freese: sister Cyla Schrum; Sister Nylene Curtis and husband Billy; and several nephews and nieces.

Back: Ron Arp, Craig Ruhde, John Detlefsen, Kelly Pratt, Ron Leitschuck - coach
Middle: Keith Joens, Gary Knueven, Terry Irlmeier, LaRay Freese, Charles Brotherton - coach
Front: Darrell Ohde, Terry Hargens, Rick Hargens, David Kuhn, David J. Schroeder
Junior High basketball team - MHS 1968.
Featured in the Manning Monitor December 12, 1963
1968 MHS graduates: Ron Arp, Michael Blum, Linda Case, Clinton Chandler, Dennis Dammann, John Detlefsen, Charles Ehlers, Linda Sue Ehrichs, Linda Ann Eickman, Helen Marie Espenhover, LaRay Freese, Linda Graner, Terry Hargens, Jane R. Heithoff, Deborah Kay Hinners, Thomas Irlbeck, Lynn Irlmeier, Shirley Irlmeier, Terry Irlmeier, Keith Joens, Kenneth L. King, Gary Knueven, Bonnie Jane Kruse, Gary Kuhl, David Kuhn, Jake Kuker, Connie Kusel, Douglas Long, Richard Mahnke, Bronwen Morris, Ann Marie Mueller, Allen L. Muhlbauer, Cynda Ann Musfeldt, Darrell Ohde, Jack Charles Peters, Janice Peters, Patricia Kay Pfoltner, Kelly Pratt (valedictorian), William W. Ranniger, Craig Ruhde, Peggy Saunders, David Jon Schroeder (salutatorian), Linda Lee Schroeder, Sandra Schrum, Dianna Strosahl, Rhonda Struve, David John Schultz, Eileen Schwaller, Gwen Tank, Kathryn Wegner, Judith Gail Wetzel, Paul Wurr
1968 former students: Dixie Baley, Peggy Bellows, Gwenna Bogatzke, Marla Borkowski, Kenneth Brady, Victoria Frahm, Janet Galvin, Kenneth Galvin, Patricia Goer, Dorene Golwitzer, Norene Golwitzer, David Grage, Gary Haase, Joyce Halbur, Larry Hargens, Ricky Hargens, Julie Hass, Elaine Hon, Vernon Irlmeier, Judy Jones, Ralph Kaleta, Danny Kienast, Charlotte Knapp, Karen Knudsen, Donald Kuker, Richard Loucks, Karen McCammond, Rebecca McConnell, Laura Meaike, Arlene Otto, Jeffrey Peterson, Marvel Popp, Steven Riesselman, Janna Sue Schroeder, Stanley Schwiesow, William Brick Sebern, Marsha Segebart, Barbara Sorden, Barbara Steffes, Barbara Watson, Judith Watson, Paulette Weiss, Nancy Wilson, Brad Winkleman, Patricia Wuebker

Working TOGETHER in our community and with surrounding communities is what Rural Iowa is all about!

Just a reminder of the Firemen's Golf Tourney this Friday, August 12, 2022. If you would like to donate a prize or be a hole sponsor, contact Kirk Huehn.
Reserve your spot in the Annual Firemen's Golf Tourney on Friday, August 12th! This fundraiser benefits the Manning, Manilla and Templeton Fire Departments.
See link below for details.
Three ways to help support this worthwhile fundraiser:
Sponsor a four person team
Become a Hole Sponsor
Make a monetary donation
Thank you for your support!
Manning Chamber message

Recent house fire in Manning with responders from multiple area fire departments.

If you follow my articles and historical information, you'll see that these firemen and active members in our community are following in the "footsteps" of Manning's Pioneers and our ancestors...something we have to make sure that the younger generations continue to follow with our 100+ year traditions.

Helen Wiese of Aspinwall - the BIG clue I needed to figure out more connections of this WWI Veteran shown below, who all I originally had was his commander picture...then Connie found some military information and burial site which gave me the EXACT spelling of his last name - which can be a big deal when searching for him on the Internet, but still no detailed information about him.
Then Connie found an article about Al that gave me more clues as to why he moved to Manning and his connections here.
So if anyone has even a little clue or tidbit about a Manning Veteran - PLEASE contact me, as your information might make the connections to information I have in my database that will help me with a Veteran or some aspect of Manning history.

Private Algot S. Jacobson
August 8, 1898 - November 4, 1968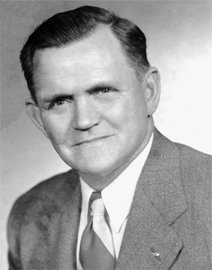 1929-30 American Legion Commander
---
Buried Hills of Rest Memorial Park, Sioux Falls, South Dakota
Unit SATC (Students' Army Training Corps)
Service Number 5283689
Enlistment October 3, 1918
Discharge December 13, 1918
---
Anyone who has more information about Al's service - please e-mail Dave Kusel
Argus Leader article
Original source of this article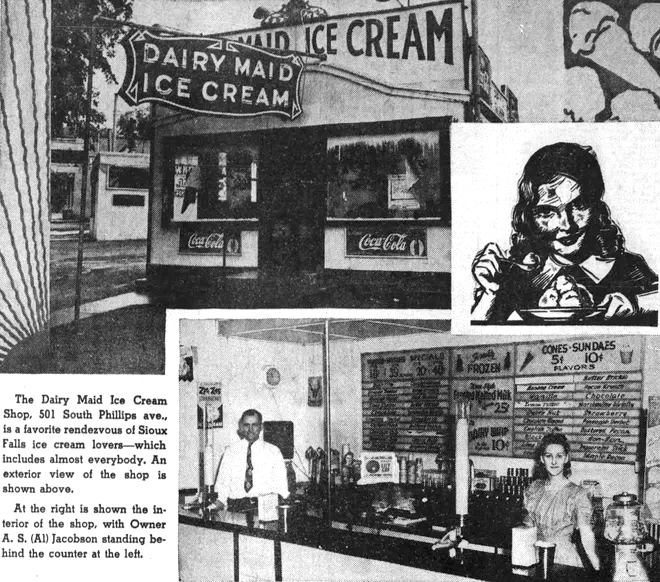 Algot S. Jacobson


By Eric Renshaw, Special to the Argus Leader October 26, 2018
Sioux Falls, South Dakota

Looking Back: Beloved ice cream shop owner also wrote to dozens of WWII soldiers
Eric Renshaw Special to the Argus Leader
Dairy Maid Ice Cream shop on Phillips Avenue was owned by Al Jacobson, with some customers coming from nearby Washington High School.
There once was a little ice cream shop on the southwest corner of 13th Street and Phillips Avenue. It didn't last long, but to some, it was never forgotten.

It was called Dairy Maid, and it was owned by a man named Algot Jacobson. His friends - indeed everyone - called him Al. He'd insist on it. Al was born August 8, 1898, in Glenwood City, Wisconsin. He graduated from Glenwood City High School and served his country during the First World War, returning home to attend college.

Al attended Iowa State College in Ames, Iowa, where he was prominent in the dairy program. He was president of the dairy club, a member of the ag club and on the dairy products judging team before graduating in 1926. After college, Al found employment in Manning, Iowa, and worked to become the foreman of the Manning Creamery Company.

On May 5, 1928, Al married Helen M. Wiese of Aspinwall, Iowa, daughter of Meves and Erma (Hayes) Wiese. Together, they had two daughters, Judith and Marjorie. The family moved to Sioux Falls in 1935 to get in on the ice cream game. Al opened Dairy Maid Ice Cream at 814 S. Main. By 1937, the business had moved to 501 S. Phillips, a spot with much better visibility. Dairy Maid attracted students from Washington High School, which was just around the corner. The students loved the delicious treats Al served, but they also liked his fatherly demeanor.

As an ice cream shop that stayed open year-round, Dairy Maid was a rarity. Al had a mind-dizzying variety of ice creams from which to choose, including vanilla (perennial favorite), chocolate, strawberry, cherry nut, chocolate almond, chocolate chip, butter brickle, maple nut, buttered pecan, black walnut, black raspberry, lemon flake, peppermint, zigzag varieties of strawberry, raspberry, orange, pineapple, and lime sherbet. Hand-packed pints and quarts of all of these were ready for pickup anytime. Dairy Maid also served the usual soda fountain fare: malted milks, sundaes, fountain specialties and soft drinks.

It was the Dairy Maid philosophy that ice cream should be upgraded from a mere dessert to a food. It should be enjoyed year-round, and at least one pint should be found in every household at any given time.

In 1941, the U.S. entered World War II. Many of those fresh-faced kids who got to know Al at Dairy Maid were shipping out to serve their country. At a time when overseas phone calls were rare and expensive, correspondence was important for keeping up the morale of our fighting forces. Al began writing letters to many young men to give them something to look forward to. He wrote the letters longhand, up to the point in which he'd collected more than 40 pen pals. At that point, he mimeographed a newsletter for them. This wasn't a marketing scheme, and there were no ulterior motives; Al just knew that it helped, and he was that kind of guy.

Al opened a hatchery with a new business partner, John F. Smith, in 1946. Al stayed on at Dairy Maid but closed the business in 1949. In its place, a new location for Lorin Motors, a used car company, was built.

In 1964, Al was honored by the Kiwanis club for his letter-writing campaign. It was 20 years after the fact, but those who had returned from World War II still remembered and were grateful for what he had done. In early 1965, The Argus Leader named him citizen of the week for the same reason.

Al Jacobson died November 4, 1968, at the age of 70. He was remembered for his amazing ice cream and for his good heart. People like Al should be remembered, so I'll carry on the tradition of reminding the community of the effect a good person can have.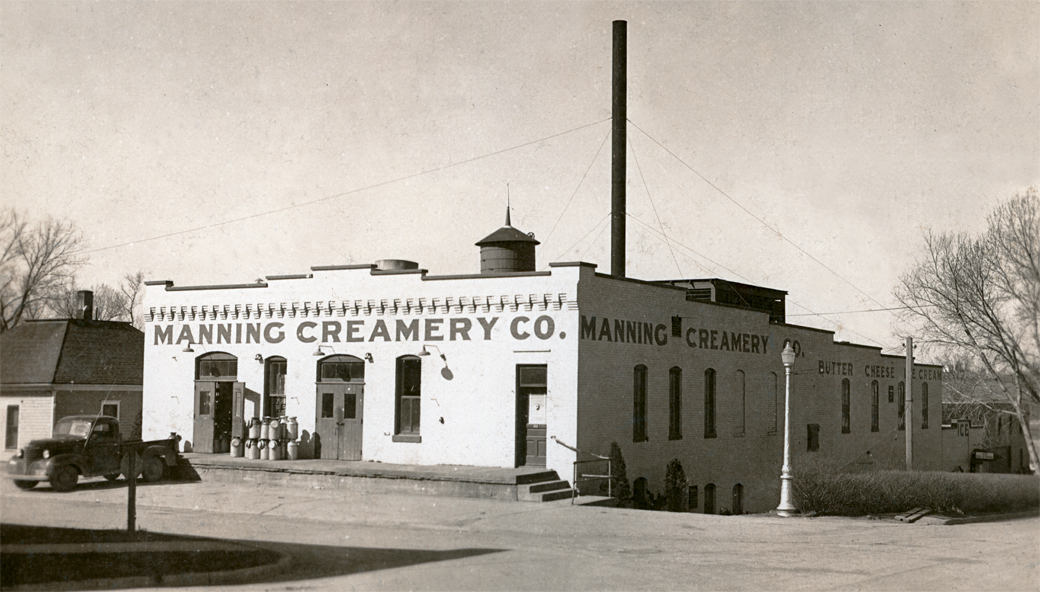 This is what the Creamery looked like sometime in the 1940s...
Probably similar to what it looked like when Al was the foreman before moving to Sioux Falls in 1935...
The business expanded several times over the years, along with changes to the front.
When I look at digital pictures I took during the early years of digital cameras (my first one, a Canon in 1994) I could kick myself now for taking low resolution pictures and even downsizing many of them because hard drives were small and very expensive with no externals for backup, so after transferring them from my camera I would downsize them so they didn't fill up the hard drive so fast.
Now with relatively inexpensive external drives that are Gigabytes in size, I take the highest resolution pictures my camera will take.
When you see me complain about low resolution pictures people make when they scan things themselves, my experiences of the past are what taught me about size and resolution.
These are the full size images from my database.


October 17, 2000

Razing the building April 6, 2001

While I'm completely overwhelmed with information that Connie, Ann, and I are finding on the Internet and then comparing to what I have in my database, along with contacting various individuals who I have in my database and getting more information from them, I'm slowly making progress with the Manning Veteran database and Manning history in general.
The more I edit and archive, the prouder I get of our ancestors and history of our community.
This first article is a little different from the other articles I've seen from WWI in that it states that Manning boys volunteered more than the combined numbers of the rest of the Carroll County towns.


Manning has furnished 29 young men for the Army and Navy and most of them German boys. Manning has apparently furnished more men for defense of their country than all other towns in the county combined. The German-Americans are surely showing great loyalty to the flag.
At Manilla, 11 recruits, mostly Germans.
Those who are disposed to question the loyalty of our German population should make note of these facts.
Coon Rapids Enterprise April 27, 1917
---
Then I continue to find more Manning Veterans who I did not have in my database...I'm especially excited about 3 more GAR Veterans I did not have and are highlighted in yellow below, 1 of whom we have found more information about them, and will continue to search for the other two.
I already had James Halford and his information in my database.


SOLDIERS' REUNION
EDITOR ENTERPRISE: Dear Sir will you please announce in your paper that there will be held on the Manning Union Fair Association ground, September 15th, 16th, 17th, and 18th, 1885, a reunion of the soldiers and sailors of the late war, where there will be tents or barracks erected to accommodate all in attendance. The usual order of excursions each day, such as grand mount, dress parade etc. Good speakers will be in attendance also. A sham battle will be fought on one of the days with due notice of which will be given. All G.A.R. posts and comrades are cordially invited to attend, and will be admitted free to the fair, which will be in progress at that time The reunion will be under the auspices of McPherson Post, No. 33, G.A.R.
By order of F. Markle, Commander.
James Halford, Arthur L. Sanborn, W.J. Morrow, Committee.
Coon Rapids Enterprise, Iowa September 4th, 1885

1883 first year of the fair grounds

Yes, Manning had a fair ground - where the soccer field is located today. There was a race track and huge stands.

1892

1922 MHS football game - you can see the fair ground grandstand in the background.
The arrow is pointing to the Herman Hagedorn blacksmith shop - later the site of the Legion Hall.
---
Here is the information Connie found for one of the three GAR Veterans I did not have in my database.

From: 1889 BIOGRAPHICAL HISTORY OF SHELBY AND AUDUBON COUNTIES
JUDGE ARTHUR LIVERMORE SANBORN is a native of the State of New Hampshire, born in the town of New Hampton, November 7, 1842.
His father, Caleb Marston Sanborn, was of the thirteenth generation of an English family who were among the first English settlers of New Hampshire.
The mother of Arthur L. was a Miss Nancy Quinley, daughter of James Quinley, who was a soldier in the Revolutionary war, and held a Captain's commission.
Arthur L. Sanborn is the youngest of sixteen children, ten of whom lived to maturity.
He remained in his native county until he was fifteen years old, when he went to Massachusetts, and went to work in a sash, door and blind factory, in which employment he continued until the breaking out of the Rebellion, when he enlisted, August 14, 1861, in the First New Hampshire Cavalry; he served his country faithfully until July 19, 1865, when he was mustered out of the service as Quartermaster Sergeant.
He returned to New Hampshire, and soon went to Chicago, and worked there one year with J.H. Reed & Co., wholesale druggists. He then went to Carroll County, Illinois, and in 1868 he came to Audubon County, stopping in Viola Township and opening up a new farm, he remained there eight years. He left the farm and spent six months in Exira, and then went to Washington County, Iowa, returning to Audubon County in 1878.
He was appointed postmaster of Audubon, receiving a commission from 1879 to 1883; at the expiration of his commission he was succeeded by E.H. Kimball.
On retiring from the post office he went to Manning, Iowa, and there engaged in the drug trade with Cloughly Brothers. In 1888, he returned to Audubon, still in the employ of Cloughly Brothers, as clerk, a position he now holds.
Mr. Sanborn was united in marriage December 24, 1887, to Mary Cameron, a daughter of Allen and Catherine Cameron, and a sister of John Cameron. Seven children have been born to this union; Arthur, Donald, Herbert, Viola, the wife of E.R. Dutt, and Mabel; two died in infancy.
Mr. Sanborn is a member of the Veritas Lodge No. 392. A.F. & A.M., being first junior warden of the same. He is a member of Allison Post, No. 134, G.A.R. Politically he is a staunch Republican.

GAR certificate
---
I've been adding names of Manning Veterans to my online military database since 1996.
Over the years I kept adding names and some information/pictures if I found some to go with the name.
As time went by I ended up with around 100 names with no or little information in a list of 1000+ total names.
Here is one such name with no background information on the person.
Fortunately Connie, Ann, and I have found more information for Roy.


Roy Schoening

His name was listed in a Monitor article under Lawrence Nickum...his name was all the information I had until now.

Roy David Schoening
Birth December 16, 1921
Death December 22, 1995
Burial Skylawn Memorial Park, San Mateo, California

Wife Myrtle June (McGill) Schoening
Birth March 26, 1923
Death January 21 1991
BurialSkylawn Memorial Park

Other information
Roy Schoening 1921-1995 was born in Council Bluffs, Iowa (according to the SS Applications and Claims Index).
That same source lists his parents as Albert Schoening and Mary Hull.
There is a marriage record in Iowa for Roy to Marie Janette Wallace on January 16, 1945, Carroll, Iowa.
Then a marriage record appears in California on October 7, 1967 to Myrtle J. McGill.
Myrtle was born in Squires, Missouri.

From a nephew of Roy:
I do know Roy served in the Navy. He was on a ship in Pearl Harbor in Dec 1941. I could never verify this because I could not find out what ship it was.
Myrtle had a daughter (Patty) from a previous marriage who Roy helped raise.

Not sure if is the same Roy Schoening
Name: Roy D. Schoening
Age 29
Birth abt 1922
Arrival August 1, 1951
Arrival Place Agana, Guam
Vessel USNS General Sultan

No mention of military service - which is why I first wasn't sure this was Manning's "Roy."
---
Then there are items of information like this letter written to the Coon Rapids newspaper that lets me know this WWI Veteran was connected to Manning...another Veteran I did not have in my military database.

Coon Rapids Enterprise November 15, 1918
France, October 21, 1918 Dear Mother and Father:
How are you and all the folks at home? I am well and have been all the time. I wrote you a letter while I was in England but owing to a slight mistake on my part in putting my return address on the envelope the Censor sent it back to me.
I expect it seems like an age to you since you lad a letter from me.
I know it has been an awful long time, since I have had a letter from anyone.
I haven't had any mail since I left the U.S. but I think we will get our mail maybe tomorrow. I hope you will send me the Manning paper each week, so I can read the home news. We don't get much news here.
We had a nice trip across. We ran into a pretty stormy sea as I suppose you know now from reading about the ships that had the accidents. We were in the same bad weather at the same time, but we came through it all without anything happening to us. I didn't get a bit seasick either. Some of the fellows got pretty sick for a few days. But they got over that all right. I have been fortunate in not being sick for a single minute since I left the states.
I have seen both Forrest and Fritz since I came to this camp. They are both well and hearty as can be. I saw Forrest today and talked with him for quite a while. We are in rest billets now right among the French people, in their little villages. We have quite a time and lots of fun trying to talk with them. They are nice people and welcome us as best they can in their language. France is a pretty country and so is England.
I believe the country itself is prettier in England than here in France.
We saw some very beautiful landscapes there. The sun shone here all day today. And that sure helps to make it nice. And the country looks so much prettier, too.
I hope you got my card saying, I had arrived safely. I know that if you didn't get it you would have worried all this long time. We have been on the go all the time or I would have written sooner. The officers have been too busy to censor our letters, so they would not have gone if we had written. I think we will have more time now though and I will try to write more oftener.
You must not worry about me if my letters are delayed some. They are apt to be late now you know but the service is good now considering everything. I will do my best to get a letter to you quite regularly.
I will try to write a letter in a day or so when I get some mail.
Your loving son,
Private William R. Harvey
Battery B, 127 Field Artillery (F.A.), American Expeditionary Forces (A.E.F.) in France

While working on more obituaries and military information from Connie and Ann, I noticed some interesting historical events when Henry Arp passed away.
Today we hear about national and international events and catastrophic weather & extreme natural events.
March of 1936 was following an extreme cold/snowy winter in Iowa (unaware of the severe Midwest drought coming that summer), and there were other extreme weather events in the US, and dangerous events occurring in Europe - the pre-curser to WWII.
So when you hear "chicken littles" today say the sky is falling…saying that things never occurred this bad before - take heed and run as fast as you can from these types of people. Most of the time it is just history repeating itself (that generations of people on Earth survived before us) and the people who "cry wolf" serve no purpose in life, other than to seek attention for themselves and they actually make things worse in society.

Carroll Daily Herald, March 3, 1936
Funeral Rites This Afternoon For Henry Edward Arp
Manning Resident Dies Suddenly While Sitting In Chair
Funeral services for Henry Edward Arp, 79, who died suddenly Saturday afternoon, February 29, 1936, while sitting in a chair, were held this afternoon at the Ohde Funeral home. Rev. A.D. Steffensen of the Methodist Church officiated at the services. Music was furnished by the Presbyterian quartet. Interment was in the Manning Cemetery.
Mr. Arp had been in failing health for some time, but each day was able to be up and around. His daughter, with whom he made his home, went into the room to talk to him and found him sitting in his chair dead:
Born At Camanche
Mr. Arp was born on December 24, 1856, at Camanche, Iowa. In 1879, he moved from Camanche to Shelby and in 1903 located on a farm near Manning.
Miss Elizabeth Blakely became his bride on January 12, 1876, at Camanche. She passed away on November 25, 1924.
Those Who Survive
Survivors include the following children: Anna, Frank, Irwin, and John, all of Woodbine, Henry and Miss Mabel of Manning, six grandchildren and three great-grandchildren.
In 1916, Mr. Arp retired from the farm and Moved to Manning where he had since lived.
(grandfather of Lyle & Norman Arp and Marian Knueven)
---------------------------------
Private Banking Abolished Today Throughout Italy
Financial Institutions Converted Into Public Banks
League Of Nations Gives Two Countries Week To Decide On Peace
Geneva (AP) The League of Nations (predecessor of the United Nations) committee of 13, representing every member of the council except Italy, decided today to appeal to Italy and Ethiopia for peace and gave the two nations one week in which to reply.
Rome (AP) Private banking in Italy was abolished today by a sweeping banking reform passed by the council of ministers in a session at which Benito Mussolini declared anew Fascism's defiance of League of Nations sanctions.
The cabinet ordered the four biggest banks in Italy - The Bank of Italy, the Banca Commerciale Italiana, Credits Italiana, and Banco Di Rome - declared public banks.
The ministers also confirmed a public bank status for a number of other important banks including the Banco De Napoli, Banco de Sicilia, and Banca Navionale del LaVoro.
The strength of the bank of Italy was reduced to a capitalization of $300,000,000 lire ($24,000,000 dollars) to be subscribed to by the public banks.
---------------------------------
30,000 KILLED
With the Northern Italian Army At The Front, Ethiopia (AP) The Italian army today crushed 30,000 Ethiopians under the command of Ras Imeru, governor of Gojjam province, concluding a battle began three days ago.
---------------------------------
Manning Young Man Suffers Broken Leg; Run Over By Truck
Hilbert Reinhardt, 22, son of Mr. and Mrs. John Reinhardt of Manning, broken leg and suffered other injuries Saturday when a truck load of steers passed over him. He slipped under the rear wheels when he jumped from the moving machine. He was rushed to the Wyatt Hospital.
Mr. Reinhardt has been employed on the Loren L. Hockett farm west of Manning for the past 5 years. Mr. Hockett is a stockman.
---------------------------------


Remember the days of the hand pumps?
Flood Or No Flood, Billy Pumps
You'd think that torrential rains which poured down on northern California

without cease for two weeks

would take care of the water supply question, but Billy Reynolds, on his family's ranch near French Camp, still has to go to the well for water, as shown above. Families were warned to distill or boil well water because of typhus danger.
---------------------------------
Rivers In Iowa Pouring Water Over Lowlands
Two Rivers Near Missouri Valley Choked With Ice
Highway Engineers Gather Dynamite; Blast To Save Bridges
Missouri Valley (AP) Nearly 100 families living in the Missouri River lowlands near here have left their homes in the face of flood danger, officials here said today.
Des Moines (AP) Gorged with ice, streams and rivers in southwest Iowa poured mounting floods over their lowlands today.
The Nishnabotna River, choked with ice for 15 miles between Randolph and Hamburg, piled out of its banks over Highway 3, east of Sidney.
A half mile of the road was under a surging flood, cutting off all traffic.
At Missouri Valley
The Boyer River south of Missouri Valley broke out of its levies early today, flooding over hundreds of acres of lowlands.
Willow Creek to the west of Missouri Valley also turned into an ice-bearing current of thaw water.
Highway engineers gathered dynamite to blast out ice jams threatening to sweep out several bridges along these streams.
---------------------------------
Sweeping Tax Law Changes Are Suggested
Levy On Undistributed Corporation Profits Is Recommended
New Levies Would Boost Revenue $620,000,000 On 1936 Incomes
Washington (AP) Sweeping tax law changes including imposition of a tax on undistributed corporation profits and repeal of the present graduated corporation income tax, were recommended to congress today by President Franklin Delano Roosevelt.
He estimated the tax on undistributed corporation profits would yield $1,614,000,000 annually.
"Thorough Revision"
In a momentous message recommending a thorough revision of the national tax system, the president also proposed:
Processing taxes spread broader and thinner than the old levies outlawed by the Supreme Court.
A "windfall" tax to recover a considerable part of the old processing taxes which were returned to the taxpayers.
Repeal of Taxes
Repeal of the existing capital stock tax, which was estimated to yield $163,000,000 in the fiscal year 1937.
Repeal of the corporation excess profits tax, which was estimated to yield $5,000,000 in 1937.
The graduated corporation income tax, which the president proposed to repeal, was estimated to yield $826,000,000 in the fiscal year 1937.
Treasury experts were understood to estimate that the proposed new levy on undistributed corporation profits would not only replace the taxes which would be repealed, but would provide an additional revenue of $620,000,000 on 1936 corporation incomes.
---------------------------------
300 Cases of Disorder In Big Walkout
Violence Marks Strike Of Building Workers In New York
100 Arrested; Score Injured In Fighting With Officers
New York (AP) Fresh outbursts of violence flared today in the buildings workers' strike as roving bands of strikers sought recruits to the walkout and visited buildings In which their jobs had been taken over by replacement workers.
The clashes continued even as representatives of the building service employees' union and spokesmen for building owners conferred at the mayor's office.
New York (AP) On a wave of violence, striking building service workers sought today to drive through a complete tie-up of the skyscraper life of America's largest city.
Flying squadrons at strikers, making lightning raids to force out employers who refused to answer the walkout call, battled guards and non-striking workers.
300 Disorder Cases
Police squads answering night radio calls found smashed doors, shattered windows and cut elevator cables.
Police recorded more than 300 cases of disorder. Almost 100 arrests were made. A score of persons were injured and about that many more treated for bruises in fighting.
---------------------------------
Britain Plans Big Expansion Of Arms Forces
Mobilizing Industries For Instant Readiness In Case Of War
Copyright By The Associated Press
London - Great Britain's government announced today a vast immediate expansion of its Military forces and industrial mobilization for instant readiness in case of war.
A government report said the rearmament and increased national defenses were made necessary by complications of the international situation combined with a world-wide expansion of armaments.
The United States, Germany, Belgium, France, Italy, and Russia were listed as having embarked already on similar plans.
---------------------------------
Carroll Daily Herald April 8, 1936
Rites Thursday For Ferdinand Stahl, Manning
Was Resident Of That Community 20 Years; Ill Several Years
Funeral services for Ferdinand Stahl, 80, will be held in the Ohde Funeral home at Manning Thursday at 2 o'clock. Rev. E.J. Hough of the First Presbyterian church at Shenandoah will have charge of the services.
Mr. Stahl passed away at his home here Monday night. He had been ailing for several years, but death came unexpectedly.
Born in Germany
He was born in Germany in February 1856. He farmed in the vicinity of Manning for many years, moving here 20 years ago.
He is survived by his widow, Lena (Petersen) Stahl; two daughters: Mrs. Henry Grimm, Manning, and Mrs. Minnie Jessen of Clinton; two sons, Labert and Herbert. One son, Ferdinand, passed away several years ago.
Pallbearers will be Fred Friedrichsen, Charles Ossenkop, James Mundt, Eggert J. Puck, Harry Schade, and Fred Bartels.

Ferdinand was Labert "Bud" Stahl's grandfather


---------------------------------

Tornado Kills 100 In Mississippi
General view of wrecked homes in the residential section of Tupelo, Mississippi, after the tornado of April 5, 1936, had leveled the section, killing 100 and injuring 1,000. Torrential downpours which followed the tornado aided the firemen in overcoming several fires that broke out.



---
Memorial Rites For Cpl. Wagner Held on Thursday

Memorial services were held at Sacred Heart church at 8 a.m. Thursday for Corporal Benjamin Wagner who was killed in action in the South Pacific March 13, 1945. Mass was read by the Rt. Rev. Msgr. F.H. Huesman and the sermon was given by Rev. Fr. Leo Lenz.
The United States flag was presented by Albert Schoeppner to Mrs. Florence Coe, Cpl. Wagner's mother. The flag bearer was Otto Popp of Manning and color guards were Herbert Schelldorf and Emil Kuhl of Manning. The bugler was Billy Roberts of Manning.
Active pallbearers were John Kaus, USN, Lawrence Wolterman, USN, Leonard Sturm, USN, and Alphonse Dentlinger, USN. Honorary pallbearers were Owen Ohlinger, Joe Schaeuble, Norman Schreck, Glenn Greteman, Alphons Prebeck, and Lawrence Sporrer.
Veterans of World War I attended in a group, and also the young men's society, of which Cpl. Wagner was a member.
Many relatives and friends from Sioux City, Fort Dodge, Omaha, Nebraska; Carroll and Manning attended the rites.
Son of Benedict and Florence (Trecker) Wagner, Benjamin was born May 10, 1925.

While Benjamin is part of Templeton's military history, I noticed all of the Manning connected folks who honored Ben during his military service in Templeton.
Billy Roberts was a 1948 graduate of Manning High School.



---
YOU CAN'T WIN, DICK!


Richard Rix, one of the most ardent Boy Scouts in Manning, was a much-disappointed boy this week. He had hoped that the mumps would pass him by until after the camporee at Lake Mitigwa, near Madrid, Iowa. They did, he had just reached camp, when his parents, Mr. and Mrs. Ted Rix, received a call that Richard had the mumps and he was forced to return home.
Carroll Times Herald, June 11, 1948


September 25, 1913 Manning Monitor
Who threw the egg? That is a question that is puzzling the Manning band. Last week while practicing in the town hall an egg crashed against the window frame close to one of the musician's head. At once there was a discord and one of the players threw up his hands and cried out "Stop, boys, stop, someone is throwing eggs." The entire membership lay down their instruments and started on the run down the steps. When they reached the bottom of the steps, some heard a door slam and the laughter of two of Manning's young ladies safe from harm. In front of the hall sat a sack of eggs and a package of postum (powdered roasted grain used as a coffee substitute). The eggs were counted and there were but eleven. The boys know where the egg came from. But who threw it, that's the question. Each member of the band is doing a little detective work, and should the fellow who threw the egg be of small size he must settle with every member of Manning's band.

Connie, Ann, and I continue to work diligently and meticulously on Manning's history.
We continue to scour various websites and gather newspaper articles and documents, etc. to cross-reference the information...something that way too many self-appointed genealogists and historians aren't paying attention to - the details and being very sloppy with the "facts" and data they post on the various genealogical/historical sites.

We are spending countless hours to get the most accurate (least amount of errors) information as we can...BUT we continue to ask everyone who notices an error to let me know so I can correct things.
Way too many sites are becoming "garbage in, garbage out" and I realize there is no such thing as human perfection but as genealogists and historians we need to take every precaution to make sure we have the most accurate information as possible.

I continue to add more obits to my memorial page and also update individual Veterans with little news articles that Connie and Ann are finding.

So please check out these sites I have and go through the newest information added - then let me know if you find errors and/or can add pictures and information.

One of the more interesting obituaries is of Charles Schmidt - take some time to read his story...
Dave

Thank you to all the businesses, organizations and individuals who are participating in the Hwy 141 Manning Garage Sale this weekend!
We expect lots of shoppers out and about town with over 30 garage sale listings. Please welcome them to our community!
A special thank you to Wendy Stribe who put the map and listing together for us. Very nicely done! See attached.
The Farmers Market will also be taking place on Friday afternoon on Main Street (4-6 pm).
Be courteous to our shoppers by parking your vehicles on side streets or behind your building. Save the Main Street parking for shoppers.
Manning Chamber of Commerce

You're invited to AMVC's Client Appreciation Lunch! Stop by their clinics on August 9th, 10th, and 11th, 2022, for lunch from 11 a.m. to 1 p.m.
Event Locations and Dates: Manning Clinic - Tuesday, August 9th
Templeton Clinic - Wednesday, August 10th
Audubon Clinic - Thursday, August 11th – Meet & Greet with AMVC's newest veterinarians, Dr. Seth Worthington and Dr. Calie Burgart!
Feel free to bring a friend or share the event. All are welcome!


On August 11, 2022, Marty, the son of Larry Gillespie, is going to visit Manning.
Larry was high school coach during the 1951-52 school year, and while he was only here one year, his students respected him a lot and he developed a love for the community.
In 2016, Marty found my web page and contacted me about information and pictures that I might have about his dad, so he could surprise him with a booklet of memories.
Then in 2020, Larry passed away and I made this tribute.

Larry Gillespie

Recently, Marty contacted me about coming to visit Manning - something he has always wanted to do. He wants to see the town that his dad and mother told him about so much with fond memories.

I realize that many of Larry's students have also passed away, but if anyone who remembers Larry would like to visit with Marty for a few minutes - please e-mail me or call me.

I'm going to interview Marty and will also give him a tour of Manning, so there won't be a lot of time for people to visit, but I'm sure he would appreciate hearing some stories about his dad.

I know the folks who frequent my web pages like the history I present, but I also know they are interested in the present day activities in Manning - something I don't always have extra time to edit and lay out a web page to show the pictures and provide captions and information.

This feature will give you a little idea of what has been going on in Manning through August 1.

2022 projects & some history

For some of the links you'll find that I added some history - so don't stop looking at just the first several pictures - there might be some old images and information that you'll find interesting.

Denise (Hinners) Doyel is one of my Manning history helpers - she is always watching for old Manning items of interest for me to scan.
Most people just throw away old receipts without any consideration about their historic importance.
So if you run across old receipts, especially ones that your parents/grandparents kept of old Manning businesses, please save some examples of each business for me to scan.

Fraulein Haus - Owner Joan Phillips
Located at 311 Main Street - some of you may remember it as the Golden Rule for many years.
Owned and operated by the Asmus sisters: Verna & Marie who married Brady brothers


Oh how times have changed the way business transactions were handled.

I'm trying to remember who Mary was listed as sales.

As I continue to go through the newspaper articles that Ann & Connie have been sending me, I see so much amazing and interesting history that I want to digitize and archive.
Sadly, today, with our excessive privacy laws, a lot of our history is lost forever - while most people today will think this is nothing but useless gossip, it is an AMAZING insight into our past.
This type of information was very common in most small-town newspapers and continued into the 1970s.

Carroll Times and Carroll Sentinel, September 3, 1914 - Manning activity.
Fred Miller, of Carroll, was seen on our streets Monday.
Miss M. Daily and nephew, Curtis Stuhr, left for Mason City last Saturday.
Adam Waldschmidt, of Hartington, Nebraska, is visiting in Manning at present.
Claus Moeller, of Springfield, Minnesota, is here visiting with relatives and friends.
Mr. and Mrs. William Shirk are the proud parents of a baby boy born one day last week.
Mrs. Julius Rix returned last week from her two weeks visit in Springfield, Minnesota.
Mr. and Mrs. John Rix and children, of Arcadia, visited Sunday with their cousin, Henry Sievers, and family.
Mr. and Mrs. George Memhardt and Miss Hey were in Manning Saturday and Sunday taking in the Kriegerfest (Veterans of Germany celebration).
Mrs. Chester Babcock, who lives near Carroll, visited one day last week with Mr. Louis Babcock and family.
Mr. and Mrs. Tony Anton and Mr. and Mrs. Fike Anton, of near Westside, visited with Peter Rix and family, Monday.
Mr. and Mrs. Henry Hoffmann and sons, Walter, Harry, and Teddy, left for the lake Wednesday to spend the rest of the week.
Last Monday fire broke out in the barn on the August Reimer farm. The origin of the fire is unknown. Mr. August Ploen lives on the farm.
The Ladies Aid Society of the M.E. Church was entertained last Wednesday afternoon at the country home of Mr. and Mrs. Grant Hockett.
Miss Anna Kerkhoff, of Maquoketa who has been visiting for some time with her sister, Mrs. Fred Kortum, returned to her home Saturday morning.
Misses, Bertha and Emma Schultz, of Stockton, Iowa, are visiting with their sister, Mrs. Herman Ahrendsen, and with their cousin, Mrs. Claus Nielsen.
Mr. and Mrs. Adolph Mohr, of Arcadia, visited with Joe Heider and family and with Mr. and Mrs. Ed. Eckholdt, and also took part in the Kriegerfest.
Mr. and Mrs. George Lehmkuhl, of Wisner, Nebraska, are here visiting with H.P. Hansen and family and also helped Manning celebrate the Kriegerfest.
Mr. and Mrs. John Kempf, of Audubon, visited last week with his parents, Mr. and Mrs. Charles Kempf, Sr., and with his brother, Charley, and sister, Mrs. George Dau.
Mrs. Henry Grau, Sr., was taken to Omaha last week and was operated on for some spinal trouble with which she has suffered a long time. At this writing she is doing fine.
Mrs. G.W. Pencker died at Wolsey, South Dakota, and was shipped here for burial at the Hayes Township Cemetery. She was the mother of our townsman Mr. John Pencker.
Frederick Jacob Jansen, of Dallas, South Dakota, is here visiting with his old friends. His former home was in Manning, (son of Claus & Frederica Jansen) and he also took great interest in the Kriegerfest, for he is an old German soldier.
We are sorry to state that Mrs. John Fonken (Doretta Koch) is quite sick at present and not expected to live. The children have all been called to her bed side, but she does not seem to know them. She is 79 years of age.
While Emil Albert was out riding one evening last week, he in some way lost control of his car and it tipped over, throwing him out and breaking his arm. He was very fortunate in not being hurt more seriously.
Mr. and Mrs. John Hoffmann were greatly surprised last Tuesday evening by a number of their friends who came to their home with loaded baskets to remind them of their deep friendship for them. Mr. and Mrs. Hoffmann will soon leave Manning for California where they will make their future home. Mr. Hoffmann has disposed of his business to his son, Henry, who at present lives in Harlan but will come here to live. Mr. Hoffmann has been a business man of Manning for thirty-one years. We wish them happiness in their new home.
Nels Wiese came very near being in a bad train accident Wednesday when the Great Western passenger coming from Omaha at noon hit his buggy while on the grade crossing leading away from the Charles Schuenemann farm home. High weeds hid the train and before Nels knew it he was thrown violently from his buggy. One horse was badly injured, the harness cut and the buggy smashed. Nick Schrum and Otto Paysen, who live near, came out and assisted Nels to get on the train. He was brought to Manning, and although no bones were broken he has a number of black and blue spots.

It never ceases to amaze me where Manning history ends up - so glad to have run across this item on the Internet.

Manning makes the Associated Press Wire in London, England in 1968


121 Third Street - Walter and Donna Felker family home


Associated Press wire November 14, 1968


Last name of the seller is Collison
Hello Dave,
It sounds like it is going to the right home.
I purchased it in a batch of 40 press photos last month that was split between USA & UK subjects ranging from animals / birds to architecture and building. A bit of a random lot but it had 3 or 4 photos of my home town in UK, and several of its key building in construction, hence the purchase.
Best wishes
If anyone is in contact with Walter or his 4 daughters, Kathryn, Anne, Mary, or Norine, please ask them to e-mail me...I'd like to see if they have any other pictures and can add more information about Nevermore and if they knew it made the Associated Press wire.
Donna passed away in 2010.
Thanks,
Dave

For those of you who follow my obituary page, if you are working on or have worked on your family history, please go through my database and thoroughly read through your relatives obits.

Let me know if you see typos, errors, incorrect information, and if you can add information to and clarify any of them.
I'm trying to catch the errors in the obits I find and are published, and correct them in my database.
Way too many people are not taking the proper time/effort to proof read the obits they write or not careful when they transcribe an obit or use OCR software.
Also, I'm seeing more and more "word-salad" obits that are short on historical facts and long on feathery wording - I'm looking for the historical facts and background.

As I've written before, back in 1996, I started putting obits on my web page so I could log in at someone's home with my laptop and dial-up connection when I was visiting with all of the various "old timers" in Manning who I was interviewing and working on Manning/family histories.

I just remembered receiving a couple of e-mails from people who were objecting of me posting their obits on my web page during the early years.
I was polite but told them that these obits were in the public domain already, albeit, what I was doing was way ahead of the curve - now today everyone is posting obits on their websites.

So any help with Manning obits will be appreciated.
If you have any that I don't have, please consider sharing - I'm sure you've found some on my web pages and probably other family pictures and information that has helped your research.
Thanks,
Dave
---
Well, Connie found Roy's dad's name and I have his obituary so now I have more information on this family.
Thanks to Jim Stoffers who found this map that proves the burial location for Roy & Julia Asmus...most people probably won't see the importance of having this information but I just hate it when a fomer Manning resident falls off the face of the Earth - especially a Veteran!
Attention Asmus descendants/relatives

I'm trying to find more information for Roy V. Asmus, his mother, Dora, and also pictures, especially military pictures of Roy.

This is the direct link to Roy and I wouldn't have initially known his mother's name if it weren't for the 2 Monitor articles.
https://davidkusel.com/veteran/v-asmus.htm

The main reason I'm trying to find out more information is for his military record to include in the Manning Veterans' history book.
This is a perfect example of why I need more Veterans to come forward and families of Veterans, so more don't fall off the face of the earth.

It is also another example of how obituaries need to be written with more historical and factual ancestral information.


Disinformation - it all depends on whose perspective
Some historical facts and thoughts - from my perspective...

Jon Ahrendsen noticed this interesting rye whiskey at a Walmart in Storm Lake. He was sure he recognized the names so he took some pictures and sent them to me for confirmation.
Lorine was an Eischeid and both she and Frank grew up in the Halbur/Templeton area. They farmed in the Manning area and operated the Sportsman's Club at Great Western Park.
They also operated the restaurant that later became known as Saunders' Steak House.
Their children, Shirley, Darlene, Patricia, Mary, Dave, Phil, and Becky all attended Manning High School.
Shorty's siblings: John, Ben, Marie Drees, and Pauline Kerkhoff.
Lorine's siblings: Leonard, Louis, Alvin, Hilbert, Mathilda Busenbark, Florence Gephart, Louise Beckman, Irma Fast, Marie Schreck, and Ted.

Kenneth, "Ken" Edward Zubrod
Kenneth, "Ken" Edward Zubrod, 76, gained his wings from his battle with ALS on June 20th, 2022. ALS took his body's capabilities, but it couldn't take his spirit, love for others, and his amazing sense of humor.
Ken was born on August 2nd, 1945, to Louis and Louise (Bellinghausen) Zubrod. He spent his childhood on a farm in Manning, Iowa, and graduated from Manning High School in 1963. He loved sharing stories of his high school shenanigans with friends and growing up on the farm. After high school, he moved to Omaha, Nebraska, attending the University of Nebraska.
He married Diane Loeffelholz from Halbur, Iowa, in 1966 and moved to Manning and worked for his brother, Don, in the TV and radio repair business.
In 1968, they moved to Sioux City, Iowa, and Ken continued his education and work in the electronics business.
In 1971, Matt Zubrod was born. His dad was his best friend from an early age sharing many sports activities. There were the annual birthday baseball games in the backyard for Matt and his friends. There were early mornings on the ice at hockey practice or travelling out of town for the games with Matt's buddies. Then, in time, they were on the golf course together. In 1981, Meggan Zubrod was born and enjoyed every moment with her dad and family learning how to swim before she could walk, boating on the river in the summer and snowmobiling in the winter. All were Ken's favorite things.
Ken began his long career with Federated Insurance and realized great success and continued in the insurance business after moving to Arizona in 1986. He became an insurance business owner, along with his family, in Scottsdale, Arizona, achieving many awards of excellence.
Ken met Donna Vonderloh in 1988, in Scottsdale, Arizona, where they married on March 14th, 1992. Ken continued in the insurance industry until retirement and because retirement was not a word known in his vocabulary, he and Donna went to New Orleans to help the Hurricane Katrina victims along with Matt and their son-in-law, Tom. The living conditions were simply awful and what they saw was tragic, but they continued to stop their lives as they knew it and helped people in need. The final portion of their 2 years in the area was at the infamous Lower Ninth Ward. After this, Ken and Donna worked for 11 plus years in the hotel industry traveling together, to include traveling to every state in the U.S., living in Hawaii for a year, then traveling to Belgium and England.
Ken was a giving man, who laughed hard, loved much, lived with his heart on his sleeve, and loved working with his hands. He loved, loved, loved his family, being a member of the Shrine (oh the stories there…), loved ice cream with potato chips, playing tennis, riding horses, golfing, and having family grilling parties with Ken burgers. His generosity and laugh were contagious, so much so, he had lasting friendships, and never met a stranger. Ken will be missed more than words can express and holds a place in his family and friends' hearts that will bring years of smiles and laughter.
Donna was honored to have been Ken's caretaker, with the help of his children, through his journey with ALS.<
Ken is survived by his wife, Donna Zubrod, Son Matt (Christine) Zubrod, and Daughter Meggan (Tom) Lombardo, step-children Kari (Rich) Vonderloh-Havrilla, Kristi (Kevin) Vonderloh, and grandchildren he loved to the Moon and back, Ty (Joe) and Nicole Zubrod, Hailee and Peyton Lombardo, Hunter Havrilla, and Toby and Tyler Lester, his sister Carol Rupiper, brother Don Zubrod, and many nephews and nieces.
Ken is also survived by Diane (Arthur) Zubrod, mother of Matt Zubrod and Meggan Lombardo.
Ken was preceded in death by his father, mother, sisters, Thelma (Jerry) Fox, Doris Feldman, and brother Merlyn (Pat) Zubrod.
A celebration of life will be held August 2nd, (Ken's Birthday), in Scottsdale, Arizona. In lieu of flowers, please send donations to the Arizona ALS Association.
A special heartfelt thank you to the Arizona ALS Association and Hospice of the Valley for their compassion and care for Ken during his ALS journey.
Freshman & Sophomore FFA members 1961

Third: Lyle Zinke, Jim Hansen, LeRoy Joens, Pat Knueven, Fred Gruhn, Mr. Luther Thompson, Sponsor
Second: Jerry Hockett, Duane Karsten, Raymond Hagedorn,

Kenny Zubrod

, Roger Schroeder, Ron Nissen
Front: Kenneth Spies, Russell Stribe, Paul Vogl, Calvin Stammer, Don Mathisen, Merlin Frahm, Duane Rohe

Sophomore Homeroom B 1960-61

Fourth: Butch Spieker, Lyle Zinke, Mike Spack, Gene Wycoff, David Souter, Roger Schroeder
Third: Julie Mundt, Carolyn Pratt, Darrell Weise, Diane Rowedder, Stan Schrum, Vergene Reinke, Sandra McGrath
Second: Kenny Schrum, Carolyn Ward, David Pfoltner, Janet Nulle, Lois Zerwas, Gale Segebart, Mrs. Letha Johnson - Sponsor
Front: Kenny Spies, Betty Swank, Jeanne Mundt, Wayne Ross, Gloria Popp, Gail Vinke, Patricia Oakley,

Kenny Zubrod

Louie & Louise Zubrod

Merlyn Zubrod, Carol Rupiper, Don Zubrod

Louise and Don Zubrod September 1952 in El Paso, Texas

I continue to work on all of the obituaries and military articles that Connie Petersen and Ann (Voge) have been digging up on various websites and sending to me over the last several months.
I'm so glad that they offered to also find military information and some very interesting articles have popped up.
I wish I had been aware of some of these events, as I would have bugged people like Art Rix and so many other folks who lived those events.
Over the decades I thought I was asking a lot of questions and documenting a lot of history during sessions with those "seniors," but boy do my eyes open up when I read about some of the events from the past, especially during WWII.
If you follow my "What's new" link on the left, you'll see the dozens of new obituaries I've been adding.
I don't just OCR those obits sent to me, but I go through them thoroughly to look for errors and to add pertinent information that is missing that helps define who these individuals are connected to and their connections to Manning.
I also try to find first names when initials are only used, and maiden names when not listed...and so forth.
Some historians won't do this because they feel changing the official documented record is wrong - but may add a footnote about the error and such.
NOT me, I don't want to continue the errors, and I'm always begging people to let me know when they see errors I make or have on my web pages and in Monitor articles.

I initially started posting obits on my web page in 1996, for my own use - when I would go talk to one of the senior citizens, I would log in to my website to look up information about a person who came up in the discussions.
Then I realized that by having these obits on my web pages, other people were interested in them too, and SOME would offer to send me other obits I didn't have...so my database grew quickly.
Now there are dozens of genealogical/history sites doing similar things, which from my perspective has hurt my "Manning" research, since a lot of people will give information to those commercial sites and not bother to offer helping me with my more specific website, which is about Manning and surrounding rural area.

Well enough of my rambling, because I know most people won't bother to read what I write...so here are two amazing articles that will fit in the future Manning Veterans' history book military topics.

As much as I've worked on military information over the decades, every now and then I'll run into something I never knew about or have seen before and in this first article the acronym "SPARS" is something I have never run across before...thankfully I was able to quickly find information about it on the Internet.

Manning Body Aids Marines, Enlist Women
March 11, 1943
The Auxiliary to Emil Ewoldt Post No. 22 of the American Legion met in the Legion Hall Tuesday afternoon, March 9, 1943, to sew carpet rags to be sent to Knoxville for the patients to weave into rugs.
Martha (Mrs. N.C.) Schrum, Vera (Mrs. A.J.) Ross, and Regina (Mrs. John H.) Mohr served a lunch at 6:45 o'clock. At 8 o'clock the regular business session was held. The unit now has ninety members. Another $10 was voted for the Manning Public Library.
Bills were allowed for heat and light for the Red Cross rooms. The auxiliary will serve the junior-senior banquet in the Legion home.
Since the United States Navy has asked the auxiliary to help recruit WAVES, SPARS (United States Coast Guard Women's Reserve AKA "Semper Paratus-Always Ready"), and Marines to relieve men from shore duty for other services.
Marie McGrath was selected by the unit as recruiting officer.
Any woman between the ages of twenty and forty-nine, who is interested in joining any of these branches may secure the information necessary by calling number 342, Manning telephone.
Alta (Mrs. Henry J.M.) Hansen had charge of the Latin American study program lesson. Mrs. Hansen talked about "Peru."
The Manning unit will be host to a Carroll County meeting here April 1 at 2 o'clock.


Complacency Target Of Grahl Speech, Manning
July 27, 1942
"If the citizens of the United States wish to continue to enjoy the blessings of freedom, which the country offers, if they wish to loan to their government until it hurts, instead of having a tyrant enemy confiscate all that we have, if they wish to maintain their standards of home life, their schools, the freedom to worship, in fact if they wish to continue to have all the things that make life worthwhile to a liberty loving people, they must awake from their complacency to the fact that they are at war and conduct themselves accordingly." This was the gist of a speech here Saturday night by Adjutant General Charles Grahl, Des Moines.

He stated that we can no longer think in terms of "If war comes," war is here and in our own country. He stated that Iowa was as close to some of the enemy bombing stations as either the Eastern or Western Coasts."

Manning Saturday honored their national heroes, Fred Beese, a prisoner of the Japs, Harry Keat, a hero of two wars, and Melvin Kuhse, who entered the service on February 22nd of this year and was reported missing after the fall of Corregidor.

Arthur Rix, president of the Chamber of Commerce, opened the evening meeting, telling its purpose and introducing S.R. Keat, father of Harry Keat, Mr. and Mrs. Hans Beese, parents of Fred Beese and George and Clarence Kuhse, brothers of Melvin Kuhse, all of whom were with him on the speaker's platform.

General Grahl, in his speech praised these Manning heroes. He spoke highly of Carroll County, saying that it rated with the best in service in the state.

Carroll County, he said, has always done its share and Iowa has always been in the front ranks in all wars.

He stated that the boys of 1942 were showing the same and devotion to the cause, the same high courage that has always been shown by Americans in all wars. He praised the mothers of these men, saying that every man in the forces knew that his mother, his sister, his wife, and his sweetheart suffered more than he did.

Mr. Rix also introduced Major O.P. Bernett of Des Moines who had at an earlier date addressed the Chamber of Commerce.

Peter F. Hansen introduced Adjutant General Grahl. After General Grahl's speech Mr. Art Rix closed the meeting with the Pledge of Allegiance to the Flag.

Before this part of the program the school band, directed by Harold B. Turpin, played a concert of marches and patriotic numbers.

Six girls in white satin suits with red, white, and blue boxes carried in "Cigarette Girl's" style sold 500 defense stamp boutonnieres which had been made by the Auxiliary to the Veterans of Foreign Wars. The girls were La Rue Dietz, Joyce Bingham, Shirley Bailey, Lucretia Wolfe, Gertrude Hershman, and Evelyn Mock.

At four o'clock, $11,000 worth of bonds had been sold. The sale continued during the evening. The Post Office remained open and there was a booth in Brown McDonald's store. Anton "Tony" Mergele and William C. Schrum took orders in a booth on Main Street.

Jeeps and soldiers from Ft. Crook, Omaha, were here several hours in the morning giving rides to all youngsters who had a wishful look on their faces.

In the windows of Brown Mc Donald's store were pictures of more than 100 Manning boys who are representing the town in the Navy, Army, Marine and Coast Guard, in the Air, on the ground and the water and under the water.

CHARLES H. GRAHL, DES MOINES
Adjutant General, was born in Council Bluffs, Iowa, September 23, 1894. Attended public schools in Council Bluffs and Des Moines, graduating from west high school, Des Moines, Iowa, in 1913. Enlisted in company "B," 3rd Iowa infantry June 24, 1916. Served overseas with 168th infantry. Appointed 2nd lieutenant, infantry, July 9, 1918. Served overseas from November 14, 1917, to June 27, 1919. Appointed captain, infantry, Iowa National Guard, March 29, 1921. Resigned July 25, 1921. Appointed captain, infantry, Iowa National Guard, January 7, 1925. Promoted lieutenant colonel, adjutant general's department, July 5, 1927, and assigned to the state staff, Iowa National Guard, as assistant Adjutant General. Promoted to brigadier general, Adjutant General's department, and appointed Adjutant General of Iowa, January 16, 1932.

Married June 12, 1923, to Mary Magdaline Phillips and has two sons, Charles Phillips and Robert Louis. Member of Argonne post, American legion and the service men's club of Des Moines, Iowa.

I continue to watch for Manning items on the Internet and when possible I try to purchase them.
Here are 2 items recently purchased and I always ask the seller for any background information they can remember about the item.
Old items are basically historically worthless if you don't know the who/what/when/where/why/etc. about the item.

I also can't compete with collectors (with deep pockets) who basically just want an item for their collection and generally don't concern themselves about the actual history of that item.
But I keep watching for old Manning stuff with the hopes that I can bring it "back home" to preserve this history here, and hopefully with some background about them.

The person who had this photograph never responded to my inquiries about any more background information he may have. The only thing provided is it was from the collection of Stan Mailer, railroad photographer and historian and was a Chicago & Northwestern train.
On back of the picture was written "Manning, Iowa 1907," along with the name "E.H. Meyers."

I would guess that E.H. Meyers is in this picture and from Manning.
At this point in time I have not found an E.H. Meyers.
The other item I'm going to feature is a receipt by Moershell Brothers from 1888.
While MOST of our history has been thrown away, there are still some very old and historically important items "out there - somewhere" if I can only find them.
This document was recently purchased along with many others connected to Amana, that were sold at a Johnson County Fair flea market on the Fourth of July.
The seller at the flea market said he grabbed them right before they were headed to a dumpster.
Fortunately I have some details about Moershell.

Front and back of receipt


Ferdinand Moershell
I could tell some of the words were written in German and the rest in English but a difficult script to read.
So I asked Dennis Barten to help out and as usual he came through...


Transcription by Dennis

Here is Ferd's obituary


PROMINENT CITIZEN CALLED


October 15, 1914 Manning Monitor

Ferdinand Moershell was born in Erie County, New York, August 4, 1845, died in Lawrence, Kansas, October 10, 1914, aged 69 years, 2 months and 6 days. His parents were of German birth and emigrated to America after their marriage and settled in Ebenezer, New York, where the two youngest of their children were born. Mr. Moershell was the youngest of three children, of whom only one, Mrs. Henrietta Gefaeller, of Homestead, Iowa, survives. The only brother, William, died May 1900, at Homestead, Iowa. Mr. Moershell's parents removed from New York to Homestead, Iowa, in 1861. They were members of the Amana Society, which is one of the old German societies of Christians. This society holds its prosperity in common.

Mr. Moershell began his business career at the age of 18, when he took employment in a store at Stevens Point, Wisconsin. He was employed by Marshall Field & Company, in Chicago, from 1872 to 1874. He then removed to Indianapolis, Indiana, where he was employed as state agent of the Victor Sewing Machine Company. It was there that Mr. Moershell met his first wife, Annie Beard, to whom he was married in 1876. To this union were born two sons, Robert, who died December 8th, 1893, and Floyd. Mr. Moershell brought his wife to Walnut, Iowa, in 1876, where he had established himself in the mercantile business. Afterwards associating his brother with him under the name of Moershell Brothers. The firm continued thus until 1882 when Mr. Moershell came to Manning where he entered into business for himself and continued until 1892 when he went to San Diego, California, on account of failing health.

There he was interested in a lemon orchard. It was in San Diego that Mr. Moershell was bereaved of his wife who died August 5th, 1893. She was buried in Indianapolis, Indiana, her old home. Mr. Moershell came to Logan, Iowa, in 1898, where he had the management of a department store. Mr. Moershell was married to Cora Belle Coffman at Fairbury, Nebraska, July 10, 1900, who with his son, Floyd, one sister, three nephews: William Gefaeller, Fred and Raymond Moershell and one niece, Henrietta Gefaeller survive him.

Mr. Moershell returned to Manning in the fall of 1901 and re-engaged in the mercantile business. In the summer of 1904, he took his son, Floyd, into business with him under the firm name of F. Moershell and Son. The firm continued until July 1913. In 1902, Mr. Moershell became slightly afflicted physically and this trouble was accentuated by the suddenness of the news in February 1905 that the store was afire. This fire destroyed his entire business. The business was opened up again in the following May. On account of increasing bodily infirmity, Mr. Moershell was obliged to retire from active participation in the business of the firm in the summer of 1909. He continued to live in Manning until March 1914, when he went with his faithful wife to spend the last months of his earthly life with her parents, the Rev. and Mrs. J.P. Coffman, at Lawrence, Kansas.

The remains were brought to Manning, and buried Wednesday in the Manning Cemetery. Services were held at the M.E. Church and the grave. Rev. E.B. Scoggan, former pastor of the Manning church, but now of Grand River, Iowa, and a beloved friend and pastor of the deceased, preached a masterful oration over the body. He spoke of the deceased as one man among men, highly respected by all, and a man heading the confidence of all who knew him. His words of praise respecting the saddened widow were indeed complimentary. For a number of years she did all that a true and faithful wife could do to comfort, cheer, and assist her beloved husband. Rev. Tillmanns also spoke in German over the body.

At the grave the Masonic Lodge conducted the service was according to the ritual, of their order. The services here were touching and beautiful. The white leather apron, the evergreen, the last fond adieu was left with the departed brother until the time when there would be a reuniting in the home beyond the grave.

Mr. Moershell is gone. His good deeds still live. The world is better by his living in it. He fulfilled his mission on the earth, although his last years were filled with pain of a physical nature, he faithfully sought the Truth and now is one of God's chosen children, in the realm of peace.

A touching tribute to the departed one was the wreaths of flowers profusely scattered on his coffin and at the grave. They were the silent tokens of deep grief for one long to be remembered.

The annual MMU/City Customer Appreciation is coming up and we'd like to invite YOU, our valued customers!
Please plan to join us Wednesday, July 27, 2022, from 4-7pm at the Kerkhoff Shelter House – Manning Trestle Park.
This year we're excited to have LIVE music performed by local talent, Ryan Ahrenholtz!
Our crew will be grilling hamburgers & hot dogs and of course, back by popular demand will be Deb's homemade pies & other sweet treats.
It'll be a fun evening for the whole family. We look forward to seeing you!
Beth Swearingen Communications

Ryan Ahrenholtz


Pre-program music for the November 8, 2019, Veterans' Day program at the IKM-Manning gymnasium.


Celebration of life for Michael & Lori Ann Trecker

On Saturday, July 23, 2022, at 11:00 am, Lori Ann and Mike's ashes will be interred at the Manning Cemetery at the Rothfolk plot.
Afterwards there will be lunch at the Great Western Park - friends and family are invited to participate in the services and stop out at the park to visit and share memories.

Lori Ann Rothfolk MHS 1980
July 26, 1961 - April 5, 2022
daughter of Norman & Mary (Grage) Rothfolk
grandaughter of James and Sophie (Grau) Rothfolk & Walter and Malinda (Petersen) Grage

Michael Trecker
September 6, 1959 - December 27, 2021
son of Dennis and Barbara Trecker

Show your support by participating in the 2022 WCIHF Golf Tourney on July 22.
Registration forms due by July 18.
Proceeds to benefit the MRHC & Manilla Wellness Center.

Imelda Kerkhoff


March 25, 1931 - July 6, 2022
Rosary Sunday, July 10, 2022 AT 4:30 PM Sacred Heart Church, Manning
Visitation Sunday, July 10, 2022 AT 5:00 PM - 7:00 PM Sacred Heart Church
Mass of Christian Burial Monday, July 11, 2022 AT 10:30 AM Sacred Heart Church
Place of Rest Sacred Heart Cemetery
Ohde Funeral Home in charge of services
Tribute to Imelda

MARVIN BOGATZKE


Mar 30, 1928 - July 3, 2022
Marvin Bogatzke, age 95, of Atlantic and formerly of Manning, died Sunday, July 3, 2022, at Heritage House Wesley Retirement Home in Atlantic.
Visitation will be from 1:00 p.m. to 3:00 p.m. on Friday, July 8, 2022, at Ohde Funeral Home in Manning. Graveside services will follow at 3:00 p.m. at Manning Cemetery.
Visitation Friday, July 8, 2022 AT 1:00 PM - 3:00 PM Ohde Funeral Home, Manning
Graveside Service Friday, July 8, 2022 AT 3:00 PM Manning Cemetery
Tribute to Marvin

It's easy to take Liberty for granted
when you have never had to fight for it defending your country!"
Love of country and pride in our nation -
It is all in how you were brought up...

July 4 historical tribute - Manning Style!

Love of country and pride in our nation -
It is shown individually, through our organizations, by our businesses, and community...

Giant flag flown by Gene & Sherrie Steffes

Ramsey Market supports the Boy Scout flag project

City crew places the US flags on Main Street
Ranniger family supports the Boy Scout flag project


Former home of Lyle & Dorothy (Sutherland) Arp
Dorothy - granddaughter of Civil War Veteran Donald W. Sutherland
Helen Wiese supports the Boy Scout flag project


304 Ann - historic home of Civil War Veteran James Hall - one of 80 who lived in the Manning area


Circa 1909
Some historical perspective to this and two other adjacent homes in this block.
Letter sent to John Ohde sometime in the 1980s
Dear Owners of 304 Ann Street:
My grandfather & grandmother, James L. & Emeline Hall, built the house in the 1890s.
I was going thru Manning on May 2nd, and stopped at the cemetery first to visit the Hall graves then drove by the house and also stopped hoping to get a "glimpse" inside --- no one home.
The front porch replacement, looks beautiful as does the outside of the home ---- really a nice feeling, knowing that someone cares about the place.
Tho't perhaps you might like a print of one of the older scenes, showing their 2nd lot and the old barn on it.
The prints were very yellowed so the copies were filtered blue and printed on color paper.
Also their daughter Azubah (Hall) Pollock, owned and built the 2nd home next to yours (310 Ann) and my parents, Frank & Ida (Hall) Kemp owned the 3rd house (316 Ann) on the same block. I think this one partly burned and it was completely rebuilt. The 2nd one over looks just the same as it did years ago.
My grandmother died in 1933 and her daughter Azubah lived in the house until her death in 1938. The last time I was in the place was possibly April 1938. It was rented a year or so and finally sold to Mrs. Navin then I lost track.
Remembering from my childhood visits there one of the "wonders" was the "water-fall" toilet in the basement. The water was in a big container above the stool and you pulled the chain and you heard a "water-fall". It was fun!
My sister Helen Schrank and I hope to decorate the graves this summer sometime and possibly could we stop and just have a glimpse in the home?
Keep the prints.
Most sincerely, Jim Kemp

James & Emeline Hall wedding

1910

Left to Right: Henry Pollock, Azubah (Hall) Pollock, Hattie (Hall) Martin, Fay Polluck, Frank Kemp, Ida (Hall) Kemp, Emeline Hall, James Hall

July 4, 2022 - similar view as above and below


Frank & Ida (Hall) Kemp

310 Ann Street - former home of Azubah (Hall) Pollock

316 Ann Street - former home of Frank & Ida (Hall) Kemp

I just found out about the passing of Delores Wagner - below is some information about her family history...

1981 Manning Centennial book

MATHEW WAGNER




Mathew & Catherine Wagner

Mathew and Catherine (Dalhoff) Wagner and their family moved to Manning from Hartington, Nebraska, in 1929. Both were originally from Carroll County, Matt was born in Halbur and Catherine was raised in Carroll.
Matt worked as a plumber for H.C. Reinholdt for a number of years. Then in 1935, he started his own plumbing business, which he continued until his death in 1960. For several years, he was the only plumber in the town of Manning. He installed the heating and plumbing system in the high school gym - now the Rec Center - and also worked on the Legion Hall when it was being built.
Matt was an active member of the fire department for 25 years. He helped build the Fireman's Ball Field, where he enjoyed playing ball for many years.
In May, 1937, the Wagners bought a house at 227 Second Street, where Mrs. Wagner still resides.
Matt belonged to the Knights of Columbus and Catherine is active in the Catholic Daughters.
Mr. and Mrs. Wagner are parents of seven children: Delores (Mrs. Richard Longenecker) of David City, Nebraska; Alice (Mrs. Donald Stangl) of Manning; Eugene "Bud" Wagner, Carroll; Jack Wagner, Benson, Minnesota; Vernon Wagner, Audubon; Kathleen (Mrs. Larry Popp), Manning; and Donald Wagner, Audubon. There are 23 grandchildren and five great-grandchildren.
---
Delores Longenecker
Delores Josephine Longenecker, 93, of Topeka, Kansas, passed away Thursday, April 7, 2022.

The rosary was prayed at 6:30 p.m. Tuesday, April 12, 2022, at Mother Teresa of Calcutta Catholic Church, where visitation will follow until 8 p.m. Mass of Christian Burial was celebrated at 11 a.m. Wednesday at the church and was livestreamed on Kevin Brennan Family Funeral Home Facebook page. Cremation will follow and inurnment will be in Mount Olivet Cemetery in Manilla, Iowa, at a later date.

Delores was born June 10, 1928, in Yankton, South Dakota, to Matthew and Catherine (Dalhoff) Wagner. She attended schools in Manning, Iowa, graduating in 1946, and Business College in Des Moines. She served as the bookkeeper and secretary at Aquinas High School in David City, Nebraska, for 25 years. Delores met the love of her life, Richard Longenecker, on a Greyhound bus to Des Moines. On September 24, 1947, they were united in marriage enjoying 60 years together.

Delores was a member of Mother Teresa of Calcutta Catholic Church. She enjoyed word searches and bird watching. Every family birthday and anniversary included a card and a handwritten letter from Delores which are cherished. She loved her family deeply and was deeply loved in return. She will be greatly missed.

Grateful to have shared her life are her children, Carol "CJ" Deuninck, Deb Dumas, Rick Longenecker (Jeanne), Kellen Longenecker (fiancé Angie Janke), Kent Longenecker (Michelle), Ann Kirmse (Kevin) and Brent (Tina) Longenecker; 21 grandchildren; 34 great-grandchildren; one great-great-grandson; siblings, Eugene "Bud" (Marj) Wagner, John "Jack" (Darlene) Wagner, Vern (Judy) Wagner, Kathy Popp, and Don (June) Wagner; and numerous nieces and nephews.

Delores was preceded in death by her parents; her husband, Richard; infant son, Martin Scott; great-grandson, Gabriel Hippen; sister, Alice Stangl; son-in-law, Gary Dumas; daughter-in-law, Jeanne Longenecker; brothers-in-law, Don Stangl and Larry Popp; and sister-in-law, Diane Wagner.

Memorial contributions may be made to Aquinas Catholic High School, David City NE, Mother Teresa of Calcutta Catholic Church, or Interim Home Health Care. Sent in care of Kevin Brennan Family Funeral Home, 2801 SW Urish Road, Topeka KS 66614.

Condolences may be sent online to www.kevinbrennanfamily.com.
---

Delores & Alice Wagner

Matt Wagner MFD 1954

Matthias Wagner

Catherine (Dalhoff) Wagner

Alice (Wagner) and Donald Stangl

John Wagner MHS 1954

Allan Eich (middle) with 2 Wagner boys


Hopefully someone will ID the Wagner boys

Catherine Wagner with 3 of her grandkids

Back: Marty, Matt, Tammy
Front: Larry, Tiffany, Kathy (Wagner) December 2006

Zita Smith, Iris Kuhl, Kathy Wagner

James Wingrove, Don Lerssen, John "Jack" Wagner

Back: Barry Kusel, Tom Schroeder, Don Kingsbury, LeRoy Jones, Tom Bromert, Bill Graner
Front: #11 Don Wagner, Patrick Callender, Gene Beckman, Kenard Carstens, Eugene Wycoff
Gary Gruhn not present - 1962-63 varsity team
9th Grade picture of Class of 1946

Back: Marian Hoffman, Betty Mincy, Jean Blum, Eddie Meggers, Sara Diamond, Ruby Book, Alvan Kuhse, Joanne Grundmeier, Leota Carter, Marie Sextro, Bill Addison, Ruby Lohmeier, Margaret Hammer, Norma Schrum, Betty Olbertz
Middle: Shirley Coleman, Lucille Genzen, Zona Duff, Norma Dau,

Delores Wagner

, Franklin Mohr, Virgene Ruhde, Alvan Jansen, Donna Schacht, Kenneth Pfannkuch, Donna Fae Mohr, Ruth Musfeldt, Madlyn Cramer, Loretta Lerssen, Mildred Lechtenberg
Front: Norman Arp, Mary Jane Dales, Duane Olbertz, Donna Rowedder, Robert Hinners, Ruth Brady Hiatt, Mrs. Ida Beck (teacher), Patrick Miller, John Keane, Donna Jean Cramer, Marvin Bogatzke, Donna Belle Joens, Mary Lorraine Jacobsen

May 6, 1943 Manning Monitor
Ninth Grade Class Night Planned
The Ninth grade class night will be held under the supervision of Miss Ida Beck, class sponsor, in the Junior High Assembly, May 21 at 8 o'clock.
Class colors are blue and white; class motto, "There is No Defeat, Save in No Longer Trying."
Donna Mae Rowedder is the valedictorian of the class and Mildred Lechtenberg the salutatorian.
The ten highest in the class scholastically are chairmen of the committee on arrangements as follows: Music, Zona Gail Duff, chairman; Ruby Lohmeier, Norma Dau, Donna Belle Joens, John Keane, Pat Miller, Lucille Genzen.
Program: Mary Jacobs, chairman; Leota Carter, Duane Olbertz, Donna Jean Cramer, Jean Blum, Billy Addison, Sara Diamond, Delores Wagner.
Decorating: Donna Schacht, chairman; Shirley Coleman, Ruby Book, Marvin Bogatzke, Joanne Grundmeier, Vergene Ruhde, Margaret Hammer, Edward Meggers.
Stage: Loretta Lerssen, chairman; Kenneth Pfannkuch, Norman Arp, Alvin Kuhse, Franklin Mohr, Betty Olbertz ,Marie Sextro, Norma Jean Schrum.
Class Will: Mary Jane Dales, chairman; Donna Fae Mohr, Bob Hinners.
Class Prophecy: Marion Hoffman chairman; Ruth Musfeldt, Alvin Jansen.
History: Betty Mincey, chairman; Madlyn Cramer



Delores Wagner

, Madlyn Cramer, Mary Jacobsen, Donna Belle Joens (Queen), Jean Blum, Zona Duff
School notes
1946 MHS graduates: Norman Arp, Marvin Bogatzke, Jean Blum, Ruth Brady, Leota Carter, Shirley Coleman, Madlyn Cramer, Mary Jane Dales, Norma Dau, Zona Gail Duff, Lucille Genzen, Margaret Hammer, Marian Hoffman, Mary Jacobsen, Donna Belle Joens, John Keane, Alvin Kuhse, Mildred Lechtenberg, Loretta Lerssen, Ruby Lohmeier, Edward Meggers, Betty Mincey (salutatorian), Donna Fae Mohr, Franklin Mohr, Delores Rix, Donna Rowedder (valedictorian), Donna Schacht, Norma Jean Schrum, Marie Sextro, Delores Wagner
1946 former students: Billy Addison, Jimmy Barnes, James Bingaman, Ruby Book, Eula Mae Bradshaw, Donna Jean Cramer, Sarah Diamond, Evelee Furgason, Merlin Gosch, Joanne Grundmeier, Delores Hargens, Robert Hinners, Alvin Jansen, Carl Lake, Alvin Lohmeier, Bobby Matchett, Lyle Mersman, Patrick Miller, Ruth Musfeldt, Leo Nielsen, Betty Lou Olbertz, Duane Olbertz, Donald Petersen, LaVonne Pittman, Mary Qually, Phyllis Soppe, Laura Mae Schieffer, Leslie Stahl, Mary Lou Weinhart, Marie Wells, Ray Wiley

LOYCE GRAY
Visitation Friday, July 15, 2022 AT 10:00 AM - 11:00 AM Ohde Funeral Home, Manning
Memorial Service Friday July 15, 2022 AT 11:00 AM Ohde Funeral Home
Loyce Gray, age 86, of Manning, passed away on Wednesday, June 29, 2022, at Regency Park Nursing Home in Carroll. Memorial services will be at 11 AM on Friday, July 15, 2022, at Ohde Funeral Home in Manning, with visitation after 10 AM.
Loyce Marlene, daughter of Raymond and Leola (Spear) Gray, was born July 3, 1935, on a farm in Crawford County near Manilla, Iowa. A few years later she moved with her family to a farm southwest of Manning. She attended country schools near Manning through the seventh grade. In 1949, she, her brother, and parents moved to a farm near Alexandria, Minnesota. It was there that she completed eighth grade and started high school. In October 1952, her senior year, she and her mother moved to Manning after the death of her father. She graduated from Manning High School Class in 1953.
After graduation she worked at the Golden Rule, a women's clothing store, for a short time before beginning her career as bookkeeper at Manning Motor Company. She worked there from 1954 to May of 2010, over 56 years, when the business closed. Loyce then sold her house on Center Street and moved to an apartment on Elm Street. She then worked in a job-training position in the New Hope Store for two years until the program expired. She continued to work there on a volunteer basis another four years until the store went out of business.
Loyce was always active - visiting with friends, walking, bicycling, reading, working jigsaw and word puzzles, surfing the internet, playing computer games, and watching westerns on television, especially John Wayne movies.
On Wednesday, June 29, 2022, Loyce passed away at Regency Park in Carroll, Iowa, after a long battle with cancer. She was 86 years, 11 months, and 26 days of age.
Loyce was preceded in death by her parents, grandparents, aunts, uncles, cousins, and an infant niece.
She is survived by her brother Donald Gray of Corvallis, Oregon; niece Tania (Andy) Ross of Corvallis; nephew Justin (Eileen Helmer) Gray of Fort Collins, Colorado; great-nephew Isaac Ross of Corvallis; and several cousins.

Lincoln No. 3
page 146 of the Manning Schools history book

Loyce Gray & Roger Vollstedt Queen/King Prom 1953

Loyce Gray MHS 1953
MHS 1953: Vera Ahrenholtz, Marlene Anthony, Glenn Branning, Phyllis Branning, Claus Bunz, Margene Drees, Allan Eich, Mary Lou Foley, Daryl Genzen, Loyce Gray, David Grundmeier, Dorothy Hammer, Marlene Hargens, Marlene Jahn, Wilbur Jahn, William Jensen, Ardella Joens, Donna Joens (Salutatorian), Barbara Knaack, Dareld Kracht, Gene Kuhl, Gene Martens (Valedictorian), Roland Meeves, David Muhlbauer, Robert Neubaum, Pete Petersen, Lewis Puck, Merlin Ramsey, Patricia Ramsey, Richard Rix, Corrine Sander, Cleone Schroeder, Colleen Schwiesow, Maxine Sextro, Ruth Sextro, Shirley Sextro, Glenn Singsank, Melvin Sinow, Donna Spies, Norbert Stoberl, Betty Stuhr, Merlene Thompson, Allen Vennink, Shirley Vinke, Roger Vollstedt, Shirley Watson, Myra Weinbrandt, James Wingrove, Phyllis Zerwas
Former members: Dean Aden, Janet Asmus, Carol Bliefert, Joseph Bringleson, Jr., Mary Bringleson, Janet Dau, James Davenport, Michael Farmer, Jack Fuller, Howard Gilman, Roger Hansen, Mary Ann Hass, Richard Henriksen, Mary Ann Holme, Donald Lerssen, Caroline Louisfield, Roger Mentzer, Ramon Meyers, Leo Miller, Charlotte Mishler, Patricia Pare, Janice Popp, JoAnn Ramsey, Betty Remmes, James Rostermundt, Darrel Sander, Lois Sander, Everett Slechta, Arlo Stein, Michael Sullivan, Nadine Walters, Jon Wiemann
1952 Spotlite

Lillian Spear with her Jefferson Township country school student, Beverly Peters

Genevieve Baker


February 19, 1922 - June 30, 2022


Gen Baker - September 1973 in the new high school office
Visitation Tuesday, July 5, 2022 at 10:00 AM - 11:00 AM Ohde Funeral Home, Manning
Funeral Service on Tuesday, July 5, 2022 at 11:00 AM at the Ohde Funeral Home in Manning
Pastor Jonathan Conner, Officiating
Recorded Music "The Lord's My Shepherd" and "The King of Love My Shepherd Is"
Casket Bearers are Gen's Family and Friends
Burial 11:30 AM at Manning Cemetery, Manning
---
Genevieve Katherine, daughter of John and Rosa (Reissen) Christiansen, was born February 19, 1922, on a farm in Kenwood, Iowa. Gen grew up in Charter Oak until the age of 12, when she moved with her family to Denison. After graduating from Denison High School, Gen worked one year at the AAA office (now Consolidated Farm Service Agency). For the next seven years, she worked at Western Auto as a bookkeeper.

It was during this time that she met her future husband Walter Baker while roller skating in Denison. Walter became a member of the Army Air Corps and was stationed in Canada. During his first furlough, the couple was united in marriage on March 12, 1944, at Zion Lutheran Church in Denison. Gen wasn't allowed to go where he was stationed and she continued to work. After Walter was discharged at the end of World War II, he returned to Denison and became a grocer. Gen occasionally helped him in the business which took them to several different communities until they settled in Manning where they built a home in 1965.

Gen is probably best remembered for the 30 years she worked at the Manning School. She was secretary for the school district superintendent for 17 years for Paul Bjorkgren, and then became secretary for high school Principal Don Ringgenberg. In 1977, Walter died suddenly while opening the grocery store. In 1996, Gen decided to return to her hometown of Denison.

On Thursday, June 30, 2022, Gen passed away at Accura of Manning, at the age of 100 years, 4 months, and 11 days.

Besides her parents, Gen was preceded in death by her husband Walter; siblings: Arthur Christiansen, Mary Louise Christiansen, Philip Christiansen, Edgar Christiansen, Norma Juhl, and Lois Arnholtz.

Gen is survived by two sons: Ronald Baker and wife Marilyn of Colorado Springs, Colorado, and Darrel Baker and wife Jacqueleen of Sioux City; four grandchildren: Therese, Nichole, Nathan and Matthew; eight great-grandchildren; siblings: Dorothy Smith, of Nixa, Missouri; Dr. Richard Christiansen of Ann Arbor, Michigan; Janet Miller of Grand Junction, Colorado; and Donna Jack of Phoenix, Arizona; other relatives and friends.
Walter M. Baker was born May 27, 1921 at Dunlap, Iowa the son of Mr. & Mrs. J. E. Baker. He was educated in the Dunlap Community Schools, played football, basketball and was a member of the band and active in various other organizations receiving letters upon graduation with the class of 1939.
Walter entered the service on December 26, 1942 and after basic training he attended a Engineering & Operations School at Ft. Collins, Colorado. On July 22, 1943, he was stationed with the Air Transport Command at White Horse Canada where he performed duties as an Operations Clerk. He worked as secretary to the adjutant of an A.A.B. As such typed all correspondence, also did the same work as message center chief, handling and distributing official correspondence. Made up all forms necessary with officer promotions, filed all information and personnel records for the officers. Awards received were American Theater Ribbon, Good Conduct Medal, Victory medal World War II.
Later he was transferred to Edmonton, Canada where he performed the same duties. Walter was discharged on December 15, 1945 with the rank of Sergeant. Canada was considered overseas at this time and he stated the ATC was sending planes to Russia in the war effort.
Walter purchased the Manning Food Market at Manning, after being employed as manager in various Council Oak Stores and felt Manning was his home until his sudden death on March 3, 1977. He was a member of the Manning American Legion and VFW and is resting in the Manning Cemetery.
His Son Ronald is Pastor of Rock of Ages Lutheran Church in Colorado Springs, Co. and his son Darrel was a Naval Doctor serving on the U.S. Carl Vincent until retiring from the service and has a practice Oral Surgery Associates at Sioux City, Iowa. His wife Genevieve is residing in Denison since her retirement from the Manning Community Schools.

Darrel Baker MHS 1969
Darrel A. Baker was born January 22, 1951, in Sioux City, Iowa. He graduated from Manning High School in 1969 having participated in school government, basketball, track, band, vocal music, and plays.

Darrel attended the University of Iowa and entered the College of Dentistry in 1971 with only two years undergraduate studies. He obtained a scholarship from the United States Navy and upon graduation in 1975 was commissioned.

Duty Stations Included: Sandpoint Naval Support Activity, Seattle, Washington; 3RD FSSG, 3RD Marines, Okinawa, Japan; Naval Security Group, Winter Harbor, Maine; Naval Regional Medical Center, Oakland, California, oralmaxillofacial surgery residency; USS Carl Vinson, CVN-70 two WESTPAC cruises; US Naval Hospital, Groton, Connecticut.

Decorations & Awards: Meritorious Unit Citation, National Defense Medal, Navy Achievement Medal, Navy Commendation Medal.

After 13 years of active duty Darrel resigned his commission with the rank of Commander. He missed Iowa and had too much separation from family. He became Board Certified in 1986 and joined a private practice in Sioux City, Iowa where he still lives and works. He maintains membership in the American Legion and the US Navy Memorial support group.

As a civilian, Darrel takes great pride in his family: Jackie his wife, his sons Nathan a professor at Washington University Medical School, and Matthew a professional musician in London, England. Darrel is active in church, school, and civic matters. He was a long time Boy Scout leader, president and elder of Faith Lutheran Church, past president of the Iowa Society of Oral Maxillofacial Surgeons.

Gen Baker - September 1973 in the new high school office

Kinderfest 2022

James "Jim" Drees
Jim Drees died peacefully on Monday, June 20, 2022, under the care of St. Anthony Hospice and Garden View Assisted Living in Carroll, Iowa. He would have been 92 years old on July 6.

There will not be any local visitation or memorial service. The family that Jim and Pat created will gather later to honor him and share memories. If friends have memories of Jim, we would appreciate you sending them to Jay Drees at 15226, 280th Street, Manning, Iowa, 51455, and we will share them with the rest of the family. In lieu of flowers, memorials are not necessary, but if any are desired, the family will be putting them towards Iowa Public Radio. Jim appreciated both the factual news that IPR reported and the music they provided.

The Sharp Funeral Home in Carroll is assisting with arrangements and online condolences for Jim's family may be left at www.sharpfuneral.com.

James "Jim" Henry Drees was born to parents Henry Anthony and Marie Catherine (Sextro) Drees on July 6, 1930, at their home north and east of Manning. He was the second oldest of five children: Herb, Jim, Mary Lou, Joan, and Dean.

At the age of four, while helping his dad and their hired man outside, Jim was struck by lightning. He was knocked unconscious and blinded. He regained sight in one eye but never in the other.

Jim attended Sacred Heart Catholic School in Templeton through tenth grade. During his junior and senior year, he boarded in Carroll and attended high school there. Jim graduated from Carroll High School in 1947.

After high school, Jim briefly attended Iowa State College and worked in North Dakota. He was a pitcher for the Manning American Legion Baseball Team. Once his father became ill, Jim returned to the family farm.

Jim first farmed with his brother Herb, then on his own, and finally with his son Jay. He raised feeder cattle, had a cow-calf herd, and grew corn and soybeans.

After meeting Pat Ramsey, he built a house for them on the farm. He and Patricia Joanne Ramsey were married January 29, 1955, at Sacred Heart Catholic Church in Manning. They welcomed three sons into their family: Jeffrey James, Jay Patrick, and Nicholas Todd. Jim was very proud of his sons and that he and Pat provided college educations for them.

In addition to being a life-long farmer, Jim was interested in current events and politics. He was a Director of the Carroll County Beef Producers, a Director of Carroll Extension Service, and the Ewoldt Township Democratic Chairperson.

Jim was elected to the Iowa House of Representatives in 1994 and served three terms, representing Carroll and Greene Counties, until 2000.

Jim enjoyed reading, walking, golfing, playing cards, and visiting with family and friends.

He was preceded in death by his parents Henry and Marie Drees, parents-in-law Mayburn and Phyllis Ramsey, wife Pat Drees, son Nick Drees, sister Mary Lou Drees, brother Herb Drees, sister and brother-in-law Joan and Don Bauer, brother-in-law and wife Jim and Barb Ramsey.

Jim is survived by his two sons and their wives and his daughter in-in-law: Jeff and Gail Drees, Jay and Maureen Drees, and Edith Drees. He is survived by his six grandchildren and their families: Nathan and Melissa Drees and their sons Brock and Brew, James Drees and Catherine Benton and their daughters Kenzie and Erin, Danielle Drees and Timothy Lundy, Jonathan Drees and Valeria Brambilla, Abigail Drees and Alec Jackson, Kaitlyn and Andrew Huizer. Jim also is survived by his sister-in-law Carol Drees, brother and sister-in-law Dean and Ruth Drees, many nieces, nephews, and friends.

Patricia (Ramsey) Drees
September 26, 1934 - November 30, 2016


Doris Christensen (majorette), Arlene Mohns, Elaine Willenborg, Kathleen Ploog,

Patricia Ramsey

.
Arlene made her uniform and Helen Ploog made her daughter, Kathleen's uniform.
Probably 1952 marching band during the Homecoming parade.

Jim, Gail (Hoffmann), Jeff & Nate Drees

Jay Drees MHS 1977
1976 Seventh grade basketball team - undefeated

Back: Rick Musfeldt, Steve Fogleman, Bruce Monson, Dana Schroeder,

Nick Drees (1962-2011)

, Jim Hinners, Gaylan Schroeder
Front: Brad Sebring - manager, Ken Schulte, Dale Nelson, Scott Hodne, Dan Clipperton, Martin Mullen, Alan Mundt
Coach Ross Norman

Mayburn C. Ramsey 1954 Manning Fire Department (Pat's father)

9th grade

Back: Billy Jensen, Richard Rix, Melvin Sinow, Pete Petersen, Gene Martens, Glen Branning, Dareld Kracht, Louis Puck
Middle: Marlene Jahn, Maxine Sextro, Ruth Sextro, Merlene Thompson, Allen Vennink, Phyllis Zerwas, Shirley Vinke, Norbert Stoberl, Roger Mentzer
Front: Myra Weinbrandt, Barbara Knaack, Shirley Sextro,

Patty Ramsey

, Nadine Walters, Margene Drees, Shirley Watson, Mary Foley

1977-78 Freshmen football team

Back: Jim Hinners, Steve Fogleman, Bruce Monson, Gary Reischl
Front: Pat Mohr,

Nick Drees

, Dennis Croghan, Dave Genzen

1976 Seventh grade basketball team - undefeated


Back: Rick Musfeldt, Steve Fogleman, Bruce Monson, Dana Schroeder, Nick Drees, Jim Hinners, Gaylan Schroeder
Front: Brad Sebring - manager, Ken Schulte, Dale Nelson, Scott Hodne, Dan Clipperton, Martin Mullen, Alan Mundt
Coach Ross Norman
Stage crew spring 1980


Back: Pat Lutwitze, Patty Handlos, Jeff Hagedorn, Tracy Hansen
Front: Karen Vollstedt, Jane Miller, Lynna Andresen, Deanne Joens, Keith Wanninger,

Nick Drees


Play - Prisoner of Second Avenue directed by Steve Hanley
cast members: Toni Dammann, Sara Bunz, Barb Myer, Denise Clausen, Dave Ramsey and Brad Jones

Maureen Drees Physics 8th hour
From the 2009 Manning Schools history book

Back: Meredith Meyer, Amanda Halbur, Paige Hinners, Andy Drier, Robbie Rohe
Front:

Mrs. Maureen Drees

, Amy Borkowski, Alyssa Dammann, Nina Marega, Megan Croghan, Carrie Eischeid, Noah Tank, Cruise Davis
Missing: Courtney Bell, Melissa Irlbeck, Miranda Irlmeier Maureen Drees graduated from South Tama County High School and Iowa State University. She received her reading endorsement from Buena Vista University and has done graduate work at all of the state universities and Drake.
Maureen began teaching at Manning Community School in the fall of 1986, the first year that Wayne Curlile was both superintendent and elementary principal. In her twenty-two years of teaching at Manning, she has taught sixth grade, fifth grade, Extended Learning Program (ELP, the gifted and talented program), alternate kindergarten, Title 1 reading, junior high social studies compaction/Future Problem Solving, physics, and chemistry. Mr. Wayne Curlile, Mrs. Barb Kruthoff, Mr. Sam Graeve, and Mrs. Sharon Whitson have been her elementary principals. Mr. Don Ringgenberg and Mr. Brian Wall have been her secondary principals.
Maureen has especially enjoyed the yearlong thematic units that the third-sixth ELP students and she study each year: the brain, the United Kingdom, the Medieval Era, the Decade of the 1940s, and the final projects that the students produce at the culmination of their year of study.
Fifth Grade ELP (Extended Learning Program, Manning's gifted & talented) Class

Gail Hoffmann MHS 1978

Gail (Hoffmann) Drees, Mary Schiermann, Harold "Dutch" Hoffmann, Dean Hoffmann, Nate & Jeff Drees
Jim Drees in front
September 11, 1972 MHS vs Glidden


Pass to Jeff Drees #83
Scans from Wayne Saunders negative collection
December 4, 1972 MHS vs Manilla (at Manilla)


Jeff Drees #33 with ball - John Opperman #43

Jay Drees, Sherrie Bruhn MHS 1977

Jimmie & Nate Drees December 1986

I remember her as a little girl in Manning and I went to school with her dad and aunts/uncles in the Nelson family.
When I started my web page in 1996, along with tributes to Manningites who pass away, I never dreamed of featuring so many "young" people.
Unfortunately I don't have the extensive database for these younger generations as I do the older ones, and don't have any of the Stracke family since they aren't directly connected to Manning, but I do have several Nelson/Popp photos, along with some in-depth family history on the Popp side.
Billie Nelson's family is from Harlan so I don't have his background other than when he moved to Manning and married Marilyn Popp.
Marilyn and I worked together on a lot of Manning projects and she was a very good friend...about a year before she passed away I discovered she and I are related but because of her Alzheimers she would have never understood this, but that hasn't stopped my memories of her and all of the volunteering she did in Manning.

So here is another tribute to one of Manning's "young people..."

JESSICA L. CAMPBELL


July 12, 1985 - June 20, 2022
A Celebration of Life for 36 year old Jessica (Nelson) Campbell of Denison, formerly of Manning will be held on Saturday, June 25, 2022 from 2 - 4 PM at the Aspinwall Community Hall in Aspinwall, Iowa.

Jessica Lynn, was born July 12, 1985, in Storm Lake, Iowa, the daughter of Scott and Jane (Stracke) Nelson. When she was in first grade, she moved with her mom to Manning. She graduated from Manning High School in 2003. After a short break from schooling, Jessica attended Western Iowa Tech in Sioux City and became a Registered Nurse. She then became a manager at Crawford County Memorial Hospital in Denison before working as a traveling nurse, mostly in Iowa.

In 2008, Jessica was united in marriage with John Campbell. They made their home in Denison and had two children, Lily and Gavin. The couple later divorced.

Jessica was a fun-loving soul. She enjoyed traveling and taking vacation anywhere in or near the water. She lived life to the fullest and lived life by the seat of her pants. Jessica loved people and would make friends on a moment's notice.

On Monday, June 20, 2022, Jessica passed away at her home in Denison, attaining the age of 36 years, 11 months, and 8 days.

She was preceded in death by her grandparents, Barb and Bernard Stracke and Bill and Marilyn Nelson.

Jessica is survived by her parents, Jane and husband Joe Herbers of Manning, and Scott Nelson of Dubuque; children, Lily and Gavin Campbell of Denison; siblings: Reannan Nelson of Manilla; Carlie and husband Casey Wilkie of Glenwood; Joey Herbers and fiancée Tess Rademacker of Manning; nieces and nephews: Brylee, Preslee, Rhett, Rebel, Rylee, and Preston; best friend, Amanda Segebart of Charter Oak; and by numerous aunts, uncles, and friends.

Celebration Of Life on Saturday, June 25, 2022, from 2:00 PM to 4:00 PM at the Aspinwall Community Hall, Aspinwall, Iowa.
Ohde Funeral Home in Manning in charge of arrangements.

2003 MHS graduates: Nickolas Joe Ahrens, Matthew Wade Alexander, Cory Daniel Arp, Brenna Lee Behrens, Marcus Daniel Borkowski, Trent Levi Christensen, Chelsie Marie Croghan, Mackenzi Kennedy Dailey, Anthony Maxwell Darveau, Erin Margaret Didier, Sarah Jane Eickman, Joshua William Enenbach, Megan Kathleen Fara, Nathan Alan Fara, Anthony Joseph Gordon, Ashley Lynn Halbur, Michelle Anne Halbur, Jennifer Lynn Haubrich, Roxanne Elizabeth Haubrich, Laura Kate Heithoff, Rosanna Marie Hinojosa, Brian Alex Irlmeier, Marie Catherine Irlmeier, Stacie Marie Kienast, Joshua Ryan Linde, John C. Lorenzen, Ken Raymond Massey, Crystal Dawn Meyer, Katie Laurel Muhlbauer (salutatorian), Justin L. Mundt, Kate Marie Musfeldt, Jessica Lynn Nelson, Shannon Kaye Nulle, Andrew B. Potthoff, Nancy Kathleen Puck, Ashley Marie Ramsey, Ann Gabrielle Ranniger, Jacob Evans Ranniger, Andrew Michael Rohe, Jennifer Clare Schultes (valedictorian), Natasha Mae Shrimpton, Ian David Souter, Brandi Jolene Struve, Timothy Michael Vogel, Michelle Lyn Vonnahme, Grant Joseph Wanninger, Adam LaVelle Waterbury, Nicholas John Weitl, Brett Joseph Willenborg, Jill Marie Willenborg, Lucas Witt

2003 former students: Brandie Armstrong, Eric Augustine, Matt Ballentine, Sarah Bedsaul, Logan Bender, Ron Bigley, Ashley Clark, Beau Davis, Randie Dixon, Bryan Fast, Nevada Findlay, Stacey Friedman, Finneisha Gipson, Allison Greenwalt, Elvis Hass, Abby Heithoff, Chelci Henkelman, Nicole Jansen, Crystal Jenkins, Summer Kalkhoff, Chase Kounkel, Jason Kusel, Kim Markley, Aurera Martinz, Sarah McCall, Jadeen McKeighan, Julian McKeighan, Joseph Miller, Mike Nicolaisen, Elizabeth Ramsey, Jason Sanders, Adam Schaeuble, Paul Scott, Dawn Shaffer, Nathaniel Short, Jennifer Smith, Jessica Smith, Melissa Snyder, Jason Trommer, Jonathan Wegner, Crystal Weitl, Angie Wetherell, Sara Wilson

Back: Todd
Front: David holding Barbara, Jane,

Scott

Todd, Jane, Scott, David 1962

Standing: David
Middle: Marilyn, Todd, Billie
Front: Jane, Scott 1962

Standing: Billie, Marilyn
Kneeling: Scott, David, Todd, Barbara
Front: Sara, Jane 1981
Some of the neighborhood kids


Back: Dave Nelson, Todd Nelson, Kent Wiese, Bruce Pfannkuch
Front: Scott Nelson, Jane Nelson, Kyle Wiese 1962
Huldeen home across First Street to the north at 72 Center Street

Marilyn (Popp) and Billie Nelson January 21, 1953

Back: Esther (Jensen) Popp, Mrs. Henry Ann (Frahm) Popp
Front: Marilyn Popp, Bobbie Popp
Children's Day 1937 - Marilyn wearing Lavender Organdy dress with orange dots


Marilyn Popp 1937 Children's Day

Billie Nelson - Korean War

Esther, Marilyn, Otto Popp

Popp farm south of Manning on the old Airport road.

Otto Popp WWI
For those of you who love to see family connections way back - follow this link.
Scott Nelson is my 4th cousin, which makes Jessica my 4th cousin, once-removed... on the Sachleben side of our family background.
Sachleben

Larry Fischer


April 21, 1945 - May 30, 2022

Click to see the Fischer tribute

Since I no longer help at the Rec Center or film for the local Channel Two, I've lost track of the young people, whose parents I knew when they were kids in Manning.
Someone asked me last week if I knew who the young person was who passed away - they said the name but at that point in time I drew a blank.
Then I just noticed the obituary on Ohde Funeral Home's site and saw his dad's name - then I knew exactly who he was and the Manning family connections he has.
When he and his brother were little kids, I occasionally worked on the family computer, but as they grew up I lost track of them since I no longer worked on their computer.

Anyway, I found a picture of his family that I could figure out for sure from the 2011 graduation I documented.
While I generally have lots of pictures for Manningites who pass away, I don't usually have pictures of the more recent generations who graduated at Manning, but I do have some pictures of the Irlbeck/Nelson family in a previous feature from 2019 which I'll link below...

2011 IKM-Manning graduation


Jeannie, Triston, Grandmother Joyce (Irlbeck) Nelson, Chris, Dominic (I hope I have the names correct)

TRISTON S. NELSON

There will be a Celebration Of Life on Sunday, June 12, 2022, from 2:00 PM to 4:00 PM at the Hausbarn Konferenz Centre, Manning, Iowa with Military Honors by the United States Army Honor Guard.

Honorary Bearers will be Dominic Nelson, John Stout, Raymond & Anthony Helms-Nelson, Logan Haman, and Chris Nelson

Triston Scot Nelson was born May 22, 1992, at Albany, Oregon. When he was two years old, Triston moved with his family to Manning, Iowa, where he attended school and graduated in 2011 from IKM-Manning High School.

Triston was a jack-of-all-trades and held many jobs in the local area. He was currently working as a mechanic with Bauer Built in Carroll. Triston was also a proud member of the Iowa National Guard. He enlisted right out of high school and completed basic training in Fort Jackson, South Carolina. He worked in Human Resources and then Culinary Services. Triston served in units in Iowa City, Council Bluffs, and finally in Perry, attaining the rank of Staff Sergeant.

On July 24, 2021 Triston was united in marriage with Felisha Helms in Adair. Felisha and her two boys Raymond and Anthony made their home with Triston in Scranton.

While in school, Triston enjoyed bowling with Saturday morning leagues. For a few years, he served with the Arcadia Fire Department. He loved music and singing, spending time with his family, traveling to Florida, obsessing with his hair, Harry Potter, and The Fast and Furious Movies. Above all, he was a fantastic husband, father, son, brother and uncle. Triston's biggest joy, over anyone and anything, was his sons. He didn't miss anything for them. Even when Triston was at his very worst, he was there.

In March of 2020 Triston was diagnosed with cancer and fought hard to be around as long as he could. On Wednesday, June 8, 2022, he passed away at Manning Regional Healthcare Center in Manning, attaining the age of 30 years and 17 days.

Triston is survived by his wife Felisha Helms-Nelson and sons Raymond and Anthony of Scranton; mother Jeannie (Mike) Johnston of Albany, Oregon; father Chris Nelson of Arcadia; siblings: Dominic Nelson of Halbur; John (Chelsea) Stout of Missouri; and Mackenzie (Sarah) Brooks of Des Moines; Felisha's parents: Shonnez Helms of Lake City, John and Nancy Florea of Lake City and James (Kelly) Stevens of Huachuca City, Arizona; other in-laws: Chaylin Helms-Florea of Lake City, Vanessa Stevens of California and Melissa Keeton of Kansas; 13 nephews; 6 nieces; and by many aunts and uncles and several extended relatives and friends.

He was preceded in death by his grandfather John Dominic Goergen and a brother-in-law William Wolven.

Irlbeck family history

2011 IKM-Manning graduates: Morgan Bauer, Bryce Beyerink, Dailen Cowden, Amber Croghan, Caylee Dammann, Brandon Dentlinger, Laura Eberly, Amber Ehlers, Joshua Hagen, Alex Halbur, Abby Haubrich, Ashtyne Haubrich, Meghan Horihan, Mitchell Irlmeier, Allaetra Jacobsen, Ashley Lage, Sarah Langel, Michaela Meyer, Triston Nelson, Jay Petersen, Christine Phillips, Alison Ranniger, Jenna Soll, Rebecca Sporrer, Mallory Stanley, Rebecca Wall, Hannah Warner, Jennifer Wicks, Chance Wiese, Katelynn Wiitala, Jessica Winter

IKM & Manning Troop 99 - Jerry Croghan scout leader
Dedication of the Manning Veterans' Memorial wall August 17, 2003


Back: Justin Meier, Ryan J. Arp, Shane Warner, Joel Musfeldt, Travis Meier, Jerry Croghan
Front: Bradley Muhlbauer, Jerad Croghan, Chris Meier, Danny Hilsabeck, Triston Nelson, Dominic Nelson

Larry Schultes


August 31, 1945 - June 4, 2022

Visitation with Prayers Wednesday, June 8, 2022 AT 5:00 PM - 7:00 PM Sacred Heart Church, Manning, Iowa
A Prayer Service will be held at 7 PM.
Mass of Christian Burial Thursday, June 9, 2022 AT 10:30 AM Sacred Heart Church, Manning
Ohde Funeral Home in charge of services.


From the 2006 Manning Quasquicentennial history book
Larry and Pat were married April 28, 1973, at Holy Family Catholic Church in Council Bluffs, Iowa. Larry is the son of John and Loretta Schultes of Templeton, Iowa. He graduated from Kuemper High School in Carroll, Iowa and enlisted in the National Guard. He now farms and works for Manning Ag Center.

Pat is the daughter of Wes and Dorothy Brouillette of Council Bluffs, Iowa. She is a graduate of St. Joseph's School of Nursing in Omaha, Nebraska and worked as an R.N. at Manning and Carroll hospitals.

Larry and Pat farmed southeast of Manning for 33 years. They are the parents of four children, who all graduated from Manning Community School. They participated in sports, cheerleading, band, choir, and speech.

Lisa graduated from Northwest Missouri State University in Maryville, Missouri and is a Human Resource Manager for Liberty Bank in West Des Moines, Iowa. She married Matthew Wolf from Packwood, Iowa, June 22, 2002. Matt graduated from William Penn University as a teacher. He is in the National Guard now serving in Iraq.

Mary Kay graduated from Morningside College in Sioux City, Iowa. She teaches at East High School in the science department. Mary Kay married Kiley Todd from Holstein, Iowa, on July 15, 2000. Kiley graduated from Buena Vista University in Storm Lake, Iowa. He works at Security National Bank in Sioux City, Iowa. They have a daughter Morgan Anne born March 10, 2004.

Matthew graduated from Iowa State University in Ames, Iowa with a degree in Engineering. He works at John Deere in Waterloo, Iowa in the engineering department.

Jennifer is attending Northwest Missouri State University in Maryville, Missouri. She is studying accounting and corporate finance.

Jennifer Schultes 2002

Stacey Hey & Matt Schultes

Jodi Riggert & Mary Kay Schultes 1994 volleyball

Ethan Campbell & Mary Schultes Christmas dance 1994

Stacey Hey, Mary Schultes, Tracey Nissen

Mary Schultes passed the baton to Jodi Riggert

From time to time, I'll find a picture postcard on E-bay that I don't have either another original of it or a scan of it.
This picture is a double exposure of some type - either intentional or accidental.
The feed business name is not one in Manning as far as I know (E. Skalovsky), but the house and bank looks like it could be on the southeast corner from the old hospital block - intersection of 141 and Center Street.
I have a number of pictures that show this area but not from this angle and it is the only place in Manning that I can think of that might be its location.
Manning, Iowa was written on back of the postcard - unfortunately, like usual, the seller didn't know any specific background on it...only that he purchased it in a collection of about 600 postcards at Griswold, Iowa, 20 years ago that were from Iowa, Minnesota, Indiana, and Nebraska.

So if anyone thinks it might be that location or can confirm the location - please let me know.
If I'm correct this would be looking west along 141.
At that time this block was also bricks but I can't get enough resolution from the original image to tell if the surface is bricks or not.

Memorial Day services in Manning, Iowa
May 30, 2022


Click to see the program

When I say I can't keep up with all of the things going on in Manning and surrounding rural area, some people think I'm exaggerating, but every day I go into Manning, I could capture multiple projects/activities that are in progress - YES, most are small and insignificant to most people who never realize they even occurred.

Here is the next unique project in Manning - bringing a boxcar to the Trestle Park.
Communication, Coordination, and Cooperation are the 3 BIG Cs it takes to pull off something like this.
First someone has to come up with the idea, then someone has to initiate the project, others have to coordinate multiple parties into team work...then you have to deal with the bureaucracy which most of the time isn't as excessive for small-town projects.
In this case there was a mixture of big and small time bureaucracy, but the Pioneer Will and Spirit abounds in Manning and things move forward despite some of the obstacles.
These are some of the entities that made it possible: BNSF RR, AGP, City of Manning and various employees, volunteers such as Twin Transfer (to move the car) and John Ohde (to operate the Bantam Crane), and more...

May 26, 2022 - moving the boxcar from AGP to Trestle Park


Heading north from 141 towards Trestle Park

If you build it, they will come!
I so often hear "experts" state how we are destroying our environment...a broad statement that NEEDS to be debated, but having been out in the "environment" my whole life I've learned a thing or two on my own...from a young kid building tree houses in the windbreak/grove, playing in/around the creek (making my mother crazy worrying), building dams in the creek (that actually withstood floods), watching floods from winter snow melt and spring/fall rain storms, making mud slides on the bank to slide into the water, using inner tubes to float on, hockey & ice skating in the winter, riding bikes and cob fights with friends on that ice, farming the fields adjacent to the creeks (from the plow, to minimum-till, to No-till), spraying weeds so the grasses can stabilize the banks where they slough off and erosion from the old cow paths that went down into the creek, tiling the bottoms and hillsides, managing the CRP strips, and so many more situations.
For 40 years I have maintained a bird house trail along the fences and terraces. During that time I have learned about the various species of birds we have and also have noticed the number of new bird species that we never had before.
One of these new species for our area are the colonies of Cliff Swallows that have discovered the newer designed concrete bridges that have been replacing the wooden bridges. 20+ years ago I noticed a large flock of birds around the bridges on our bottom road. It wasn't hard to identify them as Cliff Swallows. I got to wondering why they are now using these bridges, and it hit me that nature is resilient and can adapt to natural changes in the environment, and also to changes humans make to the world around us.
I'm assuming the Cliff Swallows discovered that the concrete bridges are as good or maybe better places than the natural cliffs to make their mud huts...water and mud in the creeks and the bridges give shelter to those mud huts, AND generally there are highline wires overhead where they will perch before scouting for flying insects that are almost innumerable to catch and feed to their babies.
The first couple of years the colony moved from one bridge to another...one year they moved to the Willow Creek bridge in Manning, but then moved back to the bridges here on North Manning. This year I noticed some of them were flying around the bridge on the Airport road.
I think one reason they move to different bridges is because the English Sparrow (brought over from Europe by our ancestors), also likes those mud hut nests. They are aggressive and will move in and take over the huts, so the swallows will move to a different location each year.
The difference between a Barn Swallow mud nest and the Cliff Swallow mud nest is, the Barn Swallow nest is a cupped type open on top mud nest, and the Cliff Swallow nest is a completely enclosed mud nest with a small opening facing downward on the top where they enter and exit, but both species are so very gentle and trusting birds.
Ever since I started my bird trail, I have been actively trapping the English Sparrow and European Starling - both species that live here year-round and have done damage to the native cavity nesting bird populations - NO, I do NOT trap and then release them to another area where they would continue to destroy the native birds...

May 10, 2022 Cliff Swallow colony
---
In 1992, my great-uncle, Herman Grau, passed away. In his will he left a monetary amount to all of his nephews/nieces & grandnephews/nieces.
I decided to use my inheritance to build a 30x30 pond.
I had specific plans for the pond but found out over the decades that Nature had her ways and generally they will decide the final outcome.
It has changed dramatically over the decades, and actually I'm happy with the way Nature decided to use it.
I always could hear the toads and frogs down by the creek but NEVER dreamed that some of them would move from their natural habit to one that I built - HOW can they choose a man-made environment over the natural one - we'll never know...
I featured the pond on my web pages in 1996

Frogs and Toads video

The deeper sounds are the Bullfrogs, the clicking sounds are the smaller frogs, and the twittering sounds are the toads.
All of them are in the courting mode and fairly soon you won't hear them much until next spring.
I could listen to their "singing" for hours but unfortunately don't have that extra time.

SO - If you build it, they will come!

Some people may associate these sounds to their youth when they watched the scary movies - with these sounds in the fog where a monster is lurking - no monsters here.

Please visit the Manning Exchange for local news, articles, and information...a work in progress.

Many upcoming events.

Korean War Veterans continues


There are lots of Manning Veterans of the Korean era with no pictures or information.
Will you be in the Manning Veterans' book???
Unless more post-WWII Veterans come forward there will be a lot of 1946 to present day Manning connected Veterans missing from the book.

For those of you who are occasional visitors to the Manning Exchange - please make sure to click on the "archived articles" section where previous featured stories are kept.

Click to visit the Manning Exchange

1 example from the Logeland Studio wedding packets.

There are still quite a few Logeland Studio wedding packets available.

Click to read about this important project.
It will help to financially support the Manning Veterans' history book project.

"Let it be known that he who wears the military order of the purple heart has given of his blood in the defense of his homeland and shall forever be revered by his fellow countrymen."
George Washington, August 7, 1782
Just as a reminder: the Manning History book committee continues to work on a Manning area Veterans' history book project.
For those of you who are Veterans or have/had Veterans in your family - will you come forward?
The history book committee will do their best to get as many pictures and information about the 1000+ Manning Veterans but we can't do it all by ourselves.
How many small communities do you know have published 5 history books? The first one was the History of Manning 1898, then the 1981 Manning Centennial book, next the 2006 Manning Quasqui book, and most recently the 2009 Manning School history book. Probably the last book to be published will be the upcoming Manning Veterans' book - unless someone comes forward in the next generation to take over these projects after I'm gone. Will you help with the Veterans' history book project? If you are a Manning connected Veteran or are presently serving and do not submit your military connected pictures and infomation you probably won't be in this once-in-a-life-time Manning Veterans' history book. With a limited number of volunteers we can only do so much on our own but will try to get pictures of as many Veterans as we can. There are over 1000 Manning Veterans so we have a long ways to go before the book can be published.
Manning Veterans are slowly coming forward and below is another example. We hope to eventually get more pictures and information for Mike to put in the book but for now this is what I have to show to you.
Amos Rutz WWII
One thing that many Veterans and people who are submitting information have not fully understood is that this next Manning history book is specifically a Veterans' only book. It won't be like the Centennial or Quasqui history books were, where there is a Veterans' section along with other community aspects. We are aiming for a 2-volume book (around 1090 total pages) which will really be unique!!!
This book will be ALL Veterans' information (and the post auxiliaries) - hence it won't be a "Name, Rank, and Serial Number" only history but we want a complete history for each Veteran.
For instance - below is Louis Boell's picture and the information that was published in the Veteran section of the 1982 Aspinwall Centennial history book. It has the basic information but we are looking for more and I spoke to Louie by phone and he sent more pictures and information - also for his brothers.

To see what Louis submitted click on the link underneath "Are you a Manning Veteran" shown below.

Note: we also want some family background such as parents and grandparents. All too often you will only see just the Veteran's name with their basic military information but without the family connections it will be difficult for future historians and genealogists to know for sure who this person belongs to.

Are you a Manning connected Veteran?

I would like to hear from you!!!
We are starting a Manning Veteran history book project and if you don't come forward you may not be included in the book. NOT because we want to intentionally leave you out but because you didn't come forward.
Same goes for those of you who have Veterans in your family who have passed away. If you don't come forward and help by submitting Veteran connected pictures and information your Veteran may not be included in this once in a life-time Manning Veterans' history book.

Please e-mail me about your Veteran questions manningveterans@davidkusel.com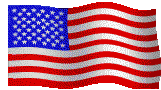 The United States flag
is proudly displayed here and NO other flag is as IMPORTANT!
1 Manning citizen served in the War of 1812
70 served in the Civil War
1 served in the Indian War
5 served in the Spanish American War
350+ served during WWI
650+ served during WWII
87+ served in the Korean war era
65+ (more names need to be found) served in the Vietnam era
55+ (many more names need to be found) served from 1975 to present
29 paid the ultimate price with their lives defending the U.S. Flag
Are you a Manning Veteran?
Are you currently serving and have a Manning connection?
We are starting the Manning Veterans' history book project
Don't wait until you see "Deadline" or it WILL be too late!!!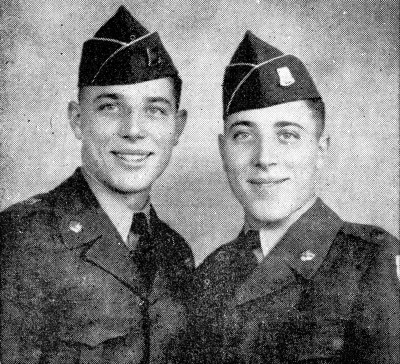 Click to read promos for the Veteran book


There are a lot of WWI and some WWII Veterans pictures with no IDs.

Before you spend time scanning pictures
please look at these instructions


I appreciate your efforts scanning pictures for me but if you only make low resolution scans you are really wasting your time. High resolution scans are the best and only way to really preserve those old pictures.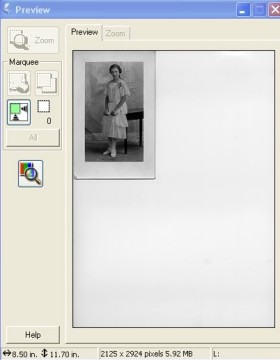 Click to see the tutorial
If you simply don't want those old family pictures you inherited please don't throw them - send them my way.
A lot of times I can recognize a face or location in those old pix.
---
One thing to keep in mind while you are looking for pictures - if they are glued in old scrap books please do NOT try to pull them out or cut them out. I can scan the whole page of the scrapbook and crop out the pictures you want to use in the book. If you attempt to forcibly remove the pictures you will probably damage them and when I scan them that damage will probably show up. This means I'll either have to use my graphics program to touch up the damage which can take a lot of time, or if they are badly damaged I just may not even take the time to scan them.
---
Back to the top