Tracking Nightcrawlers with GPS
To the left is the border of a 120 acre farm.

The Red border is the 1999 Nightcrawler border.

The Yellow border is the 1998 Nightcrawler border.

In the last 10 years we have been "seeding" nightcrawlers on our No-Till farms.

This farm has been No-Tilled for 15 years and we are now getting Nightcrawlers established.
The Nightcrawlers more than doubled the area from 1998 to 1999.

The red area (1999) is 2.53 acres.

The yellow area (1998) is .99 acres.

There are a couple of other areas that the worms have become established on this farm but we thought it would be interesting to track the Nightcrawlers in one area to see how far they spread each year.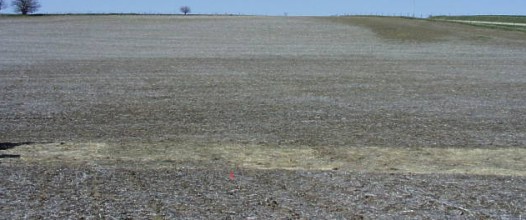 Here is a view of Nightcrawlers moving towards the hillside on a different farm. The darker colored area in the foreground is where the Nightcrawlers have gathered the soybean stubble into little mounds. There are no nightcrawlers on this sidehill yet but there is a small colony of them at the very top of the hill. The darker area in the upper right hand corner is tillage to repair an old washout caused by years of tillage.


The picture on the left is where there are no nightcrawlers. The picture on the right is where there have been several years of nightcrawlers.