March 20, 1948 Manning 43 vs Davenport 36 in the Iowa City, Ia. Field House.
Davenport "Blue Devils" (Regular Season 22 & 1) School enrollment 1992

Front Left to right --
Paul Still, Roger Brown, Harold Greene, Lugene Dietz, Jim Stange, Roger Diercks, Dan Hadaway, Bill Stenger, Coach Paul Moon
Rear Left to right --
Dave Makeever, Beck, Arthur Kenyon, Allen Baker, Oline, Don Gruenwald, Schick, Willard Newman, Shawver
Manning "Bulldogs" (Regular Season 31 & 2)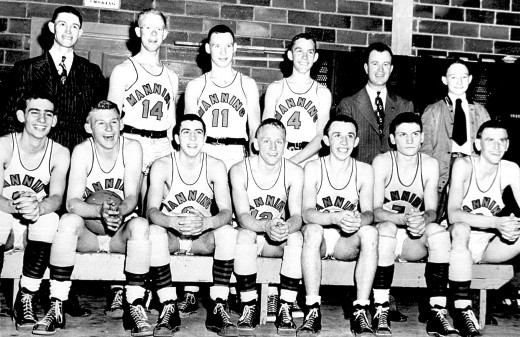 Rear (Left to Right) Coach C. W. Steneker, Jerry Knaack, LeRoy Kienast, Dan Peters, Assistant Coach Bill Anderson, Leland Kienast -manager
Front (Left to Right) Louis Bohnsack, Willis Lohmeier, Bob Koch, Royce Rowedder, Merlin Rostermundt, Dick Geith, Jim Farrell
Class of 1948 (50th reunion)



Left to right -- Bob Koch, Merlin Rostermundt, Willis Lohmeier, Dick Geith, Royce Rowedder
Manning Monitor
October 31, 2002
The late Lou Bohnsack, who was a standout athlete at Manning High School and Iowa State Teachers College and then went on to a career in education and coaching, was recently inducted into the University of Northern Iowa Athletics Hall of Fame.
Bohnsack, who died in 1974 was a brother of Elvera Gardels of Carroll.
At Manning, he played on the 1948 state-championship basketball team, and the following year he earned All-Southwest Conference honors in football and basketball. In his senior year, he earned second-team all-state honors in basketball and fifth-team all-state in football.
He turned down offers from the University, of Nebraska to attend Iowa State Teachers College (now UNI) from 1949-53.
At Iowa State Teachers College he played football, basketball and baseball.
As a football center he was named first-team all-conference in 1951 and '52, first-team Little All American in 1952 and honorable mention All-American in 1951.
He declined an offer from the Cleveland Browns to join their spring training camp.
After college he was head football coach and girls basketball coach at Reinbeck from 1953-55. In 1955 he became head football coach and boys track coach at Ida Grove. In 1960 he became head football coach and athletic director at Fairfield. He moved to Estherville School District in 1965 to take the positions of middle school and high school principal and assistant superintendent. He remained at Estherville until his death in 1974 at age 42.
He earned his bachelor's degree in physical education from Iowa State Teachers College in 1953 and his master's in school administration from the University of Iowa in 1965.
He is survived by his wife, Eleanor, of Iowa City, and two children, Jan and Jim.
Regular

November 25 Manning H 67 (Rostermundt 21pts)

December 2 Manning H 27 (Farrell 10pts.)

December 5 Manning A 57 (Koch/Rostermundt 12pts.)

December 9 Manning A 52 (Rostermundt 21pts.)

December 12 Manning A 61 (Farrell 17pts.)

December 16 Manning H 43 (Rostermundt 16pts.)

December 19 Manning H 46 (Farrell 16pts.)

January 5 Manning H 30 (Detlefsen 17pts.)

January 2 Manning A 30 (Rostermundt 14pts.)

January 9 Manning A 67 (Farrell 13pts.)

Coon Valley Tournament

January 12 Manning H 51 (Farrell 14pts.)

January 13 Manning H 58 (Koch 12pts.)

January 14 Manning H 63 (Farrell 19pts.)

Regular

January 16 Manning H 53 (Farrell 18pts.)

January 20 Manning H 48 (Farrell 20pts.)

January 23 Manning H 51 (Rostermundt 14pts.)

January 27 Manning H 29 (Farrell 14pts.)

January 30 Manning A 33 (Farrell 16pts.)

February 6 Manning H 39 (Farrell 12pts.)

February 7 Manning H 21

(Rostermundt/Bohnsack 5pts.)

February 10 Manning H 29 (Farrell 11pts.)

February 13 Manning A 51 (Rostermundt 21pts.)

February 17 Manning H 66 (Farrell 20pts.)

February 20 Manning H 57 (Farrell 16pts.)

February 23 Manning H 62 (Rowedder 16pts.)

February 27 Manning H 71 (Rowedder 34pts.)

Tournament

March 3 Manning 46 (Rowedder 19pts.)

March 5 Manning 67 (Koch/Rostermundt 18pts.)

Tournament

March 10 Manning 31 (Koch/Rostermundt 9pts.)

March 12 Manning 45 (Koch/Rostermundt 19pts.)

Tournament

March 17 Manning 43 (Koch 15pts.)

March 18 Manning 43 (Rostermundt 13pts.)

March 19 Manning 45 (Farrell 15pts.)

March 20 Manning 43 (Rostermundt 11pts.)

Season

Irwin 18

Carroll 28

Lake City 24

Coon Rapids 24

Glidden 30

Denison 23

Scranton 31

Wall Lake 35

Atlantic 23

Bayard 30

Manning

Glidden 26

Audubon 18

Manilla 27

Season

Mapleton 33

Harlan 28

Manilla 20

Boys Town 42

Carroll 37

Grand Junction 25

Moorhead 12

Ia. School for Deaf 24

Guthrie Center 26

Denison 26

Audubon 19

Manilla 23

Coon Rapids 21

Denison

Ida Grove 31

Harlan 26

Atlantic

Mo. Valley 26 (OT)

Creston 24

Iowa City

Livermore 34

Galva 34

Sioux Center 35

Davenport 36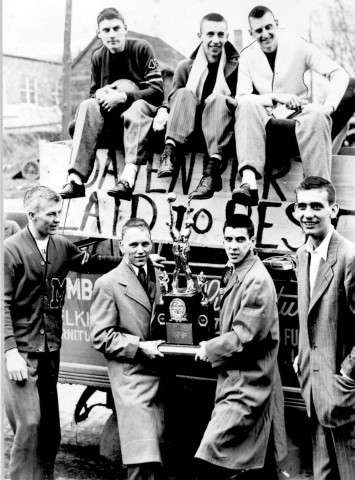 Back Row: Dick Geith, Merlin Rostermundt, Jim Farrell
Front Row: "Whitey" Willis Lohmeier, Royce Rowedder, Bob Koch, Louis Bohnsack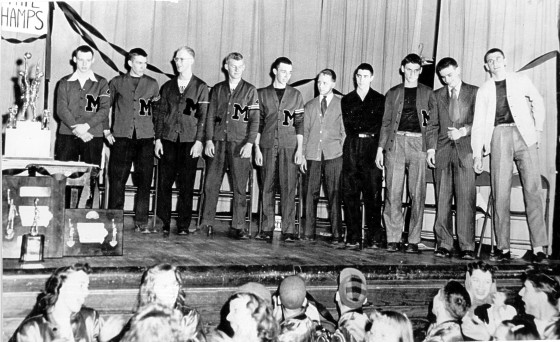 Left to right -- picture above & below: LeRoy Kienast, Dan Peters, Jerry Knaack, Willis Lohmeier, Merlin Rostermundt, Royce Rowedder, Bob Koch, Dick Geith, Louis Bohnsack, Jim Farrell
Pictures taken in the 1938 Gymnasium (now the Manning Rec Center gym).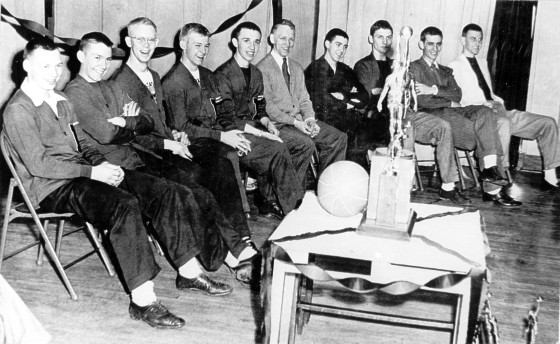 | | | |
| --- | --- | --- |
| Player | Total Points | High game |
| Jim Farrell | 491 | 34 against Coon Rapids |
| Merlin Rostermundt | 420 | 24 against Coon Rapids |
| Bob Koch | 266 | 18 against Harlan |
| Royce Rowedder | 121 | 16 against Manilla |
| Dick Geith | 161 | 12 against Audubon |
| Louis Bohnsack | 82 | 8 Audubon/Davenport |
| Willis Lohmier | 45 | 9 against Lake City |
| Jerry Knaack | 17 | --- |
| Dan Peters | 4 | --- |
| LeRoy Kienast | 2 | --- |
| Don "Tom Cat" Mohr | 5 | --- |
---
Manning Monitor


March 25, 1948

Bert McGrane Praises Style of Play


Because he has seen a lot of basketball and is a noted authority of the game, Bert McGrane's story about Manning's seasonal triumph at Iowa City is considered locally as a fitting tribute to Coach Bill Steneker and his boys.

McGrane's lead to his story about the game follows:
Iowa City, Ia.—Manning, the storybook team that never had played in a state basketball tournament, bounded over the finish line here Saturday night with the championship of Iowa in its possession.

In an amazing finish, the unheralded Bulldogs from Carroll County carried little Bill Steneker, their 33-yearold coach, onto the court a moment after toppling favored Davenport, 43-36, to receive the championship trophy before 16,500 roaring spectators.

The dramatic climax ended one of the great pressure battles of state tournament history with Manning winning on merit from a foe that had been virtually conceded the title.
The Bulldogs, a state tournament stranger, had gone virtually unnoticed as they toiled through the early rounds.

They sprang into the title picture in the semifinals when they nailed Sioux Center, but they were merely facing the guillotine in the final, most fans thought, when they advanced on Davenport.
And right then Manning demonstrated its invincible fibre.

It met the big favorite on even terms and yielded nothing. The Bulldogs over-hauled an early Davenport lead and shot it out, basket for basket much of the way.
There were moments when Davenport's great outfit gunned to the front, but never by more than a point after the opening minutes.
And each time Manning Countered with precision scoring that sent the Blue Devils back in the rear.

In the end it was Davenport that lost its poise. Within two points of Manning and the finish just two minutes away, the Blue Devils forgot the defensive fundamentals in their frenzied effort to square the score.
And Manning, the new-comer with the poise of a team that plays for championships every day, simply shot passes through the openings for baskets that settled the tournament.

Never a Contender
This was the team that never had been a contender, a team that never had qualified to play in the tournament.
And on its first appearance the Bulldogs blistered the floor with their speed, unsteadied Davenport with their smartness and beat the Blue Devils with their accuracy and basketball brilliance.
Manning used only six players, and all of them were vital parts in a championship array. This was a money team that played its best when the stakes were highest.

Stange Stopped
There was Merlin Rostermundt, racing rifling his passes, snatching rebounds And Jim Farrell, the 6-foot 4-inch center who had the 6-foot 6-inch Tom Stange to contend with and handled the assignment well.
Jim Farrell and Bob Koch each hit in the opening minutes to erase Davenport's 4-3 advantage and with a minute to go, Dick Geith sank a pair of free-throws to put Manning on top, 9-6.


Champs Trail
Farrell notched another Manning goal on a rebound just before the initial period ended with the defending champions trailing 11-6.

A Dream Come True for Team


(By Bob Koch)

The champions of 1948 had a dream, and it has come true.
As some of the more ardent basketball fans in this wonderful town of Manning can remember, some four years ago when the new champs were in their freshman year in high school, they can recall some of the statements made by the players. All statements that were made at that time were realized in this one game. "We are going to state when we are seniors!" Now these boys are seniors, and they not only went to state, but they won it!!

When these boys were freshmen they lost only one game, and that being an overtime to Denison's second team. Manning tried to enter an invitational tournament, but were rejected because they already had enough teams. This of course, made some of the players mad, because they wanted to win a trophy to put up in the junior high trophy case.

As the other years passed, these boys grew up with their eyes on that state tourney berth.
Then their chance arrived — they had won a berth in the state tournament by blasting Creston in the sub-state finals by a score of 45-24.

The first game of the state tournament for them was against Livermore, a class B ball club. The boys could hardly believe that they had won a place in the final tournament, therefore, did not play a very outstanding game, but managed to win 43-34. The second round was against Galva, and again the Bulldogs lacked fight and punch fans had seen all season, but also again they managed to pull through 43-34.

After this game was over the Bulldogs' popular coach had a few words with the boys. It would have been wonderful if everyone in the state could have been at this meeting. The finest coach in the state gave his boys a little talk, reminded them of their freshman dreams and of what they now had in their power to do if they wanted to. In this meeting, after the coach had stepped out, the Iowa University athletic trainer told the Manning boys that they had the finest coach in Iowa, and that they had no reason to let him down now. This line of reasoning really went to the hearts of the boys.

The next day the boys lay around the hotel with a heavy and sad heart, but at night, low and behold, thunder broke loose. There was just no stopping this hustling bunch of boys. They defeated Sioux Center 45-35.

Now was their chance.
Tomorrow night they were to play Davenport in the state tourney finals. This was it!
The boys stayed around the hotel all day Saturday thinking about the game. When Saturday night came, these boys really set the Iowa field house afire. They tore the great Davenport zone defense to shreds, and defeated the Blue Devils 43-36.
So there you are, Manning. This dream of 1945 came true. Not only to get to state, but to win it!! Congratulations, boys!!

2000 FANS WELCOME CHAMPIONS HOME


More than 2,000 fans jammed the high school auditorium to greet the returning Iowa basketball champs here Sunday afternoon. Other parts of the building and hallways were also filled.

The program at the high school was sponsored by the Manning Chamber of Commerce, the Veterans of Foreign Wars, American Legion, fire department and the Western Iowa Sports-man Association.

C.M. Johnson, chamber president, performed the duties of master of ceremonies, introducing the coaches and members of the team: Bill Steneker and Bill Anderson; Merlin Rostermundt, Jim Farrell, Bob Koch, Royce Rowedder, Dick Geith, Whitey Lohmeier, Louis Bohnsack, Leroy Kienast, Jerry Knaack, Danny Peters and club manager, Leland Kienast.

Mr. Johnson stated that the boys had done more to publicize Manning in one short season than all the others had done in the past 63 years.

Mayor R.B. Kelsey turned over to the boys the proverbial keys of the city, stating that they had earned them. Commander Bill Petersen of the V.F.W. stated that it could not have happened to a better team or a better coach.

Dr. J.L. Loucks, Commander of the American Legion, stated that the boys brought to Manning the right kind of publicity and that it was brought by the right kind of boys. Paul Vollmer extended congratulations from the Manning Fire Department and Henry Popp of the Western Iowa Sportsman, stated that the town was mighty proud of such an aggregation.

Maurice White of the Tribune sports staff stated that he told everyone in Iowa City and Des Moines that he was a next door neighbor of the famous Bulldogs. His home is in Manilla.

The Manning champs were sold short along the entire route of the state tournament with odds as high as 20-1 favoring Davenport but they came in for their share of honor, justly earned and deserved here Sunday afternoon and evening.

Cheer leaders who lent them moral support all through the year were asked to rise and take a bow. They are Ruth Behrens, Marian Godiksen, Donna Rae Strathman and Mary Ann Rothfolk.

Sharing in the honor was Orville (Bud - Paul Whitman) Harris and his group of swingsters who made such a hit at Iowa City and gave so much support to the basketball squad.

The group played several selections for the appreciative audience. Mr. Harris stated that this group is "peanuts" after being accustomed to play before thousands. He said that he had told his charges that they were going over to blow our tops. "We left our tops there" he concluded.

Henry Dethlefs, who had been high school janitor for many years, and knows things inside and out, states that he was not surprised at the outcome. Coach Steneker simply outsmarted them.

Coach Steneker stated that the fact that they were champions had not soaked through yet. He said that they had two bad nights and two wonderful nights but that the boys were wonderful the whole way through.

Supt. Koch admitted they had dreams of getting to the state contest but never dreamed that the dreams would come true. "

Both officials thanked the Manning community for the support given the team and its leader and for its loyalty all through the season.

Highlighting the gathering was a skit under the direction of F.J. (Bud) McMahon and L.J. (Si) Nickum. Mr. Nickum as minister led the funeral procession of Davenport's casket, following were some thirty grade age boys and girls all bearing placards with the names of towns, which had fallen victim to the Bulldogs this season.

Following the program at the high school the basketball squad, and the pep band members, the cheer leaders, Mayor and Mrs. R.B. Kelsey, Supt. and Mrs. K.B. Koch, Coach and Mrs. C.W. Steneker, Assistant Coach and Mrs. W.G: Anderson and Mr.& Mrs. Orville Harris and the heads of the sponsoring organizations and wives were guests at a chicken dinner honoring them at the Sportsman Club. Several newsmen and photographers were also present for the dinner.

A brass band greeted the returning champs at Glidden. Included in the band were Eddie Fischer, George Fischer, Ed Callen, Arthur Rix, Donald Petersen, Hap Dusenberry, Earl Roberts, Bill Sander, Stuart Hugg of Denison and Leonard Schechlinger of Carroll. When the caravan arrived from Iowa City, some of the members of the pep band joined the group.

PEP BAND


It was heard many times that some fans were certain Manning had hired professional musicians to bolster up the playing ability of the group.

A total of nine radio interviews were granted by Harris and he had to explain each time that the school also had a concert band and that the pep band was just a playground for student musicians.

Autograph seekers lined up one night along the railing in front of the band. An old lady from Iowa City cried on Harris shoulders saying, that "Billy Roberts plays 'Stormy Weather' so beautifully." After she took a look at him she exclaimed, "..... and he's so handsome, too!"

The kids were in awe of the fine Davenport band of nearly 100 pieces.