<![endif]-->
On February 13 to 23, 1997 my cousin Jon Ahrendsen and I traveled to Germany to trace back our family names. We also have common ancestors which are on the Grau & Hansen side.
We flew into Berlin on Friday and headed to Lenzen where my great-great grandfather & mother Kusel came from. There we met with Peter Kusel and his family who live in Baekern which is about 2 miles from Lenzen.
Saturday we went to Hamburg to take Margarethe (Meinke) Peters back to her home. Her great grandmother was a Kusel.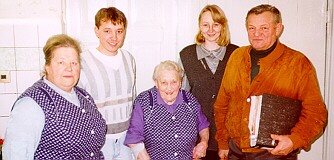 Front left to right: Jutta Kusel, Jutta's mother-Frieda von Bargen, Peter Kusel
Rear: son Jürgen Kusel, Friend: Margarethe Meinke-Peters

---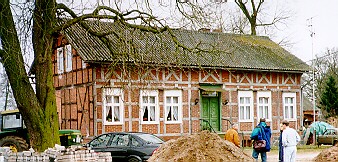 Above is Peter Kusel's home in Baekern.
Fleeing East Germany to the west after WWII
In 1952 Peter and his family fled from here across the Elbe river to West Germany but before they left they buried silverware, linens and documents in their barn with the hope that if they were able to return someday they could prove this was their property.
Peter's farm is about a mile from the Elbe river so each winter (when the leaves had fallen off the trees) they would come to the river on the West side and look through binoculars to see their farm.

In 1990 Peter drove his John Deere tractor for 10 hours from the farm they rented in West Germany to the Elbe river to cross on the ferry to get to his farm.
On the East side of the Elbe river there was a guard tower which monitored the river near their farm.


Dave Kusel standing by the wall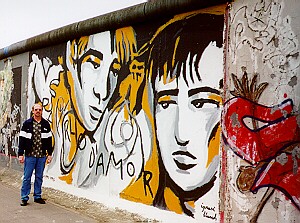 This is a section of the Berlin wall that was left standing in the old East part of Berlin


In the fall of 1996, a German Haus Barn (Bauernhaus) was donated and shipped to Manning, so we visited Klein Offenseth which is where the Haus Barn came from.
---
Back to Kusel Family Tree