J. Geils Band "Freeze Frame" 1981
40 years ago

IKM-Manning vs Riverside
January 19, 2021
More pix coming when I find time...

Daniel Weller


August 14, 1967 - January 16, 2021


Click to see the tribute

Merlyn Zubrod


April 17, 1929 - January 14, 2021


Merlyn Zubrod, Carol (Zubrod) Rupiper, Don Zubrod 2011

Merlyn Zubrod, 91 of Templeton, died Thursday morning at Manning Senior Living in Manning.
Funeral arrangements are pending at the Sharp Funeral Home in Carroll.




Tribute to Merlyn

Marjorie (Thielen) Feilmeier


August 3, 1943 - January 10, 2021


Marjorie Thielen MHS 1961
Margie Feilmeier, age 77, of Carroll, died Sunday, January 10, 2021, at St. Anthony Nursing Home in Carroll.
Mass of the Christian Burial will be celebrated at 10:30 a.m. Friday, January 15, 2021, at Holy Spirit Church - St. John Paul II Parish in Carroll. The celebrant will be Fr. Kevin Richter. Instrumental Music will be by Jane Heithoff. Lector will be Laurel Feilmeier. Casket Bearers will be Tom Feilmeier, Mike Janning, Conner Janning, Bob Dentlinger, Jeff Cayler, and Jan Thielen. Private family burial will be held in Mt. Olivet Cemetery in Carroll.
Visitation without greeting the family will be held from 9:30 a.m. to 10 a.m. Friday at Holy Spirit Church. Those in attendance of services will be required to wear a face covering, and abide by all COVID 19 restrictions.
A recording of Margie's funeral mass will be available within 72 hours on the Sharp Funeral Home YouTube page at https://www.youtube.com/channel/UCqd2eeRJk5RTdEJoEooUoAQ.
Those wishing to mail a memorial may direct it to Marjorie Feilmeier Funeral, C/O Sharp Funeral Home 226 W. 8th Street, Carroll, IA 51401.
Funeral arrangements are under the guidance of the Sharp Funeral Home in Carroll, and online condolences may be left for Margie's family at www.sharpfuneral.com.
Marjorie Ann, the daughter of Leo and Bertille (Reinart) Thielen was born on August 3, 1943, at St. Anthony's Hospital in Carroll, Iowa. She was raised on a farm south of Manning and was taught from an early age to work hard, have good values, and have a strong Catholic faith. Margie graduated from Manning High School in 1961. In 1963 she graduated from Antonian School of Practical Nursing in Carroll.
Marjorie married Wendell "Junior" Feilmeier in 1965, and this friendship of marriage lasted for over 50 years until Wendell's passing in 2015. Margie worked in nursing most of her career, but returned to school to obtain her Nursing Home Administrative License in 1991. She worked as an administrator several years before returning to her true passion of caring for others. Most of her career was working at St. Anthony Hospital and Nursing Home; where she finished her career by working in the Nursing Home until her retirement.
Margie and Junior loved to travel and took many trips to their favorite areas in the southwest United States, although their favorite area was Estes Park, Colorado. The couple also enjoyed their short road trips and time spent at the casino, and spending part of the winter in Laughlin, Nevada.
Margie's greatest joy was her family and grandkids who are left to cherish her loving memories. They include her daughter Cindy (Mike) Janning of Carroll, and her son, Tom (Laurel) Feilmeier of Bay St. Louis, MS; grandson: Conner (Jacque) Janning of Ankeny; granddaughter: Hannah (Tyler Ramsey) Janning of Ankeny; a brother: Dan Thielen, and sisters-in-law: Vicki Thielen, Rita Dentlinger, Irene Feilmeier, and Marcia Feilmeier, as well as many nieces, nephews and other extended relatives.
Margie was preceded in death by her husband Wendell "Junior" Feilmeier in 2015; her parents: Leo and Bertille Thielen; parents-in-law: Wendelin and Clara (Willenborg) Feilmeier; brothers: Mel Thielen, and Ray Thielen; brothers-in-law: Jim Dentlinger, Alfred Feilmeier, Leonard Feilmeier, Rudolph Feilmeier, Earl (Janis) Feilmeier; sisters-in-law: Laura (Tony) Muhlbauer, and Marie (Ed) Lammers.

Lincoln No. 2 - page 141 of the Manning Schools history book
North wall of Lincoln No. 2 circa 1948


Back: Louise Mohr, Marjorie Drees
Third: William Bruhn, Lyle Drees, Merlin Drees,

Melvin Thielen

, Donald Dammann, Allen Mohr
Second: Janice Drees, Gary Handlos,

Raymond Thielen

, Allen Overgaard?
Front:

Marjorie Thielen

, Linda Handlos

Melvin Thielen


Ray Thielen

Back: Melvin, Danny, Raymond
Front: Marjorie, Bertille, Leo

Leo and Bertille (Reinert) Thielen moved to the Manning community from the Templeton area in 1940. They purchased a farm in Lincoln Township, Audubon County, Section 9, from William Dammann.
They were married in February 1934 at St. Augustine church in Halbur, Iowa. They had four children: Melvin (1934), Raymond (1937), Marjorie (1943), and Danny (1952).
Leo was a livestock and grain farmer and enjoyed fishing, hunting, and occasional vacations. The family belonged to Sacred Heart Catholic Church. Leo served on the building committee for the new church in 1956. Melvin continues to live on the home farm.

Ray, Katherine, Vickie

Ray and Vickie (Thieman) Thielen farm south of Manning in Lincoln Township, Audubon County. Vickie is from Ft. Calhoun, Nebraska, where she was a commercial artist for Brandies.
They were married in 1986 and have one daughter, Katherine who was born in 1987. They are active members of Sacred Heart Catholic Church and served many years in religious education and liturgy positions. Raymond was also on the building committee for the CCD center. The family enjoys fishing, skiing, and camping. Raymond is also a private pilot. Katherine is a member of the National Honor Society and enjoys basketball, cross-country and track.

Front: Dan, Nylene, Laura
Back: Jan, Mary, Joe

Danny graduated from MHS in 1971. He married Nylene Freese in 1973.
The couple had four children: Jan, Mary, Joe, and Laura. They farmed in Lincoln Township, Audubon County. They enjoyed hunting, fishing and traveling.


1961 MHS graduates: Terry Adamson, Donna Ahrendsen, Carol Beck, Thomas Bennett, Kenneth Boell, Jackie Borkowski, Barbara Bruck, Marilyn Brus, Jerrold Callender, Anna Birgitta Carlsson, Lenny Carstens, Terry Doyel, Beth Eckholdt, Eleanor Ehlers (valedictorian), Johnny Ehrichs, Dorothy Fink, Warren Fischer, Dennis Frahm, Eileen Frahm, Dean Grimm, Frances Grimm (salutatorian), Linda Handlos, Roger Hansen, Lila Hargens, David Hass, Joan Heithoff, Lowell Jahn, Wayne "Butch" Jensen, Sandra Johnson, Patrick Kasperbauer, Patricia Knobbe, Karen Knueven, Dale Koester, Carol Kuhl, Alan Kusel, Valda Lamaack, Gordell Lamp, Patricia Mathisen, Gary McNutt, Steven Mock, Nancy Mohr, Sandra Mohr, Gary Mundt, Paul Mundt, Betsy Musfeldt, Fred Nulle, David Nelson, Mary Reinke, Gary Rowedder, Faith Sander, Paul Spieker, Lowell Stammer, David Swank, Marjorie Thielen, Jean Thomssen, Judy Thomssen, Richard Vaudt, Marilyn Vennink, Kenneth Venteicher, Allen Vinke, Anna Marie Wiese, Russell Witt, Joyce Sonksen Warnke

1961 former students: Judith Atkins, Leona Bosche, Gary Cooper, Dennis Domayer, Billy Donaghu, Jimmy Eich, Roger Eischeid, JoAnn Groppe, Kenny Hass, Judy Hemerson, Dale Hinz, Melvin Hoffman, Ronnie Hollander, Mary M. Johnson, Keith Justice, Patricia Killeen, Dickie McMahon, John Miller, Patricia Musfeldt, Kathleen Nelson, James O'Lear, Mary M. O'Lear, Pearl Peters, Alton Petersen, Irene Rowedder, Larry Ruhde, Earl Schiltz, James Schrock, Wilma Seals, Barbara Simcoke, Lawrence Spicer, LuVerne Steffes, Larry Stolz, Bob Synhorst, Larry Thetford, Ronnie Umland, Beverly Weinbrandt, Nancy Young

Dan Thielen 1967

Ray Thielen MHS 1956

Larry Witt & Ray Thielen FFA

Katie Thielen President, Chantel Croghan Vice-president - May 21, 2006 graduation

I continue to help Karen, who is a Burmeister descendent and she recently sent me this 1st picture. She has questions about the Dammann families connected to the Burmeister family.
So far I haven't found out any detailed information about these Dammann families who once lived in Manning.
Claus Dammann was a cousin to Henry Burmeister.
Abel Burmeister's obituary lists John, William, and Herman Dammann of Manning as attending her funeral.

After studying the information for both Dammann families I'm having a hard time making connections. Edna talks about 2 Claus Dammanns. The other Claus married the sister of "her" Claus Dammann, meaning a Dammann married a Dammann but I have no idea if/how they are related.


This Claus came from Besdorf, Germany

Claus & Anna (Biehl) Dammann

The 2nd picture came from the Edna (Dammann) Rudnick collection...this "Claus" sure has similar facial traits as the "Claus" in the group picture...but it could all be a coincidence.
Edna had written that this Claus came from Betzdolf, Germany - I can't find this spelling but do find Betzdorf and Besdorf so without obits and more information, it is all a guess.

So anyone who can help with this Dammann family, please e-mail me.


I've been getting some information for Claus Dammann who married Margaretha, but below is the another Claus Dammann who married Anna Biehl and I'm trying to figure out where this Claus fits in.
Edna (Dammann) Rudnick wrote up this obit and in the last sentence, she states that her Claus was a sister to Margareta (Gretchen) who married the other Claus Dammann.
So any help with CC & Anna Dammann will be helpful.


C.C. (Claus) DAMMANN
written by Edna (Dammann) Rudnick

C.C. (Claus) Dammann was born in Betzdolf Schleswig, Holstein Germany on November 13, 1865, the son of Marx & Anna (Burmeister) Dammann. His date of death is December 18, 1940. He is buried in the Manning Cemetery.
He married Anna Biehl on April 8, 1893. They bought a farm south east of Manning and lived there until they retired to Manning. His son Julius and family moved to that farm. He bought a second farm and his son Eddie and family lived there.
C. C. emigrated to the United States in 1892 as he did not want to be inducted into the armed services. Later he took the name CC as there was another Claus Dammann in the area.
C.C. is survived by his wife Anna, 4 sons, Emil and his wife Helena; Ernest, Eddie and his wife Alviena; Julius and his wife Ella; 6 grandchildren: Viola, Arlo, Edna, Delores, Herbert and Donald.
Siblings of C.C. were sister Margareta (Gretchen) born in 1858 and married the other Claus Dammann and died in 1942; brothers Jasper - born in 1860 and died in 1933 and Fred in 1863 and died in 1941.


Claus & Margaretha Dammann
This link shows the Dammann connections of the area to Claus & Margaretha.

I'm so glad that I have NOT yet published the Manning Veterans' history book.
I keep finding more Manning connected Veteran names and also more pictures and information for Veterans I already have in my database.
I've run into a lot of military information already in the Frank/Meggers collection I'm currently scanning.
My plan to include family Veteran history is also expanding...a situation where I want to include Veterans who did not live in Manning/area but are related to Manning Veterans and include those non-Manning Vets with one of their Manning relatives.

For instance, I have known about Joseph Moore being one of Manning's 60 Civil War Veterans, but discovered a few years ago that his dad also served and died at Andersonville.
Then while working on Bertha (Wallentine) Moore's scrapbook, I discovered that Joseph's 2 brothers also served in the Civil War...then that Bertha's nephew, served during WWII.
All of these non-Manning Veterans will be included with Joseph's military write-up as a "Veteran family" military history, which will make the Manning book VERY unique.

Delbert Wallentine on left

1945 in France (news print article) "Mrs. Delbert Wallentine of West Burlington and Mrs. Clair Wilson of Marshalltown should enjoy this picture," says Lieutenant Zielasko.
"Left to right are husbands Delbert and Clair …We hope 5-year-old Betty Louise and 1-year-old Mary Marlene Wallentine don't ask their daddy to bring the dog back home with him. The puppy belongs to a little Dutch girl."

I didn't find an obituary for John Moore, but here is Jacob's obituary that I found in the scrapbook.
OLD SOLDIER DIES
Jacob Moore Passes Away After Weeks of Suffering.
Death came to Jacob Moore, one of the well-known farmers in the south east part of the township, on Monday morning after an illness of several months from dropsical and heart troubles. His condition had been very serious for two weeks or more and his death was expected by his family at any time. Funeral took place Wednesday afternoon at Concord Church in the neighborhood in which he lived, being conducted by Rev. Spohn and Rev. Hidy. Interment was made in the cemetery near the church. A large congregation was present to show the respect in which the deceased was held in that community.
Jacob Moore was the son of Gilbert Moore and was born near Treaty in the south part of Wabash County, June 16, 1846. At his death he lacked but a few days of being 62 years of age. His father moved to this part of the county in 1856 and this vicinity has been the home of the Moore family ever since. During the civil war his father, Gilbert Moore, enlisted in the 101st Indiana Regiment and in the fortunes of war was captured by the rebels and died a death of starvation in Andersonville Prison. Afterwards his sons, Joseph, John, and Jacob, enlisted in the 47th regiment and served during the war, all of them returning home.
Jacob Moore was married to Mary A. Hornaday after the war and they have continued to make their home in this township, being among its most respected citizens. They were the parents of five children, the two oldest dying in infancy. Those living are Will Moore, of Mishawaka, Mrs. L.J. Lofland and Miss Nellie Moore, of this township.
Besides these children his wife, three grandchildren, several brothers and sisters and other relatives and friends survive him. The surviving brothers and sisters are John Moore, of Andrews, Joseph Moore of Iowa, Calvin Moore of Larwill, Quartes Moore of this township, Mrs. W.H. Bolinger of Mishawaka, Mrs. Porter Cunningham of Pierceton. The deceased was for many years an active and conscientious member of the Methodist Church and was also a member of the Grand Army post of this city. Mr. Moore was esteemed as a good citizen by all who knew him.


Of course, there are a lot of pictures that are not identified in the Frank/Meggers collection I'm working on.
Below are some examples of both identified pictures and some that are not - if you can ID any of them, please let me know.

Unknown lady - Rembrandt Studios but unknown town
Most colorized photos are amazing - their original quality is much more stable than regular prints.

O'Brien Studios - Kenneth & Minnie Dales
Originally it was suggested to me that this might be a Barten family...so I posted the guesses and checked with another Barten/Ross descendent but he didn't think it was a Barten family.
The tallest man in the back row has been driving me crazy, because I knew I should be able to ID him...
FORTUNATELY I have several historical helpers for my projects...Glenda, who is a Struve descendant sent me the correct IDs...as soon as I saw the name of Art Gruhn, I knew right away that is who I was struggling with in the back row...I knew his face was soooo familiar.
Glenda posted her information on my guestbook and I will put the correct IDs under the picture now.
I know there are more people out there who can help me with IDs, corrections, and Manning history, but for whatever reasons, they just won't help out.
If you see errors, know IDs, and/or have Manning historical stuff for me to scan - PLEASE e-mail me!

Back: Lester, Arthur, Leona
Front: William & Alma (Jansen) Gruhn

Orrin Dale Plagmann, Twyla Mae Plagmann 1943 - Lyden Studio

Lena (Schroeder) & John Joens
Strosahl family December 1959


Back: Carolyn, Marilyn
Front: Dorothy (Moore), Dianna, Bill, Clausie

Eddie Meggers farm 1955

On back written" The home place sold to Albert Nordby"

Thanks to Donna Arp for letting me know about Neoma's passing.
My mother and I scour the area funeral home sites and through BING searches for Manning connected people who pass away in other communities but we don't always notice or find them, especially with non-Manning married names.

So if anyone knows about an obituary for a Manning connected person who passes away in another community, please e-mail me.




Neoma (Popp) Vanderheiden


August 29, 1930 - December 31, 2020
Back: Dorothy Sextro, Virgene Grimm, Donna Neubaum, Mary Ann Rothfolk, Mary Jane Grage, Dorothy Mohr, Marie Ploog, Lois Wilhelm
Front: Beverly Ochsner, Marian Kasperbauer, Iva Mohr, Arlys Wegner, Deloris Dammann,

Neoma Popp

, Sally Grundmeier

1949 MHS graduates: Orrin Asmus, Vernon Asmus, Louis Bohnsack, Dick Clark, Melvin Clothier, Deloris Dammann, Herbert Dammann, George Doyel, Gaillard Frank, Mary Jane Grage, Virgene Grimm, Gerald Grundmeier, Sally Grundmeier, Delores Hammer, Lyle Hansen, Lyle Jahn, Bobbie Dale Johnson, Mary Ann Kasperbauer, LeRoy Kienast, Jerry Knaack, Don Louisfield, Don Middendorf, Don Mohr, Iva Mohr (salutatorian), Donna Neubaum, Beverly Ochsner, Bill Opperman, Danny Lee Peters, Marie Ploog, Hugo Ress, Rose Ann Rix, Leo Rostermundt, Mary Ann Rothfolk, Richard Schrum, Roy Schrum, Dorothy Sextro, Lois Wilhelm (valedictorian)

1949 former students: Mickey Addison, LaVonne Armstrong, Lloyd Barnes, Joyce Bliefert, Rolland Campbell, Raymond Chipman, Bobby Colton, Patty Cramer, Marilyn Davis, Flora Ann Dethlefs, Ronald Fritz, Alfred Grau, LaRue Hagge, Lyle Harder, Betty Hargens, Bobby Hargens, Raymond Hiatt, Patricia Hinkle, Bill Kennedy, Louis Kuhn, Virginia Lee, Russell Mohr, Dorothy Moore, Wesley Nulle, Jean Parker, Neoma Popp, Julia Reimers, Shirley Robinson, Bob Rothmeyer, Donald Sander, Marilyn Sander, Marlene Sander, Donald Slates, Erwin Stoelk, JoAnne Voss, Arlys Wegner, Carol Jean West, Gene Winans, Buelah Wolfe

April 14, 1946

Back: Russell Mohr, Ardella Frahm, Charles Fielweber Middle: Dan Peters, Donna Neubaum, Lois Wilhelm, Lyle Hansen
Front: Dorothy Lake, Rosemary Hinz, Pastor Ansorge, Mary Ann Rothfolk,

Neoma Popp

High School information

Neoma Vanderheiden

Visitation January 16 9:00 AM - 11:00 AM St. Michael's Catholic Church, Harlan, Iowa
Mass of Christian Burial January 16 11:00 AM St. Michael's Catholic Church
Cemetery Harlan Cemetery
Pauley Jones in charge of services.
---
Neoma Ann Vanderheiden was born on August 29, 1930 to Elmer and Leora (Martens) Popp in Manning, Iowa. She was baptized and confirmed at Zion Lutheran Church in Manning. She attended school in Manning and graduated from Manning High School.
On May 31, 1951, Neoma was united in marriage to John L. Vanderheiden at St. Lawrence Catholic Church in Carroll, Iowa. There were two sons born to this union: Rodney and Lindsey.
John and Neoma moved to Harlan in 1959, and Neoma has lived in Harlan since that time. She was a key part of Van's Moving & Storage, Inc., a company that was founded in 1959, and existed for 34 years. During her tenure at the company, she was the Secretary/Treasurer and enjoyed working with Van's customers. For many years she would walk to and from work, getting the mail at the post office on the way.
She was a member of St. Michael's Catholic Church since 1959. While at Elm Crest, she enjoyed visits from Father Frost and receiving Holy Communion from the church Eucharistic Ministers. She read the church bulletin to stay up with church happenings and watched St. Michael's mass on TV.
Neoma loved her family very much and loved spending time with John and the two boys. In her earlier days, she enjoyed visiting with her mother, helping the boys with their homework, and attending their school and sports activities. When the boys were athletic trainers at Iowa State, she and John loved attending ISU Cyclone football games and spending weekends in Ames.
She displayed a warm smile, had a casual sense of humor, and a calm demeanor. She didn't need to be the focal point of a conversation, but loved hearing what people had to say; she was an excellent listener.
Neoma loved watching sports on TV, especially football, baseball, and basketball. She was an avid follower of the Harlan Community Cyclones, watching and listening to them on TV and radio. She had fun reminiscing about the glory days of Manning boys basketball that occurred during her high school years. Coached by C.W. "Bill" Steneker, the Manning Bulldogs won the 1948 Boys Basketball State Championship, defeating Davenport in the finals. She also enjoyed reading the Harlan newspaper to keep up with the local news and sports. Some of her favorite TV shows included Lawrence Welk, Mollie B Polka Party, and Wheel of Fortune.
She loved talking on the phone to her sons about a variety of topics. It was hard on her when John passed away in 2015, and then Rodney in 2017. She missed them tremendously and would talk about them often.
She became a resident of Elm Crest Assisted Living in 2015, and passed away on December 31, 2020 at Myrtue Medical Center in Harlan, having attained the age of ninety years, four months, and two days.
She was preceded in death by her husband of sixty-four years, John Vanderheiden son Rodney, her parents, and sisters Betty Pittman (Virtus) and Gloria Cunconan.
She is survived by her son Lindsey Vanderheiden and his wife, Stephanie of Longmont, Colorado; grandson, Jordan Vanderheiden of Broomfield, Colorado; and granddaughter, Michaela Vanderheiden of Colorado Springs, Colorado; sister, Janice Kolb (Larry) of North Hills, California; many nieces and nephews, and other family and friends.

Carol (Ringling) Kahl


November 4, 1937 - January 10, 2021

Carol Kahl, 83, of Whiting, Iowa, formerly of Manning, Iowa passed away on Sunday, January 10, 2021 at the Pleasant View Nursing Home in Whiting.
Funeral Service Thursday, January 14, 2021 10:30 AM Zion Lutheran Church - Manning
Visitation will be held one hour prior to the funeral service at the church.
Burial will be held after the funeral service in the Manning Cemetery.
Funeral Arrangements are under the direction of Dahn and Woodhouse Funeral Home in Carroll.

Carol Kahl in costume during the 1983 Manning Fire Department Centennial

Carol Kahl helping out with German Heritage Day at the Heritage Park in 2003

Marlin Kahl 1981 Manning Centennial year fireman


Marlin Kahl working on the Heritage Park flower garden 2001
7th grade fall of 1978


Back: Kevin Kahl, Dani Ramsey, Jay Curlile, Marty Popp
Middle: Jim Wanninger, Mike Dammann, Nate Hodne, Jeff Waterbury, Brian Reid, Bruce Grau (manager)
Front: Darwin Rohe, Keith Muhlbauer, Kevin Boersma, Jim Weiskircher, Dan Kerkhoff, Tom Long


The old scoreboard

Gerald Kahl MHS 1986

Brian Kahl MHS 1988 & Wendel Kahl MHS 1989

Jodi Hansen (Queen) Brian Kahl (King)

LeAnn Dammann, Brian Kahl

Brian Kahl


Wendel Kahl, Jean Myer, Mike Hull, Jean Menke

Wendel Kahl, Ron Wiese

Kahl Computer Consulting 2005

Dillon Muhlbauer, Cody Kahl 2006

Amazing Police Department & Tremendous community!

Chief Hansen completed and updated our policy on Use of Force. This is a requirement for the COPS Grant.
The Manning Police Department had story time with some of the IKM-Manning Preschoolers. Officer Kennebeck read "The Bad Seed" by Jory John.
The department participated in Weihnachtsfest; there was a good turnout for the drive through parade.
The department continues to participate in the Governors Special Traffic Enforcement Program (STEP). Step week was November 16 - 29 and the next enforcement period will be December 18 - January 1.


Thanks to a generous donor, the Manning Police Department is giving away 50 $100.00 gift cards to Ramsey's Market grocery store.


Sam Hansen

"I hear lots of people and politicians say how we need to be nicer to each other…Well a lot of people in Manning '"put their OWN money where their mouth is!"' They not only help out fellow citizens but also consider ways to help our local businesses such as the recent donation to the Police Department.
We are so fortunate to have a grocery store - thanks to the Ramsey family who took a gamble to invest in our community - NOW we need to "invest" back with them by fully supporting this business.
Dave Kusel

Luis Guzman


May 27, 1949 - December 19, 2020

I am trying to locate the 1981 Manning Centennial minutes and records for that celebration.
I have contacted all of the living central committee members and others who were involved and also some family members of the deceased committee members, but so far all dead-ends.

So if you have or know who might have the centennial records, please let me know.


Does anyone know who might have the minutes to the Lion's Club, Manning Jaycees, Manning UFOs, Garden Club, Woman's Club, or any organization...the old minutes for Manning Rotary or other clubs still functioning???


It is interesting how I'm starting to get requests about various aspects of some of these clubs which unfortunately, I generally can't answer and why I'm looking for the minute/record books to scan of these clubs.
Thanks
Dave

Edna (Grau) Mitzel


May 7, 1921 - January 3, 2021

PRIVATE Mass of Christian Burial will be held on Saturday, January 9, 2021, at 1:00 PM at Sacred Heart Catholic Church in Manilla.
Interment will be held at Mt. Olivet Cemetery near Manilla.
Burial Saturday, January 9, 2021 Mt. Olivet Cemetery near Manilla.
The Mass will be live-streamed on Ohde Funeral Home Facebook page at 1:00 PM.

Michael Hoffman


May 14, 1947 - January 3, 2021

Michael died unexpectedly at his home in Exira on January 3, 2021.
Funeral Service will be held on Friday, January 8, 2021 at 11 AM at Ohde Funeral Home in Manning.
Friends may call after 10 AM at the funeral home on Friday morning.
Visitation Friday, January 8, 2021 at 10:00 am - 11:00 am Ohde Funeral Home
Service Friday, January 8, 2021 at 11:00 am Ohde Funeral Home


I'm looking for help with Mike's extended family ancestral names, Struve, Joens, Coleman, Hoffman, etc.
There are quite a few old pix in his feature and I'm looking for more obituaries and information about members of these families.

It has been brought to my attention that the Manning Chamber of Commerce is 100 years old in 2021.
If anyone has pictures, memorabilia, information about the Chamber, please let me know so I can scan them.
Thanks,
Dave

1981 Manning Centennial book
MANNING CHAMBER OF COMMERCE
In 1887 Mayor Dewing called a meeting of business men at the Germania Hall for the purpose of organizing a Manning Improvement Club. Its object was to promote prosperity of the town. The first officers were Pres. D.W. Sutherland, Vice Pres. Henry Hoffmann, Sec'y C.D. Dewing. This organization was the forerunner of the present Chamber of Commerce.

In 1921 about 50 businessmen met at the Park Hotel for a chicken supper. Later in the evening a resolution was adopted creating a Chamber of Commerce and provided for the election of nine directors. W.B. Parrott gave an address stating the need for such an organization and all present immediately signed membership cards. The desire of the group was to make Manning a "go-getter" city. After much discussion it was decided to include in the membership farmers and all citizens of the town. They felt that in order to make Manning a prosperous town the organization needed the support of the entire population. The first president was W.B. Parrott and Sec'y, Harry Hoffmann. A contest was held to find a slogan for the town. An award of $10 was presented to Margaret Steinbecker, the winner, with the slogan, "Commercial Hub of the Mid-West". This was used for many years by the Chamber in their advertisements and promotion projects.

The Chamber of Commerce has continued throughout the years to be active and they have done much to help develop retail promotion in the town. Each November they have a membership dinner to make money to carry out their projects for the coming year. They see that the town is decorated for the Christmas holidays, they sponsor Agriculture Appreciation Day, they purchase the 4-H stock champions shown at the County Fair. A committee under the auspices of the Chamber of Commerce plans and conducts the local Children's Day Celebration held yearly. All efforts are made to promote Manning as an active and growing community.

The current officers are Pres. Randy Saunders, Sec'y Gerald Beck. The membership list in 1980 is 92 in number.

1956 Diamond Jubilee - buildings back left is the current location of the post office.

Trade Fair 1950s


My dad started a custom baling business right after graduating from high school in 1938.
Later on he sold baler twine which is why he had a booth at the fair.


Amos Kusel with his baler August 1948


December 3, 1970

Chamber members 1981 Manning Centennial year

Halbur Centennial parade
December 22, 1921
A SLOGAN FOR MANNING CONTEST
What shall our slogan be?
The Chamber of Commerce wants a slogan for Manning and the best way to get one that is snappy and peppy is to have Manning boys and girls get busy and find the right one.
The Chamber of Commerce will pay $10.00 for the one accepted and have arranged for three judges to select the slogans from those submitted.
The rules of the contest follow: Any boy or girl attending the grade or high school in Manning may submit one or more slogans, but not more than twenty suggestions shall be considered from any one boy or girl. The slogan must be short, not over ten words. Write your slogan neatly on one side of the paper only and sign your full name. Mail your suggestions for the slogan to Manning Editor, Chamber of Commerce.
Contest closes January 5, 1922.
The winning slogan and the winner of the $10.00 prize will be announced as soon as the judges make their decision.

September 26, 1946
Civic Projects and Election Top Business for Chamber
Pledge $100 Fund For Road Work in School Bus Areas
Continue Rat Control Committee For Program Schedule For Spring
Several civic projects were included in the business cared for by the Chamber of Commerce at its meeting Tuesday evening when new directors were named for the coming year.
New directors elected at the regular September Chamber of Commerce meeting Tuesday night were Erwin W. Hansen, Arthur W. Bock and Clifford M. Johnson, for three year terms. Directors holding over are: Orrin E. Pratt, Leo Bruck, Henry E. Meyers, Eugene Zerwas, Billie Ohde, Ken B. Koch.
Retiring directors are: John A. Lewis, Lester Rowedder and Lawrence J. Nickum.
John A. Lewis reported for the roads committee, consisting of Lewis, Otto Popp and John J. Struve, "Parker Road," north completed, will be graveled in October, he reported.
The Chamber pledged $100 to help improve three miles of road in Hayes Township, Crawford County, on Manning School bus route and in this trade area. Hayes Township collected pledges for $2,600 for road improvement. Grading will be done this fall and the surfacing next spring; $150 is pledged to the Kimballton-Manning road. A total of $560 was pledged for the chamber road fund.
Otto Popp, Dr. Joe Loucks and Dr. Raymond B. Kelsey reported on the rat extermination program held last Monday. It was voted to retain the same committee. Dr. Loucks, Otto Popp and John Schmidt to act in conjunction with the city council and farmers interested in the rat extermination program, which will probably be carried out in the spring as the work must be done before the first of November.
The window decorating committee for the homecoming, Vaughn Gensler, Herman Pahde and Alfred Paulsen, received thanks of the chamber for doing an excellent job. Pete Kuhl in behalf of the American Legion thanked the chamber for the cooperation given during the celebration.
Arthur Curtis reported for the nominating committee, the following names: Arthur W. Bock, Clifford M. Johnson, Al W. Martens, Arnold H. Sanders, Larry Polking and Erwin W. Hansen.
The matter of arranging closing hours for business places on a winter and summer schedule was introduced by Vaughn Gensler. Matter was left in hands of the original committee, Joe Stein, Louis E. Schelldorf and C. M. Johnson, John Steinhauer, new member, was introduced.
Lunch was served by Earl Barsby, chairman and the following committee: Otto Popp, George Pfoltner, Detlef Hinz, A.W. Curtis, Ed Groppe and William Vollstedt.

May 27, 1948
Chamber To Provide Mural Of Cage Champs In School
Appropriate recognition to Manning's high school state championship basketball team was voted unanimously at the Chamber of Commerce meeting Tuesday evening, when the business club discussed many current topics that are on tap for the summer.
Decisions reached regarding the team and coaches were:
1 Changing the city's slogan to read: "Manning - the Home of Champions." Two signs of welcome will be placed on Highway 141 east and west of Manning. This project was assigned to the trade relations committee by President Clifford M. Johnson.
2 Purchase of four films of the state basketball tourney wherein the Bulldogs met Galva, Livermore, Sioux Center, and Davenport for the state crown.
3. Providing a mural photo of the team and coaches for the west wall of the gym.

September 1, 1949
Planning New Ideas For Holiday Business
Street Lighting, Post-War Plans Also Discussed
Promises of Gravel On Botna Road Given By Board
At the regular monthly meeting of the Manning Chamber of Commerce held Tuesday evening the following topics were brought before the membership:
Henry Meyers reported that a committee from the chamber had met with the Shelby County supervisors, and that three miles of road into Botna would be surfaced in the near future. He also reported that the road sign near Templeton, originally erected by the Denison, Sioux City and Manning Chambers had been repainted. Albert Dietz told the group that on September 13 a graveling contract for the country road north of Manning would be open.
New Christmas Plan
Suggestions were made that the merchants observe Christmas this year in a different manner than in the past, and that a merchants committee be appointed to work with Louis Schelldorf and his Christmas committee. President Bock appointed Al Martens, Peter F. Hansen, Al Paulsen, Herbert Groteluschen, Edwin Johnson, and Ray Pratt as the merchants committee.
Street lighting was again discussed as well as the subject of parking problems. It was suggested that restricted Saturday night parking areas be marked and that the merchants keep their cars off the streets at that time. It was reported that the city council is planning to pass an ordinance covering parking as well as other traffic problems within the city limits.
Post-War Plan Discussed
The post-war planning report filed several years ago by the chamber was brought up, and it was voted that copies be made of this report and filed with the city council and the Manning School board members. Members of the group also recommended that the city council appoint a city planning committee to work with the chamber committee.
Election of directors will be held at the net meeting. Those whose terms expire are Erwin Hansen and Clifford Manning Johnson.
Kenneth B. Koch, William Ohde, and Eugene Zerwas were appointed as a nominating committee

Lucille (Reimers) Ress


September 1, 1925 - January 1, 2021

Lucille Ress, age 95, of Manning, passed away on Friday, January 1, 2021, at Accura of Manning.
Private family graveside services will be held the first week of January at Manning Cemetery in Manning.
Ohde Funeral Home in Manning is in charge of arrangements.
Click to see some Ress history

Irv Emmons, who is another great historical assistant for my Manning projects, recently sent me a negative to scan of the MHS class of 1924 when they had their 9th grade graduation.
He also sent his dad's class reunion addresss list. I scanned both items and am also including a 1936 aerial photo of where the high school once stood along 141...the group photo was taken on the north side of the school building facing the highway.

Scan from Irv's negative

J. Clifford Kortum, Alvin Martens, Walter Barten, Eugene Zerwas, Hugo Wilhelm,

Floyd Emmons

, Dallas Kuhn, Erwin Hansen, Harry Bingham, Ray Edwards, Willard Bailey, Lyall Souter
Middle: Juanita Johnson, Gladys Billick, Emilie Bobar, Gladys Jensen, Julia Lamp, Sylvia Moore, Beatrice Rogers, Alice Lohmeier, Helen Wiese, Alice Patton
Front: Nellie Keat, Elsie Marti, Arnetha Flenker, teacher Miss Anna Mae Howard, teacher Miss Marie Tracy, Marie Asmus, Robert Zerwas, Homer Barr

1936 view - one year before the gymnasium was added on to the east side of the high school.

Amazing historical collection
One of very few examples where the family has kept nearly all of their old history.
About 20 years ago, I started working with Russ & Linda (Meggers) Frank on their amazing "who's who" of Manning collection.
Russ' mother was Marjorie Moore, who was granddaughter of Joseph Moore; a Civil War Veteran of Manning.
I asked Linda why she had so many scrapbooks, old pictures, and various collections and she said that all of her relatives knew she was the family historian so when a relative died who had no children or the kids didn't want to keep their old pix, they would give them to Linda.
I scanned the Frank/Meggers collection over several years, many that were from Linda's side of the family. Unfortunately, Linda had a stroke in the early 1980s but was still able to communicate and Russ would help me understand her when we went over the pictures.
I was never able to finish scanning all of this collection before Russ & Linda passed away, because of my work on the Manning Quasqui & School history book projects along with the many other projects, then last winter I bugged their kids about going through all of the huge collection one more time.
Since I had scanned most of them decades ago, I wanted to also rescan a lot of them with my much better scanners/software and at much higher resolutions, and also scan the ones I missed the first time around.
The Frank kids had put all of the pictures into plastic totes - 8 in all, from small to very very large totes.
So now I'll be spending the next couple of months scanning this collection.
The ones not identified as I scan them I'll dig through the previous scans in my database to see if Linda or Russ were able to ID them decades ago for me.
This will probably be the last of the old and large Manning family collections I'll run into.
Most of the old pictures from this era have been thrown away or spread out to the four winds with various individuals who inherited them, or I have already scanned them.
I know there are a lot more old Manning pix out there and for various reasons most people won't bother to get them to me to scan, but if you have old Manning connected pix and want them properly scanned and preserved in my Manning Historical Database, then let me know.
Thanks,
Dave
Below are more samples of the new scans I'm making from this HUGE collection.

8 totes full of pictures and family/Manning history

I scan just about everything connected to Manning history


To Carl & Marjorie (Moore) Frank from Aunt Hulda


Read the last line - something you seldom see today!!!
A family of patriots and Veterans of many wars!


Russell Frank first furlough home Christmas 1956

Earl Martens, son of Emil and Malinda (Mundt) Martens


Earl is buried in the American Military Cemetery at Brest, France
Earl was first reported missing in action; he was later reported KIA in France September 13, 1944.

Manning Monitor 1943

A Soldier's Experience
"It was almost midnight, and I laid there in mortal terror. All was still and dark. I knew that at any moment, the horrible thing would come. The very thought of my doom brought shudders and chills up and down my spine. But I was determined to meet it bravely.

After all, I reasoned, this must come to every soldier some time.
Now I was calm and ready. Now I had the courage to face the inevitable.
The sound of footsteps caught my ear. I lay there tense-ready. Closer and closer the footsteps came. I held my breath, for fear the least sound might betray me.
Suddenly, a blinding light flashed in my face, and a voice roared: '"Get out of that bunk, you're on the Midnight Shift."'
Pvt. Earl H. Martens.
I'm trying to figure out where Ray fits in - please help


Major Ray Mundt WWII
Note the "passed by examiner" stamp at the top


Merry Christmas from Major Ray Mundt
Box 144 in the Aleutians Kennydale, Washington
Information from one of my historical helpers - James Stoffers:
Raymond Mundt was born in November 1897, the biological son of Hannes and Annie (Ludwig) Mundt. The 1900 Census has the Mundt's living in Lincoln Township, Audubon County.
Raymond's older step-siblings were Mollie, Hannes Jr., Fred, William and Peter
The 1910 Census has Annie Mundt living in Westside with Raymond.
The 1920 Census has Raymond C. Mundt as single and living in Sac City and employed as a pharmacist - which might explain his officer rank in the Army.
Ray Mundt died in 1982 and is buried in the Santa Clara, California, Mission Cemetery.
His wife is listed as Frances E. Mundt.
Ray served in the U.S. Army from November 5, 1940 to February 22, 1946.
Hopefully someone will come forward to confirm one way or the other that this is the same Mundt family that Ray in the picture fits in.
Joseph & Martha (Richards) Moore family


Back: Martha, Charley, Julia
Middle: Deed, Rhoda
Front: Joseph, Maud, Brick
I wonder what happened to the medallion that Joe is wearing?


Joseph Moore (1914) - Civil War Veteran and charter member of McPherson Post in Manning


Joe is wearing a medallion in the family picture.
I'm thinking it is a special charter officer medallion of Manning's McPherson Post.
The picture just above shows a McPherson Post member ribbon which has a similar design.
Joseph Moore enlisted in Co. "D" 47th Indiana Volunteer Infantry in February 1864. Joseph was wounded at the Battle of Champion Hills, Mississippi, on May 16, 1863.
He was engaged in action at the following: Alexandria, Louisiana, May 5-12, 1864; Atchafalaya, Louisiana, July 28, 1864; Fort Spanish, Alabama, March 27, 1865; Fort Blakely, Alabama, April 9, 1865; Mobile, Alabama, April 12, 1865.
Joseph's father, Gilbert, served in the Civil War and made the ultimate sacrifice to help save the Union and free the slaves.
Gilbert Moore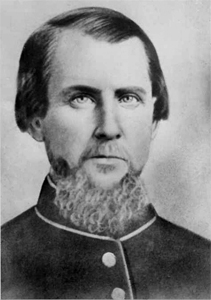 Gilbert Moore, enlisted on August 16, 1862, in Co. "F" 101 Regiment, Indiana Infantry Volunteers at the age of 43. He was captured at Chickamauga, Georgia, September 20, 1863, while assisting a wounded comrade to the field hospital. He was imprisoned in Libby Prison, Richmond, Virginia; Belle Island, also in Richmond; Danville, Virginia Prison; and last at Andersonville Prison, Georgia. He died at Andersonville Prison, Georgia, September 4, 1864. Gilbert is buried in Andersonville Prison Cemetery. Section H, Grave 7820.



---
As I continue to preserve Manning's history - capturing area history for over 50 years, I'm always in awe at the amazing backgrounds of the Manning Pioneers and their descendants.

Then I see the daily nonsense in the news where ignorant punks, so-called news media, and anti-American politicians continue to tear down our history, monuments, statues, and our country in general.
They don't solve problems; They create problems!
I never hear any reporter ask these people their backgrounds and family history.
First of all I doubt they would have a clue about their own personal past and if they did they would probably have to protest themselves for having family members who were truly racists and participated in what these modern moronic protestors claim to be fighting against.

They attack everything that the 2 Moores (who served in the Civil War) and Martens (who gave his life during WWII) fought for - the GREATEST nation on earth.
A nation of people that ended slavery and freed the world of Japanese Imperialism, German Nazi socialists, and continues to fight off the endeavors of Socialist/Communist nations to rule the world.


I continue to seek pictures and history for military personnel who are connected to Manning.
Click to see Manning's military history
I hope you'll take some time to click on each era of military history and then scroll through the over 1000 names I have listed.
If you are connected to Manning and served in the military and I don't have your name listed or if I don't have your name linked, please contact me.
We want you included in the future 2-volume Manning Veterans' history book.


As I continue to scan this amazing historical Manning connected collection, I'll be posting pictures that are not identified and hope that someone will be able to help fill in the blanks.

If you see an error in the captions, please let me know ASAP.

Pictures previously posted...


Russell Frank (front) at Great Lakes Naval Base
It is probably a coincidence but the fellow in back sure looks like a Manning fellow I should be able to ID.
But he was probably a friend that Russ met at Great Lakes.

Clinton Joseph Moore December 14, 1905 Age 8 1/2 months 28 pounds
Father of Edward, Dorothy, & Robert
Both Lyden Studio pictures just above and below.


Max Steckelberg, John Asmus, Ernst Frank, ?Louis? Beckman, John Andersen, Peter Hansen
Ernst was Russ' grandfather.


Martha (Wenzel) & John Asmus - from the Ardith Lage collection
I'm fairly sure John in the group picture is the one who married Martha...
Below is the Peter Hansen family - the same as Peter Hansen shown in the group picture.
It is interesting how Peter always put his left foot forward in the pictures.


Peter & Margaret (Sierks) Hansen family - from the Larry Fischer collection
Picture below from the Lola (Hansen) Ahrendsen collection


Back: Anna Pruder, Hugo, Otto, Molly Hass, Elma Miller
Front: Lillian Hansen, Peter, Margaretha (Sierks), Hilda Fischer
This is why it is important that more people get their pictures to me to scan, so I can compare the pictures they have that are identified to those I have that are not identified and vice versa...the more pix and history I have scanned into my unique Manning historical database, the more I can help everyone.

History never ends, even if it is 100 years ago...
People continue to contact me to ask about various aspects of Manning history...recently a question was when Lyden Studio existed in Manning.
The thought was that if it was only in business during a short time-frame that it might narrow down the possibilities of family members, and help identify who the baby was in the Lyden photo they have.
Narrowing down the family names from the Roselle & Templeton area here are the probabilities: Hahn, Roth, Sporrer, Sextro.

I know this is like looking for a needle in a haystack but if anyone has this picture or knows who it is or the family name please let me know.
Based on the shoe style, I would say this is a girl...

Lyden Studio photo

I realize that most people will fail to understand why I would take the time to figure out who this is but the baby became an adult and who knows how many children she/he may have had...all members of the Pioneer community that made the little towns into what they are today.

Definitely different from our traditional graduations of the past!
I'll be working on the pictures and audio over the next several days for a specific graduation web page but for now here is the class of 2020 and you can listen to the complete audio of the event.

IKM-Manning Commencement
June 28, 2020

More coming later...

June 2020 project update
Manning Hillside Splash


Click for a printable flier

In January of 2018, I created this historical perspective linked below about recreation in Manning and also information and graphics for the current proposed project for the Rec Center.
It shows how projects don't get done overnight and also how very important volunteers and donations are to every project.
Update on the Hillside Splash project
On May 15, 2018, the city council approved $400,000 in matching funds for the proposed Hillside Splash project. JEO Consulting has been working on design ideas and a proposal to complete this project in 3 phases.
Phase 1 will begin in 2019-20 with construction beginning in 2020-21, or as soon as funds are raised.
A zero-depth pool with some play features are planned in phase 1, with the slide aspects in phase 2, and a spray pad for phase 3.
Click on the link below to see some very interesting history on how Manning achieves so many amazing things and is now working on another unique project.
Manning Hillside Splash 2019 update

Oh the Fun of playing in the Sun (1968)


1909 cartoon about 2 boys nabbing their friends' clothes while "skinny dippin.'"
I'm working on a list of names of Manning citizens (now deceased) whose vision made it possible for Manning to have a Recreational facility.
They made it possible for the continued expansion into an outdoor pool addition in 2020 - sadly they'll never got to see this new addition, but we will forever be grateful for their efforts that began over 40 years ago.
List of citizens no longer with us who made the Rec Center possible.
Jean & Gene Wiese - Gene secured the $50,000 LR Nelson grant, MCF member - use of their soil mover - Jean was a Rec Board member
William F. Ohde - Manning Community Foundation member - countless hours with various aspects of construction.
Willis Puck - countless hours with various aspects of renovation - drove the Puck skid loader.
Curt Struve - various aspects - co-rec center board member.
Barry Kusel - various construction aspects - rec center board member.
I'll add more names as I think about this topic and do some research in my database.

For Rent
Looking for a shop to do farm or vehicle repairs and more?


Call or e-mail (by appointment only)
Quonset (40x80) fully insulated with both waste oil and supplemental natural gas heaters...all new wiring and lighting installed in 2012.
All concrete floors, with movable over-head hoist, including various shop equipment like chop saw, grinder, drill press, press, and more...
All new covering on outside - top and ends in 2019.
Fully graveled & maintained lane and yard. We have a rear mount tractor snow blower (loader) we use to keep lane/yard free of snow in winter.
Owners live on premises - with security lights.

2012 complete rennovation

waste oil burner, hoist, press

2019 complete new covering.

Call 712-653-3259 or e-mail - farming@davidkusel.com
Also, some possible space to store equipment for the renter.

This would be a shared situation...we still want to use the shop for occasional repairs we will have year-round and also store the loader/tractor/snowblower in the winter.

Please visit the Manning Exchange for local news, articles, and information...a work in progress.

Many upcoming events.

Korean War Veterans continues


There are lots of Manning Veterans of the Korean era with no pictures or information.
Will you be in the Manning Veterans' book???
Unless more post-WWII Veterans come forward there will be a lot of 1946 to present day Manning connected Veterans missing from the book.

For those of you who are occasional visitors to the Manning Exchange - please make sure to click on the "archived articles" section where previous featured stories are kept.

Click to visit the Manning Exchange

1 example from the Logeland Studio wedding packets.

There are still quite a few Logeland Studio wedding packets available.

Click to read about this important project.
It will help to financially support the Manning Veterans' history book project.

What makes up a community?
Just ONE person
who is a son or daughter
who is a brother or sister
who has a school chum
who is related to someone in that town
whose friend has a friend in that town
whose friend is related to someone else in town
who may have moved away but still thinks of the place they grew up as home
We would like to hear from you, the "1983 Leaders of Tomorrow" who have relatives and chums in your hometown of Manning, Iowa.
In their own words
Attention "1983 Leaders of Tomorrow"


Who is the sister of the meteorologist linked below?
Click to see the answer in her own words

Who grew up on a farm south of Manning, has chased tornados, and is now a meteorologist for the National Weather Service?
Click to see the answer in his own words

I have been receiving questions from various "1983 kids" about what type of information we would like them to write about.
Please read through the meteorologist's story to get ideas for you own personal write-up.
Then send me an e-mail so we can work out your story.

Note: Your story does not have to be as thorough as found at the link above but at least send us a couple paragraphs to bring us up to date from 1983. Here is the DIRECT link to the 1983 web page.

Parents of the "1983" kids - please encourage your children to send in their updated information and any pix they may want to include.
Sometimes a little nudge by mom or dad will get the ball rolling!
Each 1983 "Leader of Tomorrow" has interesting family history.
Here are the names of the "1983 kids" who we are looking for an update from...
Aaron & Courtney Potthoff, Adam Croghan, Andrew & Amanda & Brandon Puck, Alex & Abbey Ranniger, Allison & Megan Keese, Angela & Heather & Michele Hass, Angie & Alan Irlbeck, Bradley Christensen, Bryan & Nathan Rohe, Chelsea Souter, Christin Ann Fara, Christopher Wegner, Cole & Ty Henderson, Dale & Vanessa & Derek Hargens, Daniel Wayne Tibben, Daniel & Janelle Stribe, Dawn & Derrick Rohe, Dawn & Michelle Willenborg, Elizabeth & Jamy Zinke, Ericka & Andrea Ehlers, Gary & Beth & Tim Ferneding, Heather & Jessica & Jimmy Switzer, Jackelyn McKeighan, Jamie Jo Irlbeck, Jeffrey & Joey & Jeremy Irlbeck, Jeffry & Kelli & Jason Lorenzen, Jeremia Rex Macumber, Jennifer & Jason & Renee Knueven, Jennifer & Jeremy Misselhorn, Jeremy Puck, Jessica Rasmussen, Jill Kienast, Joe Stein, Joseph & Mackenzie Hinners, Kasie & Andrea & Amy Lorenzen, Kenzie Kae Kerkhoff, Lauren & Shad Bauer, Marte Wanninger, Matthew & Mandi Weitl, Melissa & Angie Pfannkuch, Michael & Amy & Jeremy Kasperbauer, Michael & Michaela Hargens, Melissa & Michaela Vinke, Michael & Matthew Siepker, Michaela & Crystal Ehlers, Natasha Vonnahme, Ryan & Rachel Pfannkuch, Sabrina Lee, Sarah Kaszinski, Sheri & Trena Bell, Tara Zeman, Stephen & Ryan & Darren Andersen, Tonya Jo Wurr, Tiffany & Michelle Jahn, Tim & Matt Hugeback, Brian & Katie & Steph Beck, Troy & Robin Wanninger
If you send me some information about yourself, I may also be able to find some pictures of your parents, grandparents, family members that I have in my database (as shown above).
We can use them in your story along with your "1983" picture.
We'd like to hear from you !!!
What ever became of the
1983 "Leaders of Tomorrow"
Have some of your "Dreams" come true?

"Let it be known that he who wears the military order of the purple heart has given of his blood in the defense of his homeland and shall forever be revered by his fellow countrymen."
George Washington, August 7, 1782
Just as a reminder: the Manning History book committee continues to work on a Manning area Veterans' history book project.
For those of you who are Veterans or have/had Veterans in your family - will you come forward?
The history book committee will do their best to get as many pictures and information about the 1000+ Manning Veterans but we can't do it all by ourselves.
How many small communities do you know have published 5 history books? The first one was the History of Manning 1898, then the 1981 Manning Centennial book, next the 2006 Manning Quasqui book, and most recently the 2009 Manning School history book. Probably the last book to be published will be the upcoming Manning Veterans' book - unless someone comes forward in the next generation to take over these projects after I'm gone. Will you help with the Veterans' history book project? If you are a Manning connected Veteran or are presently serving and do not submit your military connected pictures and infomation you probably won't be in this once-in-a-life-time Manning Veterans' history book. With a limited number of volunteers we can only do so much on our own but will try to get pictures of as many Veterans as we can. There are over 1000 Manning Veterans so we have a long ways to go before the book can be published.
Manning Veterans are slowly coming forward and below is another example. We hope to eventually get more pictures and information for Mike to put in the book but for now this is what I have to show to you.
Amos Rutz WWII
One thing that many Veterans and people who are submitting information have not fully understood is that this next Manning history book is specifically a Veterans' only book. It won't be like the Centennial or Quasqui history books were, where there is a Veterans' section along with other community aspects. We are aiming for a 2-volume book (around 1090 total pages) which will really be unique!!!
This book will be ALL Veterans' information (and the post auxiliaries) - hence it won't be a "Name, Rank, and Serial Number" only history but we want a complete history for each Veteran.
For instance - below is Louis Boell's picture and the information that was published in the Veteran section of the 1982 Aspinwall Centennial history book. It has the basic information but we are looking for more and I spoke to Louie by phone and he sent more pictures and information - also for his brothers.

To see what Louis submitted click on the link underneath "Are you a Manning Veteran" shown below.

Note: we also want some family background such as parents and grandparents. All too often you will only see just the Veteran's name with their basic military information but without the family connections it will be difficult for future historians and genealogists to know for sure who this person belongs to.

Are you a Manning connected Veteran?

I would like to hear from you!!!
We are starting a Manning Veteran history book project and if you don't come forward you may not be included in the book. NOT because we want to intentionally leave you out but because you didn't come forward.
Same goes for those of you who have Veterans in your family who have passed away. If you don't come forward and help by submitting Veteran connected pictures and information your Veteran may not be included in this once in a life-time Manning Veterans' history book.

Please e-mail me about your Veteran questions manningveterans@davidkusel.com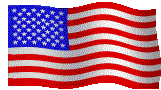 The United States flag
is proudly displayed here and NO other flag is as IMPORTANT!
1 Manning citizen served in the War of 1812
60+ served in the Civil War
1 served in the Indian War
5 served in the Spanish American War
350+ served during WWI
600+ served during WWII
87+ served in the Korean war era
65+ (more names need to be found) served in the Vietnam era
55+ (many more names need to be found) served from 1975 to present
28 paid the ultimate price with their lives defending the U.S. Flag
Are you a Manning Veteran?
Are you currently serving and have a Manning connection?
We are starting the Manning Veterans' history book project
Don't wait until you see "Deadline" or it WILL be too late!!!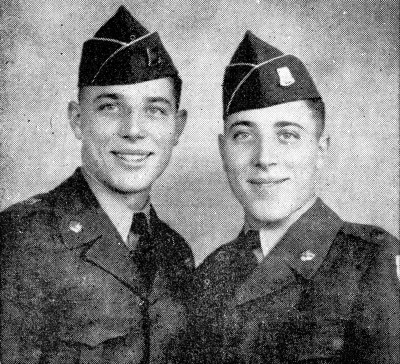 Click to read promos for the Veteran book


There are a lot of WWI and some WWII Veterans pictures with no IDs.

Before you spend time scanning pictures
please look at these instructions


I appreciate your efforts scanning pictures for me but if you only make low resolution scans you are really wasting your time. High resolution scans are the best and only way to really preserve those old pictures.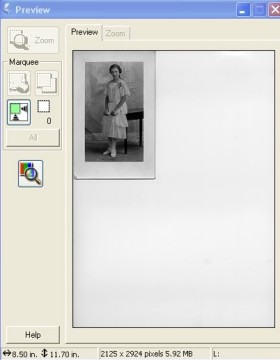 Click to see the tutorial
If you simply don't want those old family pictures you inherited please don't throw them - send them my way.
A lot of times I can recognize a face or location in those old pix.
---
One thing to keep in mind while you are looking for pictures - if they are glued in old scrap books please do NOT try to pull them out or cut them out. I can scan the whole page of the scrapbook and crop out the pictures you want to use in the book. If you attempt to forcibly remove the pictures you will probably damage them and when I scan them that damage will probably show up. This means I'll either have to use my graphics program to touch up the damage which can take a lot of time, or if they are badly damaged I just may not even take the time to scan them.
---
Back to the top