"Downtown" Petula Clark 1964

More RAGBRAI vendors are needed when they pass through Manning on Monday, July 23. We will need to feed and hydrate 10,000 plus bikers!
Businesses, clubs and other local organizations can make some great money as a food, beverage or merchandise vendor that day.
Vendor applications are available at www.manningia.com.
Please consider and share with your group. Any vendor questions should be directed to Brooke Eischeid at 712 210-3698.
If you are a business owner and you plan to extend your sales outside to Main Street or the sidewalk, you will also need to complete a vendor application.
Keep in mind that the vendor fees are necessary to cover the expense of renting port-a-pots, picnic tables, additional law enforcement and entertainment.
We want to put our best foot forward and provide the riders with a comfortable stay in Manning, even as a pass-through breakfast community.
Thanks for understanding. Let's make a great impression! #ManningProud
Manning RAGBRAI committee




RAGBRAI July 24, 2006


Trey Boyle

Aly Boyle

Travis Sybesma

RAGBRAI July 25, 2011


Singing Nuns

---
Ragbrai Route through Manning

Attention all visitors to my web pages who are interested in Manning history and connected to Manning.
If you have never experienced a RAGBRAI event you need to do so...
What better place to experience RAGBRAI, other than in your old hometown or your relative's hometown of MANNING!!!
The Historical "Hub" of Western Iowa...
If you have never visited my "Quick Tour of Manning," check out the link on the left side of this frames web page which will show you some of the historical places to see and aerial photos of the area.
People from all over the US and even the world come to participate in this annual ride across Iowa.
From my experiences of past RAGBRAI events here in Manning and the area are that the riders are very friendly and appreciate being cheered on during their trek across Iowa.
If you are from out of town or out of state, you may even be surprised that someone from your own community will be riding through Manning.
Register's Annual Great Bicycle Ride Across Iowa


RAGBRAI is coming to Manning, July 23, 2018

Here is the complete #RAGBRAI route for Monday's ride from Denison to Jefferson, Iowa RAGBRAI 2018.
The route travels 71.7 miles with 2,537 feet of climb. This will be the longest ride of the week, not counting the optional loop.

MONDAY - JULY 23, 2018
Denison to Aspinwall - 19.1 miles
Aspinwall to Manning - 3.7 miles
Manning to Templeton - 7.7 miles
Templeton to Dedham - 6.9 miles
Dedham to Coon Rapids (Meeting Town) - 8.2 miles
Coon Rapids to Scranton - 16.4 miles
Scranton to Jefferson - 9.7 miles

The route (towns and roads) is subject to change.
RAGBRAI is scheduled to pass through Manning, Templeton, Dedham and Coon Rapids on Monday, July 23. Since Manning is considered the "Breakfast / Brunch" town, the Committee is requesting local organizations to consider holding a food stand between 7 am and 12 noon to feed visitors.
The booths located in Manning must be shut down by 1 pm to allow ample time for the bikers to get to their next destination.

IKM-Manning Commencement
May 20, 2018
Three (4.0) 2018 Valedictorians: Payton Sporrer, Shyanne Sporrer, Peyton Gross
More pictures and information coming


Children's Day - Kinderfest
Unofficially the oldest consecutively running celebration in Iowa.

How/when did it begin?
In 1884, Der Manning Schuetzen Verein officially adopted this annual celebration where one day each summer the Children of Manning would play together in the community.
I have notes from 1882 & 1883 where a day was celebrated each year in the summer for the children and in 1881, they had a community "Turkey Trot" where the whole community celebrated one day in the fall, with fun activities for the kiddies...so depending on how official a person wants to be, Children's Day began in 1881.
It has been called various names over the years, with "Turkey Trot," then officially going to "Kinderfest" (children's festival), and then to a more unofficial Plattdeutsch name "Kinderball" (children's ball) to "Children's Day" from the 1950s through 1980s and then back to "Kinderfest" to follow the more traditional identity.

Now some may wonder what a Schuetzen Verein is - a Marksmanship Club or Shooting Association.
Manning originally had a large wooden structure called the Germania Hall, constructed in 1884, it stood just across the street to the east from Casey's General Store and was built by the Manning Schuetzen Verein.
It was also known as the Manning Opera House.
It burned down in 1925 and was replaced in 1926 by the brick building that was later called the Firemen's Hall.

Many of you may be aware of the "Five Mile House" northwest of Manning, which is still active today as a Schuetzen Verein, but there was also the "Three Mile House" that was 3 miles north of Highway 141 on West Street. It was also a Schuetzen Verein.

Germania Hall marked by the red letter V

North end of Germania hall

Germania Hall marked by the black letter V

Firemen's Hall - note the Schuetzen Hall stonework
The Lawrence Welk band played in this building...

Children's Day King Shoot, Bob Hoffmann left - Phil Knaack shooting

More than ever, we need to get back to more traditional events where people actually interact and communicate in person and as a community.
I know thousands of adults today have very fond memories of Children's day when they were kids. If you live out of town or state, you should consider bringing your kids/grandkids to enjoy the day and help keep this very important celebration going.
Kinderfest will be held on June 16, 2018, which is also Father's Day weekend.
Monetary assistance is requested and can be sent to the First National Bank, % Elissa (Rutz) Riesburg, PO Box 325, Manning, IA 51455.
These funds will be used to offset the cost of entertainment, rides, and prizes.
Anyone interested in a booth is asked to contact Maria Muhlbauer 712 269-5396 or mmuhlbauer@outlook.com
They ask that you not use Kinderfest as a primary fundraiser for your organization or group but donate a percentage of profits back to Kinderfest.
A raffle fundraiser is also used to support Kinderfest so family or child oriented prizes and gift baskets are being sought as donations. Ashley Singsank and Elissa Riesburg are in charge of the raffle this year. 712 655-3557 or elissa@fnbmanning.com

I hope this year they stop throwing out candy from the floats so more kids will walk in the parade and not stand on the sidewalks!!!
They may have to go back to giving free tickets or something to get the kids to participate in the parade.
Follow this link to find out more about the history of Kinderfest and see pictures from many eras of the past.
Kinderfests of the past

Special thanks to everyone who took time to donate blood on Friday. We went over goal by one unit, which is great.
Next Red Cross drive will be in July.
Thanks everyone!
Vickie

Pictures from the Lage/Ehlers collection...which I think more people need to look at and study and consider if we need to change what I call the bad habits of young people today - to get kids outdoors, do some physical activity, play in the dirt, and learn something about nature...

Just the other day while driving through Manning I observed a 10? year old kid walking over to the curb with his head buried in his phone. He leans over to pick up the recycle container, drops it and almost falls on it. He then took his eyes off the phone and picked up the container and then proceeded back to his house, but not before returning his head back buried in his phone.

OK, every generation has/had its bad habits but I think this is getting way beyond a bad habit to an obsessed addiction and it isn't just the "young people" because I see adults driving cars and machinery while talking on their phones.

Some people say I talk a lot - maybe too much, but I couldn't possibly think of enough things to talk about to be constantly on the phone/texting/facebook.

Hazel (Lage) Ehlers
Now before you make over-simplified comments about these kids above - remember that they were part of and/or descendants of the WWI, WWII, and Great Depression generations.
Maybe they weren't as worldly as today's kids are, but they sure had a huge impact on the World during their lives.


Another picture from the Lage/Ehlers collection.
I don't have time right now to digitally repair this picture, but I scanned it in high resolution and saved it in TIF format, so I can come back to it later and save the changes.

This picture was identified (I assume) by Hazel (Lage) Ehlers.
She had written Kindergarten 1922 but Hazel graduated in 1933 so that would put this picture at 1920, BUT most of the students in this picture graduated in 1934 and a few were with the classes of 1935 and 1936. So I'm not sure about this mixed group.
A few of the names identified in the picture were either misidentified by Hazel, or when she identified this picture it was during her elderly years and she simply got mixed up.

I have fairly accurate records of the students who attended the Manning School system, so some of the students might be in my list of names featured under the picture, rather than some of the questionable IDs by Hazel.

My hopes are that someone will recognize their father/mother, grandfather or grandmother or great-uncle/aunt and then e-mail me with the correct name.
Back: Harlyn Hinz, Hans Soll?, Vernon Wolf?, Wayne Farrell, unknown, teacher Miss Greenley, Robert Parker, Alvin Joens, Georgie Grimm, Harold Rutz
Front: McDonald?, Lester Wyatt, Alma (Vollmer) Asmus, Beulah Livingston, Hazel Lage, June (Nickum) Spicer, Eleanor Lucinda Flenker?, Goldie Hagedorn, Ruby Farrell, Ivan Anton, Donald Wyatt

Below is the information I have about the various students and possible names.

MHS 1933: Hazel Lage

MHS 1934: Harlyn Hinz, Wayne Farrell, Robert Parker, Elvin Jones, George Grimm, Harold Rutz, Lester Wyatt, June Nickum, Goldie Hagedorn, Ivan Anton, Donald Wyatt
Former MHS 1934: Hans Soll

Former MHS 1935: Ruby Farrell

NO Wolf last names in this era - Former MHS 1936: Vernon Wolfe - he also showed up in former 1935
Melvin Wolfe in former 1934

There is no McDonald in this era

No Alma Vollmer in the school records - Carolyn Vollmer 1933

The only Livingston close to this era is Florence in 1932
No Beulah Livingston in the school records

Eleanor Flenker, who was crossed out by Hazel graduated in 1937
Idaleen Flenker former 1935
Lucina Flenker former 1932

No Greenley shows up in the school teacher records but they are not 100% complete during this era.



---
I'm currently going through the Merlin J. and Ruth E. (Lage) Schroeder collection. As I opened one of the scrapbooks I got a big surprise when the first picture I saw was this one below.
I knew right away I did not have any military pictures of Glen Lage...all I had were several articles about his service (also shown below).

For over 20 years I have been asking for help in finding military pictures and information for the over 1000 Manning connected Veterans.
Since 2008, I have been officially asking for help with the Manning Veterans' history book project - in other words, pictures and information for Manning's Veterans.
I know many Veterans who have already come forward with their military pictures and history are wanting me to get this book published.
I do too, but when I run into military pictures for a Veteran who I had none before, I'm glad I have not YET published the book...I realize I'll never get pictures and information for every Manning connected Veteran but having the "Patience of Job" with a historic project like the Manning Veterans' book will result in a very amazing book about Manning someday.

Glen J. Lage

Manning Monitor article------ 1943

Glen Lage in Africa
Pvt. Glen J. Lane who has been stationed in England has been transferred to Africa according to word received by his parents, Mr. and Mrs. Jake Lage.
He is feeling fine and doing all right but is kept very busy.
---
Glen Lage In Britain
Pvt. Glen J. Lage, son of Mr. and Mrs. Jacob Lage of Manning, who has been training at Camp Barkeley, Texas, cabled his parents recently, on his arrival in Great Britain.
---
Glen Lage In Sicily
Pfc. Glen J. Lage, who has been over seas since July 8, last year, and in Africa since November, is now in Sicily according to word received by his parents, Mr. and Mrs. Jake Lage.
---
Manning Monitor article------ 1944
Promoted to Sergeant,
Pfc. Glen J. Lage with the armed forces overseas, has been promoted to the rank of Sergeant and sent notice of a change of address.
He recently received a citation for exemplary behavior, efficiency and faithful performance of duty.
---
Manning Monitor article------ 1945
FIRST FURLOUGH HOME
Sgt. Glen J. Lage spent a short furlough with his parents, Mr. and Mrs. Jacob Lage, returning to Fort Sheridan for his honorable discharge. He had a total of 98 points.
He has been with the armed forces for three and a half years, 39 months of which were in foreign service in Africa, Sicily and Italy.
He has the three year service six gold bars for overseas service, the E. T. O. campaign ribbon with four battle stars and the good conduct medal.
This was Sgt. Lage's first furlough home since entering the service.
There were a number of other military pictures of Glen in this first scrapbook. Two were dated which helps to show where he was stationed during his service.
Hopefully, I'll be able to get his discharge papers someday to add more details to his military story.
This is what is sad about so many Manning Veterans - that we'll never know much about their military service. But at least I can re-build a small piece of that puzzle if I'm able to get family scrapbooks and find newspaper clippings.

I never know what I'll find when I search for a name in my database. I was sure I wouldn't have any pictures of Mary Grundmeier's family and would have never guessed I'd find a picture of her mother, but I did.
The picture and information of Mayme came from the Opal (Brockman) Hargens collection I scanned.
Thanks to some clues from one of my Manning historical researchers, Mary is connected to all of the Manning area Grundmeiers...below is an overview and Mary's grandfather was Emil, Sr.

Herman Ludwig Grundmeier was born in Winterberg, Vlotho, Prussia.
Herman immigrated to Lost Nation in Clinton County, Iowa, where he farmed for several years. He married Augusta Oberegge on June 16, 1856. He was naturalized as a citizen on March 8, 1870. In 1878 Herman moved his family to Hodgeman, Kansas, but grasshoppers and drought were too much for farming, so the family relocated to Washington Township, just north of Manning in 1880.
Herman and Augusta had fourteen children, nine of whom survived into adulthood: Adolph, Hugo, Hermann, Louis, Emil, Ewald, Louisa, Anna, and Bertha.
The other children were Ernest, Hilda, Clara, Emma, Otto.

Hugo married Kate Koepke - Hugo Jr, Clarence, Kate Keller, Alice Pare
Anna married Emil Brunnier
Louisa married Christian Schroeder
Louis married Ann Rutenbeck
Herman married Hulda Wagner
Otto never married
Adolph married Louise Hinze then Lillie Swearingen-Norris
Ernest never married
Bertha married Homer Anspach
Emil married Ida Vetter - Otto, Emil Jr., Frances, Louise, Irene, Dorothy
Ewald married Frieda Koepke
---
Mary Ann Musfeldt
Visitation Monday, May 14, 2018 5:00 PM Zion Lutheran Church - Arcadia
Funeral Service Tuesday, May 15, 2018 10:30 AM Zion Lutheran Church - Arcadia
THERE WILL BE A PRAYER SERVICE HELD AT 6:30 P.M. DURING THE VISITATION AT THE CHURCH.
THE CASKET WILL BE MOVED TO THE CHURCH AT 9:30 A.M. ON TUESDAY WHERE VISITATION WILL RESUME UNTIL THE TIME OF THE FUNERAL SERVICE.
Mary Ann Musfeldt, age 86, of Manning and formerly of rural Arcadia, passed away on Thursday, May 10, 2018, at St. Anthony Nursing Home in Carroll.
Funeral services will be held at 10:30 A.M. on Tuesday, May 15, 2018, at Zion Lutheran Church in Arcadia with Pastor Ben Dose officiating. Organist for the service will be Rebecca Dose. Casket bearers will be Jason Dreessen, Janel Edson, Jennifer Youngwirth, Matthew Musfeldt, Joel Dreessen, and Adam Musfeldt. Burial will be in the Arcadia Cemetery.
Friends may call at Zion Lutheran Church in Arcadia after 5:00 P.M. on Monday, May 14, 2018, where there will be a prayer service held at 6:30 P.M. Visitation will resume at the church at 9:30 A.M. on Tuesday until the time of the funeral service.
Funeral arrangements are under the direction of the Dahn and Woodhouse Funeral Home in Carroll and online condolences may be left for Mary Ann's family at www.dahnandwoodhouse.com.
Born on July 2, 1931, in Carroll, Iowa, Mary Ann was the daughter of Otto and Mayme (Kaspersen) Grundmeier. She grew up in the Westside area and graduated from Westside High School in 1948. She worked as a dietary aide at St. Anthony Regional Hospital in Carroll following high school. She was married to David Musfeldt on April 15, 1951, at Zion Lutheran Church in Arcadia by Pastor Theo Tews. They moved to their new home, built by her father, northwest of Halbur in 1963. She was active in Zion Lutheran Church Ladies Aide and various other organizations. Mary Ann was devoted to her family, her faith, and her friends.
Mary Ann is survived by her husband David Musfeldt of Manning; her children: Linda Dreessen (Gary) of Amarillo, Texas, Steven Musfeldt of Storm Lake, Susan Musfeldt of Carroll, Dale Musfeldt (Vicki) of Westside, and Barbara Tapscott of Des Moines; six grandchildren: Jason Dreessen (Shannon) of Colorado Springs, Colorado, Janel Edson (Mark) Castle Pines, Colorado, Jennifer Youngwirth (Travis) of Milford, Matthew Musfeldt of Vail, Joel Dreessen (Stacy) of Parker, Colorado, and Adam Musfeldt (fiancée Crystal Boell) of Glidden; many great-grandchildren; her brother Donald Grundmeier of Westside; a brother-in-law Sam Musfeldt of Manning; and a sister-in-law LeeAnn Musfeldt of Manning; and several nieces and nephews.
Mary Ann was preceded in death by her parents Otto and Mayme Grundmeier; her mother and father-in-law Herman and Lydia Musfeldt; a daughter-in-law Nancy Musfeldt; a son-in-law Richard Tapscott; and her beloved Great Aunties.

Mayme Kaspersen - Washington No. 3 country school teacher


Here are some of Mary's Grundmeier "cousins." I won't take the time to explain the exact connections but am showing some of the Grundmeier pictures I've scanned from various collections over the years
I also hope that by showing these pictures, more families will come forward and send me their old Manning connected pictures so I can scan them and add them to the Manning Historical Preservation Database.

Albert Stuhr & Adolph Grundmeier in their 1913 homemade car (not sure who is who)

Clarence & Hulda (Jensen) Grundmeier - from the Judy Lee & Vickie Waterbury collection

Mabel Eaton & Alice Grundmeier - not sure who is who
Could this be Alice (Grundmeier) Pare?

Alvin & Charlotte (Nobiling) Grundmeier - from the Susan (Grundmeier) Schilling collection

Ewald & Frieda (Koepke) Grundmeier - Schilling collection

Ewald Grundmeier holding Jean Tews - Schilling collection

Marcellus & Evelyn (Frahm) Grundmeier - Schilling collection

Grant Grundmeier - from the VFW collection

MAC: Clarence Grundmeier, Orland Fara, Larry Handlos 1966 - from the Fara collection

3 Deuces: Bonita Hagedorn, Roy Schilling, Ralph Grundmeier - from Roy Schilling collection

Susan Grundmeier - from Roy Schilling collection

Grundmeier & Kempf business circa 1914 - from the Tom & Sharon (Grimm) Williams collection
302 Main Street where Manning Insurance Agency is located today


Joel Grundmeier - from the Schilling collection

Clarence Grundmeier on the reins - from the John Ansorge collection

David Grundmeier - from the Myra Wittrock collection

Sally Joan Grundmeier & David Grundmeier - from the Schilling collection

Alvin & Ruth (Grundmeier) Tews - from the Schilling collection

Back left: Evelyn Grundmeier
Third: Gilmore Oeser on right
Second:
Front: Leonard Frahm
Possibly Koepke and/or Oeser unidentified
If you can help with IDs please e-mail me.

Pearl (Jentzen) & Ralph Grundmeier - from the Darlene Lamp collection

Charlie & Louise Grundmeier - from the Lola (Hansen) Ahrendsen collection
I'm not sure if this Grundmeier family is connected to Manning.


Ira Grundmeier from the Ahrendsen collection

Louise (Lage) Grundmeier children - from the Bernice (Mundt) Spiese collection
Again - not sure if/how this Grundmeier family is connected

Kaspersen connection - I'm not sure how Kermit is related to Mayme but I would assume they are.
Edna was a Hinz - sister to Florence Genzen and others...

Kermit & Edna (Hinz) Kaspersen

Billie Irene Voge

Billie & Gerhardt in 2017 at Gerhardt's 95th birthday party.

In Loving Memory of Billie Voge

Billie Irene Voge was born on March 27, 1929, to Cassandra Ann (Howard) and Louis DeBoth in Taylorville, Illinois. She passed away on May 7, 2018, at the Manning Regional Health Care Center. She spent her younger years in Illinois and southeast Iowa and her early adult life in northwest Iowa and Colorado before settling in Manning, Iowa, in the early 1950s. She had warm memories when she attended an all girls' school in Quincy, Illinois, and graduated from Oskaloosa High School.

Billie met G.T. Voge at the Sextro Steak House (later known as Saunders Steak House along Highway 141). Billie married G.T., a local farmer, on August 4, 1954, in which they enjoyed four sons; James, Jerry, Terry, Bill and daughter Ann; and their extra son, Rick Dammann, who took the place in the family after Jerry died. The family lived at the present Great Western Park and then moved to their current location along Highway 141. After Billie broke her second hip on December 20, 2014, she moved to the Manning Plaza, a couple months at Char-Mac, and found home at the Manilla Manor in the fall of 2016, becoming very close to other residents and staff and enjoying daily activities.

Billie took over the flower shop from her brother in 1964 and added the Sears Roebuck Catalog Store in 1976. Her son, Jim returned to Manning in the early 1980s to take over the flower shop. Billie also worked several years at Casey's in Manning and ran the Hilltop Greenhouse until she semi-retired in 1994.

Billie was a member of the Sacred Heart Church and so enjoyed her weekly visits with Father Gralapp and Father Gerald. Billie was also a member of Catholic Daughters of the Americas, Alter Society, VFW, American Legion, etc. She was also a long-term member and past president of the Chamber of Commerce of Manning, Iowa. Lila Schroeder and Billie started the Weihnachtsfest festival which continues to be enjoyed to this day. Billie and G.T. had many foster children (Tim, Stephen, Sue, and James) at their home through the years. Billie provided the flag poles and flags over the decades in several locations in the community, including at the Manning Cemetery. Billie was very generous in contributing her time and money to various organizations in the community.

G.T. and Billie started traveling frequently, after attending their son, Bill's, graduation from college in California in 1983. They visited Bill in California; London, England; Rye, New York; and their last big trip was to San Diego, California, and on to Baja California Sur, Mexico (Los Frailes) to visit Bill and his family in June of 2010. They also traveled to Colorado to visit their son, Jim, and his wife, Linda.

Several times a year G.T. and Billie would go to Solon, Iowa, to the Casino and always stop in Denison to eat out on their way home. Every Wednesday was Billie's day to get her hair fixed at the LeBoutique by her special friend Bonnie Wanninger and in the afternoon, she and G.T. would drive around Manning, get their ice cream cones, visit the twins and collect their mail.

Billie's hobbies include, playing Bingo, reading, watching Wheel of Fortune, old movies, and visiting with friends and family. Billie enjoyed her van rides, baking cookies, playing games, and participating in activities at the Manilla Manor the last couple of years.

Billie is survived by her husband, G.T. (Gerhardt Theodore) Voge; her son James (Linda) Switzer of Audubon, Iowa: son, Bill (Jami) Voge of Solana Beach, California, and daughter Ann (Mark) Trullinger of Manning, Iowa.

And all of her grandchildren and great-grandchildren: Heather (Shane) Brundieck - Lincoln Nebraska and Isabella and Oliver; Jamey (Brandy) Voge - Wills Point, Texas and Landon and Cheyenne; James (Joni) Switzer - Tabor, Iowa and Austin, James and Ellie, Dane and Addie; Jessica (Matt) McKinley - Albuquerque, New Mexico and Harley, Cash and Jax; Emily (Ben) Hester, Encinitas, California; Hank Voge, San Francisco, California; John (Carly) Voge, Los Angeles, California; Michael Voge, New York, New York; Paul and Maddie Voge, Denver, Colorado; Brandon (Jen) Juhl, Iowa City, Iowa and Obadiah; Crystal Juhl Denver Colorado and Kaitlyn.

Billie has one younger sister, Freda Drees; nieces and nephew: Linda (Roy) Bertolet and Catherine Drees, all of Ormond Beach, Florida, and Michael (Toni) Drees of Lorton, Virginia. Billie has one sister-in-law, Persis DeBoth of Audubon, Iowa.

Billie and G.T. suffered the loss of both twin sons…Terry (June 9, 1972) and Jerry Voge (December 5, 1982); her parents, Louis and Cassandra (Howard); her brothers, Wesley and Terry DeBoth; sisters, Marjorie Ann and Linda DeBoth in infancy; brother-in-law, Louis Drees; her special aunt Claudia (Gerald) Walterhouse and uncle Bill (Maryon) Mayan. Her in-laws Henry and Jessie (Lamp) Voge; and nephews: Louis "Danny," Patrick "Tommy," Cory DeBoth; and other nieces, nephews, relatives and friends.

Memorials can be made to the Manilla Manor memory care unit or to the tree project at the Manning Cemetery.

A private viewing by the family was held at 2:00 p.m. on May 8, 2018, at the Ohde Funeral Home, followed by graveside services at the Manning Cemetery, with Mark Trullinger, John Ohde, Rick Dammann, Kent Hugeback, Ron Colling, and Dave Kusel, as pallbearers. Honorary pallbearers were Pam Colling and Kristy Hugeback. Sheryl Dammann provided a prayer and words of comfort.

A celebration of life will be held this summer.
---

Every time I would visit Gerhardt & Billie in their home over the years, I would always comment that someday I wanted to scan that amazing large portrait of their children they had hanging on their living room wall.
Then in February of 2016, I borrowed it and scanned it and below is that picture.

Back: Terry, Jerry (twins)
Front: Jim, Ann, Bill

Picture taken in Chicago
Original photo is 18 x 16 inches

Below is a death notice about Joyce Lathrop.
If a family member finds this web page - please contact me.
I would like to make sure I get a full obituary and also am interested in old Thompson/Lathrop and Manning connected pictures you may have...especially about Russell's military service and his P.O.W. status during WWII.
For those of you whose parents/grandparents are ALSO featured in this tribute below - if you have not contacted me about sharing old pictures and information you have - please do so at your earliest convenience.
I'm sure some of you will find pictures of your relatives and information about them that you have never seen or read before.
If you continue to scroll down on the right side, you'll see many more tributes and may also find more pictures and information about your family you have never seen before.
The reason why I have so much Manning historical information is because of Manning connected people sharing what they have - sending me their old pix and information so I can scan it and add it to my Manning Historical Preservation Database.
If you want your Manning connected family history to become a part of this very unique database - please e-mail me.
Thanks,
Dave Kusel
---
Death Notice
Joyce (Thompson) Lathrop, 96 of San Mateo California, was born April 5, 1922, and passed away April 20, 2018.
She was preceded in death by her husband, Russell, and sister, Alys (Thompson) McMunn. She is survived by her son Larry (Grace) and grandson Chad Lathrop; sister Virginia (Thompson) Darth, brother Merlene (Carol) Thompson. Many other relatives and friends.
Internment at a later date.

9th grade graduation

Back: Gerald Struve, Alvin Musfeldt, Eunice Wiese, Elaine Schroeder, May Delle Ranniger, Doris Wailes, Marian Frahm, Ledger Free, Marilyn Anderson, Kenneth Esser, Marie Kleespies, Arlene Friedrichsen, Louise Schrum, Ben Myatt, Justice Hockett, Vernon Joens, Glen Jensen, Dewey Pfoltner
Third: Jerome Aga (Jr High Principal), Merlin Welch, Merlin Beese,

Russell Lathrop

, George Opperman, Harold Reinke, Eugene Mersman, Roy Schroeder, Melvin Musfeldt, Elroy Ranniger, Raymond Joens, Malcom Van Dyke, Ken Mohr, Russell Wiley, Orland Joens, Duane Bartels, Ed Lynn (teacher)
Second: Rhea Fritz, Darlene Stoelk, Nellie Farrell, Louise Ossenkop, Ruth Kuhn, Phyllis Stribe,

Joyce Thompson

, Doris Reinhold, Helen Musfeldt, Dorothy Sutherland, Luella Schade, Dorothy Petersen, Jeanette Stangl, Helen Mentzer, Eunice Eckholdt, Jane McEnany
Front: Raymond Kasperbauer, Virgil Bueltel, Wayne Kuhse, Fred Beese, Robert Musfeldt, Merlin Musfeldt, Farryle Waters, Roy Schoening


1939 MHS graduates: Marilynn Anderson, Duane Bartels, Virgil Bueltel, Don Connor, Leona Fairchild, Nellie Farrell, Marian Frahm, Rhea Fritz, Justus Hockett, Glen Jensen, Orland Joens, Vernon Joens, Raymond Kasperbauer, Marie Kleespies, Ruth Kuhn, Wayne Kuhse, Russell Lathrop, Helen Mentzer, Kenneth Mohr, Leslie Mordhorst, Alvin Musfeldt, Helen Musfeldt, Merlin Musfeldt (valedictorian), Robert Musfeldt, Ben Myatt, George Opperman, Dorothy Petersen, Dewey Pfoltner, Doris Ramsey, May Delle Ranniger, Doris Reinholdt, Luella Schade, Wayne Schelldorf, Elaine Schroeder, Louise Schrum, Phyllis Stribe (salutatorian), Gerald Struve, Dorothy Sutherland, Joyce Thompson, Doris Wailes, Merlin Welch, Eunice Wiese, Russell Wiley

1939 former students: Loraine Barten, Wayne Bauer, Merlin Beese, Betty Blair, Evelyn Bohnsack, Luella Brandenburg, Charles Doyel, Eunice Eckholdt, Luella Farrell, Maxine Fister, Ledger Free, Florence Freese, Arlene Friedrichsen, Helen Hagedorn, Lester Hagedorn, Virgil Hagedorn, Margaret Hermann, Eveline Hudson, Raymond Joens, Wayne Jones, Eunice Klyver, Billy Lippold, Marjorie Martin, Jayne McEnany, Elizabeth Mentzer, Eugene Mersman, Donald Mitchell, Dorothy Mitchell, Jacquelyn Mobeck, Melvin Musfeldt, Louise Ossenkop, Elroy Ranniger, Cletta Reinart, Leo Reinart, Harold Reinke, Carl Rostermundt, Carol Saffell, Roy Schoening, Roy Schroeder, Charles Servoss, Edith Soll, Jeanette Stangl, Darlene Stoelk, Imogene Stoelk, Malcolm Van Dyke, Farryle Waters, Phyllis Witt, Orville Wolfe, Virgil Wolfe, Harriet Zimmerman

Jefferson No. 1
1 Victor Schwiesow, 2 Nancy Dales, 3 LeRoy Doyel, 4 Joyce Nulle, 5 Catherine Nulle, 6 Roselle Ehlers, 7 Roger Barten, 8 Loyce Gray, 9 Janet Asmus,

10 Merlene Thompson

, 11 Orrin Dee Asmus, 12 Bob Wycoff, 13 Donald Gray, 14 Colleen Schwiesow, 15 Gene Dales, 16 Joy (Moore) Doyle, 17 Iona Gray, 18 Ruth Schwiesow

Russell C. Lathrop

Manning Monitor
April 17, 1941
Russell Lathrop In Selective Service
Russell Lathrop, son of Mrs. Henry Brandhorst, will leave Manning Thursday for Carroll, where he will board a train minute to Ft. Des Moines. He will take his final examinations for selective service. Russell will be the only draftee to leave Manning during the month of April.
Russell is a graduate of Manning High School with the class of 1939 and since that time has been employed at the W. B. Parrott Produce at Manning and at Perry. Russell will bring the total of draftees from Manning up to six with several in line for service the first of May.
---
Manning Monitor articles------ 1943
Russell Lathrop Writes About Life in Algeria
Algeria, Africa, Jan. 8, 1943 Dear Friends:
I wish to extend my appreciation to the Monitor and Legion for the home paper. Here in Algeria no English paper can be bought, they are in either French or Arabian. Algeria is very beautiful and upon our arrival it reminded us of Florida. All of the buildings are white which makes the city of Algiers very beautiful with the sun shining upon them, as well as the moonlight, of which we had plenty when, we landed. The boys in the States are lucky to go home on furloughs. My next and second one since I have been in the army this April 17 beginning two years will be when the war is over.
Lester Hagedorn and Harold Reinart are two from Manning who have been with me since we left the States. Ray Asmus stayed at Ireland.
"Our mail was very slow in getting here at first, but has been coming much better lately. A month old letter or paper still looks good to us. I got a Des Moines Register yesterday telling of the Yanks taking over Algeria. Letters are like dreams and I wish to thank all of my friends who have written and hope they continue to do so. May this letter find all of you in Manning in the best of health and happiness.
Russell C. Lathrop, Co. C, 109 Medical Bn., U. S. Army, A.P.O. 34
---
Russell Lathrop Writes
Relatives have received news from Russell Lathrop who writes from Algeria, North Africa.
He writes briefly about the warm climate and his views on the natives, mostly Arabian and French. Russell states that he probably won't be able to write again for some time and wishes his friends here.
Merry Christmas.
---
Treated Well By Irish
Russell Lathrop writes from Ireland that the Irish people treat them fine.
He says that the boys miss magazines and home-town papers and always glad when some one gets a batch of razor blades.
They don't get them over here.
---
Paul Jentsch has received a photograph letter from his grandson, Russell Lathrop.
The letter cannot be long, the squares on which the letters are reproduced are very small.
He says he often sees Lester Hagedorn and Roy Asmus.
---
Russell Lathrop Reported Missing On Africa Front
Mrs. Henry Brandhorst has received notice from Washington that her son, Private First Class Russell Lathrop has been reported missing in action on the African front since February 17.
Russell left here for the army in April 1941 and left this country for Ireland in February 1942. He was transferred to Scotland and then took part in the first African invasion. He was stationed with the medical detachment.
---
Russel Lathrop Prisoner of War In Germany
Mrs. Pearl Brandhorst has received word that her son, Russell Lathrop, is a prisoner of war of the German government.
Russell, who is an ambulance driver with the medical division, was the first boy from Manning reported missing in action in Africa, February 17th. He was a member of the first contingent to land there.
The message was from the government and stated that a letter of information would follow.
---
Receive Letters From Boys In German Prisons
Mrs. Henry Brandhorst, who was recently notified that her son Russell Lathrop was a prioner of war, received a personal letter from Russ this week, stating that he was in a prison camp in Germany.
He gave his permanent address for the duration and a list of things he would like to have sent. He will be allowed to receive a package every 60 days, weighing not more than 11 pounds.
He can receive letters and cards from anyone at anytime and can himself write 2 letters and 4 cards a month.

He says the prison camp in Germany is O.K., and informs his mother to get in touch with the Red Cross to get information regarding articles which can be sent, etc.
The letter was dated March 19th about a month after he was taken prisoner in the area around Tunisia.
---
Russell Lathrop Writes From German Prison Camp
Russell Lathrop, now in a German prison camp, following capture in the African war theatre, writes to his folks, Mr. and Mrs. Henry Brandhorst. The letter dated April 24, reads in part .

"Dear Folks. Writing from German to Manning is really traveling for a letter, as well as traveling a lot myself lately. Italy and Germany are two more countries added to my list of countries. I will be 24 next week and am feeling fine and in the best of health. I really have a suntan. My time from now on is like the fellows get at the Produce in January. I suppose the Produce is in full swing again.

"I hope you have seen the Red Cross and can send a box to me. The Red Cross is grand to us here. I have seen a man from almost every country now. Two letter forms and four cards a month we are allowed to write. Hoping to hear from you in the near future take care of yourself mother, and don't worry about me.
Time is a great thing and I will have plenty of it for a while hoping all is well and fine.
Don't worry.
Russ
---
Hear From Russell Lathrop
We are very happy to receive a card from Russell Lathrop, dated May 12, 1943, from a prison camp in Germany, which states as follows:

Am a prisoner of war, but feeling fine.
I am working in a modern German hospital, miss the Monitor very much. Have seen very many and beautiful countries. A fellow from Carroll is now my closest friend. Manning boys are not with me any more.
Say hello and good luck to all in Manning.
As ever, Russ.
---
Manning Monitor articles------ 1944
Russell Lathrop Gets Package
Mrs. Frank Hinz is in receipt of a card from Russell Lathrop who is a prisoner in Germany. The card, dated January 1, 1944 states that they had a white Christmas there and that he is working in an American and English hospital and that everything is going along as well as can be expected.
He also thanks Mrs. Hinz for the Christmas remembrance.
---
Manning Monitor articles------ 1945
Lathrop, Prisoner of War, Writes from Germany
Dec. 7, 1944. Dear Mother:
Just got three more letters from you last night, Oct. 11 and Nov. 7th, Not so bad time is it. Gee it will soon be 4 years in the army and the four years now surely do seem like a long time, mother.
I am the "American Man of Confidence" here in the hospital, It's a very responsible job, writing to the American Government for all Americans who came in here as patients; the job of dealing with Geneva in Switzerland for Red Cross parcels and any personal matters concerning the men here.
I am doing the job an officer does who is in a stalag, along with medical work. It passes the time away very nicely. It really means a lot to me. Maybe you have read in a P. O. W. paper about this sort of man, I hope you have.
All letters from everyone are very much welcomed. The weather is getting quite cold here now.
Must close but will write again soon. Don't worry. Russ.
---
VE-Day Brings Good News To Local Families
V-E Day brought good news to two of Manning's families.
Mr. and Mrs. Henry Brandhorst received a letter from her son Russell Lathrop, who has been a prisoner of the Germans for more than two years, telling them that he had been freed.

He states that he has, been in a hospital in France and was leaving, it May 4th, to return to the United States and could hardly wait until he could get home.
Russell began his fifth year in the service this month. He had not been overseas long when he was captured by the Germans in Africa.
He was in the medical division in the United States army and worked in a German hospital while he was a prisoner.
---
RUSSEL LATHROP FREED
Mrs. Henry Brandhorst received a wire Tuesday from the government stating that her son, Russell Lathrop, prisoner of war in Germany, has been freed and was preparing to return to the United States. Pfc Lathrop's training and military experience is quite similar to that of Sgt. Owen's. He went into training with the national guard from Audubon to Camp Claiborne and has been in the army 4 years in April.

Russell was in the medical corps and participated in the African campaign and was taken prisoner at Faid pass.
He has been a prisoner for 28 months and was stationed at Stalag 5-B in the southern part of Germany where he worked in the Rottenmuenster hospital.

This Thursday morning Mrs. Brandhorst received the following telegram: Boston, Mass., "Arrived safely, expect to see you soon. Don't attempt to contact or write me. Russell."
---
Russell Lathrop Taken by Germans in February 1943
Freed by French and Given Good Feed April 25
Pvt. Russell Lathrop, son of Mrs. Henry Brandhorst, who has been a prisoner of war of the Germans since February, 1943, arrived in Manning last weekend. Mr. and Mrs. Brandhorst and Russell's sister, Mrs. Kennard Chaney and daughter, Carol Sue, of Omaha met him in Omaha.

Russell was captured with 3000 in a medical unit of the United States Army at Faid Pass by the Germans. First the group was marched to Tunis where they were kept for about three weeks and then were flown to Sicily where they remained for only a week before they were taken by train to a camp in Italy for another three weeks.
The group was then sent to Germany to Stalag 7-A Mooseburg, where the group was split into units of about 500.
Russell's group was sent to Stalag 5-13 where he worked in the hospital there for nine months.

Two of his buddies were with him this entire time.
The camp was only 30 miles from the Swiss border, adds so many American prisoners were escaping that the group was sent to the Black Forest to a hospital at Rottenmunster, a very beautiful place and a fine large hospital.

The Black Forest region was the playground of the wealthy, in former days. Lathrop was alone in this hospital for one year and five months. One of his buddies had been permitted to return to the states due to his health and the other had been sent to a prison camp.

There were no American doctors in the hospital, only three Americans in the entire personnel. The greater share of the doctors were English; there were others from New Zealand, Australia and South Africa.
Lathrop told many interesting stories about the work in the hospital. He stated that the best way to get information was from the news releases because these stories are true. He was very fortunate to be in a hospital and to be doing work that was necessary.
He says it kept his mind and hands busy and he did not have a great deal of time to worry.
The area in which he was held captive was freed by the Free French April 25, and they were able to leave April 30. The entire group was treated to a good feed. He said that he believed nothing could be much worse than to be really hungry.
Lathrop spent nine months in the hospital at Villigen and a year and five months at Rottenmunster.

He is home on a 60 day furlough and then will report to a rest camp at Hot Springs for 90 days, after which he will report for reassignment or perhaps a discharge from service. Russell was very fortunate in being assigned to the ship for his return to the United States on which Amos Misselhorn, B 1/c, of Manning, was a member of the crew.

Russell states that because he belonged to the medical corps he comes under terms of special protection according to the Geneva convention.
That is the reason that he has received better treatment at the hands of the Germans than many other prisoners.
---
POW Ends Stay in Manning Home
Pfc. Russell C, Lathrop, who has spent a 60-day furlough with his parents, Mr. and Mrs. Henry Brandhorst after being released from a German prison camp, will report for further duty at Hot Springs, Ark.
He leaves Friday morning and will be accompanied as far as Omaha by his fiancee, Miss Joyce Thompsen, who plans to return home that evening.

Russell C. Lathrop

Russell C. Lathrop, World War II veteran and P.O.W. in Germany for nearly three years, passed away April 23, 2007, at the age of 88 years.
He was born on a farm near Botna, Iowa, to the parents Earl Lathrop and Pearl (Jentsch) Lathrop. After the loss of his father when he was one year old, he was raised in Manning, Iowa, by his mother Pearl and step-father Henry Brandhorst.
Russ was a graduate of the 1939 Manning High School.
He Married Joyce Thompson in 1945 and they have one son, Larry, of Volcana, California, and one grandson Chad Lathrop of Berkeley, California.
Although he lived in California 61 years and resided in San Mateo, California 57 years, his fondest memories were growing up in Manning.
Russ retired early from the San Mateo-Foster City School district because of poor health and during this time he enjoyed good food, helping others, salmon and trout fishing, exploring the Sierra Nevada Mountains, riding his Honda 90, and driving around in his 1984 Ford truck to visit his many friends. He was a "people person," and will be missed by many.
He was preceded in death by his parents and sister, Virginia Chaney, of Audubon, Iowa.
Interment will be at a later date in the San Joaquin Valley National Cemetery.
---
This first photo was taken in the small gym that was located in the high school before the large gym was added on to the east in 1937-38.
If you attended this high school you should remember a "sunken" room on the first floor on the south side...it was the science room in the early 1970s.
You had to walk down steps from the hallway to get down into the room.
There originally was a small stage on the east end of this gym but was closed in during the early 1970s when the "crack" opened up on the large west wall and the adjacent rooms had to be abandoned.

Back: Francis Zerwas, Gerald Struve, Lyle Hoffmann, Wallace Kruse, Ledger Free, Coach Joe Rogers
Front: Wayne Schrum, Wayne Schelldorf, Harold Nickum,

Russell Lathrop

, Lyle Arp, Richard Ohm

Merlene Thompson MHS 1953

Another one of my "cousin" relatives has passed away.
Click below for more information.




Stanley Schrum


March 10, 1945 - May 4, 2018


Click to see the tribute
Stanley Jay Schrum died Friday morning, May 4, 2018 at his home in Manning.
Visitation Monday May 7, 2018 , 10:00 AM - 11:00 AM at United Methodist Church, Manning
Funeral Services Monday May 7, 2018 , 11:00 AM at United Methodist Church, Manning
Interment Monday May 7, 2018 at Manning Cemetery
Ohde Funeral Home in Manning is in charge of arrangements.


I recently found a Popp relative here in Manning who had all 11 children of Detlef & Frederika (Jentzen) Popp.
Detlef's mother was Anna (Sachleben) Popp and Anna was a sister to my great-great-grandmother Sophia (Sachleben) Grau.

Everyone who is a descendent of John & Anna is also my relation and I'm looking for anyone who has old Popp & Manning pictures and information to scan into my Manning Historical Preservation Database.

Claus Friedrick and Magdelena (Pieper) Sachleben Pieper is pronounced "peeper"
(Anna) married John Popp
(Sophia) married Detlef Grau - David Kusel's ancestry

1 John Popp
Anna Sachleben

2 Detlef Carl Lawrence Popp
Frederika Jentzen

3 William Popp
Bertha Schluter
(Helen) married Leslie Sieve - Darrell, Bruce, Dale
(Evelyn) married Elmer Schroeder - Karen, Allen, Linda
(Vernon) married Fern Molnberg - Sandra
(Lester) married Mae Peters - Brenda, Suzanne, Lorene, Brian
(Leonard) married Mavis Paulsen - Steven, Lonnie
(Arlene) married Edward Holstein

3 Anna Popp
Amos Epsen
(Evelyn) married Norbert Nieland
(Janice) married Orville Auen

3 Detlef Popp
Laura Hinze
(Elvin) married Jaenice Stoelk - Patsy
(Muriel) married Russell Backus - Sandra, Marsha
(Marvin) married Mae Wenzel - Marvel, Marcus, Ron
(Phyllis) married Don Wilson - Sherry, Michael
(Russell) married Margaret Singsank - Cheryl, Russell, James, Laurie

3 Mamie Popp
Bertram Eich
(Roger) married Virgene Schacht - Jim, Mike, Mark, Monica, Connie
(Lyle) married Colleen Derner - Steve, Bruce
(Allan) married Ruth Schmidt - Lynn, Pam, Keith, Teresa

3 Otto Popp
Esther Jensen
(Marilyn) married Billie Nelson - David, Todd, Scott, Jane, Sarah, Barbara
(Larry) married Kathleen Wagner - Martin, Matt

3 Henry Popp
Ann Frahm
(Robert) married Delores Winerhof - Gregory, Keith
(Richard) married Marilyn Spieker - Michelle, Richard, Kristin

3 Esther Popp
Louis Bohnsack
(Virgene) married Bernhard Hollander - Ronnie, Joanne, Lynn, Bernice, Tracy, Robin
(Lou) married Elenore Paton - James, Janice

3 Erwin Popp
Eldren Ranniger
(Ronald)
(Virgil) married Marlene Ocean
(Eugene) married Marilyn Leslie
(Joanne) married Earl Lippold
(Duane) married Margaret Tompkins
(Darold) married Janet Swolley
(Carol) married Arthur Malloy
(Marlene) married Max Pangburn
(Eldon) married Sandra Nelson
(Dallas) married Debra Osbahr

3 Elmer Popp
Leora Martens
(Neoma) married John Vanderheiden
(Betty) married Virtus Pittmann
(Janice) married Allen Jensen
(Gloria) married Wayne Halbur

3 Louis Popp
Lanora Rowedder

3 Wilma Popp
George Wiese
(Jim) married Nancy Baker
(Paul) married Carolyn Pingel
(Mary) married Ron Rydberg
(Thomas)
(Susan)
---
To give a Popp descendant who is browsing this information an example of how they would be related to me...

Here is a generational breakdown to simplify how the Grau & Popp families are connected
Claus Friedrick and Magdelena (Pieper) Sachleben - parents of Anna & Sophia
Sisters: Anna Sachleben Popp (John) - Sophia Sachleben Grau (Detlef)
1st Cousins: Detlef Popp (Frederika Jentzen) - August Grau (Maria Hansen)
2nd Cousins: William Popp (Bertha Schluter) - Ida (Grau) Kusel (August)
3rd Cousins: Helen Popp (Leslie Sieve) - Amos Kusel (Dorothy Ehrichs)
4th Cousins: Dale Sieve - David Kusel

In case you are not familiar with my historical preservation work or new to my web pages, here are just two old generation pictures I have.
I scanned the one of Detlef Popp from a collection sent to me from a Popp descendent in Montana...it was actually this collection that gave me the clues to discover the Sachleben connections between the Popp and Grau families.


Detlef Popp

Detlef and Sophia (Sachleben) Grau


So my database is way more than a bunch of names in a family genealogy sheet, but pictures, documents, certificates, memorabilia, newspaper articles, history books, and on and on - one of the most unique databases for a community.
My only request is if you ask for pictures and information from me, that you share in return.

Keith Lyle Joens


August 10, 1950 - April 25, 2018


Keith Joens MHS 1968
Keith Lyle Joens
It is with great sadness that we announce the passing of Keith Lyle Joens on April 25, 2018, in Ashburn, Virginia, after battling a short illness. He was a devout Christian and has gone home to heaven and the glory of God.
Keith served 25 years in the United States Air Force, retiring in 1997 as a Lieutenant Colonel. He served in hospital administration and in the medical inspector general office. After his military service, Keith served in many consulting roles before finally retiring full time in 2014.
Keith will be lovingly remembered by his wife of 22 years, Anna; his children: Carrie Joens of Valdosta, Georgia; Chris (Jing) Joens of Fort Worth, Texas, Arthur (Amber) Green of Roanoke, Virginia; Richard (Joanna) Green of Brambleton, Virginia; David (Therese) Green of Ashburn, Virginia; and Daniel (Erin) Green of Purcellville, Virginia; and his dog, Sammy.
Keith will also be fondly remembered by his father, Lyle Joens of Audubon, Iowa, and sister, Kathleen (Frank Whobrey) Carlton of Schereville, Indiana. Keith will also be forever remembered by his 19 grandchildren, extended family and dear friends.
Keith was preceded in death by his mother, Donna in March of 2003. A funeral service in memory of Keith will be held on Tuesday, May 1st, 2018, at 11am at the National Funeral Home at 7482 Lee Highway, Falls Church, Virginia. Burial service will immediately follow in the National Memorial Park Cemetery at the same location.
National Funeral Home & National Memorial Park - Falls Church, Virginia
1968 MHS graduates: Ron Arp, Michael Blum, Linda Case, Clinton Chandler, Dennis Dammann, John Detlefsen, Charles Ehlers, Linda Sue Ehrichs, Linda Ann Eickman, Helen Marie Espenhover, LaRay Freese, Linda Graner, Terry Hargens, Jane R. Heithoff, Deborah Kay Hinners, Thomas Irlbeck, Lynn Irlmeier, Shirley Irlmeier, Terry Irlmeier, Keith Joens, Kenneth L. King, Gary Knueven, Bonnie Jane Kruse, Gary Kuhl, David Kuhn, Jake Kuker, Connie Kusel, Douglas Long, Richard Mahnke, Bronwen Morris, Ann Marie Mueller, Allen L. Muhlbauer, Cynda Ann Musfeldt, Darrell Ohde, Jack Charles Peters, Janice Peters, Patricia Kay Pfoltner, Kelly Pratt (valedictorian), William W. Ranniger, Craig Ruhde, Peggy Saunders, David Jon Schroeder (salutatorian), Linda Lee Schroeder, Sandra Schrum, Dianna Strosahl, Rhonda Struve, David John Schultz, Eileen Schwaller, Gwen Tank, Kathryn Wegner, Judith Gail Wetzel, Paul Wurr
1968 former students: Dixie Baley, Peggy Bellows, Gwenna Bogatzke, Marla Borkowski, Kenneth Brady, Victoria Frahm, Janet Galvin, Kenneth Galvin, Patricia Goer, Dorene Golwitzer, Norene Golwitzer, David Grage, Gary Haase, Joyce Halbur, Larry Hargens, Ricky Hargens, Julie Hass, Elaine Hon, Vernon Irlmeier, Judy Jones, Ralph Kaleta, Danny Kienast, Charlotte Knapp, Karen Knudsen, Donald Kuker, Richard Loucks, Karen McCammond, Rebecca McConnell, Laura Meaike, Arlene Otto, Jeffrey Peterson, Marvel Popp, Steven Riesselman, Janna Sue Schroeder, Stanley Schwiesow, William Brick Sebern, Marsha Segebart, Barbara Sorden, Barbara Steffes, Barbara Watson, Judith Watson, Paulette Weiss, Nancy Wilson, Brad Winkleman, Patricia Wuebker

Lyle Joens, Carlys (Kusel) Stribe at her wedding, Donna (Sander) Joens
Lyle & Donna were good friends of the Kusels

Junior High basketball team - December 1963


Back: Ron Arp, Craig Ruhde, John Detlefsen, Kelly Pratt, Ron Leitschuck - coach
Middle: Keith Joens, Gary Knueven, Terry Irlmeier, LaRay Freese, Charles Brotherton - coach
Front: Darrell Ohde, Terry Hargens, Rick Hargens, David Kuhn, David J. Schroeder

Twirlers: Mary Muhlbauer, Janice Peters, Connie Ross, Helen Reinke, Linda Barten.
Behind Connie and to her right is Keith Joens, to her left is Ann Mueller.
1969 Concert Band

Standing: Judy Mueller, Barbara Heithoff, Marcia Mundt, Beverly Mundt, Nancy Stoberl, Kathy Potthoff, Lois Muhlbauer, Barbara Wiese
Third: Gail Phillips, Vickie Mundt, Mary Kasperbauer, Jennifer Zerwas, Kent Rutz, Mark Spack, Peggy Bennett, Daniel Weis, Allen Rohe, Lonnie Jensen, Brian Peters, Ruth Croghan, Greg Blum, Lyle Karsten, Dave Schroeder, Francine Kruse, Gaylin Ranniger, Vickie Musfeldt, Doris Volquartsen, Georgia Dethlefs, Susan Opperman, Karen Dreier
Second: Mary Wiese, Frances Struve, Sandra Hass, Julia Croghan, Russel Ranniger, Keith Schroeder, Debra Schroeder, Starre Christensen, Mary Croghan, Roger Musfeldt, Dick Hornberger, Vernon Hansen, John Dobler, Darrel Baker, Lola Stammer, Kevin Struve, Mary Hudson, Connie Sibbel, Janet Arp, Kristyn Kuhn, Marjorie Stangl
Front: Anne Jensen,

Kathleen Joens

, Darlis Dammann, Beverly Ohde, Linda Rohe, Roxanne Ruhde, Lance Lage, Irene Stangl, Dottie Dammann, Twyla Misselhorn, John Heinicke, Pam Foley, JoAnn Dethlefs, Kathy Felker


Keith was a Veteran, but I have no military pictures and just this basic information...hopefully a family member will contact me so we can include some pictures and also more information.

Keith Joens was inducted into the Air Force on May 22, 1972. During the time of his grandfather William's death in 1983 he was serving in Harbor City, California, and during his grandfather Roy's death in 1988 and his grandmother Elna's death in 1989, he was serving in Greece.
During his grandmother Leona's death in 1993, Keith was serving at Wright-Patterson Air Force Base in Dayton, Ohio.
He served as a Hospital Administrator and his last assignment was at the Pentagon.
Lieutenant Colonel Joens was discharged on April 1, 1997.

Lyle Joens 1960-61 Legion Commander

Lyle was inducted into the Army Infantry on July 20, 1945. He took his basic training at Camp Robinson, Arkansas. Private Joens was given a medical discharge on September 6, 1945.

Roy Sander, son of William and Emma (Wegner) Sander

Leona Ohde, daughter of George and Anna (Rademan) Ohde, married Roy Sander.
Daughter of Roy and Leona: Donna (Sander) Joens.


William Joens, son of Jurgen and Catherine Joens, married Elna Groteluschen.
Children of Jurgen & Catherine: William, Eggert, Alfred, John, Henry, Emil, Alvena, Emma Musfeldt, Elsie Sporrer

Elna, daughter of Louis and Anna (Ahrens) Groteluschen married William Joens.
Sons of William & Elna: Orland and Lyle Joens.

Orland Joens

Orland was inducted into the U.S. Army in January 1943. He took his basic training at Fort Custer, Michigan. He served with the 424th Military Police Escort Guard Company in North Africa and Italy, transporting and guarding German POWs. He then transferred to the Army Transportation Corps and attended Officer Candidate School in New Orleans, Louisiana. Upon graduation, he was assigned to Fort Mason in San Francisco and served as a Commissary Officer aboard the S.S. Uruguay troop transport in the Pacific Theatre. 1st Lieutenant Joens was discharged June 1946.

There are so many ways to preserve and present history...pictures, video, audio, written words, and sadly, in many cases - nothing is done so individuals and events just disappear completely over time.
In 2016, I sat down with Orland to get his military story and also his "Manning" story.
Below is a link to one of the audio sessions I had with Orland. I'm using this audio and other sessions to create a story about Orland's life...
One thing nice about capturing audio is you get to not only hear the voice of the person featured but you get to hear his laugh and inflections in the way he uses words.
The audio is about 1 hour long. I removed some of the dead space and less important parts of the conversation and hope that you will take the time to listen to Orland talk about some of the highlights about the Manning Ag Center history.

Orland Fara remembers...February 2016

An observation I made during Orland's funeral was the lack of attendance by business people and Manning citizens in general. I realize many of them paid their respects at the viewing the day before and the church is relatively small but having attended funerals for 50+ years and knowing Manning history...society has changed a lot - it was quite common when a businessman passed away years ago that the businesses on Main Street closed down during the funeral and most of the owners attended the funeral.
Here are just two examples.
Ulysses L. Patton
July 30, 1908
ONE OF OUR OLDEST PIONEER CITIZENS PASSES AWAY LAST SUNDAY AFTERNOON.
Was a Member of the City Council for Fifteen Years and on School Board for Nine Years.
Mr. Patton has been in the stock business in Manning for a number of years and was associated in the business with his son, Dwight, at the time of his death. As a token of the esteem in which Mr. Patton is held by the business men here every place of business in the city was closed from 10 to 12 o'clock, during the time of his funeral and all public work was suspended the entire day.

John Frahm, Prominent Business Man Died Tuesday
Entered Into Rest May 28, 1940 At Home Manning
The spacious funeral home and every, available place around the premises was occupied by friends during the services. Every business place in town was closed in his respect during the services.
The deceased leaves many memories and some heritages which will endure through Manning's history. He was one of the towns leading citizens; a man of pleasing personality; jovial; kind and honorable. He was a good friend to have and he had a host of friends. The Chamber of Commerce, Manning, 3-Mile House and 5-Mile House Schuetzen Verein, of which he was a member, and other organizations always found him a willing worker and liberal giver. The town and community will feel his departure in losing a faithful helper and progressive citizen. He was a faithful husband and a kind and loving father in his home and gave himself unselfishly for the comforts and good of his family.

Military honors

Another reason why more citizens should have attended the funeral was to honor and show respect to Orland for his military service...a Veteran of the Korean War.
Now these comments are solely my own and not intended to judge/criticize anyone but just as an observation of change over the years.
Orland Fara


June 25, 1931 - April 22, 2018

Visitation Wednesday April 25, 2018 , 3:30 PM - 7:00 PM at Ohde Funeral Home, Manning
Funeral Service Thursday April 26, 2018, 10:30 AM at First Presbyterian Church, Manning
Visitation resumes at church at 9:30 AM.
Interment with Military Honors will follow the funeral at the Manning Cemetery
More information and pictures coming...

Alan Lorenzen


May 28, 1937 - April 23, 2018


Alan Lorenzen - MHS 1955
Funeral Services for Alan Lorenzen, age 80, of Manilla, will be at 10 AM on Saturday, April 30, 2018, at Trinity Lutheran Church in Manilla with burial at the Manning Cemetery in Manning.
Visitation will be from 4 PM to 7 PM on Friday, April 27, 2018 at Trinity Lutheran Church in Manilla. Visitation will continue after 9 AM on Saturday at the church.
Alan died April 23, 2018 at Denison Care Center in Denison. The Ohde Funeral Home in Manilla is in charge of arrangements.
---
1955 MHS graduates: Sandra Anderson,

Bonnie Brus

, Larry Christensen, Lynn Clark, Kenneth Dammann, Merlin Drees, Eunice Eich, Phillip Enenbach, George Eschenbacher, Dennis Fischer, Betty Foley, Ronald Frahm, Russell Frank, Donald Froyd, Joycelyn Genzen, Thomas Grau, Janis Groteluschen (valedictorian), Peggy Grundmeier, Robert Hagedorn, Shirley Hansen, Marion Hargens, Janice Hodne, Ronald Irlbeck, Sally Juels, Jeanette Justice, James Kasperbauer, Shannon Koon, Eustace Lake, Allan Lamaack, LaVonne Lohmeier,

Alan Lorenzen

, Edwin McConnell, Mary Alice Mohr, Lauron Musfeldt, Beverly Nielsen (salutatorian), Jane Opperman, Marlene Otto, Kathleen Ploog, Louise Polking, Delores Puck, James Ramsey, Daryle Rowedder, Carol Rowedder, Shirley Ruhde, Burton Sander, Margaret Schroeder, Verna Singsank, Mary Stangl, William Stein, Larry Thomssen, Lois Vennink, Clifford Vinke, Judith Vollmer, Dale Vollstedt, Phillip Zerwas

1955 former students: Clark Addison, Lois Armentrout, Jerold Barten, Susan Brandt, Sally Christensen, Delores Davis, Carol Fuller, Letty Fuss, LuEtta Gehlsen, Margaret Gensler, Duane Hansen, Patty Hansen, LaRue Hodne, Mary Kennedy, Marsha Kuhl, Jackie Lee, Clifford Letty, Ann Littell, Janet Martens, Ronald Masters, Kathryn Nollen, David Olbertz, Mary Ann Peters, Norman Pieper, Mark Ramsey, Gene Rostermundt, Gregory Schurer, Sondra Spicer, Janice Stein, Patricia Volquartsen, James Williams

Taken from the 2006 Manning Quasquicentennial history book.
Alan and Bonnie Lorenzen
Alan was born May 28, 1937, in Manilla, Iowa, the son of John and Milda (Schnoor) Lorenzen. He had two brothers: Jack, who died in February 2004 and Donald, who died in infancy.
On June 26, 1960, he married Bonnie Lee Brus, daughter of Carl P. and Marie M.C. (Jahn) Brus. She has a sister, Mrs. Kenneth (Beverly) Graves of Perry, Iowa. Alan and Bonnie are the parents of three children.
Dawn Allyn - she attended Iowa University and now works for Manning Family Recovery Center.
Michael Lee married Bricy Spies. They have two children: Zachory and LeAnn. Both were born at Crawford County Memorial Hospital, Denison, Iowa. Mike is a farmer and Bricy is administrative assistant at the Manning Hospital.
Debra Lyn married Brian Birks. They have three children: Sarah, Nicholas, Christian. All three children were born at Myrtue Hospital, Harlan, Iowa. Brian works for Union Pacific Railroad and Deb is a public health nurse for Crawford County and also works for the Harlan Hospital. She attended Midland Lutheran College in Fremont, Nebraska.
Alan and Bonnie graduated from Manning High School with the class of 1955. Alan served in the U.S. Marine Corps. Bonnie attended Northwest Missouri State College and taught fourth and fifth grades in Manilla, Iowa.
They are members of Trinity Lutheran Church in Manilla. Although retired, they live on the family farm four miles west of Manning on Highway 141. Alan works at the Manning-Manilla Golf course during the spring and summer.

Thanks to Gary Gruhn for catching the error I had for misidentifying a picture of LaVonne "Bonnie" Lohmeier as Bonnie Brus - I removed that picture now.

Bonnie Brus

Beverly Brus - MHS 1954

Jack Lorenzen - Korean War

Alan & Bonnie Lorenzen

John L. Lorenzen farm 1 1/2 miles west of Aspinwall.
November 8, 1951 Spotlite
22 Greenhands to Be FFA Initiates
Initiation ceremonies for 22 "Greenhands" will take place at the regular meeting of the local FFA chapter this Thursday evening. Those scheduled for initiation include Lynn Clark, Merlin Drees, Kenneth Dammann, Ronald Frahm, Russell Frank, Tom Grau, Robert Hagedorn, LaRue Hodne, Duane Hansen, Ronald Irlbeck, Jim Kasperbauer, Eustace "Junior" Lake, Allen Lamaack, Alan Lorenzen, Dick McConnell, Loren Musfeldt, Norman Piper, Paul Rowedder, Clifford Vinke, Dale Vollstedt, Bill Crane and Jim Davenport.
December 6, 1951 Spotlite
37 FFA Cagers On Roster This Year
Under the guidance of Louis Muhlbauer, vocational Instructor, the following 37 boys comprise the current season's roster of basketball players, now engaged in a schedule with neighboring schools.
Ninth graders: Duane Hansen, Merlin Drees, Alan Lorenzen, Robert Hagedorn, Clifford Vinke, Dick McConnell, Russell Frank, Ronald Irlbeck, Jim Kasperbauer and Allen Lamaack.
Tenth graders: Robert Phillips, Larry John, John Petersen, Dick Dethlefsen, Bob Wycoff and Wayne Vennink.
Eleventh graders: David Muhlbauer, Glen Singsank, Glen Branning, Daryl Genzen, Norbert Stoberl, Pete Petersen, David Kracht and David Grundmeier.
Twelfth graders: LeRoy Dammann, Gene Ehrichs, Myron Bogatzke, Robert Grundmeier, Norman Andresen, Raymond Christensen and Bill Crane.
Back:

Alan Lorenzen

, Robert Hagedorn, Dale Vollstedt, Philip Zerwas, Mary Helen Stangl, Jane Opperman, Donald Froyd, Allan Lamaack, Jim Ramsey, James Kasperbauer
Middle: Lois Vennink, Burton Sander, Carol Fuller, Russell Frank,

Bonnie Brus

, Bill Stein, Betty Foley, Merlin Drees, Judy Vollmer, LaVonne "Bonnie" Lohmeier, Margaret Schroeder
Front: Clifford Vinke, Ronald Irlbeck, Janis Groteluschen, Louise Polking, Dennis Fischer, Beverly Nielsen, Shirley Ruhde, Greg Schurer, Sally Juels, Carol Rowedder

September 23, 1954 Spotlite
Personnel Named For Glee Clubs In Local High School
Kathryn McNamara, vocal instructor in Manning has chosen the following glee clubs for each class in senior high school:
Senior Class: Sandra Anderson, Bonnie Brus, Eunice Eich, Elizabeth Foley, Janis Groteluschen, Joycelyn Genzen, Peggy Grundmeier, Shirley Hansen, Marion Hargens, Janice Hodne, Sally Juels, Jeanette Justice, Shannon Koon, LaVonne Lohmeier, Mary Alice Mohr, Beverly Nielsen, Jane Opperman, Marlene Otto, Kathleen Ploog, Louise Polking, Delores Puck, Carol Rowedder Shirley Ruhde, Margaret Schroeder, Verna Singsank, Mary Stangl, Lola Vennink and Judith Vollmer, Lynn Clark, Kenneth Dammann, Merlin Drees, Phillip Enenbach, Dennis Fischer, Ronald Frahm, Russell Frank, Donald Froyd, Tom Grau, Robert Hagedorn, Ronnie Irlbeck, James Kasperbauer, Eustace Lake, Allen Lamaack, Alan Lorenzen, Dick McConnell, Lauren Musfeldt, Norman Piper, Jim Ramsey, Daryle Rowedder, Burton Sander, William Stein, Larry Thomssen, Clifford Vinke, Dale Vollstedt, Phil Zerwas.
Junior Class: Janice Ahrendsen, Carol Antone, Dorothea Brus, Karen Carstens, Virginia Dammann, Deanna Donaghu, Delores Eckholdt, Roselle Ehlers, Mardella Friedrichsen, Beverly Genzen, Janet Kuhl, Janice Laurinat, Shannon Mahnke, Joyce Nulle. Cynthia Peters, Janice Petersen, Kay Ramsey, Myrene Rowedder, Constance Trella, Eleanor Trella, Janice Vehrs, Marcella Wanninger, Gordon Anthony, Roger Barten, Gerald Beck, Robert Beisch, Bob Froyd, Larry Genzen, Emil Grau, Roger Hagedorn, Allen Hargens, Roger Hinz, Darryl Jahn, Roger Joens, Roger Koepke, Allan Mohr, Ronald Peters, Dennis Ramsey, LeRoy Venteicher, Richard Wellendorf and Larry Witt.
Sophomore Class: Elaine Ahrenholtz, Elke Bunz, Virginia Backhaus, Diane Dalgety, Darlene Genzen, Janell Hansen, Jeanette Hugg, Patricia Irlbeck, Darlene Kruse, Betty Lengemann, Beverly Lerssen, Neva Martens, Myra Meeves, Catherine Nulle, Marsha Ochsner, Betty Peters, Shirley Puck, Karen Rix, Karen Rowedder, Laurel Singsank, Anna Belle Vennink, Darlys Vollstedt, Cleo Weller, Ann Zerwas and Alys Larson, Donald Abel, Fred Branning, Richard Dammann, Lyle Drees, Ray Fink, Kenneth Frahm, Royce Genzen, Jon Groteluschen, Eugene Haberl, Jack Harmon, Donald Hansen, Ronald Hodne, Robert Horbach, Dale Jansen, Roger Justice, Donald Keat, Larry Klocke, Tommy Koon, Robert Laverty, Alan Leinen, Larry Lohrmann, Lenus Mundt, Larry Nielsen, Merlin Otto, Roger Petersen, Larry Popp, Richard Popp, Warren Puck, Ronnie Schiltz, Gary Schroeder, Victor Schwiesow, Richard Vehrs, Vernon Wagner, Errol Wegner and Larry Zerwas.
Freshman Class: Rae Lynne Wycoff, Delores Ahrendsen, Burneil Antone, Dorothy Barten, Marilyn Bogatzke, Darlene Eckholdt, Linda Fischer, Priscilla Hiatt, Susan Jansen, Janice Jensen, Marcia Martens, DeAnn Miller, Ruth Ohde, Susan Paulsen, Joyce Renze, Patricia Sextro, Marilyn Sonksen, Shirley Venteicher, Barbara Vollmer, Carol Vollstedt, Judith Wegner, Imogene Haberl, Judith Hugg and Joan Martens, Larry Anthony, Roger Beck, Roger Christensen, Wesley Cooper, Larry Jentsch, Gary Koon, James Kuker, Allen Laurinat, Robert Moore, Gary Neubaum and Vincent Ress.

Carl Brus farm
Previously the Jurgen and Emma (Eggers) Bruhn farm 1 mile west and 3 1/2 miles north of Aspinwall
As with much of my information I present on my web pages, I also include connections to my family history...
Here is the connection between Bonnie Brus' family and my family.

John and Anna Ehrichs

Unfortunately, I do not have any pictures of John's sisters, Anna or Trinka.

1 Peter Ehrichs August 3, 1806 to April 25, 1895
Catharina Jurgens October 10, 1820 to June 15, 1884

2 Johann (John) Ehrichs born in Norderstapel, Germany March 6, 1846 to March 11, 1934 came to US about 1866 with parents.
Anna Jurgensen Feb 24, 1855 in Delve, Holstein, Germany came to US in 1869 married January 26, 1872 Clinton, Co. Iowa

3 Louie Ehrichs

4 Dorothy Ehrichs

5 David Kusel


John Ehrichs' sisters - also born in Norderstapel
2 Anna Ehrichs
Hans Eggers

3 Anna Eggers
Henry Brus

4 Carl Brus
Marie Jahn

5 Bonnie Brus
Alan Lorenzen

Hans Eggers, son of Jacob Eggers, was born in Germany in 1834. He was married to Anna Catherina Ehrichs, born in 1840. They lived in Germany for seven years and then came to America and settled in Clinton County, Iowa. Their son Jacob and daughter Maggie were born in Germany. Five more children were born in Clinton County and the youngest was born in Hayes Township, Crawford County. They farmed in eastern Iowa until they moved to Crawford County in 1870. They farmed on the Emil Meggers farm, now owned by Claus Bunz, 2 miles west and 2 3/4 miles north of Aspinwall. Later they moved to the Aspinwall vicinity to the present Chris Brandt farm. Following this they lived in Aspinwall, which is presently the Henkelman home. Mrs. Eggers spent the last years with her daughter, Mrs. Anna Brus, where she passed away in 1922. Her husband died in 1912. Their children were Jacob, Maggie, Peter, Emil, John, Emma and Henry. Emma married Jurgen Bruhn and lived one mile west and 3 1/2 miles north of Aspinwall on the farm now owned by her nephew, Carl and Marie Brus.
Anna married Henry Brus and farmed in the Aspinwall vicinity and later at Manilla.

Henry T. and Anna (Eggers) Brus children


Back: Edward, Jack, Henry
Front: Carl, Edna Lohrmann, Hugo
2 Trinka Ehrichs
August Hansen
Their children: John F. Hansen, Miss Maggie Hansen, Mary (Mrs. Henry) Mundt, Emma (Mrs. John) Pencker, Mrs. Henry Stuhr

Diane Henkelman


July 6, 1944 - April 22, 2018


May 29, 2006 Diane (left side of flag) and Bob (right side of flag) with some of their family
Diane died on Sunday at Manning Regional Healthcare Center.
Visitation Tuesday April 24, 2018, 4:00 PM - 7:00 PM Zion Lutheran Church, Manning
Visitation will resume on Wednesday at 9:00 AM
Funeral Service Wednesday April 25, 2018, 10:00 AM Zion Lutheran Church, Manning

Henkelman home - Christmas 2002
Every family deals with life and death and there is no way for the community to ease that pain, but one way the community can help is with benefits for families through their church or a community group. On October 21, 2017, the community came together and put on a benefit for Diane, to assist with medical expenses, and maybe even more important is for the Henkelman family to know the people of the area care and are willing to help during difficult times.


Henkelman benefit 2017


Carla Henkelman - MHS 1984

Tammy Henkelman - MHS 1986

Lisa Henkelman - MHS 1988
Jeff Henkelman - MHS 1994

Pearl (Jentzen) and Ralph Grundmeier
Pearl was Diane's aunt and a daughter of Frank & Dena Jentzen.

Even though I capture various school events every year, I am fairly far-removed from the students and teachers at our school - I just don't know many of them anymore.
I graduated from Manning High School the year Jenni was born - and each year it gets harder to know who the "younger" generations are, here in Manning.
When I saw the notice on the Ohde Funeral Home website about Jennifer Erb, at first I was not sure who this was but then I realized I had captured her and her children at a number of events at school.
Here is a short tribute and by no means does justice in honoring Jenni and her service to the community, but it will give the web browser a peek into her activities at IKM-Manning schools.
---
Visitation 4:00 PM - 8:00 PM Sunday, April 22, 2018 IKM-Manning Gym, Manning
Visitation will resume after 1:30 PM on Monday
Funeral 2:30 PM Monday, April 23, 2018 IKM-Manning Gym, Manning
Interment 10:30 AM Tuesday, April 24, 2018 Arlington Heights Cemetery, Audubon

Words of wisdom to Jenni's students in her classroom

Jennifer Erb
July 13, 1975 - April 18, 2018


Jenni Erb - Cinderella 2017 school play
From Jenni's school web page...
My name is Jenni Erb, I am the 7-12 FCS teacher at IKM-Manning. In 2007 I came to IKM and taught in the Manilla building. In 2008 I transitioned to the Manning building as we became the IKM-Manning Wolves. I am Co-Sponsor of the IKM-Manning High School Student Council, Assistant Director for the high school musical, and also serve on the IKM-Manning High School Silver Cord Committee. I have a BS from Iowa State University in Family and Consumer Sciences, majoring in Child and Family Services. I also have a BS from Upper Iowa University in Social Sciences with a Secondary Education Endorsement. I am endorsed to teach 5-12 Family & Consumer Sciences, along with American Government, Sociology, and Psychology.
I am from the area, growing up and graduating from high school in Audubon. I now live on a farm between Irwin and Manning with my husband, Kevin, and our children; Rachel and Jesse Erb and Jonathan and Joey Greazel.

2016 - Jenni's students set up "mock" businesses


I believe that is Joey Greazel on the left


Jenni with her daughter, Rachel - Cinderella 2017 play


Joey Greazel


Tanner McLaws, Joey Greazel, Payton Sporrer


Joey Greazel, Rachel Erb, Lillie Ceminsky

Spring Play


Jon Greazel & Grace Sextro


Jon Greazel & Grace Sextro

Not to take away from the immediate family and their loss, my mother reminded me that we are related to the Erbs and here is the connection - way back in Germany.
Emilie and Wilhelmina Behrens were sisters
1 Count Hoffer von Roden
Rebecca von Roden
2 George Julias Behrens Gladebeck, Germany
Marie Sophia von Roden Gladebeck, Germany
3 Emilie Anna Friederica Caroline Behrens January 21, 1862 came to US in 1867
Deitrich Richard Eickelkamp Holstein Germany July 23, 1862
4 Clara Eickelkamp
Louie Ehrichs
5 Dorothy Ehrichs
Amos Kusel
6 David Kusel
1 Count Hoffer von Roden
Rebecca von Roden
2 George Julias Behrens Gladebeck, Germany
Marie Sophia von Roden Gladebeck, Germany
3 Wilhelmina Behrens Gladebeck, Germany September 1, 1846
Henry J. Guth Hannover, Denmark January 5, 1836
4 Henry Guth, Jr. April 17, 1868
Dorothea Wieck August 7, 1875
5 Julius Guth
Elva Axland
6 Myrna Guth
Gary Erb
7 Kevin Erb
Jennifer
---
George & Marie Behrens would be Rachel & Jesse Erb's great-great-great-great-grandparents.

George Behrens


Marie Behrens

Henry Guth, Jr. - WWI


Dora Guth

Julius & Eddie Guth

Henry & Dora Guth would be Rachel & Jesse Erb's great-great-great-grandparents.
Julius Guth would be Rachel & Jesse Erb's great-great-grandfather.

My mother and I have been working on more obituaries and one of my big supporters has also been sending me more obituaries to go through and add to my obituary/memorial web page.

Hopefully the "Internet Trolls" who like to take the work of others and then put it on those commercial sites, just so they can list their names to give the false impression at how hard-working they are and claim that they are important historians and genealogists.

I realize that if I don't want this to happen is to not post information on my web page...NEVER in my wildest dreams back in 1996, when I set up my web pages, did I think that someday, "trolls" who have Manning connections and even live in Manning would take someone else's work and GIVE it to a company so they can make money off of my work - and others who work with me.

If people don't want to help me and share with me that is fine...But I sure don't appreciate it when they take my Manning information and then post it on other commercial sites.

It hurts my efforts to preserve Manning history!!!
People searching for their Manning connected history will probably go to those commercial sites and then find the information they are looking for and never realize that I'll probably have more information for them and will work with them.
The people involved with those commercial sites couldn't care less about Manning and its history - they are there to make money.

All I ask is that when someone finds information on my web pages that they contact me and share what they have.

But when people looking for Manning information don't find my website and get my information from another site - it hurts everyone who would be interested in getting Manning connected information that person may have.

Another advantage to working with me is I'll find errors in the obituaries and other sources of information that exists on those commercial sites.

I found spelling errors in names, locations, events, etc. in almost every obituary I worked on over the last few days...all because of my decades of extensive work on Manning history and Manning names.

Those others sites won't be able to do this.

I also always ask people to contact me if they find errors in the obituaries I post and any other feature or article found on my web pages.
Only if we work together will we be able to correct more of those errors out there.

Thanks,
Dave

Update to Jean Garner message down below
Jean and I have been e-mailing back and forth and she is interested in hearing from her classmates and schoolmates.
My year at Manning was a very important one in my life and I can't believe it was so many years ago, time has flown.
I am happy for you to put my email address out there.
Jean Garner
jeannie43@hotmail.com

Jean is also interested in contacting Duane Griffin and his parents - her host family during her stay at Manning.

In sharing memories with Jean it gave me an idea. I really don't have the extra time but I'm going to see how many pictures I can come up with in my database for the MHS class of 1974...Here are a few samples with more to come in a special feature.

Peggy Sibbel, Susan Rutz

1974 Good Ole Days - Larry Mundt, Mike "Chuck" Foley, Mark "Row" Rowedder, Bill "Twiggy" Johnson

Jean Garner in full view and Gwen Fielweber partial view on right

Keith "Bud" Stribe, Mary Jane Rohe

Ain't they cute???

"Little Leo"

Remember him?

William Johnson, Michael Gawley, Larry Mundt, Jon Ahrendsen, Randy Renze, Paul Renze
Mike, Larry, Jon, and Randy were the delegates to Boys' state.
Bill and Paul were the alternates.

Jean Garner, AFS 1974, left a message on my guestbook.
Her message reminded me that I needed to update my AFS web page with scans of better images for those students.
In 2003, I went to the school library and borrowed the AFS framed portraits so I could scan them. While I knew there would be some fading and deterioration, I never expected how bad it actually was. Photos that were originally in color were almost black and white or really off-color, so I just scanned them in gray scale.

My goal then, as it is now, is to get original AFS photos from classmates or the host families so I can scan them and replace the database with better images.
The second picture is a scan from one of those billfold size pictures we all shared with our classmates and schoolmates.
It has been in a scrapbook so it hasn't been damaged by natural and artificial lighting.

Jean Garner AFS 1974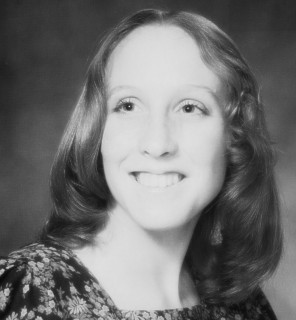 Scan from the school display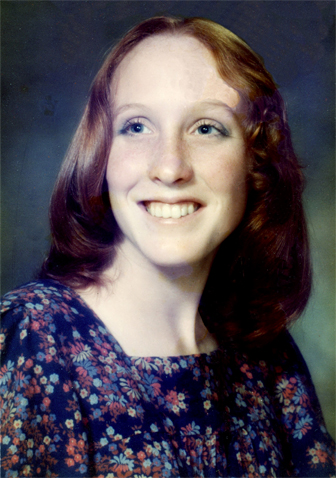 Scan I made from a billfold picture of Jean.

Now some of you may wonder why I don't just show the good picture, but as a preservationist I need to continually show everyone what is happening to their pictures and try every way I can to get people to send me their old pix and history to make high resolution scans and add to the Manning Historical Preservation Database.

To see the whole list of foreign exchange students, click on "Long term projects" on the left - then scroll down on the right side to the Manning Foreign Exchange link.

Another one of my loyal followers brought this person's obituary to my attention.
So often anymore, the family of an out-of-town former Manning resident who passed away, doesn't send the obituary back to the hometown, so unless I find those obituaries through Internet searches or someone brings them to my attention, I'll never get those obits to add to my Manning database.

I have been featuring tributes on my web pages to Manning connected individuals when they pass away or when I find out about their death.
I don't remember exactly when I started doing this but it wasn't too many years after I set up my first web page in 1996.
Each subsequent year I would gather more pictures and information to scan into my database, so every year I would be able to feature more pictures and information about an individual who passed away.

I was doing this long before funeral homes had web pages and now the funeral homes are following my lead and also posting pictures on their websites, but what I do is very different than what the funeral homes do. I post pictures of extended family members, school pictures, pictures of events the deceased member participated in...and I also find school information and other community information about that individual.
For the most part this information and pictures wouldn't be appropriate for an obituary type write-up and tribute on a funeral home website.

But having posted hundreds of tributes and over many years, I think most family members and their friends appreciate what I do.
On a rare occasion, a family member thinks I should change things and do it their way, but I don't have time to accommodate requests.

I have to keep moving forward with my preservation projects and also show examples of what I have in feature articles, like the tributes, to try to encourage more people to come forward with their pictures and history so I can scan those items.

To show how my tributes have a special place in the preservation of the Manning area history...what if I would just list the name of a deceased person as a death notice only???

If I would leave out the maiden name for a female - leave out the parents and siblings names...just do things the quick and easy way.
This is quite often the case when I read official obituaries.
So I will try to figure out what their maiden name is, their parents' and siblings' names, and other pertinent information and add it to the obituary.
Quite often, family members won't know this information and why they leave it out...for instance when their loved one graduated, or what country school they may have attended.

Since my database is so extensive, many times I can "fill in those blanks." It may not be the wishes of the family and I may post pictures that some people may not like shown, but for the most part, what I have has already been in the public domain.

Plus, having worked on saving as many family collections as I can over the last 40 years, I know that other family members and descendants will appreciate that I have preserved all of this "stuff."

I just received an e-mail from a person who told me she had never seen the picture I have of her dad that I have featured on my web page.
It is situations like this that make me realize the good I'm doing, and the large personal expenses and endless hours are definitely well worth it and overshadow the hassles and complaints I get every now and then.

I could just take the easiest route and simply do this simple notification...no more information, no pictures, no connections other than it is of someone who lived in Manning.

In Memory of LaRue Travlos


Now let's see how many of you are curious who LaRue is and will follow the link.


The more extensive way to honor someone

If you have appreciation for history, I think you'll be pleasantly surprised with the few pictures I have for this family and if you take the time to read about her school history, you'll probably find out that some of your relatives went to school with her and knew her quite well.

As I always write - Manning is on the go and the people of the community take very good care of their little town.
Tens of thousands of dollars was raised at the recent IKM-Manning Gala event that funds programs for the students and teachers.

Manning - you are at the top of the list when it comes to hard working people!!!
If you haven't helped in the past - please consider helping at the end of the month.

Supporters of Manning speak out…

THANKS AMY AND DAWN!
A big THANK YOU and KUDOS to Amy and Dawn for keeping our grocery store in town for the last 5 years! And here's to a smooth and successful transition to Nick Graham!

It is obvious that Amy and Dawn had Manning's best interest at heart, since they were willing to take on a project; neither one of them had experienced before. But they saw the need and were willing to step up and fill a gap left when Garrett and Patti Littlejohn decided to sell Manning Foods. Where would we be without our grocery store?

The job they've done in providing our little town with fresh fruits and veggies, along with all the deli, the meat counter, and the variety of other foods is phenomenal to me. Of course they can't provide the same quantities found in big city stores, but the fact that we've HAD access to these things has been extremely valuable, in my eyes, and their willingness to special order by the case for me has been hugely appreciated! THANKS? And thank you, Nick, for your entrepreneurial spirit and love of small town groceries! We hope you're here forever!

For those who don't currently support our grocery store, please reconsider! By planning ahead, and taking advantage of coupons, specials, and sales, prices can be quite comparable to driving 25 to 35 miles for groceries! Consider the time savings in shopping locally, BESIDES the benefit to all in town who don't have access to out of town grocery outlets. It would be a huge detriment for us NOT to have a successful grocery store! Please, shop local whenever possible!

Rexanne Struve and Family


If you have something positive to say about Manning and/or its citizens - please e-mail me and we'll see if it is something appropriate to be used on my web page.




Report from Main Street Manning


Click to read the information

Please make sure to read the second page of the flier - you will see how many very generous families, individuals, and organizations we have here in Manning that feel so strongly about the community that they donate large sums of money to help it keep growing.

While not every family or individual has the means to donate these large sums, there are thousands more who donate smaller amounts or help the community in other ways.
These people are every bit as important to the survival of the Manning community as the large donors.

The IKM-Manning Community
A GREAT place to raise kids and live!!!
This was the fourth annual Gala to raise money for our school system, and my first time capturing the event.

The first picture below tells the whole story - the citizens of this area believe in great education for its students and providing the extra resources that teachers and the administration need beyond the tax base.

One thing I'm always impressed with at these community events are the number of businesses, citizens, and farmers who not only pay taxes to keep this community going strong, but also donate large sums of money too, going above and beyond what is expected of them.
I won't mention names, but I consistently see a number of Manning businessmen and women at these events and they donate generously.

The volunteers are also amazing. Not every citizen is able to volunteer and donate to every event, but most people in the community volunteer and donate in some way or another...many quietly behind the scenes - never seen by the general public - BUT I see a lot of them do this year after year.


Another thing I observe are the protests I see around the country, where people want more of this and more of that...well here in the IKM-Manning area - we don't talk/protest, we DO.

In a few days I'll be going through more pictures and videos to make a web page feature but for now, here is a sneak preview.


Over $200,000 has been raised by the three previous Gala events.

A packed house which shows the dedication and enthusiam of the IKM-Manning community.

Thrivent Financial - "Hands & Hearts - On A Mission" volunteers

Gala event volunteers

The auction items tell what type of community we have.


Farming community

A great place for kids to grow up and live in

Where once Manning & Manilla were great sports rivalries - we now walk hand in hand.
It took a while for the "adults" to make the adjustment - the students made it a smooth transition!

Hunting and the Second Ammendment mean a lot.

For Manning, this goes way back to the foundation of the community where there were 3 Schuetzen Vereins: Manning Verein, Three Mile House Verein, and the Five Mile House Verein.

Probably one of the more important aspects to the livelihood of a community is for the citizens to not take themselves TOO seriously and be able to enjoy life and be a good sport to make fun of yourself once in a while.

Ms. Doc Bob

Ain't they "Sweet"

Staying on the theme of preservation - this is a personal favorite of mine but also somewhat distressing.
These aerial farm pictures I've been using as a fun contest also reminds me of the MAJOR changes in our area, the farming community, and rural American in general - MOSTLY because of innovation and technology that has been introduced over the last 50 years.

Similar to the time-frame my dad lived through, where steel wheeled tractors (and then with rubber wheels) started replacing the work-horses and mules that pulled the farming equipment.
I remember dad reminiscing how some farmers said that tractors would NEVER replace the horse and then later that rubber wheels would never replace the steel wheels...well, those of us old enough all know what happened...

Overnight, harness and blacksmith shops disappeared, along with many other small businesses in Manning that were part of the previous farming methods.

Claus Nielsen, Sr. harness shop in Manning
Where once it took a dad/mom, their kids, grandchildren, grandparents, brothers, uncles, cousins, and even "neighborhood bees" to farm 160 acres, today where there once were 4 farm families on each section (640 acres) to now where there are no buildings on many of those sections.
Progress and change are inevitable and necessary in many cases but it has also had a detrimental effect on the fabric of our society too...good and bad always seem to go hand-in-hand.
To me, what is more unnerving today is the speed of change created by computer technology. Where once change took years and even decades, it is now compressed into months or even days.
There is no breathing room to stop and think about --- "Just because we can do something, doesn't mean we should do it."
Guess whose farm this was?
Here are some clues from one of the people who use to live here.
That was our farm - grandparents lived there until dad got out of the army. This was taken before the new barn was built in same spot. Not sure who lived on that place before John and Ella. There was a family story that the house was empty when John was a kid and he used to shoot out the windows with sling shot. Not sure that was true. House had square nails in it so we think it had been around a while. We did not have a bathroom in the house until I was about 6 or so- early 1960s. I do know when the country school was across road, the teacher lived with John and Ella and slept in same bed with Joan at one point. Only had two rooms upstairs, bedroom, dining rooms front room downstairs with a kind of lean to kitchen in front - hard to think that any people lived there.

Preservationist - different than historian or genealogist

Many people are confounded with my requests to have them send me their old pictures, documents, and history...
There are many reasons why some people don't want to send these items to me, which I won't go into now.
Some offer to do the scanning and then send me the digital files they create.
99% of the time they do not properly scan things and they don't have over 20 years of experience doing this or the professional software and equipment I have.
So the results are below par. This is not meant as criticism but is a fact that they just won't generate the quality digital files I want.

Some people have already scanned their pictures and documents, but again, 99% of the time they will be low resolution and improper scans, for what I'm looking for as a long-term preservation.

People who know me and introduce me to people from out of town will say I'm the local historian and genealogist.
Until recently that is how I would describe myself, but what I do is way beyond a historian or genealogist - I'm a preservationist and genealogy and history are sub-categories of preservation.

The big distinction is that most genealogist concentrate on their specific family, and a historian will tend to concentrate on a more defined subject, but as a preservationist I want to gather all kinds of history and genealogy for the Manning area.

Just like the Manning Veterans' history book project I've been working on officially since 2008 and began gathering pictures and history using my web page since 1996 - my plans are for a two-volume book and will be one of the most unique military books for a community. It won't be just a book with a picture then name, rank, and serial number of a Veteran but connections within a family with Veterans and all kinds of pictures, documents, memorabilia, etc. Sadly, I'm struggling to get Veterans or families of deceased Veterans to come forward - a book where the emphasis is on the whole collective of Veterans who lived in the Manning area and the military history of this community...which is also VERY unique.
Here is a unique picture that will be featured in the Veterans' book (the full story about it will be included in the book).
One of the IKM-Manning senior players, who is joining the military, came up with the idea to carry out the US flag during the introductions on Senior Night. He first asked the coaches and then his teammates about the idea, and they all agreed it was an excellent way to show added respect to the US flag, those serving our country, and the Veterans of the US.

The big distinction in my type of preservation is that I digitally preserve pictures, documents, and history in high resolution, which is the best long-term way to preserve our history.

People who have inherited those old family scrapbooks, documents, and history may scan quite a bit of what they have but they will probably overlook items that don't interest them or fit the main subject matter of their work.
My idea of preservation is also beyond the digital images and documents but to preserve our "Heritage" and the memories of our Pioneers who built this great nation.

Another problem with those old collections people have is that many of the pictures are not identified and the family members won't know who the people are and/or take the time to identify them...whereas many times I may know some of the faces or will be able to find someone who can ID the faces...plus I have a nearly endless database of names and history to look through and maybe figure out who some of the people are.

Below is just one example of why I want to do my own scanning and go through people's collections - and not have them pick and choose what they think I might be interested in.

How many aspects of Manning history do you see in this document?
Below are a few of the major aspects I see in this document. I'm so tickled to find this piece of history in the Enenbach collection I recently worked on that was sent to me from Nebraska.

The first historical aspect that caught my eye was the Ral-Mars letterhead...something I have not run into before.
The next thing is Ralph started promoting the 1981 Manning centennial back in 1976.
I also like the very clear signature by Ralph...DO YOU have scans of your parents/grandparents signatures? Most people don't think about this aspect of genealogy and history.
Another interesting piece of history is "Typewriter" repair...something most kids today have no idea what it is, and was a very important tool used in the past to document our history and a major way to communicate.
Obituaries are a very important way to document the life of a person, but as a preservationist I think more should and more can be done to honor and preserve the legacy of a person.
This is only possible when people share the pictures and information they have with me so I can digitize their things and preserve it in the Manning Historical Preservation Database.
Something that I hope more families will be seeking to become a part of - the history of Manning.
Recently Ruth (Musfeldt) Younie passed away. Her obituary tells about her parents and family, where she went to school, and some of her activities...but let's see what else we can find out about Ruth in my database.
Ruth M. Younie
Funeral Wednesday March 28, 2018, 10:30 AM at St. John Lutheran Church, Pomeroy, Iowa
Visitation Wednesday March 28, 2018, 9:00 AM - 10:00 AM at St. John Lutheran Church, Pomeroy, Iowa
Burial Wednesday March 28, 2018 at Union Cemetery, Pomeroy, Iowa
Ruth M. Younie - age 89, of Pomeroy, passed away Friday, March 23, 2018, at the Accura HealthCare Center in Pomeroy, Iowa.
Ruth Marie Musfeldt was born August 14, 1928, in Manning, Iowa. She was the daughter of Herman and Lydia (Asmus) Musfeldt. Ruth attended country school and then Manning schools beginning in 1938 and graduated with the class of 1946. After high school, Ruth attended the Iowa State Teacher's College in Cedar Falls and then taught country school at Hayes No. 6. On June 1, 1947, Ruth married Donald Younie at the Zion Lutheran Church in Manning. To this union, three children were born, Paul, Martha and David. The couple lived in various locations in Iowa, Nebraska and South Dakota. Ruth worked several years at Gurney's Seed and Nursery in Yankton. Don passed away on May 18, 1994. Ruth moved from Yankton, South Dakota, to Pomeroy in 2001 and entered the Pomeroy Care Center in 2015.
Ruth was always very active in her church, wherever they lived, including St. John Lutheran Church in Pomeroy. She enjoyed sewing, gardening and feeding and watching the birds.
Survivors include her son, Paul Younie of Little Falls, Minnesota; daughter, Martha (Dean) Holtorf of Pomeroy; grandchildren, Mark (Lynn) Younie of Harley, Matthew (Chandra) Younie of Storm Lake, Scott (Heidi) Holtorf of Houston, Texas, Sara (Jason) Knox of Iowa City and Megan (Kevin) Hauswirth of Havelock; ten great-grandchildren; three great-great-grandchildren; brothers, David (MaryAnn) Musfeldt and Evans Sam Musfeldt; sister-in-law, LeeAnn Musfeldt and several nieces and nephews. She was preceded in death by her parents; husband, Don; son, David; great-grandson, Caleb Younie; brother, Tom Musfeldt; brother-in-law, Gordon Younie; sisters-in-law, Judy Musfeldt and Madlyn Younie and special friend, Curt Johnson.

1946 MHS graduates: Norman Arp, Marvin Bogatzke, Jean Blum, Ruth Brady, Leota Carter, Shirley Coleman, Madlyn Cramer, Mary Jane Dales, Norma Dau, Zona Gail Duff, Lucille Genzen, Margaret Hammer, Marian Hoffman, Mary Jacobsen, Donna Belle Joens, John Keane, Alvin Kuhse, Mildred Lechtenberg, Loretta Lerssen, Ruby Lohmeier, Edward Meggers, Betty Mincey (salutatorian), Donna Fae Mohr, Franklin Mohr, Ruth Musfeldt, Delores Rix, Donna Rowedder (valedictorian), Donna Schacht, Norma Jean Schrum, Marie Sextro, Delores Wagner
1946 former students: Billy Addison, Jimmy Barnes, James Bingaman, Ruby Book, Eula Mae Bradshaw, Donna Jean Cramer, Sarah Diamond, Evelee Furgason, Merlin Gosch, Joanne Grundmeier, Delores Hargens, Robert Hinners, Alvin Jansen, Carl Lake, Alvin Lohmeier, Bobby Matchett, Lyle Mersman, Patrick Miller, Leo Nielsen, Betty Lou Olbertz, Duane Olbertz, Donald Petersen, LaVonne Pittman, Mary Qually, Phyllis Soppe, Laura Mae Schieffer, Leslie Stahl, Mary Lou Weinhart, Marie Wells, Ray Wiley
Ninth Grade Graduation

Back: Marian Hoffman, Betty Mincy, Jean Blum, Eddie Meggers, Sara Diamond, Ruby Book, Alvan Kuhse, Joanne Grundmeier, Leota Carter, Marie Sextro, Bill Addison, Ruby Lohmeier, Margaret Hammer, Norma Schrum, Betty Olbertz
Middle: Shirley Coleman, Lucille Genzen, Zona Duff, Norma Dau, Delores Wagner, Franklin Mohr, Virgene Ruhde, Alvan Jansen, Donna Schacht, Kenneth Pfannkuch, Donna Fae Mohr,

Ruth Musfeldt

, Madlyn Cramer, Loretta Lerssen, Mildred Lechtenberg
Front: Norman Arp, Mary Jane Dales, Duane Olbertz, Donna Rowedder, Robert Hinners, Ruth Brady Hiatt, Mrs. Ida Beck (teacher), Patrick Miller, John Keane, Donna Jean Cramer, Marvin Bogatzke, Donna Belle Joens, Mary Lorraine Jacobsen

Ruth in school

Tom Musfeldt MHS 1954

Evans Sam Musfeldt MHS 1959
My mother reminded me of Ruth's mother, Lydia's other siblings
John and Martha (Wenzel) Asmus children: Lydia, Verna, Marie, Merlin, Helen, Alma, and three half-sisters: Pauline Jorgensen, Amanda Ewoldt, Ann Boyens

Marie & Verna Brady

Alma "Tootie" Asmus

Merlin "Buddy" Asmus

Amos Kusel, Lyle Arp, Merlin Asmus
1937-38 FB season

Student Managers: Roy Schoening, Wayne "Jack" Schelldorf
Back: 18 Duane "Tommy" Bartels, 26 George "Oppie" Opperman, 19 Amos "Messy" Misselhorn (Captain), Coach, 12 Harold "Horse" Nickum, 25 Richard "Dick" Ohm, 13 Grant "Sleepy" Grundmeier
Middle: 28 Arnold "Ichabod" Juels, 21 Gene "Yenze" Claussen, 15 Lyle "Red" Arp, 29 Francis "Frisco" Zerwas, 20 Alvan "Hans" Hansen,

17 Amos "Keezil" Kusel

, 14 Harry P. Hass, 23 Raymond "Snaky" Joens,

24 Merlin "Heel" Asmus


Front: 22 Amos "Pickel" Rutz, 16 Wayne Accola, 11 Merlin "Percy" Welch

Manning has always been known for the nicknames of its citizens and the FB team above is no exception.
I always wondered why Amos "Skip" Lohmeier would call me "Keezil" until Rita Zerwas (Mrs. Francis) gave me this football picture years ago that had the names and nicknames written on back.
Skip was 6 years behind this group but knew them all quite well.
I always visited with Skip a lot and would ask him about his son, Randy, who was ahead of me a few years in school.

Click on the link below to see some very interesting history on how Manning achieves so many amazing things and is now working on another unique project.

Manning Hillside Splash

Oh the Fun of playing in the Sun (1968)


1909 cartoon about 2 boys nabbing their friends' clothes while "skinny dippin.'"

Please visit the Manning Exchange for local news, articles, and information...a work in progress.

Many upcoming events.

Korean War Veterans continues


There are lots of Manning Veterans of the Korean era with no pictures or information.
Will you be in the Manning Veterans' book???
Unless more post-WWII Veterans come forward there will be a lot of 1946 to present day Manning connected Veterans missing from the book.

For those of you who are occasional visitors to the Manning Exchange - please make sure to click on the "archived articles" section where previous featured stories are kept.

Click to visit the Manning Exchange

1 example from the Logeland Studio wedding packets.

There are still quite a few Logeland Studio wedding packets available.

Click to read about this important project.
It will help to financially support the Manning Veterans' history book project.

What makes up a community?
Just ONE person
who is a son or daughter
who is a brother or sister
who has a school chum
who is related to someone in that town
whose friend has a friend in that town
whose friend is related to someone else in town
who may have moved away but still thinks of the place they grew up as home
We would like to hear from you, the "1983 Leaders of Tomorrow" who have relatives and chums in your hometown of Manning, Iowa.
In their own words
Attention "1983 Leaders of Tomorrow"


Who is the sister of the meteorologist linked below?
Click to see the answer in her own words

Who grew up on a farm south of Manning, has chased tornados, and is now a meteorologist for the National Weather Service?
Click to see the answer in his own words

I have been receiving questions from various "1983 kids" about what type of information we would like them to write about.
Please read through the meteorologist's story to get ideas for you own personal write-up.
Then send me an e-mail so we can work out your story.

Note: Your story does not have to be as thorough as found at the link above but at least send us a couple paragraphs to bring us up to date from 1983. Here is the DIRECT link to the 1983 web page.

Parents of the "1983" kids - please encourage your children to send in their updated information and any pix they may want to include.
Sometimes a little nudge by mom or dad will get the ball rolling!
Each 1983 "Leader of Tomorrow" has interesting family history.
Here are the names of the "1983 kids" who we are looking for an update from...
Aaron & Courtney Potthoff, Adam Croghan, Andrew & Amanda & Brandon Puck, Alex & Abbey Ranniger, Allison & Megan Keese, Angela & Heather & Michele Hass, Angie & Alan Irlbeck, Bradley Christensen, Bryan & Nathan Rohe, Chelsea Souter, Christin Ann Fara, Christopher Wegner, Cole & Ty Henderson, Dale & Vanessa & Derek Hargens, Daniel Wayne Tibben, Daniel & Janelle Stribe, Dawn & Derrick Rohe, Dawn & Michelle Willenborg, Elizabeth & Jamy Zinke, Ericka & Andrea Ehlers, Gary & Beth & Tim Ferneding, Heather & Jessica & Jimmy Switzer, Jackelyn McKeighan, Jamie Jo Irlbeck, Jeffrey & Joey & Jeremy Irlbeck, Jeffry & Kelli & Jason Lorenzen, Jeremia Rex Macumber, Jennifer & Jason & Renee Knueven, Jennifer & Jeremy Misselhorn, Jeremy Puck, Jessica Rasmussen, Jill Kienast, Joe Stein, Joseph & Mackenzie Hinners, Kasie & Andrea & Amy Lorenzen, Kenzie Kae Kerkhoff, Lauren & Shad Bauer, Marte Wanninger, Matthew & Mandi Weitl, Melissa & Angie Pfannkuch, Michael & Amy & Jeremy Kasperbauer, Michael & Michaela Hargens, Melissa & Michaela Vinke, Michael & Matthew Siepker, Michaela & Crystal Ehlers, Natasha Vonnahme, Ryan & Rachel Pfannkuch, Sabrina Lee, Sarah Kaszinski, Sheri & Trena Bell, Tara Zeman, Stephen & Ryan & Darren Andersen, Tonya Jo Wurr, Tiffany & Michelle Jahn, Tim & Matt Hugeback, Brian & Katie & Steph Beck, Troy & Robin Wanninger
If you send me some information about yourself, I may also be able to find some pictures of your parents, grandparents, family members that I have in my database (as shown above).
We can use them in your story along with your "1983" picture.
We'd like to hear from you !!!
What ever became of the
1983 "Leaders of Tomorrow"
Have some of your "Dreams" come true?

"Let it be known that he who wears the military order of the purple heart has given of his blood in the defense of his homeland and shall forever be revered by his fellow countrymen."
George Washington, August 7, 1782
Just as a reminder: the Manning History book committee continues to work on a Manning area Veterans' history book project.
For those of you who are Veterans or have/had Veterans in your family - will you come forward?
The history book committee will do their best to get as many pictures and information about the 1000+ Manning Veterans but we can't do it all by ourselves.
How many small communities do you know have published 5 history books? The first one was the History of Manning 1898, then the 1981 Manning Centennial book, next the 2006 Manning Quasqui book, and most recently the 2009 Manning School history book. Probably the last book to be published will be the upcoming Manning Veterans' book - unless someone comes forward in the next generation to take over these projects after I'm gone. Will you help with the Veterans' history book project? If you are a Manning connected Veteran or are presently serving and do not submit your military connected pictures and infomation you probably won't be in this once-in-a-life-time Manning Veterans' history book. With a limited number of volunteers we can only do so much on our own but will try to get pictures of as many Veterans as we can. There are over 1000 Manning Veterans so we have a long ways to go before the book can be published.
Manning Veterans are slowly coming forward and below is another example. We hope to eventually get more pictures and information for Mike to put in the book but for now this is what I have to show to you.
Amos Rutz WWII
One thing that many Veterans and people who are submitting information have not fully understood is that this next Manning history book is specifically a Veterans' only book. It won't be like the Centennial or Quasqui history books were, where there is a Veterans' section along with other community aspects. We are aiming for a 2-volume book (around 1090 total pages) which will really be unique!!!
This book will be ALL Veterans' information (and the post auxiliaries) - hence it won't be a "Name, Rank, and Serial Number" only history but we want a complete history for each Veteran.
For instance - below is Louis Boell's picture and the information that was published in the Veteran section of the 1982 Aspinwall Centennial history book. It has the basic information but we are looking for more and I spoke to Louie by phone and he sent more pictures and information - also for his brothers.

To see what Louis submitted click on the link underneath "Are you a Manning Veteran" shown below.

Note: we also want some family background such as parents and grandparents. All too often you will only see just the Veteran's name with their basic military information but without the family connections it will be difficult for future historians and genealogists to know for sure who this person belongs to.

Are you a Manning connected Veteran?

I would like to hear from you!!!
We are starting a Manning Veteran history book project and if you don't come forward you may not be included in the book. NOT because we want to intentionally leave you out but because you didn't come forward.
Same goes for those of you who have Veterans in your family who have passed away. If you don't come forward and help by submitting Veteran connected pictures and information your Veteran may not be included in this once in a life-time Manning Veterans' history book.

Please e-mail me about your Veteran questions manningveterans@davidkusel.com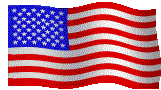 The United States flag
is proudly displayed here and NO other flag is as IMPORTANT!
1 Manning citizen served in the War of 1812
48 served in the Civil War
1 served in the Indian War
3 served in the Spanish American War
300+ served during WWI
550+ served during WWII
87+ served in the Korean war era
65+ (more names need to be found) served in the Vietnam era
55+ (many more names need to be found) served from 1975 to present
26 paid the ultimate price with their lives defending the U.S. Flag
Are you a Manning Veteran?
Are you currently serving and have a Manning connection?
We are starting the Manning Veterans' history book project
Don't wait until you see "Deadline" or it WILL be too late!!!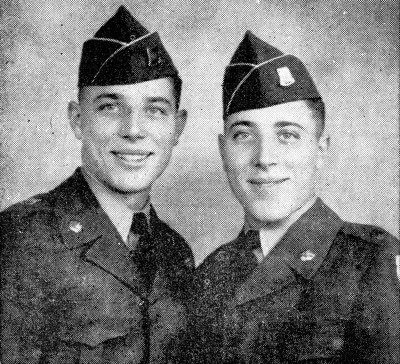 Click to read promos for the Veteran book


There are a lot of WWI and some WWII Veterans pictures with no IDs.

Before you spend time scanning pictures
please look at these instructions


I appreciate your efforts scanning pictures for me but if you only make low resolution scans you are really wasting your time. High resolution scans are the best and only way to really preserve those old pictures.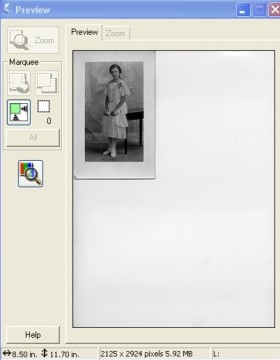 Click to see the tutorial
If you simply don't want those old family pictures you inherited please don't throw them - send them my way.
A lot of times I can recognize a face or location in those old pix.
---
One thing to keep in mind while you are looking for pictures - if they are glued in old scrap books please do NOT try to pull them out or cut them out. I can scan the whole page of the scrapbook and crop out the pictures you want to use in the book. If you attempt to forcibly remove the pictures you will probably damage them and when I scan them that damage will probably show up. This means I'll either have to use my graphics program to touch up the damage which can take a lot of time, or if they are badly damaged I just may not even take the time to scan them.