70 years ago
Mills Brothers "Daddy's Little Girl" 1950

When someone gives me a picture or someone sends a few pictures back to Manning they don't want, or I purchase off e-bay, I put them in a pile, for later scanning.
I finally decided to scan this pile that has been growing since 2017. Below are some examples.

If you have picture/postcards of this type or from different angles, please contact me. I'd like to make high resolution to super high resolution scans of them.
Maybe you have purchased pictures/postcards off e-bay or the Internet - please get them to me to scan...I pretty much have scanned images of most of the postcards that were printed back during the early to mid-1900s, but every now and then I'll find one I didn't have or have a very good scan of.
OR even if you have the same photo I'm showing - your original might be in better shape than the one I scanned - so contact me anyway!

More importantly so I can add them to my very unique and one of a kind historical Manning digital database.

Circa 1972


Remember these fun days when people dressed up in silly costumes?

I don't know who "Pucker Power" is but that is Robbie Grundmeier (front) and Dale Hinners behind the old Firemen's hose cart.


If you are over 60 and went to school in Manning since Kindergarten you should remember this school between First and Second Streets.
I've run into a number of originals that were colorized but this one I just scanned is the best of all of them. Virtually no scuffs, scratches, or other type of damage that is so very common with pictures.

I made a super high resolution scan of it - 40x24 inches and saved in TIF format. I envision making large prints or banner type images of scenes like this someday for a future museum or other locations in Manning.

1916 view when this school building housed Kindergarten through 12th grades.

Back side of picture postcard.

I always also scan the backside of postcards if there is a message or other pertinent information such as "Published by Schelldorf Brothers, Manning, Iowa"

Here is the message: Maud Cadwell, Manilla, Iowa 1916
Dear Kid, Well I have been here since Monday and think I will be here the rest of the week. I have not seen Toots yet. Yours with love, F.E.W.

1941


Let's see how observant you are.
What is historically unique/interesting about this picture above...something you can visually see.
Below are the answers

The church building, Manning's first, was dedicated August 26, 1883, and is still standing and in use. A basement was added in 1917 and in

1939 the building was enlarged to include a pastor's office, choir room and chancel.

In 1960, the building was enlarged by adding four classrooms, a new kitchen, and a new manse.

It is a treasure when I find old pictures on e-bay that are identified...here are a few that were identified but sadly many more that were not identified - like so many pictures I run into.
I'm sure someone out there has some of them or similar ones and they might be able to help me ID them or at least figure out which family they are connected to, but sadly I get very little assistance.
I had hoped back in 1996 when I started my web page that I would get a lot of help with Manning history. I have received some help, but it comes slowly and by bits and pieces.
I guess that most people really aren't interested in history/genealogy, other than some are into their own personal family history but not interested in helping with my Manning history projects.

As you can see, this next Lyden Studio picture is badly deteriorating and will need lots of digital repair but still in good enough shape to be worth the restoration time...I just don't have time right now.
But the great thing about it is the names were written on back which saves me endless searching and time spent trying to find out who they are.

Manning Band


Back: Willie Dohse, Frederick Herre, John Kaschube
Front: Robert Herre, Henry Dohse, John Krouse

William Carpenter - Kyrk & Company photography, Manning
I am always amazed at how many photographers/studios were in Manning over the years.

Mr & Mrs Navin with daughter Mary - Lyden Studio

Written on the picture: "cousin Frank Powell" - Blocker studio
Powell was not a very common name in Manning - August Ross married Vera Powell but I have no idea if there is a connection. August was a brother to Fred Ross - owners of the Ford Garage in Manning.

Vera (Powell), August Ross
Scanned from the Ross collection
These funeral memorial cards were quite common years ago.


Mary (Milligan) Judson

Unknown - Lyden Studio
This image is nothing unique as far as funeral home pictures.
But what's on back of the picture/postcard is the unique historical aspect I'm glad to have now.


Ohde Funeral Home 1931

Fairmont Creamery before it became the Manning Creamery

Manning Light Company
The Manning Bakery, home of the famous "Blue Ribbon Bread" was opened in April, 1917.
Alfred Sinn ran the shop at 814 Third Street (once occupied by the McMahon Feed and Seed Store), for nearly 25 years. His retail outlet was at 304 Main Street.

Main Street sometime after 1915

Main Street sometime before 1915 - Manning Plaza & old hospital block
1929 Magenta line "Essex" Yellow line "Monitor" Red line "Schelldorf Drugs" Blue line "Dr. Smith" Green line Lake Produce

Note the blue line: there is a 2nd flag pole down on the 3rd Street intersection.

C.J. Holling - Aspinwall


Mail Delay - Train Late

Tank & Hoffmann 1896

Greenbay Lumber - E.C. Finkbine, manager 1893

First National Bank 1893

1914 trestle bridge construction


graffiti before this huge section of bridge was set in place


Think of all the manual labor it took to build this bridge!

Claus Bruhn 1906 - I need to find his obituary to make more connections.
Services for CLAUS BRUHN
Born August 30, 1874 Kiel, Schleswig-Holstein, Germany
Entered into rest April 18, 1948 St. Anthony Hospital Carroll
Age 73 years, 7 months, 13 days
Services held at Zion Lutheran Church April 22, 1948
Clergyman Rev. John M. Ansorge
Interment Manning Cemetery April 22, 1948
Pall Bearers: Ed Kruse, Wilbur Anthony, Ben Otto, Henry Lamaack, Louie Dammann, Marcus Kuhl
Remember that Claus is a first generation immigrant and was learning to write/speak in English.

I'll attempt to write it more clearly...some of the words I can't figure out.
Dear Sir, I want to write you that I got two bottles of the white medicine. I got one on January 31 and the other on February 2 and I mailed you another money order for $1.
Yours Truly, Claus Bruhn, Rt. 4 Box 50, Manning, Iowa.

Reid's Feeds in Manilla
I think that Virgil Reid worked at and/or was a partner in this business.

Unknown baby - L.E. Goreham photographer, Manning
How fast a family can disappear from Manning history!!!
Mercedes was my Sunday School teacher. She, her husband, and both of their children are deceased.


Mercedes (Strosahl) & Clarence "Peg" Bowers


Richard Bowers MHS 1959
1960-61 cheerleaders


Dian Tank, Faith Sanders, Jerolyn Hinz, Kay Bowers, Frances Grimm, Judy Laurinat

Below are several pictures that were part of a collection I purchased on e-bay several years ago.
Unfortunately NONE of them were identified, but a lot of them were taken by Manning studios.
Most of them are in very good shape - around 40 total in this collection. I only did some quick touch-ups with the pictures but more repair will eventually be needed...
Somehow these pictures ended up in Lyons, Iowa.
Hopefully someone might have an idea of which family this was and then contact me.

Composite scan of 6 small pictures (3x2) taken by C.G. Hansen & F. Blocker photographers.


Backside of 2 of the pictures.
There are 12 other prints of this size but photographed in Lyons, Iowa, or other studios.

Unknown family and studio

Unknown children - Lyden Studio

Unknown couple - Lyden Studio

Unknown men - Lyden Studio

Unknown couple - Lyden Studio

Unknown man - Lyden Studio

Unknown children - Lyden Studio

Unknown girls - Lyden Studio

Unknown girl - Lyden Studio

Unknown men - tin type image

309 Main Street Apartments renovation

In 2019, the apartments above 309 Main Street were renovated. During the process, construction workers ran across a pile of old documents that belonged to the Wyatt brothers (Merlin Boston Wyatt & Orren William Wyatt) whose hospital was located on the second story of this building.

While I was taking pictures of the renovation, one of the workers told me about the find, so I ask Greg Sextro (owner) if I could go through the old papers to see what I could scan. The workers put them in two 5 gallon buckets and unfortunately the papers were badly damaged by insects and mice that chewed on them and also added their waste product to the mess.
So I slowly went through everything, throwing the completely damaged papers and sorting out the ones that were worth keeping and/or scanning.
Many of the papers were folded or rolled up, so I had to lay them flat and place heavy books on them for several weeks to a month so I would be able to lay them flat on the scanner glass, without them wanting to roll up again.

Below are some of the local business statements/receipts I was able to scan.
One of the more important historical finds I fortunately noticed was this next item.
I'm constantly asking people to just let me go through their albums, boxes, and piles of old pix and history.
I'll find historical stuff they'll won't even realize is important, or won't take the time to go through each item and read the information and make sure something isn't hiding in between two other items.
This image will be used in the Manning Veterans - a very unique little piece of WWI history connected to Manning.

Read the stamped message at an angle that talks about the European War.
It's the little things like this that will make the Manning Veterans' history book unique.

This is what I had to wade through - badly damaged documents by paper chewing insects.

309 Main Street

Claus H. Reinholdt - 402 Main now north end of Manning Plaza

1911 Hugo Grundmeier & Frank Kempf - 302 Main Street

1913 Grundmeier & Rostermundt - 302 Main Street

1915 John Rostermundt & Alfred Kuhl - 302 Main Street

Charles Easterly - postmaster

Peter Rix - postmaster

Henry Mueller

A.W. Low

Herman Gotch - 413 Main Street


Herman Gotch - 413 Main Street

Iowa Light, Heat & Power - 315 Main Street

Manning Electric Light Company - H. Ohrt manager - 315 Main Street

Lewis E. and Herbert A. Schelldorf - 309 Main Street

Manning Telephone

Manning Telephone - Andrew K. Resner was a partner with Wyatt brothers for a while.


Dr. Andrew Resner - from the Ann Mueller collection


Andrew Resner WWI - from the Ann Mueller collection

Rudolph Claussen - 308 Main Street

John Lewis & August J. Reinhold - 317 Main Street


John Lewis - from Orval Fink's negatives

Grover Herman Grau - pharmacist

Lewis & Grau - 317 Main Street

Lewis Reinhold & B.H. Doty - 317 Main Street

Gus Rober & Julius Wehrmann - 323 Main Street
Clerks: William Claussen & Nettie Kruse


Clerks: George Albert & Nettie Kruse

Rober-Wehrmann - Clothing Department & Dry Goods Department

George F. Dau


Dau building built in 1914 - 505 Main Street

Dr. C.B. (Chauncey) Miller was located at 507 Main Street from 1910 to 1927


507 Main Street - Henry Dammann possibly had his livery stable here


Henry Dammann Livery & Feed Stable


Henry Dammann Livery & Feed Stable - Hearse in connection


Henry Dammann East Side Livery barn - not sure where this was located.
There was a livery stable on the lot that burned down where the Wyatt Hospital once stood.

Tom Parkhouse

Tom Parkhouse - 217 Main Street

Douglas Rogers - 217 Main Street


I'm always writing about the connections my family has in Manning. My dad purchased the land in 1969 from the Rogers/Jaeger family, where the present day soybean plant is located.
During the transaction, his health deteriorated quickly from his Diabetes. So he had to give up the down payment and farm.
For those of you old enough, you may remember the Emil Ress family lived on this farm.

Here is a letter from the owners of the farm, responding to dad's health but before he had to give up that farm.
The main reason why I'm featuring it is the part about Erna (Kurpierz) Jaeger who was heading to Germany to see her brother. She had immigrated from Germany in 1952 - basically she fled the Russian communist takeover which became East Germany.

I have another story to follow after I first show the Rogers/Jaeger feature.

Mrs. Ray Jaeger (Eulalia Rogers - daughter of Douglas)


The other interesting part of this feature is Erna "paying $10 a day in East Germany"
Erna was the daughter-in-law to Ray & Eulalia Jaeger.

From the 1981 Manning Centennial book
Douglas Rogers was born in a hay-roofed log cabin south of Harlan in 1867. His early training was received in a country school and later in the Harlan high school and the Western Normal School. He then spent a few years teaching school and farming to earn sufficient money to put him through a professional course. In 1889 he entered the law department in the State University of Iowa. He graduated with the class of 1891 and established his practice here that same year. His first office was in a room over a saloon, but later on he established offices on the west side of Main Street on the second floor in the middle of block 6 between Third and Fourth streets, where he remained until retiring after more than 65 years of law practice.

In 1892 he married Mary Flannery and they rented a house for $4 a month.

Rogers had heard that Salinger had been offered a position as a railroad lawyer in California and that was one reason Rogers decided to locate here. Salinger, however, remained in Manning for several more years. He later served one session in the supreme court.

Rogers was identified with any activity for the betterment of the community. He served as Mayor of Manning from 1905 to 1911, was elected to the Iowa legislature for three sessions, serving from 1915 to 1921; and was a delegate to the national democratic convention in Houston in 1928 and in Philadelphia in 1936. He was the only legislator from Carroll County to vote for the amendment in 1919 giving women the right to vote.

He was a member of the Manning school board for four years, serving as president for three years. He was also president of the former Iowa State Savings Bank which was located on the site of the present Manning Trust & Savings building.

Mrs. Rogers died in 1933 and three years later he married Helen Flannery, a niece of his first wife. He had two daughters, Mrs. R.L. (Eulalia) Jaeger, and Mrs. Walter (Ruth) Turner. He died October 18, 1960.
---
Now I have another 1952 story about East Germany...read below.

Peter Kusel story

On February 13 to 23, 1997 my cousin Jon Ahrendsen and I traveled to Germany to trace back our family names. We also have common ancestors which are on the Grau & Hansen side.

We flew into Berlin on Friday and headed to Lenzen where my great-great grandfather & mother Kusel came from. There we met with Peter Kusel and his family who live in Baekern which is about 2 miles from Lenzen.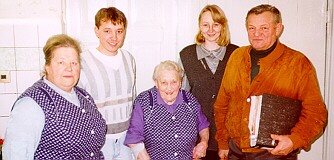 Front left to right: Jutta Kusel, Jutta's mother-Frieda von Bargen, Peter Kusel
Rear: son Jürgen Kusel, Friend: Margarethe Meinke-Peters

---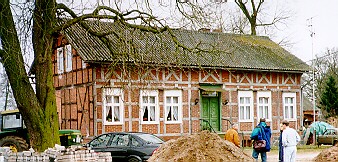 Above is Peter Kusel's home in Baekern.
Fleeing East Germany to the west after WWII
In 1952 Peter and his family fled from here across the Elbe river to West Germany but before they left they buried silverware, linens and documents in their barn with the hope that if they were able to return someday they could prove this was their property.
This was the barn where Peter buried the documents. It was converted into living quarters during East German control and it wasn't until 1996 that they regained ownership of it again.

Even though this is their property you have to remember that other families lived here for the 40 year period from 1952- 1990. The reunification of Germany has caused some hard feelings between those who owned the land and regained it and those who lived in it for up to 40 years.
Above are the holes they made in the concrete floor and they had to dig down about 6 feet to get to the cream cans.

Remember that this was a barn in 1952 and was converted into a house during the GDR (German Democratic Republic) days so this is why there was a concrete floor here.


To the left are the 3 cream cans that they hid the valuables and documents in for 40 years.
| | |
| --- | --- |
| Here Peter and Jürgen show one of the aprons that was stored in the cream cans. | |
Peter's farm is about a mile from the Elbe river so each winter (when the leaves had fallen off the trees) they would come to the river on the West side and look through binoculars to see their farm.

In 1990 Peter drove his John Deere tractor for 10 hours from the farm they rented in West Germany to the Elbe river to cross on the ferry to get to his farm.
On the East side of the Elbe river there was a guard tower which monitored the river near their farm.
There is a river crossing by this tower so it was guarded during the GDR years.


Dave Kusel standing by the wall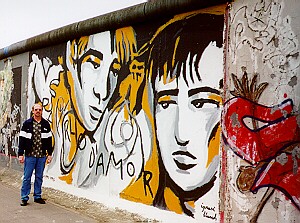 This is a section of the Berlin wall that was left standing in the old East part of Berlin
Peter Kusel is related to me but because the communists destroyed lots of church and cemetery records after the wall was built, and from WWII destruction, we aren't able to find records that directly connect us but since our two Kusel families lived in the same small towns of this area, we have to be related.

Veterans' Day November 11, 2019


Click to see the brief program

In Memory of Hermanette Tank


November 30, 1931 - January 9, 2020

Hermie (Long Term Care Activity Aide - MRHC) leading exercises in the Plaza January 13, 2005
Leman Ehlers waving in background

Hermie Tank, age 88, passed away on Thursday, January 9, 2019, at Accura Healthcare of Manning.
Visitation and Prayers Wednesday, January 15, 2020 5:00 PM - 7:00 PM Ohde Funeral Home, Manning, Iowa
Rosary at 7:00 PM Mass of Christian Burial Thursday, January 16, 2020 10:30 AM Sacred Heart Church - Manning
Interment Thursday, January 16, 2020 Sacred Heart Cemetery, Manning
Robert Tank Family history from the 2006 Manning Quasquicentennial history book

Robert and Hermanette Tank


Back: Karen, Robert
Front: Wanda, Hermanette, Steve

Robert Dean, the third child of Louie and Anna (Schroeder) Tank was born July 17, 1932. He graduated from Manning High School in 1950 and entered the military service in December of 1952 and was discharged September 1954. He was united in marriage to Hermanette "Hermie" Schiltz in Manilla, Iowa on July 12, 1955. They own and farmed a 240 acre farm 3 1/2 miles north of Manning and Hermie worked as an R.N. at the Manning Hospital until they semi-retired in Manning in November 1994. Bob continued to enjoy part-time farming with his son Steven as well as fishing. Hermie continued to work part-time as an R.N. Bob succumbed to a 1 1/2 year battle with cancer and died on April 15, 2000. Hermie continues to live in the home they built in Manning and works part-time with the activities director at the Manning Plaza. She stays active with many church and club activities as well as grandchildren's activities.
Bob and Hermie have four children: Karen Reinke, Robert, Jr., Steven, and Wanda Reischl.

Robert Tank 1967 VFW Commander

Bob in Korea

Robert was inducted into the Army on December 1, 1952 in Des Moines, Iowa. He enlisted at Camp Crowder, Missouri Reception Center. On February 7, 1953 he went to Camp Chaffee, Arkansas and trained there until May 2, 1953. He served with the Headquarter Battery 625th Field Artillery Battalion in Korea (Radio section).
Bob achieved Sergeant Grade E5 on August 25, 1954. He received the Korean Service Medal w/1 Bronze Star, Good Conduct Medal, United Nations Service Medal and the National Defense Service Medal.
Bob was discharged from the Army September 18, 1954 at Fort Carson, Colorado and entered Standby Reserve until he was discharged from that duty December 31, 1960 at Camp Chaffee, Arkansas.

Karen Tank MHS 1974

Robert Tank MHS 1976

Steven Tank MHS 1978

Wanda Tank MHS 1982

Steven Tank April 14, 2003 work on the Hausbarn log restaurant

Robert Tank, Jr. family

Wanda (Tank) Reischl family

1997 Tank farm northeast of Manning along the OCO.

Steven Tank family

Back: Bob Tank, Tom Handlos
Front: Hermie Tank, Lila Handlos
Bob was Tom's "Best Man" August 1987

Karen (Tank) Reinke wedding day

Back: Helen (Tank) Kerman, John Kerman, Robert Tank
Front: Regilda (Hoffmann) Fraser, Hermanette Tank
Relatives


Back: Cliff Tank, ??, Robert Tank, Helen (Tank) Kerman, John Kerman
Front: Hilda Karsten, Lolida Wegner, Hermanette Tank, Helena Tank
July 1984 on the lawn of Lolida Wegner 622 Center Street
Hilda & Lolida's mother was Caroline Tank sister to Louie Tank
Lolida is Robert Wegner's mother
Hilda is Casey Karsten's mother

Click on the links below to see events I captured that occurred 10 and 20 years ago from 2019.

I also have some random surprise pictures and history that go along with some of the 1999 & 2009 pictures, so make sure you click on all of the links - you might be surprised at who/what you'll see!!!

Let me know what you think about my web pages by posting a message on my guestbook...
Click to see what was going on in 2009!
---
A community that is "all work and no play" won't survive - we have lots of citizens who love to tease others and also take as good as they give - you will see some examples of the good-natured people of Manning if you follow this link just below!

20 years ago in Manning


1999 Manning, Iowa
---
You seldom see me in front of the camera like this picture from 20 years ago.
Hausbarn 20th Anniversary


1999 Hausbarn

Darcy Ann Dammann
A Service of Remembrance will be held on Monday, December 16, 2019, at 4:00 PM at the Manilla Memorial Hall on Main Street in Manilla. A Celebration of Life will follow the service. Burial at a later date in Nishnabotna Cemetery, Manilla.
Darcy Ann was born May 9, 1964, to Ron and Gloria Lohrmann. After a brief time as the only child, brother Rick joined the family in 1965. Darcy attended the Manilla Community School and brother Mike joined the family just before Darcy graduated high school in 1982.
It was the day of high school graduation that the next chapter of her life began. Darwin Dammann proposed to her, and she was elated. As a young married couple, they moved to the Lohrmann family farm. Darwin was a farmer, and Darcy kept the books. Darcy also worked as a Nurse's Aide at the Manilla Manor, where Grandma Rose Rutherford resided. She was loved by all residents there, and she thoroughly enjoyed her work. In 1990, two became three, and the Dammann family welcomed baby Nick. It was during her maternity leave that the Manilla Manor fully realized how much she contributed - she was awarded employee of the month upon her return. Son Jon was born in 1997 and the family was complete. Throughout the rest of Darcy's life, her boys were the apple of her eye.
Darcy was a gift to this world. She was big-hearted, thoughtful, and always giving - with no expectation of something in return. You couldn't leave her house without a gift in hand. She was very independent and lived life the way she wanted. She was brutally honest at times, but that just made her compliments (which were plentiful) all the more meaningful. She enjoyed arts, crafts, drawing, painting, and anything creative. Her letters were always the best thing to receive - a sweet note, just to let you know she was thinking about you. Darcy had the kindest soul this world could know, and now she is at rest and her soul is at peace.
Darcy died Thursday, December 5, 2019, at her home in Manning. She was 55 years of age.
Darcy is survived by her sons Nicholis (Brittany) Dammann of Denison and Jonathan Dammann of Denison; parents Ronald and Gloria Lohrmann of Manilla; brothers Richard (Shari) Lohrmann of Manilla and Michael (Allison) Lohrmann of Omaha; and many other family members and friends.
Memorial Service Monday, December 16, 2019 4:00 PM Manilla Memorial Hall.
---
Sometimes it takes me a while to make connections but I think I now have Darcy's ancestral background figured out.
I'm fairly sure the picture below is of Nick Dammann.
If anyone sees any errors, please let me know right away.
Here is the family tree.
1 John Ehrichs - Catherine (Ehrichs) Eggers - siblings
2 Louie Ehrichs - Anna (Eggers) Brus
3 Dorothy (Ehrichs) Kusel - Edna (Brus) Lohrmann
4 David Kusel - Ron Lohrmann - 3rd cousins
5 3rd cousin, once removed to David - Darcy (Lohrmann) Dammann

Note for historical connections:


Nick Dammann - IKM-Manning 2009


Ancestral background: Edna, daughter of Henry and Anna (Eggers) Brus, was born October 15, 1912, near Aspinwall, Iowa. She graduated from Manilla High School in 1930.
On August 2, 1933, Edna was united in marriage with William Bernhardt Lohrmann at Denison. Edna is survived by her three children: Robert Lohrmann of Manilla; Sylvia and husband Dick Saunders of Manilla; and Ron and wife Gloria of Denison.

Mrs. Catharine Anna Eggers (nee Ehrichs) was born in Germany January 21, 1840. She was married to Hans Eggers in 1861 and to this union ten children were born of which three children are living, namely: Emil of Huron, South Dakota, Emma, wife of George Bruhn of Hayes Township; Anna, wife of Henry Brus of Nishnabotna Township.

Father of Nick & Jon: Darwin Dammann graduated from MHS in 1979
Darwin is son of Walt & Malinda (Otto) Dammann

Henry & Anna (Eggers) Brus children


Back: Edward, Jack, Henry
Front: Carl,

Edna

, Hugo

Hans & Catharine (Ehrichs) Eggers and son

Christmas past


Click to see the past

Be sure to listen to the ---
12 Days of Christmas
The Manning Version
1 Marketplace Latte
2 - bricks on Main Street
3 - Warner Daughters
4 - PCE pumps
5 - Zubrod jokes
6 - truckers stopping at BP Express using the bathroom & not spending a dime
7 - Podey Back Crackers
8 - German Hausbarns
9 - Years Probation
10 - Cliffs tenderloins
11 - Cobblestone motels
12 - Trestle Bridges

Veterans Day Assembly
IKM-Manning gymnasium
November 8, 2019

Click to see the program

What do you think of when Manning comes up in a conversation?
I have 2 words - Volunteerism & Talent!
If you take the time to follow the links above & below, I believe you might agree with me...
SOUNDS OF CHRISTMAS
Manning Heritage Park
December 1, 2019


Click to see & hear the Sounds of Christmas

After working different days over several weeks - probably 60 total hours of editing 500+ pictures and the corresponding audio, I finally can feature the school musical.




Oh, Horrors!
It's Murder!
IKM-Manning auditorium
November 10, 2019


Click to see & hear the musical

For Rent
Looking for a shop to do farm or vehicle repairs and more?


Call or e-mail (by appointment only)
Quonset (40x80) fully insulated with both waste oil and supplemental natural gas heaters...all new wiring and lighting installed in 2012.
All concrete floors, with movable over-head hoist, including various shop equipment like chop saw, grinder, drill press, press, and more...
All new covering on outside - top and ends in 2019.
Fully graveled & maintained lane and yard. We have a rear mount tractor snow blower (loader) we use to keep lane/yard free of snow in winter.
Owners live on premises - with security lights.

2012 complete rennovation

waste oil burner, hoist, press

2019 complete new covering.

Call 712-653-3259 or e-mail - farming@davidkusel.com
Also, some possible space to store equipment for the renter.

This would be a shared situation...we still want to use the shop for occasional repairs we will have year-round and also store the loader/tractor/snowblower in the winter.

Weihnachtsfest 2019
Click to see Santa

Abraham Lincoln: "Philosophy Of Classroom In One Generation Will Be Philosophy Of Government In The Next."

An instructor at UC Berkeley argued that "rural Americans" are "bad people" who have made "bad life decisions" in a tweet that he has since deleted.
UC Berkeley instructor Jackson Kernion said that "rural Americans" are "bad people" in a recent tweet. Kernion, a graduate student studying philosophy, has taught ten courses at UC Berkeley over the past few years. The tweet, which was highlighted this week by Campus Reform, was deleted after it sparked criticism from other Twitter users.
"I unironically embrace the bashing of rural Americans. they, as a group, are bad people who have made bad life decisions. Some, I assume, are good people," Kernion wrote in the deleted tweet. But this nostalgia for some imagined pastoral way of life is stupid and we should shame people who aren't pro-city."
"It should be uncomfortable to live in rural America. It should be uncomfortable to not move," Kernion wrote in a follow-up tweet.



"If you have never used a pitchfork, then you have no idea how easy your lifestyle is."
Dave Kusel
The only time I ever unloaded manure this way was when the spreader broke down, but I have filled a manure spreader using a pitchfork many times when I was much younger - so I do have a little perspective of what it was like for my parents, grandparents, and on back generations and how they physically worked hard every day.

Other analogies:
If you have never used a pickaxe - as in the mining business
If you have never used an axe - as in the timber industry
If you have never used a washboard and wood-fired cook stove - as in mother/housewife
If you have never used a meat cleaver - as in a butcher
ETC.

When I was growing up and attending school, I remember several teachers telling us that there is much more to the world than our rural surroundings and that we need to get out into the world to see how much more there is...they knew that many of us would follow in the footsteps of our parents/grandparents and continue living/working in our rural surroundings and never realize there is more in life that is out there.
It is painfully obvious from statements made above that the "city" kids weren't being told by their teachers that there is much more to the world than just their city surroundings.

Manning Hillside Splash


Click for a printable flier

In January of 2018, I created this historical perspective linked below about recreation in Manning and also information and graphics for the current proposed project for the Rec Center.
It shows how projects don't get done overnight and also how very important volunteers and donations are to every project.
Update on the Hillside Splash project
On May 15, 2018, the city council approved $400,000 in matching funds for the proposed Hillside Splash project. JEO Consulting has been working on design ideas and a proposal to complete this project in 3 phases.
Phase 1 will begin in 2019-20 with construction beginning in 2020-21, or as soon as funds are raised.
A zero-depth pool with some play features are planned in phase 1, with the slide aspects in phase 2, and a spray pad for phase 3.
Click on the link below to see some very interesting history on how Manning achieves so many amazing things and is now working on another unique project.
Manning Hillside Splash 2019 update

Oh the Fun of playing in the Sun (1968)


1909 cartoon about 2 boys nabbing their friends' clothes while "skinny dippin.'"

Please visit the Manning Exchange for local news, articles, and information...a work in progress.

Many upcoming events.

Korean War Veterans continues


There are lots of Manning Veterans of the Korean era with no pictures or information.
Will you be in the Manning Veterans' book???
Unless more post-WWII Veterans come forward there will be a lot of 1946 to present day Manning connected Veterans missing from the book.

For those of you who are occasional visitors to the Manning Exchange - please make sure to click on the "archived articles" section where previous featured stories are kept.

Click to visit the Manning Exchange

1 example from the Logeland Studio wedding packets.

There are still quite a few Logeland Studio wedding packets available.

Click to read about this important project.
It will help to financially support the Manning Veterans' history book project.

What makes up a community?
Just ONE person
who is a son or daughter
who is a brother or sister
who has a school chum
who is related to someone in that town
whose friend has a friend in that town
whose friend is related to someone else in town
who may have moved away but still thinks of the place they grew up as home
We would like to hear from you, the "1983 Leaders of Tomorrow" who have relatives and chums in your hometown of Manning, Iowa.
In their own words
Attention "1983 Leaders of Tomorrow"


Who is the sister of the meteorologist linked below?
Click to see the answer in her own words

Who grew up on a farm south of Manning, has chased tornados, and is now a meteorologist for the National Weather Service?
Click to see the answer in his own words

I have been receiving questions from various "1983 kids" about what type of information we would like them to write about.
Please read through the meteorologist's story to get ideas for you own personal write-up.
Then send me an e-mail so we can work out your story.

Note: Your story does not have to be as thorough as found at the link above but at least send us a couple paragraphs to bring us up to date from 1983. Here is the DIRECT link to the 1983 web page.

Parents of the "1983" kids - please encourage your children to send in their updated information and any pix they may want to include.
Sometimes a little nudge by mom or dad will get the ball rolling!
Each 1983 "Leader of Tomorrow" has interesting family history.
Here are the names of the "1983 kids" who we are looking for an update from...
Aaron & Courtney Potthoff, Adam Croghan, Andrew & Amanda & Brandon Puck, Alex & Abbey Ranniger, Allison & Megan Keese, Angela & Heather & Michele Hass, Angie & Alan Irlbeck, Bradley Christensen, Bryan & Nathan Rohe, Chelsea Souter, Christin Ann Fara, Christopher Wegner, Cole & Ty Henderson, Dale & Vanessa & Derek Hargens, Daniel Wayne Tibben, Daniel & Janelle Stribe, Dawn & Derrick Rohe, Dawn & Michelle Willenborg, Elizabeth & Jamy Zinke, Ericka & Andrea Ehlers, Gary & Beth & Tim Ferneding, Heather & Jessica & Jimmy Switzer, Jackelyn McKeighan, Jamie Jo Irlbeck, Jeffrey & Joey & Jeremy Irlbeck, Jeffry & Kelli & Jason Lorenzen, Jeremia Rex Macumber, Jennifer & Jason & Renee Knueven, Jennifer & Jeremy Misselhorn, Jeremy Puck, Jessica Rasmussen, Jill Kienast, Joe Stein, Joseph & Mackenzie Hinners, Kasie & Andrea & Amy Lorenzen, Kenzie Kae Kerkhoff, Lauren & Shad Bauer, Marte Wanninger, Matthew & Mandi Weitl, Melissa & Angie Pfannkuch, Michael & Amy & Jeremy Kasperbauer, Michael & Michaela Hargens, Melissa & Michaela Vinke, Michael & Matthew Siepker, Michaela & Crystal Ehlers, Natasha Vonnahme, Ryan & Rachel Pfannkuch, Sabrina Lee, Sarah Kaszinski, Sheri & Trena Bell, Tara Zeman, Stephen & Ryan & Darren Andersen, Tonya Jo Wurr, Tiffany & Michelle Jahn, Tim & Matt Hugeback, Brian & Katie & Steph Beck, Troy & Robin Wanninger
If you send me some information about yourself, I may also be able to find some pictures of your parents, grandparents, family members that I have in my database (as shown above).
We can use them in your story along with your "1983" picture.
We'd like to hear from you !!!
What ever became of the
1983 "Leaders of Tomorrow"
Have some of your "Dreams" come true?

"Let it be known that he who wears the military order of the purple heart has given of his blood in the defense of his homeland and shall forever be revered by his fellow countrymen."
George Washington, August 7, 1782
Just as a reminder: the Manning History book committee continues to work on a Manning area Veterans' history book project.
For those of you who are Veterans or have/had Veterans in your family - will you come forward?
The history book committee will do their best to get as many pictures and information about the 1000+ Manning Veterans but we can't do it all by ourselves.
How many small communities do you know have published 5 history books? The first one was the History of Manning 1898, then the 1981 Manning Centennial book, next the 2006 Manning Quasqui book, and most recently the 2009 Manning School history book. Probably the last book to be published will be the upcoming Manning Veterans' book - unless someone comes forward in the next generation to take over these projects after I'm gone. Will you help with the Veterans' history book project? If you are a Manning connected Veteran or are presently serving and do not submit your military connected pictures and infomation you probably won't be in this once-in-a-life-time Manning Veterans' history book. With a limited number of volunteers we can only do so much on our own but will try to get pictures of as many Veterans as we can. There are over 1000 Manning Veterans so we have a long ways to go before the book can be published.
Manning Veterans are slowly coming forward and below is another example. We hope to eventually get more pictures and information for Mike to put in the book but for now this is what I have to show to you.
Amos Rutz WWII
One thing that many Veterans and people who are submitting information have not fully understood is that this next Manning history book is specifically a Veterans' only book. It won't be like the Centennial or Quasqui history books were, where there is a Veterans' section along with other community aspects. We are aiming for a 2-volume book (around 1090 total pages) which will really be unique!!!
This book will be ALL Veterans' information (and the post auxiliaries) - hence it won't be a "Name, Rank, and Serial Number" only history but we want a complete history for each Veteran.
For instance - below is Louis Boell's picture and the information that was published in the Veteran section of the 1982 Aspinwall Centennial history book. It has the basic information but we are looking for more and I spoke to Louie by phone and he sent more pictures and information - also for his brothers.

To see what Louis submitted click on the link underneath "Are you a Manning Veteran" shown below.

Note: we also want some family background such as parents and grandparents. All too often you will only see just the Veteran's name with their basic military information but without the family connections it will be difficult for future historians and genealogists to know for sure who this person belongs to.

Are you a Manning connected Veteran?

I would like to hear from you!!!
We are starting a Manning Veteran history book project and if you don't come forward you may not be included in the book. NOT because we want to intentionally leave you out but because you didn't come forward.
Same goes for those of you who have Veterans in your family who have passed away. If you don't come forward and help by submitting Veteran connected pictures and information your Veteran may not be included in this once in a life-time Manning Veterans' history book.

Please e-mail me about your Veteran questions manningveterans@davidkusel.com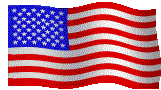 The United States flag
is proudly displayed here and NO other flag is as IMPORTANT!
1 Manning citizen served in the War of 1812
48 served in the Civil War
1 served in the Indian War
3 served in the Spanish American War
300+ served during WWI
550+ served during WWII
87+ served in the Korean war era
65+ (more names need to be found) served in the Vietnam era
55+ (many more names need to be found) served from 1975 to present
26 paid the ultimate price with their lives defending the U.S. Flag
Are you a Manning Veteran?
Are you currently serving and have a Manning connection?
We are starting the Manning Veterans' history book project
Don't wait until you see "Deadline" or it WILL be too late!!!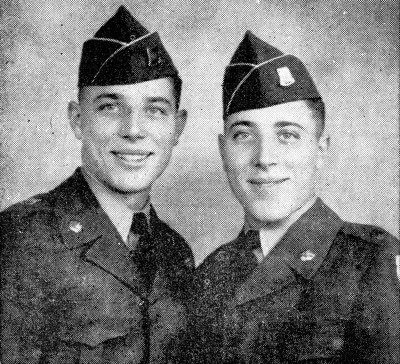 Click to read promos for the Veteran book


There are a lot of WWI and some WWII Veterans pictures with no IDs.

Before you spend time scanning pictures
please look at these instructions


I appreciate your efforts scanning pictures for me but if you only make low resolution scans you are really wasting your time. High resolution scans are the best and only way to really preserve those old pictures.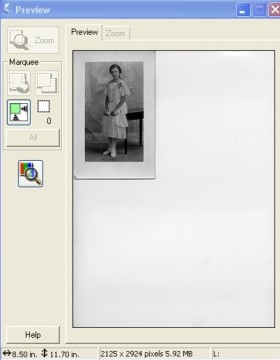 Click to see the tutorial
If you simply don't want those old family pictures you inherited please don't throw them - send them my way.
A lot of times I can recognize a face or location in those old pix.
---
One thing to keep in mind while you are looking for pictures - if they are glued in old scrap books please do NOT try to pull them out or cut them out. I can scan the whole page of the scrapbook and crop out the pictures you want to use in the book. If you attempt to forcibly remove the pictures you will probably damage them and when I scan them that damage will probably show up. This means I'll either have to use my graphics program to touch up the damage which can take a lot of time, or if they are badly damaged I just may not even take the time to scan them.