Continued from page 86
ELLA AND HARRY SCHADE
Harry Peter Schade, son of Mr. and Mrs. Henry Schade of Manilla, and Ella Barbara Schade, daughter of Fritz Henry and Wilhelmina (Duwe) Fischer of Manning, were united in marriage on January 24, 1917. They made their home in Aspinwall until 1918 when they moved to a farm south of Manning. Their daughter Luella was born there in 1920. The family moved into Manning in 1929. Harry worked for the Manning Creamery Company until 1940 when he suffered a stroke that left him partially paralyzed. Harry died on December 13, 1961, at the age of 79. Ella worked for Hansen-Pahde for a time and was then employed at Manning General Hospital for 20 years. She made her home in Manning with her granddaughter Barb and her family until her death on March 8, 1990, at the age of 94.
Luella graduated from Manning High School in 1939. After graduation, she worked at the Glen L. Martin plant in Omaha, Nebraska, where she met her husband, Merle Knight, of Seattle, Washington. In 1948 they moved from Manning to Council Bluffs, Iowa, where they lived until 1966 when they moved to Edmonds, Washington. Merle retired from Safeway Stores in 1985. They presently reside in Corona, California.
Merle and Luella are the parents of three daughters: Barbara, Dorothy and Cathy. Barbara is married to Larry Handlos, son of Albert and Loretta Handlos, and they live in Manning. Larry is co-owner and general manager of Manning Motor Company. They have three daughters, Patricia, Jackie, and Joelle. Patricia is married to Skip Tanner of Sheldon, Iowa. She is Assistant Director of Nursing at Pleasant Acres Care Center in Hull, Iowa, and he is owner-manager of Tanner's Clothing in Sheldon. They have one son, Nicholas, age 3. Jackie is married to Mark Werner and they live in Carroll. She is office manager for the Van Meter Company in Carroll and Mark works for Rolscreen in Carroll. Joelle is a sophomore at Drake University in Des Moines.
Dorothy is married to Dean Smith and they live in Olympia, Washington. Dorothy is employed by the state of Washington and Dean is a welder. They are the parents of three children, Richard, Randy, and Lisa. Richard died in a hit-and-run accident in August of 1982. Randy is in the Air Force Reserves and is presently stationed in El Paso, Texas. Lisa is a sophomore in high school.
Cathy is married to Scott Davis and they live in Corona, California. Scott is Specialized Electrical Inspector for the city of Santa Ana, California.
HELENA AND HANNAS SCHMIDT
Hannas Schmidt was born December 17, 1874, in Holstein, Germany. He came to America and settled in the Manning area. In 1899 he married Helena Wiese, who had been born in Island of Alsen, Denmark, in 1874. She, too, had come to America with her family and settled in the Manning area. Hannas and Helena (Lena) farmed here and had six children. They were: Henry, Hannas, who died at the age of twenty-one, Rosa, Helen, Chris, and Emil. For a short time they farmed in South Dakota, but returned to a Manning farm and later he worked at the Dultmeier Manufacturing Company before retiring.
Henry married Mamie Opperman and they had three children: Harold, Glen, and Ruth. Rosa married Albert Puck and they had six children: Viola, Alice, Donald, Lewis, Delores, and Shirley. Helen married Edwin Grimm. Their children are: Virgene, Robert, Janette, and Sylvia. Chris remained single. Emil married Ida Vetter and their children are: Darlene, Larry and Roger.
MAMIE AND HENRY SCHMIDT
Henry Schmidt, born in 1899, to Hannas and Helena Wiese Schmidt, married Mamie Opperman, born in 1902, to William and Maggie Karstens Opperman. They lived in the Manning area when Henry first worked at the Dultmeier Manufacturing Company and then began farming. At the age of thirty-four, Henry died, leaving his wife and three small children, Harold, Glen, and Ruth. Mamie and her children moved back with Mamie's parents and her single brother, Rudolph. Mamie passed away in 1952.
Harold married Gladys Sawtell, and they have four children. They are Richard, Bonnie, Michael, and Robert. Harold and Gladys have farmed and lived on the William Opperman farm since their marriage. They also have income tax offices in Carroll and Audubon.Richard married Carol Cantrell and lives in Manning.
Continued from page 87
Bonnie is a teacher and music therapist in Oklahoma City. Michael married Barbara Moose, and they farm in the Denison area.
They have a son, Dayman. Robert married Sharon Seering and they have two daughters, Shala Seering, and Kali Seering, and live in the Manning area.
Glen Schmidt married Beverly Brooks. Their children are Cindy, Peggy, Steven, Amy, and Tom. Glen is a college professor, first at Cornell University and later at Ohio University.
DARLENE AND ELROY SCHRUM (update)
Elroy Schrum died on July 31, 1982.
On March 28, 1988, Darlene married Hal Cadwell from Manilla, Iowa. They reside at 310 First Street, Manning, Iowa 51455.
EDNA AND LEROY SCHUMANN
LeRoy Schumann, son of John and Emelie Ewoldt Schumann, was born at Westside September 11, 1900. He attended schools near his home and later farmed with his father. After his father's death, he and his brother, Louis, operated the 250 acres in partnership.
On October 12, 1927, he was united in marriage to Edna Plahn, daughter of August and Marie Ehlers Plahn.
Besides farming, Lee drove a school bus for the Westside Consolidated and Ar-We-Va Community Schools for over 26 years. In 1960 a surprise party was held in the Ar-We-Va gymnasium honoring Mr. Schumann and presenting him with a watch. It was noted that during this time, Lee had no accidents and had never been too sick to make his route. The first child Mr. Schumann remembers who rode with him from kindergarten to 12th grade graduation was Helen Lussman, now Mrs. Emil Grundmeier of Arcadia. Another student with the same records was his niece, Nancy Schumann Hanks.
Lee's wife, Edna, was a member of the Farm
Bureau Club which she helped to organize. The group included ladies in Hayes Township whose main purpose was to do volunteer work during World War II and to receive first aid instruction under the guidance of the Red Cross. Mrs. Schumann was also noted for her fine handwork.
The couple moved to Manning October 1, 1969. Lee worked in maintenance for the Manning General Hospital and Plaza from January 1970 for 12 years.
They reside at their home at 1017 Spruce Drive which they built upon retiring in Manning.
MARLENE AND RAY SIEPKER
Ray Siepker, son of William and Anna (Mattes) Siepker of Carroll, and Marlene Renze, daughter of Fred and Frances (Scheiffer) Renze, were married September 26, 1953, at St. Peter & Paul's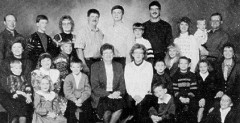 Standing: Tim Kienast, Michael, Connie and Jeff Siepker, Mark and Andrew Siepker, Steve and Julie Fogleman, Ryan and Randy Halbur. Front: Joni and Jason Kienast, Jill and Jessica Kienast, Matthew and Nicholas Siepker, Marlene Siepker, Becky, Jeffrey and Bret Siepker, Stephanie and Brian Fogleman; Nicole, Renee and Nathan Halbur.
Church in Carroll, Iowa. They farmed near Carroll until 1962, then moved to a farm east of Manning. They had five children: Mark, 1954; Jeff, 1956; Joni, 1959; Renee, 1961; and Julie, 1964. All of the children graduated from Manning High School. Ray was a farmer and employed by benison Hide Plant for many years. Marlene worked at L.R. Nelson, the St. Anthony's Regional Hospital in Carroll as a nurse's aide, and is presently a cook at the Manning Community School, which she enjoys very much. Ray passed away in 1988. In 1992 Marlene built her home at 427 10th Street in South Manning.
Mark graduated from University of Nebraska at Omaha in 1979 with a Degree in Business Administration. He married Becky Bumann of Schleswig in 1979, and is an Accounting Director for First Data Corporation in Omaha, Nebraska. Becky received a Secretarial Degree from CE School of Business and is a secretary at Streck Laboratories in Omaha. They have three sons: Andrew, 1981; Jeffrey, 1982; and Bret, 1986.
Jeff married Connie Wegner in 1978 and is employed by Ag Processing, Inc. Connie is employed by the Manning Monitor. They reside in Manning and have three sons: Michael, 1979; Matthew, 1980; and Nicholas, 1986.
Joni married Tim Kienast in 1979. She received a Secretarial/Receptionist degree from American Insititue of Business in 1978, and is a secretary at the Bunz Law Firm. Tim farms south of Manning. They have three children: Jill, 1982; Jessica, 1987; and Jason, 1990.
Renee married Randy Halbur of Halbur in 1980. Renee works in the Magistrate's Office at the Crawford County Courthouse and Randy farms north of Aspinwall. They have three children: Nathan, 1983; Nicole, 1985; and Ryan, 1990.
Julie married Steve Fogleman in 1983. Julie received a Secretarial Diploma from Des Moines
Continued from page 88
Area Community College in 1983, and is employed by Hiethoff Associates. Steve received a Residential and Farm Wiring Diploma from NITC in 1983, and is an electrician employed by McClellan Electric in Denison. They have two children: Stephanie, 1983; and Brian, 1986, and live in Manning.
VIOLA AND LAWRENCE SPIEKER


Viola and Lawrence Spieker
Lawrence, son of Anton and Regina Spieker, was born July 17, 1909. His wife, Viola, daughter of William and Ersa Steininger was born February 4, 1911, in Woonsocket, South Dakota. They were married January 19, 1932, in Carroll, Iowa. They and their oldest son, Duane, moved to Templeton in August 1933, where Lawrence started working for Charles Dozier. He started farming on a farm adjacent to the church property in 1942.
Eleven more children were born while Lawrence and Viola lived in this area.
Duane and his wife have seven children and live in Shawnee, Kansas. Norma (Petersen) and her husband have three children and live on a farm near Audubon. Rose Mary (Vollstedt) and her husband, Roger (Blackberry), have six sons and live in Manning. Jerome and his wife, Sue, have two sons and live in Norwalk, Iowa. Marilyn (Poppy and her husband, Richard, live in Roanoke, Virginia, and have three children. Carol (Kral) and her husband live on a farm near Vail, Iowa, and have four children. Larry and his wife, Becky, life in Moorhead, Minnesota, and have one son. Paul and his wife, Barbara, live in Denver, Colorado, and have two children. Karen (Wegner) and her husband have three daughters and live in Warrens, Missouri. Lavern (Butch) and his wife, Jacqueline, have two sons and live in Port Angeles, Washington. Donna (Mohr) and her husband, Larry, have three sons and live in Mesa Arizona. Randy and his wife, Melinda, have one daughter and live in Tualatin, Oregon.
Lawrence and Viola and family lived in the Templeton area until 1956 when they moved to a farm south of Manning. They farmed until 1975. Then they moved into Manning to 329 West Street. Viola still lives there. Lawrence died on November 19, 1983.
JEAN AND TODD STADTLANDER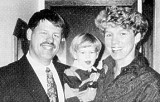 Todd and Jean Stadtlander, daughter, Kara.
Todd Stadtlander was born in Belmond, Iowa, on January 26, 1961. He is the son of Tom and Karen Stadtlander of Belmond, Iowa. Todd has one sister, Julie (Mrs. Jim Stahl) of Clare, Iowa. Todd is a graduate of Central College and at the present time, he teaches and coaches at the IKM Schools.
Todd's wife Jean was born in Carroll, Iowa, on November 28, 1963. She is the daughter of Allan and Theda Wiese and she has two brothers, Roger and Ronnie. Jean is a graduate of Manning High School and Faust Cosmetology Institute. She presently owns and operates The Upper Cut, located at 315 Main Street, Manning, Iowa.
Todd Stadtlander and Jean Wiese were united in marriage June 6, 1987, in the First Presbyterian Church in Manning. They have lived in Manning since their marriage and purchased their home at 810 Nishnabotna Drive in April, 1988. To this union a daughter, Kara Jean Marie, was born July 13, 1990, in Manning.
IOLA MAE AND CLARENCE STAMMER
Clarence and Iola Mae (Taylor) Stammer were the third generation to farm north of Aspinwall on the C.F. Stammer Century Farm. The couple was married August 23, 1939, in Manning. They lived and farmed with his parents, C. Fred and Emma (Dockweiler), for a year before the elder
Stammers retired and moved into Manning. Clarence and Iola continued to live on the farm until 1977, when they moved to an acreage west of Manning.
Clarence was born February 4, 1913, and graduated from Manning High School in 1931. He
Continued from page 89
was active in politics, and served as an Iowa Township trustee, Township ASC Committeeman, and was a Crawford County Supervisor from 1963 to 1972. He was a charter member of the Crawford County Fair Board and retired in 1978 after serving 31 years.
Iola, daughter of Rudolph and Minnie Westphalen Taylor, was born May 16, 1920. She was a homemaker and was active in community activities, was a charter member of the Happy Hour Club, and worked part-time at the Manning Monitor from 1969 until 1983.
They had two sons, Clifford, born March 20, 1941, and Calvin, born December 2, 1946.
Clifford and his wife Nancy Dobson have lived on a farm north of the family farm since 1970. Their daughter Crystal graduated from Drake University in 1991 and is currently doing graduate study at the University of Iowa. Their sons are attending Mankato .State University at Mankato, Minnesota. Craig and Cory are seniors, and Scott is a freshman.
Calvin, his wife Nancy Stoberl, and sons Clinton and Chad have lived at the home place since 1977. Calvin farms and is a substitute rural mail carrier, and Nancy has taught Chapter I Reading and Talented and Gifted classes at Lake ViewAuburn since 1988.
Iola died December 17, 1983, at the age of 63, and Clarence died October 1, 1987, at the age of 74.
Also passing away during the past 10 years were Iola's only brother, William Rae Jensen, July 4, 1982; her step-father, William John Frederich Jensen, March 31, 1983; her mother, Minnie (Westphalen) Taylor Jensen, March 25, 1985; and Clarence's only sister Goldie (Stammer) Meeves, April 2, 1990.
AUGUSTA AND WILLIAM ADAM STANG
William Adam Stang was born in Oakland, Maryland, in 1852. He came to Benton County, Iowa, in 1866. On February 19, 1879, he married Augusta Maria Nieland. She was born in 1859 in Clayton County, Iowa. The couple moved to a farm southwest of Halbur, Iowa, where they farmed and made a home for ten children.
They retired to Manning in 1919, purchasing the property north of the Methodist Church, now the new Methodist Church. Adam enjoyed his retirement only a short time. He died only a year later in 1920.
Augusta continued to live in the home with some of her children until her death in 1929.
Mary Stang, Mrs. Adolph Sander, farmed around Halbur, Manning, and Irwin. When her husband died, she assisted Dr. Smith and several other earlier physicians here in Manning. They were the parents of three, children: Florence, Mrs. Fred Jensen; Laura, Mrs. Ted Groteluschen, who lives in Audubon, and Marvin, deceased.
William married and farmed around Gilmore City, Iowa. They were the parents of four children: Earl, Virgil, Dorothy, Mrs. Jim Fertig, who lives in Humboldt, Iowa, and Florence, Mrs. Darwin Joliffe, who lives in Dayton, Iowa.
Carrie helped her mother with housework and when her mother died, she continued to live with a sister and also helped other sisters when she was needed. Later she made her home with her sister Margaret until her death.
A son Charles was a victim of the flu when he was three years old.
Lillian, Mrs. George Barr, with her husband, farmed in the Dakotas and later settled at Black Duck, Minnesota.
Ella, Mrs. John Schroeder, farmed east of Wall Lake, Iowa. Their only daughter, Vietta, Mrs. Charles Reglein, now lives on the farm.
Margaret taught country school, married Emil Kuhn, farmed west of Manning. They had one daughter. Rozora, Mrs. LaVerne Schroeder, who lives in Manning.
Lydia, Mrs. Joe Raney, along with her husband, farmed south of Templeton and later moved to Exeter, California.
Arthur gave his life for his country in 1918.
Florence, Mrs. Claude Farrant, taught country school and later clerked at Hansen-Pahde store in the ready-to-wear department. She later moved to Kansas City where she was married.
The family is deceased except for five living grandchildren and their offspring: Laura Groteluschen, Vietta Reglein, Dorothy Fertig, Florence Joliffe, and Rozora Schroeder.
MARY AND ARVED STANGL
Arved Stangl was born in Roselle, Iowa, to Alver and Rose (Burl) Stangl. After his mother's death when he was five years old, he was reared by his paternal grandparents in Manitoba, Canada. He returned to Iowa and joined the army during World War II, serving in the Philippine Islands as a medical aide. He came to Manning in 1946 and under the G.I. bill became a mechanic at Manning Motors, where he is still employed.
Arved and Mary (McGrath) Stangl were married in October, 1948. Six children were born to this union: Catherine Marie (Eilderts), who is a teacher. They have one daughter Ashley, four years old, who lives in Alton, Iowa; Michael Arved, married to Kim Jeske, have two daughters, Stephanie and Samantha. They operate a motel in Harlan, Iowa. Theresa Louise (Walker) works and lives in Ontario, Canada, and works as a computer surveyer for the city of Toronto. Her children are: Elizabeth, eight; Katie, five; and William, two. John Patrick was killed in a construction accident in 1979 at the age of twentyone; Thomas Dan, married To Diane Sieger, lives in Hornick, Iowa, and is editor and publisher of three weekly newspapers. They have three children, Lindsey, nine, Madison, three, and Nicole, one. David Christopher is unmarried and working in Ames, Iowa.
Continued from page 90
HILDA AND ALVIE STEFFES
Mr. and Mrs. Steffes moved to Manning in December 1955. Mr. Steffes became manager of the Manning Rendering Works which was previously owned and operated by L.J. (Si) Nickum. Mr. Steffes was raised in Dedham, Iowa and Mrs. Steffes was raised near Glidden, Iowa.
There were five Steffes children:
Mary was born May 23, 1941, in Carroll. She currently lives near Breda and is married to Harry Shanks. She has two children, David Irlbeck of Suger Grove, Illinois, and Sarah, who lives with her father, Jerome Irlbeck, near Westside. David and his wife Deb have two daughters, Alicia and Nicole. Mary graduated from Manning High in 1959.
LuVerne W. (Luke) was born July 2, 1943. He graduated from Kuemper in 1961 and attended college in Elkhorn, Nebraska,", and Conception, Missouri. He received a B.A. degree in Philosophy in May 1966. After theologate studies at Conception, Missouri, and Denver, Colorado, he joined the child care staff at Boys Town, Nebraska and lived in the Omaha area until 1977. Except for a brief return to Omaha in 1978-79, he worked in group homes for delinquent youth in
Burlington and Ottumwa, Iowa. He moved back to the Manning area in June 1992 and that fall enrolled in theology courses at Hales Corners, Wisconsin, to prepare for the priesthood. His home at 103 Center is a place to live when school is not in session.
Francis was born January 7, 1945. He graduated from Carroll High School in 1963. He served in the U.S. Navy from 1965 to 1969. Upon returning to Iowa, he joined a finance company in Fort Dodge and was manager of offices in Indianola, Iowa; Atlantic, Iowa; Council Bluffs, Iowa; Omaha, Nebraska; Bismark, North Dakota, and Grand Island, Nebraska. After leaving this company he was employed for farm machinery corporation and travelled several states visiting dealers. He married Linda Provost of Lytton on July 9, 1968. Their daughter, Pam, is married to Doug Miller. All reside in Grand Island.
Georgia was born August 15, 1948, in Carroll. She graduated from Carroll High in 1966. She attended nurse aide classes at St. Anthony's in Carroll. In 1972 she moved to Des Moines and shortly thereafter was employed at Methodist Hospital. Over the years she worked at that facility in the pediatric wing as an LPN and later worked as a ward clerk on the Powell 111 Drug and Alcohol Unit. Georgic died on October 4, 1990, from the results of a blood clot after cancer surgery. She is buried in Glidden. A portrait of Georgia will be hung in the pediatric unit of Methodist Hospital. It will be unveiled in 1992-93.
Barbara was born on October 29, 1949. She graduated from Carroll High in 1968. She moved to Des Moines in 1971 and married Tom McMains that same year. Tom died in 1975. Her daughter Jodi is married to Barry Dickey and they have two daughters, Laci and Tristan. Barb has worked for some years in a retail store in Des Moines. She lives in Altoona.
Hilda Pursifull Steffes married Alvie at Scranton on March 8, 1939. She died in Carroll on June 10, 1974, and is buried in Glidden.
Alvie H. Steffes was born in Oklahoma City on February 7, 1912. He was a laborer during his working years and became disabled in the early 1960's. On February 24, 1979, he married Velma Hunt, formerly of Des Moines and Manning. They lived in the Glidden-Lidderdale area. Velma died on April 1, 1982, and is buried in Manning next to her first husband, Wayne Hunt. Alvie died on July 21, 1984, in Manning. He is buried in Glidden.
Hilda was the daughter of Fred G. Pursifull and Ada Bush Pursifull. Alvie was the son of Matt Steffes and Josephine Wiskus Steffes.
The Alvie Steffes family moved from Manning in 1959, however, their roots seem to be in Carroll County.
HARIOT STERN
Harlot Stern, daughter of Clara and Oscar Stern, was born December 16, 1917, in Milwaukee, Wisconsin.
She has a brother, Nick, whose family lives in Naperville, Illinois. Her mother passed away in 1926, and her father in 1972.
Hariot lived in Chicago until the age of 21 and then moved to Geneva, Illinois. She came to Manning with her stepmother, Alva Stern, and became a resident of the Manning Plaza on July 15, 1968, and is the longest residing resident.
Harlot has visited relatives in Chicago, Florida, and Boston at various times. Her stepmother is now deceased.
She is an inspiration to the residents and employees of the Plaza through her fine contributions of poetry and articles for the Plaza monthly newsletter.
STRIBE CENTURY FARM(update)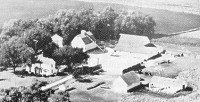 Shown above, a photo of the Stribe family century farm not shown in the 1981 Centennial book. The farm is the southeast quarter or 160 acres in Section 17, Washington Township.

Continued from page 91

The fifth generation of Stribes is now living on the Stribe farm, one mile east, three miles north, and three-fourth miles east of Manning. It was a Century Farm in 1984. Dean and Marjorie (Rowedder) Stribe made this their home from 1952-1990. The previous owners were George and Alvina (Ohrt) Stribe, Herbert and Regilda (Stoffers) Stribe.

Dean Stribe passed away November 1, 1990. Curtis and Caryl (Woebke) Stribe took over the farming operation. They were married November 27, 1976. They have three children: Kelsey, born November 10, 1981; Heather, born February 28, 1983; and Kyle, born October 5, 1985.

Another son of the Dean Stribes', Keith, and Mary .Jane (Rohe) Stribe, live in Carroll, Iowa. They were married May 28, 1977. Keith is a teacher and coach in the Carroll Community School. They have three children: Nolan, born February 22, 1979; Sara, born .February 27, 1980; and Landon, born January 7, 1982.

LOIS AND BOB STESSMAN

Bob Stessman, son of Joseph and Kathryn Stessman, was born December 31, 1959, at Dunlap, Iowa, where he graduated from high school in 1978. After high school he attended the Drake University College of Pharmacy. He graduated in December, 1982, with a Bachelors degree in Pharmacy and is a Registered Pharmacist.

On April 8, 1983, Bob was was married to Lois Crilly, also born in Dunlap, Iowa, February 24, 1962, the daughter of Wayne and Lucille Crilly. Lois graduated from the Dunlap High School in 1980 and went on to graduate from the American Institute of Business in 1982 with degrees in Retail Management, Business Administration and Junior Accounting.

Bob and Lois lived in Harlan, Iowa, where he worked for the Pamida Pharmacy. In the latter part of 1984 he started his own business of pharmacy relief work which took him to many places throughout the state besides working regularly in six other pharmacies. After three years of this type of work he took a position with the Medicap Pharmacy in LeMars, Iowa.

In September of 1988 the couple moved to Manning where they purchased the Crabb Pharmacy and Drug Store and now operate it as the Manning Pharmacy. They reside at 1010 Center Street.

They are the parents of four children, who are

Brian, born February 1, 1984; Andrew, born September 11, 1986; James, born June 20, 1989; and Katelyn, born August 8, 1991.

VIRGINIA AND NORBERT STOBERL (update)

Norbert and Virginia Stoberl


Tracy and Lori Helms.


Steven and Karla Putz, Amber and Justin Hoffman.
Norbert and Virginia continue to live on the home place, east and south of Manning, which they purchased in 1961. In 1974 they purchased the former Donald Kasperbauer farm, which ad
Continued from page 92
joins their farm, now owned by their son Randy, who purchased it in October 1986. In 1983 and 1988 they purchased 2 parcels of land near Manilla.
Randy graduated in 1980 and from Iowa Lakes Community College at Emmetsburg, Iowa, for Farm-Management 1982. On August 21, 1982, he married Jean Hoffmann, daughter of Paul and Marilyn of Carroll, Iowa. Continued farming with his dad in cattle, hogs and grain - later on his own. They have 3 children: Amy, born February 8, 1984, in 3rd grade; Melanie, born February 27, 1986, in 1st grade, both at Manning Elementary. Brian, born December 8, 1987, in Zion pre-school in Manning. Jean started a business, Wedding Bouquets and More, in their home.
Karla graduated in 1984. On April 8, 1991, married Steven Putz, son of Bobby and Barbara of Rockford, Illinois. They live in Altoona, Iowa with Karla's two children from a previous married Steven Putz, son of Bobby and Barbara of Rockford, Illinois. They live in Altoona, Iowa, 1988. Karla worked at Statesman Mortgage Company as a foreclosure referral clerk and Steven is employed as an Electronic Engineering Technician in Des Moines, Iowa.
Lori graduated in 1987. Attended Des Moines Area Community College, majoring in Commercial and Graphic Art, at Ankeny, Iowa. In July 1989, graduated from Barbizon Modeling School in Des Moines, Iowa. On September 22, 1990, married Tracy Helms, son of Jim and Ethel of Howard, Kansas. They live in Independence, Kansas, where Lori is employed at First Federal Savings and Loan as a bank teller. Tracy is employed by Trinity Environmental as an Environmental Chemist and PCB Laboratory Manager in Mound Valley, Kansas.
Norbert won the Local and District in the State of Iowa Corn Growing contest in 1991, with a total of 208.09 bushels per acre. Randy placed 2nd in the local with an average of 194.29 bushels per acre. Norbert also received a Merit Award Certificate from the Iowa Master Soybean Growers contest for producing 59.96 bushels per acre in 1991.
They vacationed through southern and eastern states from December 15, 1991, to end of February 1992. Visited family, friends, former classmates, a pen pal, since 1954, in Delaware, former priest, Father Norbert Weber, MSC at Nazareth, Pennsylvania, and hunter friends in Shelby, Ohio.
They are members of the Manning Sacred Heart Church where Virginia continues to do voluntary clerical work. She has worked with each priest (6) since she began in 1960 and serves as C.C.D. Coordinator. Member of Sacred Heart Altar Society and Catholic Daughters, Court Our Lady of Fatima 1492, she is a past regent. President of the Manning Band Boosters, serving two terms from 1981=1983 and 1985-1987. They both continue with gardening, canning, flowers and yard work, also helps with chores and helps with some field work. Their grandchildren are a joy to be around as well as family and friends.
Norbert's mother, Clara, died December 18, 1983 and Virginia's dad, H.P. Jorgensen Sr., of Audubon, Iowa died May 6, 1983.
They will celebrate their 35th wedding anniversary this year, December 28, 1992.
EDITH AND REUBEN STOBERL (update)
Reuben and Edith Stoberl moved from their farm west of Manning to 1018 Spruce Drive in November, 1987. Reuben was working at the farm when he had a heart attack and died April 7, 1988, at the age of 63.
Their oldest daughter, Nancy, her husband, Calvin Stammer, and sons Clinton and Chad live north of Aspinwall; Nancy now teaches at the Lake View-Auburn School, and Calvin farms and works as a substitute rural mail carrier. Karen and her husband Eugene Stoelk live in West Linn, Oregon, with their children Nathan, Kristina, and Rachel. Eugene is a physician at Northwest Fertility Clinic in Portland. Judy and her husband, Duane Reinke live in Ankeny. Judy is a manager at Norwest Card Services and Duane works for Midwest Power. Richard and his wife Sue live in Las Vegas, Nevada. Richard has been a realtor since 1986, and Sue is a banquet worker at many of the major hotels. Debra Howell lives in Des Moines and is Gallery Director for Bochner Gallery.
CLARA AND ANTON STOBERL (update)
During the past 10 years, five members of the Anton Stoberl family have passed away. Clara Stoberl, Anton's widow, died December 18, 1983, at the age of 88. Leonard Stoberl, a son who farmed near Audubon, died August 22, 1985. His widow Margaret now lives in Audubon. Irvin Heckenliable, a son-in-law, was a carpenter in the Manning area until his death May 16, 1986. Irvin's widow Sophia moved from their acreage to the Elm Crest Apartments, and she passed away February 15, 1987. Reuben Stoberl, a son who farmed west of Manning, died April 7, 1988. His widow Edith lives in Manning.
There are four surviving Stoberl children. Valeria continues to live near Audubon with her husband Louis Dreher. Irene retired as postmistress at Templeton in 1990, and she and her husband Herman Meislahn farm southeast of Gray. Lyle and his wife Marv are retired. and live in Stuart. Norbert and his wife Virginia are retired, and live at the Stoberl home place east of Manning.
Continued from page 93
JEAN AND RANDY STOBERL (update)
Randy Stoberl, son of Norbert and Virginia Stoberl of Manning, married Jean Hoffmann of Carroll on August 21, 1982.
Randy farms east of Manning. Jean conducts a silk wedding flower business with other related items, out of their home.
The Stoberls have three children: Amy, 8; Melanie, 6; Brian, 4.
MERLE STOELK (update)
Due to his wife Eileen's cancer illness Merle sold his insurance business to the Manning Insurance Agency in 1987 when he retired. Eileen passed away on November 7, 1987.
Daughter Donna resides in -Ankeny, Iowa, and is employed there. Daughter Marlys has two boys, Michael and Nicholas. She also lives in Ankeny and attends the State University of Iowa. A son, David, lives in Los Angeles, California. A son, Eugene and wife, live in Portland, Oregon and now have three children: Nathan, Kristina, and Rachael. Eugene is a medical doctor specializing in Reproductive Endocrinology and Fertility surgeon.
On October 12, 1991, Merle remarried. He married his sister-in-law, Betty Stoelk, who was living in Portland, Oregon. They are now residing at 1107 Center Street in Manning, Iowa.
LOIS AND LOWELL STRIBE
Lowell Stribe was born in Carroll, Iowa, on August 31, 1936, the son of Herbert and Regilda Stoffers Stribe. He attended rural schools and graduated from Manning in 1954. His father died May 16, 1980. His mother resides at the Manning Plaza. Lois was born on December 30, 1935, in Carroll, Iowa, the daughter of Gilmer and Ida Gruhn Anthony, now of benison, Iowa. She attended rural schools, Westside Junior High, and graduated from Manning in 1954.
On June 3, 1956, they were married at the United Methodist Church in Manning. Lowell worked for Manning Creamery Company and Lois for Erwin Hansen, attorney. In 1958 they started farming on a farm one mile east and four and one half miles north of Manning on the O-CO road. In 1975 Lowell started working at Home Mutual Insurance. He is currently the president of the Board of Directors of Home Mutual. In 1989 they moved to their present home at 1004 Nishnabotna Drive.
Their children are: Allen of Manning, Sue Ann Strecker and Lisa Bailey of Des Moines.
Allen was born September 13, .957, in Manning. He graduated from Manning High School in 1975. He married Carlys Kusel on September 30, 1978, at ,Zion Lutheran Church. They have two children, Jennifer born in Manning on January 2, 1981, and Scott, born in Council Bluffs on February 27, 1988.
Sue Ann was born June 5, 1960, in Manning. She graduated from Manning High School in 1979. She married Allyn Strecker in the Manning First Methodist Church on April 9, 1988. They have a son, Steven, born in Des Moines on February 15, 1991.
Lisa was born October 27, 1961, in Manning. She graduated from Manning High School in 1981. She married Larry Bailey in the Manning First Methodist Church on July 9, 1988. Their first child, Austin, was stillborn on June 29, 1990, and a daughter, Alayna, was born on October 1, 1991, in Des Moines. Lisa has two step-children, Michael and Michele Bailey of Des Moines.
ELAINE AND MERLIN STRUVE (update)
Merlin became ill with cancer in February 1982, and passed away June 3, 1984. Struve Motor Company building and business were sold to Manning Motor Company.
Daughter Frances and husband, Robert A. Haack have two daughters: Heidi Ann, born 1981, and Heather Brook born 1983.