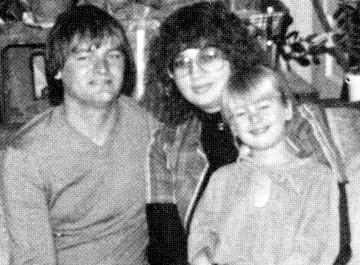 Tom, Nancy and Shannon Kay Walters
TOM WALTERS FAMILY
Tom and Nancy Walters have lived in Aspinwall since February of 1976. They were married February 7, 1976, and have a daughter, Shannon Kay, born March 13, 1977.
Tom was raised in Botna. He is the son of Wilma (Kintz) Walters and the late Kenneth Walters. Nancy is the daughter of Kenneth Fogleman and the late Mae Bogatzke Fogleman. She was raised in Manning.
Both Tom and Nancy graduated from Manning. Nancy's class was the first to graduate from the new high school. After high school Tom attended Western Iowa Technical College in Sioux City for major appliance repair. He worked for a construction company for a couple of months before starting work at Manning Heating and Sheet Metal in August of 1973. Tom is still employed there.
After high school Nancy worked at L.R. Nelson in Manning for a few months. She then moved to Des Moines and worked at American Republic Insurance Company until Tom and she got married. She worked at the Iowa Liquor Store in Manning from 1976 to 1980. Nancy now works at home.
BILLY WANNINGER FAMILY
Billy Wanninger, son of Bill Wanninger Sr., was born near Gray November 30, 1933; he has three sisters. He served two years in the U.S. Army, of which 18 months were spent in Korea.
July 28, 1956, he married Lue Reiman, daughter of Joe and Eleonar Hoffman Reiman. Lue has two sisters and two brothers.
Billy and Lue farmed near Templeton for six years. In 1962 they bought and moved to the farm one mile north of Aspinwall where they now live.
They have four children. Jeff, who is married to Cheryl Hansen, farms three miles north and one mile west of Aspinwall; they have two children, Robin, 2, and Troy, six months. Kevin attended the University of Iowa, graduated in May, 1981, and now is in Miami, Florida, continuing his education; he is married to Joni Wanninger. Keith is a sophomore at Simpson College in Indianola. Jim is a sophomore at Manning Community School.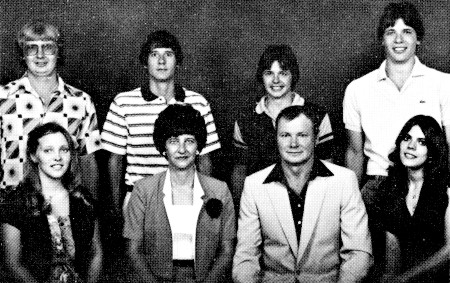 The Wanninger family, seated, Cheryl, Lue, Billy, and Joni, and standing, Jeff, Jim, Kevin and Keith.

Billy and Lue celebrated their 25th wedding anniversary in July, 1981. They are members of Sacred Heart Catholic Church in Manning.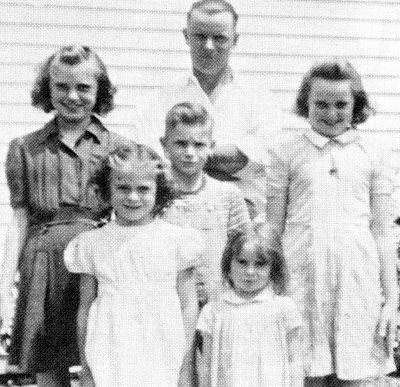 Bill Wanninger, Sr., is shown with his children Delores (Mrs. Roy Lidbeck), Billy, Marilyn (Mrs. Merlyn Zubrod, deceased), Pauline (Mrs. Duane Irlmeier), and Marcella (Mrs. Harold Reiman). The photo was taken in July, 1943, after the death of Mrs. Theresa Wanninger.

WILLIAM WANNINGER SR.
William Joseph Wanninger, son of John and Anna (Billmeier) Wanninger, was born at Gray in Audubon County, November 13, 1903. He attended rural schools in Audubon and Carroll County. He farmed with his father until 1928

Continued from page 303

and was married to Theresa Fuchs of Dedham in 1930. She passed away in 1941 leaving five children, Delores (Mrs. Roy Lidbeck), Bird Island, Minnesota; Marilyn (Mrs. Merlyn Zubrod), deceased; Billy, Manning; Pauline (Mrs. Duane Irlmeier), Templeton; and Sally (Mrs. Harold Reiman), Roselle.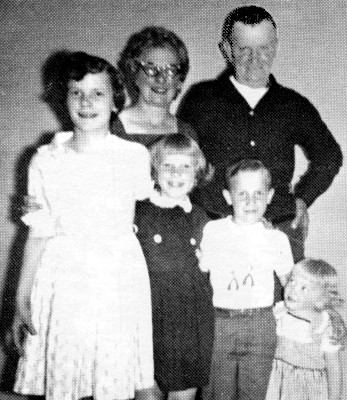 Teresa and Bill Wanninger, Sr., are shown in May, 1961, with their children Pat, Lois (Younie), Mark, and Teresa "Nook" (Mrs. Tom Wurr).

William married Teresa Sailer March 30, 1948; she is the daughter of Rafael and Teresa Mayer Sailer. They have four children.

Patricia Ann is an employee of Cronk's Cafe. Lois Marie Younie is a 1973 graduate of Brooks College for Women in Long Beach, California, where she majored in Interior Design; she is now owner of Country Interiors store in Manning. Mark Alan married Jane Ellen Nelson March 6, 1979; she is an L.P.N. employed at Manning General Hospital, and Mark raises feeder pigs. Mark and Jane have a daughter Marte Ellen, born October 8, 1980. Teresa Jane (Nook), a dental assistant, married Tom Wurr August 20, 1977; they farm two miles north and 1 1/2 miles west of Aspinwall. Nook and Tom have a daughter Tonya Jo, born January 23, 1981.

Bill and Teresa lived near Gray until March of 1953, when they moved to the farm 1/2 mile west of Aspinwall he bought from Harry Lacy in 1952. He retired in 1969 and rented the ground until he sold the farm to Mark and Tom in 1980.

ODDS AND ENDS
There are quite a lot of improvements going on in Aspinwall; everyone is fencing their lots, planting trees, etc.
Manning Monitor, May 29, 1884

ROBERT WEGNER FAMILY
Robert, the second son of Edwin "Brownie" and Lolida (Schroeder) Wegner, was born August 16, 1928. Shirley, daughter of Hugo R.C. and Emma Jentzen Hansen, was born June 29, 1937. They both graduated from Manning High School.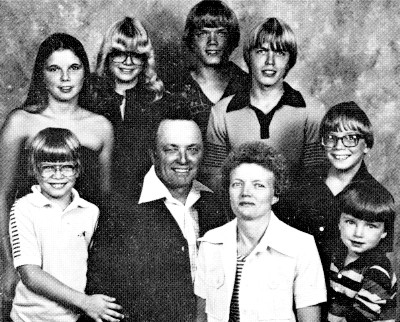 Robert and Shirley Wegner in 1979 with their family, back row, Debra, Nancy, David and Tommy; front row, Bruce, Robert, Shirley, Dale and Kyle.

They were married January 10, 1960, and to this union seven children were born, Debra, June 13, 1961; Tommy, February 23, 1963; David, June 22, 1964; Nancy, June 6, 1966; Dale, September 6, 1967; Bruce, October 11, 1969; and Kyle, August 8, 1975.

Robert and Shirley are engaged in farming on a place he has lived on since 1946; it is located one mile south and two miles east of Aspinwall on the county line.

ODDS AND ENDS
I always thought we were the poorest family in Aspinwall. After school, my brother, sister and I had to collect the coal that had fallen off the trains passing through town; this supplied our fuel for the winter.
John Babik, Omaha

ODDS AND ENDS
When I was in grade school my sister Virgene and I would go with dad to take holiday meals to the hoboes in the jail. This was mostly at Christmas, but also at other times. To us girls it was kind of scary, but we found them to be appreciative.
Donna (Schacht) Mahnke

Page 305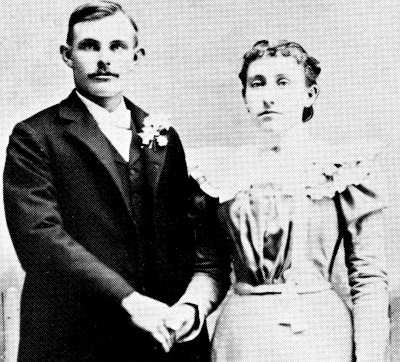 Wedding picture of William Wegner and Emma Nagel, June 30, 1899.
WILLIAM WEGNER
William Wegner, son of Henry and Margaretha (Hilbert) Wegner, was born in Clinton County July 16, 1871. He married Emma Louise Nagel June 30, 1899. She was born July 29, 1879, in Luetjenburg, Germany, the daughter of Henry and Dora Nagel. The Nagels emigrated to this country when Emma was four years old. She died in 1949. Her parents, Henry and Dora, lived in Aspinwall at one time in a house next to where the Roy Soll family is now living.
Bill, as he was better known, was one of the most popular cattle feeders in the community and was a hog buyer in Aspinwall for many years. He also owned a threshing machine and did custom work for the area farmers. He and his family lived many years on the farm southwest of Aspinwall (now owned by Louis Vennink and farmed by his son Allen), where he died in 1937.
Seven children were born to them. Five have passed away, Elsie (Mrs. Gus Schrum) in 1966, Louie "Toots" in 1969, Mamie (Mrs. Gerd Janssen) in 1980, Eddie "Slim" in 1953, and Henry "Mike" in 1929. The two still living, Milda (Mrs. George Peters) and Helen (Mrs. William Petersen), live in Manning. Helen was a teacher in the Aspinwall School for a number of years.
ODDS AND ENDS
I remember our "pump" organ and how I had to give it up when our new piano arrived.
Dorothy Kusel
ODDS AND ENDS
For us, living across the road from the railroad tracks, there was always the chance of having a hobo or two drop around at meal time. At the Schroeder home they were always fed the same food that the family ate, only the hobo ate his meal on the porch.
Gertrude (Schroeder) Mork
MAX WEINBRANDT
Max and Amelia Vinke Weinbrandt farmed 2 1/2 miles west of the Five Mile House for a number of years. In the fall of 1954, they decided to retire, so they purchased their home in Aspinwall from Wilmer Ehrichs, and moved to town in January of 1955.
Max passed away December 4, 1961, and Amelia continued to live in Aspinwall until August of 1971, when she had a sale and moved to the Terrace Apartments in Manning. Amelia passed away June 3, 1977. Both Max and Amelia were members of the Zion Lutheran Church in Manning.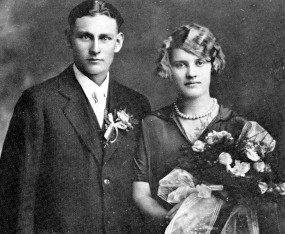 Max and Amelia Weinbrandt
They were the parents of four daughters, Lois, Mrs. Leroy Schagt, Ida Grove, now deceased; Donna, Mrs. Donald Koch, Ida Grove; Myra, Mrs. James Jensen, Glendale, Arizona; and Beverly Hollander, Harlan. They had 16 grandchildren.
MEVES WIESE FAMILY
Meves Schacht built the big square house on the hill in Aspinwall of native lumber. When his wife died, his daughter Frieda kept house for her father and raised her brothers, Henry and Richard.
Frieda married Adam Wiese, who ran the store in Aspinwall. Meves, their son, was born in his Grandfather Schacht's house in 1903. The Wieses later moved to Manning where their other children, Helen, Bob and Mildred, were born.
Meves Wiese and Erma Hays, daughter of Harry and Elvira Hays, were married in 1926. They were both graduates of Manning High School. Meves and Erma lived on an acreage south of the Manning Cemetery for four years. Their son Donald E. was born while they lived there. Then they moved to the Wiese farm one mile north of Aspinwall.
Page 306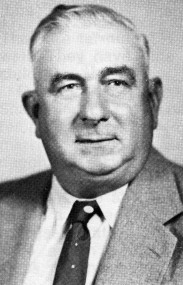 Meves Wiese and Erma Wiese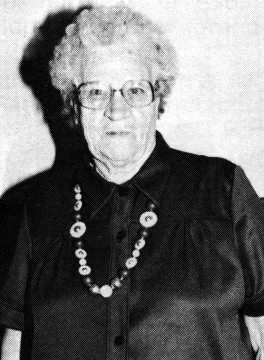 Meves was a crop farmer and cattle feeder for 35 years. He was on the REA Board of Directors from 1948 to 1963; ASC committeeman; on the Aspinwall Co-op Board; and Crawford County Supervisor. He passed away suddenly November 8, 1963.
Erma was a teacher in rural schools for three years and a homemaker. After their move to Aspinwall, where they bought the home owned by Edmund and Gertrude Henson on the east edge of town, she was the city clerk for many years.
Their son Donald graduated from Manning High School. He spent four years in the Air Force. Donald was married to Marie Disato in California and they moved to the family farm in 1955. A daughter Karen was born to them. In 1970 they moved to Vancouver, Washington, where Don is engaged in electronics. Karen is a doctor's assistant in Vancouver.
WILLIAM (BILL) WIESE
Bill Wiese, son of Fred and Matilda (Gottsch) Wiese, was born in 1896 on a farm near Manning. He had seven brothers and sisters, Anna Hargens, Alma Grau, Louie, Fred, Henry, Conrad and Herbert.
Ida Grimm, born in 1894, was the daughter of Claus and Anna (Schwieso) Grimm. They were married September 25, 1918 at Manning and lived on various farms south of town until they moved into Manning in 1938.
Bill worked as a mechanic for John Deere and then for himself until his death in 1975. Ida passed away in 1974. They had two children, Rockley and Eunice.
Rockley, 1919-1978, was married to Dorothy Ruhde June 3, 1944, and their children are Gary, Jack and Brad. Gary's wife is Patricia Clark and their children are Erin and Alison. Rockley worked for Priebe and Company, served in Europe in World War II, and then was a U.S.D.A. inspector for the government.
Eunice, born in 1921, married Lester Meggers in 1940, and they have a son Gene, who married Margie Dziedzic in 1974. They have three daughters, Stephanie, and twins Amy and Ivy.
JOHN AND ANNA WILL
John Will and his wife Anna Wieck, a sister of Dora Guth, lived in Aspinwall many years in the house now owned by Kelly and Luella Musfeldt. John was a carpenter and many buildings he constructed are still standing. Anna was a midwife and nurse, and helped deliver many babies in the area. John also served as president of the Aspinwall School for a number of years.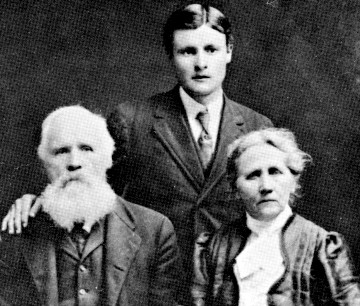 Jacob and Ingebor Marie Wieck and their grandson, Johannes Will.
They had five children, three dying at a very young age. Johannas, or Hannas, tried homesteading in Montana about 1910, but returned to Aspinwall to follow his father's profession; he was an accomplished violinist. Mamie Will was a pianist and a singer, playing for the Lutheran Church; she married Walter Bornhoft and they had three children, Arlo, Harold and Alice Nissen.
ODDS AND ENDS
I remember my father Louie Ehrichs and Richard Schacht for their constant whistling ... always pleasant sounds and such good memories.
Dorothy (Ehrichs) Kusel
ODDS AND ENDS
When I was a very young child I was afraid of Constable Schwiesow and his "black stick."
Dorothy (Ehrichs) Kusel
Page 307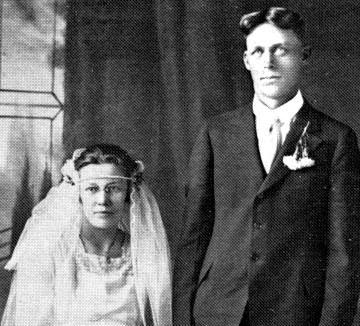 Henry and Ida Willenborg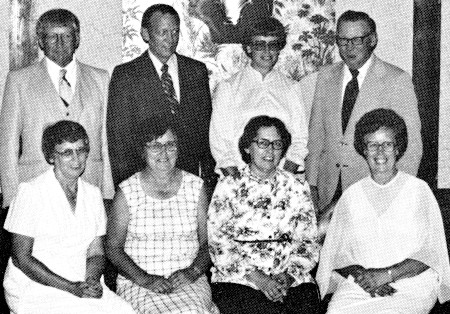 The Willenborg family, back row, Leo, Marvin, Elaine, and Henry, Jr., and front row, Edna, TarsiIla, Jeanette and Bernice.

HENRY AND IDA WILLENBORG FAMILY
Henry Willenborg, born near Dedham September 4, 1889, and Ida Uhlenkamp, born near Templeton June 2, 1894, were married April 27, 1920 at Templeton. They lived in that area until moving to a farm 1 1/2 miles northeast of Aspinwall, which they purchased in 1941. Henry passed away May 7, 1947. Ida continued to live on the farm until moving into Manning in 1960, and she passed away January 22, 1965. They were the parents of eight children, all of whom were born near Templeton.

Bernice married Myron Naber, is living in Carroll, and they have five children. TarsiIla married Herman Lampe (now deceased); they had four children and she lives in Mosinee, Wisconsin. Leo married Darlene Haberl; they live near Aspinwall and have nine children. Edna married Raymond Tigges, is living in Cedar Rapids, and they have four children. Henry Jr. married Ardella Joens, is living near Aspinwall, and they have two sons. Marvin married Norma Bernholtz; they have four children, and live in Omaha, Nebraska. Jeanette married Marvin Lampe, lives in Carroll, and they have 11 children. Elaine married Eugene Huelshorst and they live in Carroll.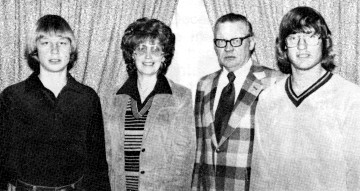 Ardella and Henry Willenborg, Jr., and their sons Ricky, left, and Randy, right.
HENRY WILLENBORG JR. FAMILY
Henry Willenborg Jr., son of Henry and Ida Willenborg of Manning, and Ardella Joens, daughter of Ben and Anna Joens, were married June 14, 1958 at Sacred Heart Church, Manning. They are farming 2 1/2 miles northeast of Aspinwall.
They are the parents of two sons.
Randy graduated from Manning High School in 1978 and is engaged in farming; he lives 2 1/4 miles northeast of Aspinwall. Ricky is a student in the Manning High School and will graduate in 1984.
Jr. belongs to the local VFW Post, serving as VFW Commander in 1964 and 1965, and to the American Legion Post. Ardella is a member of the VFW Auxiliary.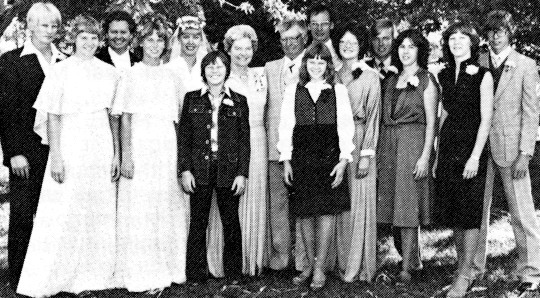 The Leo Willenborg family, shown in September, 1980, at the wedding of daughter Linda, includes, from left, Ben, Kathy, Bill, Patty, Linda, Ken, Darlene, Leo, Theresa, Dale, Dianne, Ron, Charlotte, Lori and Steve.

LEO WILLENBORG FAMILY
Leo Willenborg, son of Henry and Ida Willenborg, and Darlene Haberl, daughter of Ben

Continued from page 307

and Genevieve Haberl, were married September 11, 1951, at Holy Family Church, Lidderdale. They are farming 1 1/2 miles northeast of Aspinwall. They have nine children and four grandchildren.

Dale married Dianne Nettles, they have a son Shane and live in Cedar Rapids; he is a computer programmer for Rockwell International. Ron married Charlotte Miller and they have two daughters, Dawn and Michelle; he is farming four miles south of Aspinwall. Linda married Bill Gillespie and they live in Chicago, Illinois; she is a management consultant for Price Waterhouse. Kathy married Ben Puck and they have a son Jeremy; they are farming three miles south of Manning. Patty is attending Buena Vista College at Storm Lake. Steve is attending Iowa Western Community College, Council Bluffs. Lori, a senior, Ken, a freshman, and Theresa, eighth grade, are attending Manning Community School.

RON WILLENBORG FAMILY
Ron, son of Leo and Darlene Willenborg, and Charlotte Miller, daughter of Sylvin and Elvira Miller, were married October 2, 1976, at St. Joseph's Church in Earling. They are farming four miles south of Aspinwall, near Botna.

Ron graduated from Manning High School in 1972. Charlotte was born and raised in Earling and graduated from Harlan High School in 1973. They have two daughters, Dawn, born December 7, 1978, and Michelle, born April 20, 1980.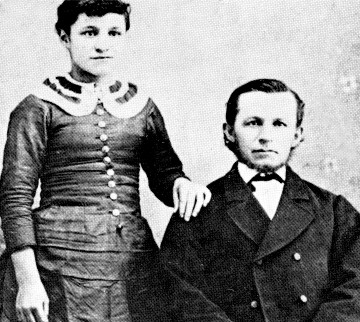 Christof Jochim Frederick Winkelman, 30, and daughter, Marie Magdalena, 14, shown in 1883 soon after their arrival in the U.S. from Germany.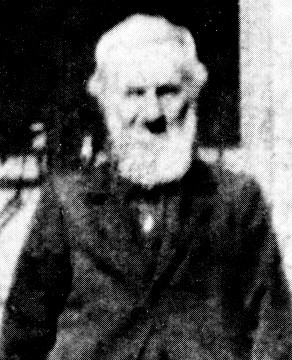 Christof, age 76 Anna, age 16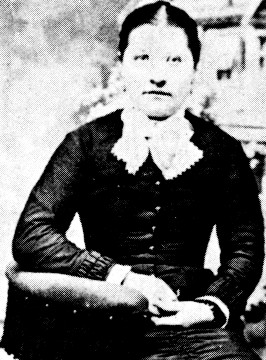 CHRISTOF WINKELMAN
Christof Joachimsen Frederich Winkelman, born May 30, 1842, in Mecklenburg, Germany, and Margarita Bracker, born in Germany, were married in 1866 in the Lutheran faith in Germany. She died in 1872.
Christof and Margaret had two daughters, Anna Margaret and Marie Margaretha. Anna came to the United States first, followed by Christof and daughter Marie in 1883. Christof first settled in Manning and then in Aspinwall.
In 1896 he married Mrs. Franke Jurgensen of Aspinwall, and they lived in Aspinwall. Franke was the mother of Peter Jurgensen of Aspinwall and Katie Jurgensen (Mrs. John Rath) of Buck Grove, both now deceased.
Christof died April 22, 1922, in Aspinwall. Franke died December 6, 1938. Christof is buried in the Iowa Township Cemetery.
Anna married Hans Hinrichs and then Henry Hagedorn. Her children were Emma (Mrs. Tom Ralph), deceased; Amanda (Mrs. Joe St. Onge), Manning Plaza; Hans, deceased; Ida (Mrs. Joe Rushenberg), deceased; Margaret (Mrs. Earl Butterworth), deceased; and Captolia (Mrs. Joe Greteman), Templeton.
Marie Magdalena Winkelman married John Hollander May 31, 1889, and they had 14 children.
Louie died at two months; Anna (Mrs. Carl Miller), deceased; Alvinia, deceased at six months; Ida (Mrs. William Steinkuhler), Eventide, Denison; Alma (Mrs. John Heide), deceased; Martha (Mrs. Ferdinand Boger), Denison; Hulda (Mrs. John F. Greder), Eventide, Denison; Henry (Margaret Linstrom), Manilla; William (Audrey Trapp), Manilla; Emma (Bernard Petersen), deceased; Albert (Clara Petersen), deceased; Rudolph (Margaret Beerman), Denison; and two sons who died in infancy.
Great-grandchildren include Vernetta Hass, Mary Brennan and Marilyn Baker of Manning.
ODDS AND ENDS
A few miles to the southeast of West Side is a flourishing German settlement who are said to be the best of citizens and that they are literally making the prairie to bloom.
Denison Review, 1873, as reported in the History of Crawford County