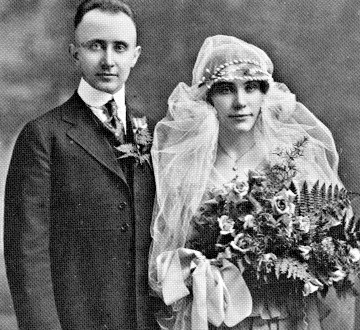 Frank and Mabel Ehrichs
FRANK EHRICHS
Frank Ehrichs, son of John and Anna Jurgensen Ehrichs, was born October 29, 1894 in Iowa Township, Crawford County. He attended school near his home. At the age of 13 years, he moved with his parents to Aspinwall and worked in the general store.
Frank started his own business with his brother Ben at the age of 16. He continued to operate the general store in Aspinwall for 54 years; was postmaster for 37 years and retired in 1964. He was also a cattle and hog buyer.
He married Mabel Sievertsen of Manilla August 4, 1920.
Frank passed away February 14, 1974, after a long illness. He was preceded in death by his parents, 10 brothers and three sisters, and three grandchildren.
The Ehrichs have two daughters, Betty Lou (Mrs. Milton Sinow), Aspinwall, and Donna Belle (Mrs. Howard Christensen), Cedar Rapids; six grandchildren and two great-grandchildren.
Frank and Mabel lived in Aspinwall all their married life. He was a member of the Presbyterian Church.
Mabel has one brother, Gilbert Sievertsen of Manilla. He is married to Mamie Plahn of Manning. Their son Garnett Sievertsen married Joleen Ertz of Manilla and they have two children, Jeff and Lori. They live near Manilla on their farm.
JOHN EHRICHS, JR.
John Ehrichs was born August 18, 1877 in Clinton County, Iowa, to John Ehrichs Sr. and Anna Jurgensen Ehrichs. He moved with his parents to Deloit and later they moved to a farm northwest of Aspinwall.
Bertha Schroeder was born February 7, 1886 in Crawford County to Henry and Wiebke (Oltman) Schroeder of Manning.
John and Bertha were married February 21, 1906. They had three children, J.H. Herbert in 1907, Malinda in 1910, and Alice in 1914. They started their married life on the farm. Later he built a new home at the east edge of Aspinwall and the family moved there in 1915. John was a carpenter and a painter. He did carpentry with Chris Hollander and they built some of the barns near Aspinwall. John was the fire chief in Aspinwall in charge of the hose cart; during that time a new building was built to house the fire cart and supplies.
Herbert was afflicted with asthma and Alice was sickly also, so in 1923 the family moved to a different climate for asthma. They first moved to Bloomfield, Nebraska, and in 1924 to Norfolk, Nebraska.
Herbert married Ethel Sontag from Washington, and they had four daughters. Alice was married to George Thomas in 1956 and they have a daughter Judy. Malinda was married to Guy Anderson January 2, 1931. They celebrated their golden wedding January 4, 1981. They had two daughters and a son, 15 grandchildren and 15 great-grandchildren.
John Ehrichs died in 1949 while on a visit to Iowa. Bertha died in 1968, and Herbert in 1975. Guy Anderson passed away December 28, 1981.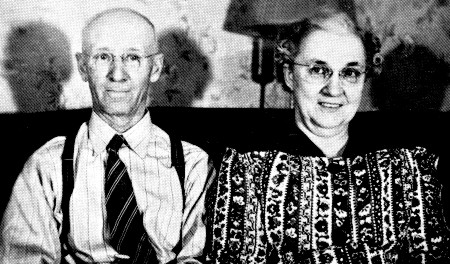 John and Bertha Ehrichs, shown on their 42nd wedding anniversary in 1948.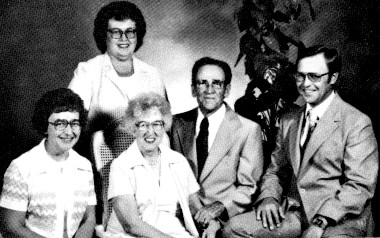 Guy and Malinda Anderson and their children, from left, Karen Matteo, Jerrine Kohlhof, and Galen Anderson, shown in 1980.

Page 210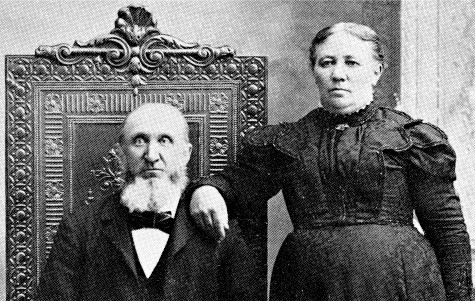 John and Anna Ehrichs
Left to right: Emil Ehrichs, Tena (Ehrichs) Tollgaard, Henry Ehrichs and Louie Ehrichs, in 1961.

JOHN EHRICHS SR.
John Ehrichs Sr., son of Mr. and Mrs. Peter Ehrichs, was born March 6, 1846 in Schleswig-Holstein, Germany, where he was baptized and confirmed. John had two sisters. Twenty years later he came to America, settling in Clinton County, where he worked as a hired man.

Anna Jurgensen was born in Dolf, Holstein, Germany February 24, 1858, where she was baptized and confirmed. An only child, in 1867 she came with her parents to America, settled in Clinton County, where she met John. They were married January 26, 1872. They lived in Clinton County on a farm for nine years. In 1881 they moved to Deloit and lived there one year. In 1882 they moved to the present Ehrichs farm, 2 miles west, 3 miles north and 1/2 mile west of Aspinwall, where John III lives. They retired and moved to Aspinwall in 1907, and spent their remaining years there.

Anna Ehrichs passed away February 9, 1923 at the age of 67 years, 11 months and 5 days. After Grandma Anna's death, their son Herman lived with Grandpa. Grandpa John Ehrichs died March 11, 1934, at the age of 88 years and 5 days.

At that time daughter Tena came from South Dakota and lived with Herman until his death, January 3, 1950.

John and Anna Ehrichs were parents of 14 children, 11 boys and three girls. Six of the children were born in Clinton County and eight in Crawford County.

Their first child, Peter, died in October, 1873, at one year of age.

Catherine (Tena) married Emil Tollgaard. They had three children, Henry, and twins Anna Schmidt and Marie Hammer. Tena died August 5, 1962.

Chris married Anna Kruse. They had one child, Marie Hagedorn. Chris died June 4, 1943.

John married Bertha Schroeder. They had three children, Herbert, Malinda and Alice. John died October 3, 1949.

Henry married Anna Lorenzen. They had two children, Edward and Raymond. Henry died September 7, 1964.

Herman never married. He died January 3, 1950.

Alfred married Clara Brus. They had one child, John. Alfred died April 28, 1961.

Margaret married Hugo Brus. They had four children, LeRoy, Rosella, Ann and Florence. Maggie died July 17, 1961.

Bernard married Minnie Joens. Their three children were Wilbert, Leonard and Warren. Ben died August 27, 1942.

August married Emma Joens. They had two children, Howard and Frances. August died May 1, 1950.

Emil married Emma Kuhl. They had two children, Verna and Wilmer. Emil died December 3, 1976.

Louie married Clara Eickelkamp. They had five children, Glenn, Marjorie, Dorothy, Shirley and Gene. Louie died June 17, 1969.

Frank married Mabel Sievertsen. They had two children, Betty and Donna. Frank died February 14, 1974.

Anna married George Schade and they had one child, Ellen. Anna died September 21, 1920.

All the children of John and Anna Ehrichs are now deceased. Only two daughters-in-law, Clara Ehrichs and Mabel (Ehrichs) Vinke, remain.

ODDS AND ENDS
The older boys in Aspinwall would often lay beside the jail and eavesdrop on the hoboes who were spending the night there, and listen to them talk about all their travels.
Roy Soll

ODDS AND ENDS
Claus H. Kuhl has rented the Pepper farm and takes possession about March 1. Herman Hagedorn will move on the McNertney place soon; Fritz Mueller, who lives there now, will move near Pleasant Hill.
Aspinwall News in Manning Monitor January 28, 1898

Page 211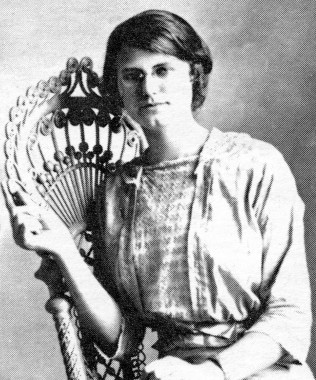 Clara Eickelkamp Ehrichs before her marriage to Louie Ehrichs
LOUIE EHRICHS FAMILY
Louie Ehrichs, son of John and Anna Jurgensen Ehrichs, was born March 29, 1892 in Crawford County near Aspinwall, where he went to country school and later worked for farmers as a hired man. He also worked in the Ehrichs Brothers' general store in Aspinwall.
He was married to Clara Eickelkamp of Virgil, South Dakota, September 25, 1915. Clara was born December 25, 1894 at Clinton County, near Toronto, Iowa.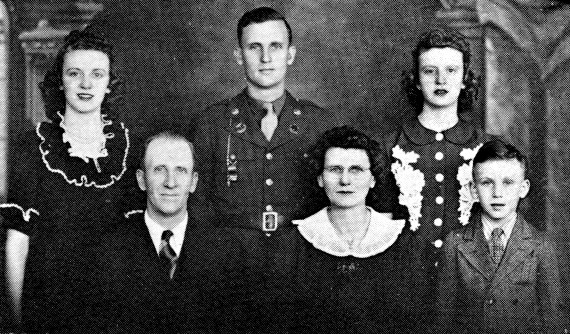 The Louie Ehrichs family, taken in April, 1943, shows, from left, back row, Dorothy, Glenn and Shirley; front row, Louie, Clara and Gene.

They had five children.

Glenn J.D. Ehrichs married Dorothy Granneman of Corvallis, Oregon, where they still live. Their children are Emlee (Mrs. John Sevey), Sharon (Mrs. Don Edwards) and Dennis, who was killed in a car accident while in the service in Germany, at the age of 26, on May 13, 1977, leaving his wife Debbie (nee Ford) and son Shawn. The Seveys have two children, Bobbie and Carla; the Edwards have two children, Pam and Ty.

Marjorie A.E. Ehrichs passed away May 30, 1925.

Dorothy C.M. Ehrichs married Amos R. Kusel of Manning. They had four children. Barry married Phyllis Graner; they have two children, Brad and Teri, and live at Manning. Angela (Mrs. Dan Pratt) has two children, Nina and Sean, and lives at Wichita, Kansas. Douglas married Brenda Sutton and lives at Richardson, Texas. David lives in Manning. Amos died September 1, 1970.

Shirley Ann Ehrichs married Walter Schramm of Denison. Their children are Rick of Denison, Kim of Woodbine, Becky of Omaha, Nebraska, and Scott of Denison.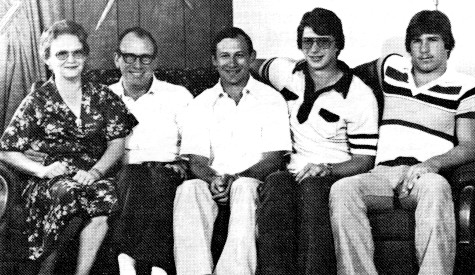 Gene Ehrichs family of Tucson, Arizona Left to right, Pat, Gene, Mark, Brian and Kevin.

Gene J. Ehrichs married Patricia Billing of Tucson, Arizona. They had three children: Mark married Melody Patton and has one child Teri Jean; Brian married Lora Kettle; and Kevin. Gene died November 13, 1981.

Dorothy and Shirley were both teachers. Shirley still teaches in Denison. Glenn and Gene both served in the Armed Forces. Glenn spent 4 1/2 years in the Army and Gene served over 20 years in the Air Force.

Louie worked as a carpenter and painter for many years; later he was a trucker and owned and operated a corn sheller. In 1946 he and Glenn built their new home in Aspinwall. Louie was active in civic affairs and served several terms as President of the Aspinwall School Board. He retired in 1961. Clara was a busy homemaker and gardener. They made their home in Aspinwall where they lived for over 60 years. Louie died June 17, 1969. Clara continued to live in their home for six years after Louie's death. She now resides in Manning. She was 87 on Christmas Day, 1981.

ODDS AND ENDS
FOR SALE: I have six fine lots for sale in the east part of Manning at a reasonable price. Call or write. Will sell cheap if taken before March 1. Lena Seivers, Aspinwall
Manning Monitor, February 12, 1903

Page 212

WILMER EHRICHS FAMILY
Wilmer Ehrichs, son of Emil and Emma Ehrichs, was born in 1918 in Aspinwall. He was a Hudson automobile dealer until 1953, when he and the family moved to Denison. There he became a Dodge and Chrysler dealer. He retired in 1979.

Wilmer Ehrichs and Berdine Rowedder were united in marriage June 7, 1939. They had nine children, two passing away in infancy.

The remaining children are: Janet, married to Ted Cornelius; Judith, married to Lewis Messenbrink; Barbara, married to Roger Siemer; Bonnie, married to Ronald Davenport; Randal, married to Robin Beech; Sandra, married to Eugene Ahrenholtz; and Thomas, going to school in Phoenix, Arizona. Wilmer and Berdine have 10 grandchildren and one great-grandchild. One grandchild and one great-grandchild are deceased.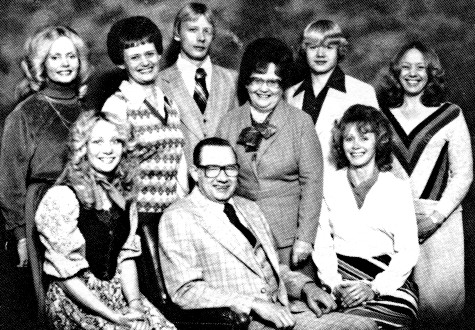 Wilmer and Berdine Ehrichs with their children, back row, Barbara, Janet, Randy, Tom and Bonnie; front, Sandra and Judy.

ODDS AND ENDS
A team belonging to George Carstens, who lives south of town, became frightened one day this week and ran away. Fortunately, no damage was done.
Aspinwall News of Manning Monitor January 28, 1898

ODDS AND ENDS
ADVERTISEMENT: $25 will be paid per head for old maids, a good home guaranteed. Must be good looking, no sore eyes. Sickly ones need not come at all.
Now girls, if you are wanting a good home, you better come to this meeting as there are about 25 old fellows here that would share their business with a gal that isn't afraid to do a little work and share a home with a fellow. Meeting will start at 7:30 p.m. (No town name given.)
Manning Monitor, February 2, 1882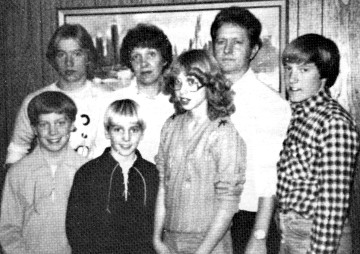 The Ellsworth Family - Back row, left to right, Damon, Peggy, Ron and Chad; front row, Darrin, Danny and Beth.

RONALD ELLSWORTH FAMILY
Peggy Jeanine Grundmeier was born December 12, 1936, at Carroll, the third of six children born to Marcellus and Evelyn Frahm Grundmeier. She attended school in Manning, and graduated with the class of 1955. Peggy worked as a nurse's aide at the Manning General Hospital and then attended the State of Iowa School of Nursing at Iowa City for one year and received her L.P.N. degree. She returned to Manning to work for a few years, and then moved to Harlan to begin work at the Myrtue Memorial Hospital.

March 27, 1965, Peggy was united in marriage to Ronald Robert Ellsworth at St. Michaels Catholic Church in Harlan.

Ronald Ellsworth was born September 7, 1943, at Bison, South Dakota, one of six children born to Robert and Gwendolyn Becker Ellsworth. Ron attended high school at Armour, South Dakota and graduated with the class of 1961. In 1964, Ron graduated from the Sioux Falls, South Dakota, School of Radiology. In December of 1964, he moved to Harlan to begin work as an X-ray technician at the Myrtue Memorial Hospital.

Ron and Peggy are the parents of six children: Damon, born June 1, 1966; Beth Ann, born June 29, 1967; Chad, born September 20, 1968; twin sons, Daniel and Darrin, born November 13, 1970; and Benjamin Jay, born May 25, 1982.

Peggy still works part-time as an L.P.N. and Ron is now head of the Radiology Department at the Myrtue Memorial Hospital.

ODDS AND ENDS
A colt belonging to John Jensen got so badly bruised up in a barb-wire fence not long ago that it died from the effects thereof.
Aspinwall News of Manning Monitor October 7, 1898

Page 213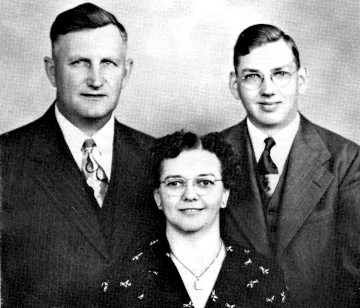 Ed and Malinda Erps and son George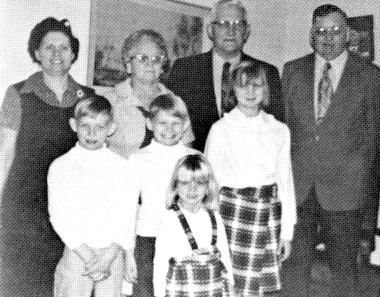 Malinda and Ed Erps, center back, celebrated their 45th anniversary in 1973. From left are Leona, Lyle, Leroy, Georgia, Linda and George.

EDWARD "ED" ERPS
Ed, son of August and Lena Dockweiler Erps, was born near Ute, Iowa. Ed's brothers and sisters were Hans, Emil, Ben, Malinda (Mrs. Arthur Lerssen) and Adella (Mrs. Albert Wold).

When Ed was very young the family moved to a farm 3 1/2 miles northwest of Aspinwall (now known as the Milo Stammer place). In 1908 they moved to South Dakota. Ed came back to the Aspinwall area to work as a farm hand in 1925.

January 4, 1928, Ed was married to Malinda Meggers, daughter of Gustav and Minna Jahn Meggers. Their other children were Johnnie and Lester. Malinda was born and raised 3 1/2 miles northwest of Aspinwall.

Ed and Malinda farmed in the Botna area for 16 years, then moved to Manning in 1944. Ed worked at various jobs, and was a school bus driver for 16 years. Ed passed away May 6, 1979.

They had one son George. He married Leona Klocke and they have four children: Linda (Mrs. Craig Custer of Dow City); Leroy, Lyle and Georgia, at home in Denison.

Linda and Craig have a daughter, Brandi Ann.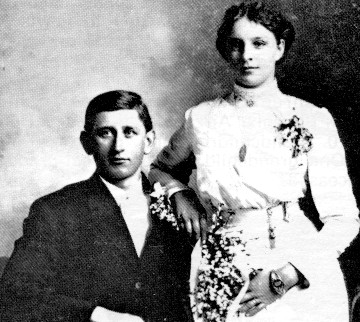 Emil and Ida Ewoldt
EMIL C. EWOLDT
Emil C. Ewoldt was born January 17, 1888, in Crawford County, Hayes Township. His parents were Henry and Sophie Schroeder Ewoldt. He attended the rural school, Hayes Township District No. 8
March 12, 1913, he married Ida C. Hansen. Her parents were Hans C. and Cathrine (LaFrentz) Hansen of Aspinwall. Ida was born in Hayes Township, Crawford County, November 13, 1893. She attended Hayes Township District No. 9 and later was a homemaker in various homes.
Emil and Ida lived on a farm six miles north of Aspinwall. They were the parents of three children. Marcella (Mrs. Russell Koepke) of Denison was born January 12, 1914. Viola was born November 4, 1915, and passed away at the age of two years. Elda (Mrs. John A. Ehrichs) of Manning was born February 26, 1919.
Emil passed away July 20, 1939, at the age of 51. After her husband died, Ida had a farm sale and moved to Aspinwall. She lived there until 1953, when she moved to Manning. Ida passed away in 1977 at the age of 83.
ODDS AND ENDS
How well I remember Children's Day in Aspinwall! We always had to dress in white ... heaven only knows why, as we had to walk and walk and walk around town in a parade before going into the opera house for the festivities. We got peanuts or apples or other treats after we arrived at the building.
By Emma (Boyens) Wiese, born in 1898
Page 214
HENRY AND SOPHIE EWOLDT
Henry C. Ewoldt was born in Bendfeld Probstei, Germany, September 19, 1856. At the age of 18, he came to the United States and settled near Clinton, where he began farming.
Sophie Schroeder was born January 7, 1858, in Krumbach in the Holstein Probstei of Germany, which was known for its good farming, dairy and butcher cattle, and well-educated and progressive people. Sophie was confirmed in the Lutheran faith in the city of Schoenberg. At the age of 18, she came to the United States, settling in Clinton, Iowa, where she did general housework for a number of years.
Henry and Sophie were married January 29, 1880. In the spring of that year they came west, moving on a 160 acre farm in Hayes Township near Westside, Iowa. Throughout the years, they purchased four 160 acre farms, making a total of a section of land in Crawford County.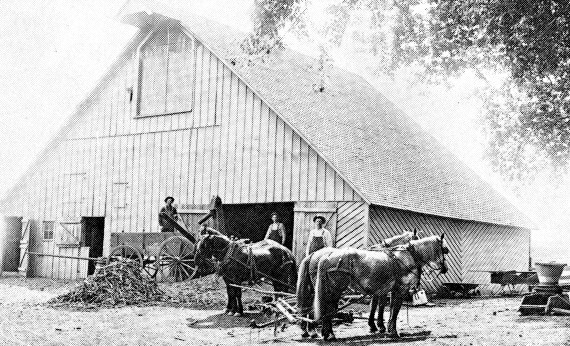 Bill, Emil and Henry Ewoldt Jr. are shelling corn on a farm north of Aspinwall owned by their father, Henry Ewoldt Sr. The picture was taken in about 1905, and shows the combination barn/corn crib that was popular at the time.

They had 10 children: Julius, William, Henry C., Emil C., Olga (Mrs. Herman Schrum), Marfa (Mrs. Lorenz Clausen), Rudolph, Helma (Mrs. Adrian Mitchell), Cerena (Mrs. Clarence Bouling), and Hugo Andrew. All are deceased except Hugo, who lives at Manilla. Another sister was Anna, who married Henry Mundt and was the mother of Mrs. Albert Puck.

Henry and Sophie retired in 1911 and moved to a home at the west end of 3rd Street, Manning. Mr. Ewoldt passed away July 2, 1925, and Mrs. Ewoldt passed away in January, 1936.

The Ewoldt farm six miles northwest of Aspinwall in Hayes Township is still in the Ewoldt family. It is now owned by Henry's grandson, Albert Ewoldt, and Albert's son, Dale. Another Ewoldt farm is now farmed by Steve Muhlbauer, and another is owned by Glen Meyers and farmed by Doug Kuhl.

HENRY C. EWOLDT FAMILY
Henry Ewoldt was born July 24, 1885 in Hayes Township. He was the son of Henry and Sophie Schroeder Ewoldt.

Henry and Alvina Puck of Manning were married February 19, 1913. She was born June 10, 1891 in Lincoln Township.

They farmed six miles north of Aspinwall where they lived until 1962, then moving to Manilla. They celebrated their 50th wedding anniversary in 1963. Henry, his brothers and sisters and all of their children, were born and raised on the same farm, which is owned now by Dale Ewoldt, a grandson.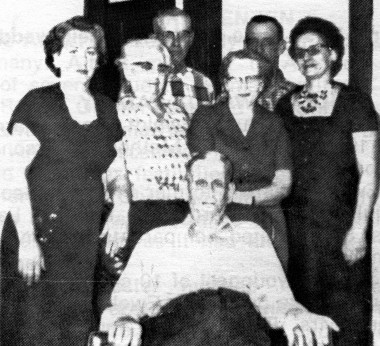 Henry Ewoldt, seated, and his family, from left, Arla, Alvina, Albert, Edna, Ralph, and LuVerne.

Henry and Alvina had five children.

Albert and his wife LaVerne (Ullrich) Ewoldt live south of Vail. Their children are Diane, Omaha; Dale, Vail; Dennis (deceased); Dean, Omaha; and Darlys, Illinois. They have two grandchildren.

Edna and her husband Edward Kester live in Buck Grove. They have one daughter, Darlene, Buck Grove.

LuVerne was married to John Kohnekamp, now deceased; she lives in Charter Oak. They had five children: William, Parachute, Colorado; Vernon, Dow City; Heenan, Deloit; Julia (Mrs. Maurice Henkelman), Manilla; and Jerald, Charter Oak. LuVerne has 15 grandchildren, four step grandchildren and one step great-grandchild.

Ralph died October 9, 1971.

Arla and her husband Walter Hansohn live in Kiron and they have two sons, Raymond, Culpepper, Virginia, and Ralph, Denison. Arla and Walter have four grandchildren.

Mr. Ewoldt died October 24, 1965, and Mrs. Ewoldt died October 10, 1976.