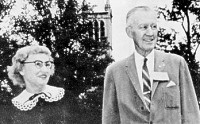 Former Rotary International President Henry Brunnier and wife, Ann, on the campus of Iowa State University. The Brunniers established a trust fund for the University in 1962
---
HENRY BRUNNIER
Henry Brunnier, son of Martin Brunnier, was born in Manning, attended the local school and was graduated with the class of 1900. He went to Iowa State University and graduated in 1904 with a degree in civil engineering. He was working in New York when the San Francisco earthquake and fire occured in 1906. Engineers were needed to examine damage to buildings and determine how to make them safer and his employer sent him to the west coast for that purpose. When the assignment was over he married Ann Weideman of Manning and they decided to make California their home.
He formed his own consulting engineering firm and became internationally known as one of the engineers for the Oakland Bay Bridge, the East Bay's Broadway Tunnel in San Francisco and as consultant on numerous-office buildings and for work on far-flung military bases. In WWI he cooperated in organizing and managing the Concrete Shipping Department for the U.S. Fleet Corporation. During WWII he was structural engineer for some of the largest Army and Navy projects on the west coast of North and Central America.
He became a leader in vocational and community activities, serving as President of the American Automobile Association, the California Board of Registration for Civil Engineers, Pacific Association of Consulting Engineers, director of the Highway Committee of the California State Auto Association, a member of the California Chamber of Commerce, and received many other honors. He was named "The West's Outstanding Engineer" by the Building Industry Board and received Iowa State's Marsten Medal in Engineering.
Brunnier became a member of Rotary in 1908 and served as President, Rotary International Vice-President, District Governor and other important offices. When Rotary International held its conventions in 1915 and 1938, he served as Chairman of the Host Executive Committee. He became president of Rotary International in 1952. During his term of office, he made a special trip to Manning to make a formal presentation to the club formed by his home town especially in his honor. The Manning Rotary Club established a shelf in the public library, donating books each year in honor of Manning's native son.
He traveled extensively during his career. His wife Ann accompanied him in his Rotary travels, thereby becoming the original "Rotary Ann," the name was coined in her honor.
In 1962 Mr. and Mrs. Brunnier came to Iowa State University and made a substantial subscription to the Center building fund through a trust fund and agreement. In 1975 the Scheman Continuing Education Building was finished and dedicated. The Brunniers gave a fine collection of rare porcelain figurines, many pieces of china, glass, silver, jade and ivory along with Ann's collection of several hundred dolls. These were placed in a section of the Scheman Building and is known as the Brunnier Gallery. The state is fortunate that Mr. and Mrs. Brunnier chose Iowa State as the permanent location for this unusual and valuable collection.
Mrs. Brunnier died in 1970 and Mr. Brunnier in 1971.
WE CAN REMEMBER---
Probably the forerunner of the present garage sales was held on April 14, 1918, when the entire community of businessmen, citizens and farmers held a huge auction of donated items for the benefit of the Red Cross. A profit of $7,425 was realized .
Patriotism ran high those years. The third Carroll County Liberty Loan sales quota was set at $696,290. Sales went to $1,426,450 or 205%.
The Manning Plaza