CHRIS EHRICHS
Chris Ehrichs, son of Mr. and Mrs. John Ehrichs, married Annie Schroeder Kruse, daughter of Mr. and Mrs. Henrich Schroeder and widow of Chas. Kruse. Their family consisted of Harry, Edward, and C. Arthur Kruse and one daughter, Marie Ehrichs.
Edward married Henrietta Jentzen. Their children are: Charles, married to Lois Hecht, with children Darlys, Dean, Rhonda and Lisa; and Gene, married to Beverly Walken, with children Dianne, Barbara, Debra, Jim, Ellen and Joann.
C. Arthur married Amanda Kruse. Their children are: Arthur, married to Shirley Broman, with children Judy, Jeanne, Janet and John; Willis, married to Sharon LaFron, with children William, Debra, Robert, Jenette and David; and Darlene, married to Keith Anderson, with children Nancy, Brian, Cindy, Ellen, and Bruce.
Marie married Lewis Hagedorn. Their children are: Robert, married to Carol Vollstedt, with children Jeff, Jon,, Julie and Jackie; Roger, married to Deanna Petersen with children Shona, Shelli, Troy and Tonya; Mary Ann, married to Chris Brandt; and Ray, married to Norma Arp, with one daughter, Tina.
Chris Ehrichs later married Caroline Kuhl.
LOUIE EHRICHS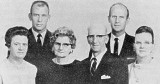 Back: Gene and Glen; front: Shirley Schram, Mr. and Mrs. Louie Ehrichs, Dorothy Kusel.
---
Louie Ehrichs, son of John and Anna Jurgenson Ehrichs, was born March 29, 1892, in Crawford County, Iowa. He died June 17, 1969.
September 26, 1915, he married Clara M. Eickelkamp, who was born December 25, 1894. She now resides in Manning.
They had five children: Glenn J.D. Ehrichs, Corvallis, Oregon; Marjorie E.A. Ehrichs (deceased); Dorothy Clara May Ehrichs Kusel, Manning; Shirley Ann Ehrichs Schramm, Denison; and Gene John Ehrichs, Tucson, Arizona.
Louie and Clara Ehrichs lived in Aspinwall all their married life. Mr. Ehrichs was a carpenter and later did trucking and shelled corn. He was very active in civic affairs. Mrs. Ehrichs, a homemaker, has since moved to Manning.
Piccadilly Circus Pizza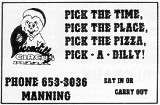 Continued from page 284
HILBERT EISCHEID FAMILY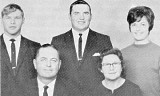 Back: Gary, Roger and Diane; front: Hilbert and Agnes Eischeid
Hilbert Eischeid, son of Mr. and Mrs. Theodore Eischeid Sr. of Halbur, was born August 22, 1918 and is from a family of eleven children. His mother passed away in 1969 and his father, age 91, is living in Halbur.
Agnes Eischeid, daughter of Mr. and Mrs. Ferdinand Steinkamp of Breda, was born March 19, 1916 and is from a family of nine. When her parents celebrated their golden wedding, Agnes' grandfather Henry Nieland, aged 97, of Breda, attended. Mr. Steinkamp was born in Westphalen, Germany and at the age of seven, came to America with his father, brother and three sisters.
Hilbert and Agnes were married in 1940 and moved to a farm near Halbur. In 1942 they moved to their farm north of Manning where they lived until they retired. They have three children. Roger and his wife Diane live on the home farm and have five children. They are Connie, Kennie, Donnie, Larry and Carla. Diane is married to Virgil Tigges and they have four children, Randy, Roxie, Rusty, and Robie. Diane is a nurse and works at the hospital at Carroll. Gary and his wife Marie have two children. They farm northeast of Manning with their children Brian and Brad. Gary served in the Air Force four years.
The family belongs to the Catholic Church, Agnes is on the 4-H county committee and Hilbert is Carroll County Supervisor, serving as chairman of the board in 1979. They retired from farming in 1972 and are now living in their home in south Manning.
Crabb's Pharmacy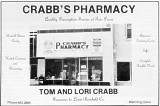 Continued from page 285
CHANDLER EMMONS


Chandler A. Emmons and wife Lucy
Chandler Emmons, a native of Wisconsin, and Lucy Sampson, cousin of Admiral Sampson, were married in 1869 at New Albion, (Butler County) Iowa. They moved to Carroll County in 1872 and homesteaded five miles northeast of what is now Manning.
Their children were Albert, Orrin, Clara (later Mrs. James Wiese) and Clarence (Max). Later they adopted a daughter, Mildred.
Chandler was the first area farmer to use cottonwood trees set out in front of his farm to form a windbreak. Later many neighbors got slips from him for the same purpose.
Chandler died in 1930 at Salem, Oregon, while visiting his son, Orrin. He and his wife are both buried in the south Manning cemetery, as are his parents Ezekial and Priscilla.
Orrin graduated from Manning High School and farmed. In 1900 he married Jennie Scott and in 1904 graduated from the Iowa law school and returned to Manning to practice.
Orrin and Jennie had five children: Robert, Floyd, Clarence, Florence and Genevieve. The boys graduated from Manning High School and the girls from Salem High School.
Orrin served on the Manning school board as secretary, and in 1922 served as city mayor. While mayor, he persuaded the officials of the Milwaukee railroad to donate a portion of their old right-of-way for use as a city park.
In 1925 Orrin and family moved to Salem, Oregon (a University town), to enable the children to receive college educations.
Orrin passed away in 1953 and Jennie in 1962. Both are buried at Salem.
MARK ENENBACH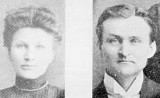 Anna and Mark Enenbach
Mark F. Enenbach, progressive Republican, was born in 1866 and raised north of Arcadia, pursuing an educational vocation. Early teaching in country schools in this area meant teaching English to students, while learning German from them. After several years of being superintendent, combined with bandmaster of various schools, Mark and wife Anna (Lorenzen) purchased the Variety Store in Manning in 1916.
He served as director of the Manning Trust & Savings Bank, served on the City Council and held office of Mayor for several years. In the late 30s and early 40s he managed the liquor store, until his death in 1944.
The Enenbachs raised seven children: Vivian (Mrs. Reynold Hoffman, deceased, 1969), Eileen, Perdita (Mrs. Raymond Bock), Phyllas (Mrs. Vincent Curl), Mark (deceased, 1979), Henry (deceased, 1973), and William L. This family graduated from Manning High School. Two daughters, Vivian and Margaret Perdita, taught in country schools. The three sons served their country during World War II.
Eileen remained in Manning, serving such organizations as Royal Neighbors of America, American Legion Auxiliary and VFW Auxiliary, along with working many years at the Manning Creamery, Hi-Way Cafe and Saunders Cafe.
Phillip, son of Eileen, and wife Aloha (Waterbury) reside here, with their four children: Michael F., Valerie, Vincent, Nicole. Aloha has been active as a registered nurse at the Manning Hospital and Manning Plaza since 1959.
I CAN REMEMBER---
The congenial picnic dinner on the last day of the rural school year, which all students, their family and neighbors attended. Loads of food were brought by all and ice cream by the teacher in a three or five gallon container, packed in salt and ice to keep it cool.
The men played cards, the women chatted, the older boys and girls played ball, and the younger ones wandered in and out of the schoolhouse. Almost an entire day was consumed in this friendly, social atmosphere, embracing family and friends.
---Grace Andresen, rural teacher
Continued from page 286
HENRY EWOLDT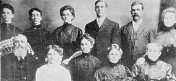 Back: Louie, Amelia, Amanda, Henry, William, Clara; front: Henry, Irene, Emma, Laura, Mrs. Dorothea Vinke Ewoldt

Henry Ewoldt was born March 5, 1841, in Bendfeld, Probstei, Holstein, Germany. When he was a young man in Germany, he learned the shoemakers' trade in Kell and pursued this occupation in Hoboken, New Jersey, for a few years after immigrating to this country in 1864.

He came east to Davenport, where he farmed and married Dorothea Vinke of that city. After leaving Davenport they moved to Shelby County, where he farmed, and then moved to Arcadia where they were active in forming the congregation of the Lutheran Church, of which they were charter members.

Later they farmed in Crawford County and moved to Manning in 1896, where Mr. Ewoldt was engaged in business. After a few years they retired in Manning.

He observed his hundredth birthday while living with his daughter Louise Boettger in Denison. Henry had seen Manning grow from virtual prairie land into a booming town. He had experienced the effect of wars and lived through several depressions.

The Ewoldts were parents of 14 children, five of whom died in infancy. The other children were: Emelie, who married John Schumann; William, who married Katherine Kruse; Emma, who married Gustav Kuhl and later Martin Myrtue; Louise, who married Fred Boettger; Henry, who married Augusta Georgius; Laura, who married Richard Schroeder; Amanda, who married Dethlef Wunder; Clara, who married Claus Claussen; and Irene, who married Frank Meier.

Mrs. Ewoldt passed away in 1934 and Mr. Ewoldt in 1942. This couple enjoyed 68 years of marriage.

The Golden Rule