Diseases of Conifers
The cool and wet summers of the 90s has created a serious problem for Pine, Spruce and Cedar trees in our part of the US. (Carroll county Iowa)
About 15 years ago I noticed one Austrian Pine with a lot of dead and dying needles.
I had already found books on fungal diseases and I had the Iowa District forester come out to the farm and look at it and he confirmed it was Dothistroma.
A few years later I identified another fungal problem. I had another forester come out and take a look at it and he confirmed it was Diplodia. He said he wasn't aware that this disease was in this area.
I have been spraying Bordeaux and Chlorothalonil to help control these fungi.
---

Above is an Austrian Pine needle. On the top half of the needle there is a red band.
This is Dothistroma and will also infect Ponderosa pines.
You should spray right before bud opening and then later on after the new growth has matured by mid-summer.
The last few years I have been spraying 3 to 4 times during the growing season because of all the heavy and frequent rains.
---
Here are some of the reasons why the fungal problem has become so bad in the "90s" in our area.
1990 we broke the 40-year flood record.
1993 we had a 10 inch rainstorm causing the worst flooding in 500 years.
1995 we had below normal temps for April & May.
1996 we had 44 inches of rain for the year (our average is 30 inches including snow)
In May we broke the Iowa 1903 record for total rainfall for the month.
Iowa's temperature for the year was the second coldest for the century, since 1917.
1997 we had record lows April 7 & 8.
May was the 5th coldest on record.
June, July & August averaged generally 10 or more degrees below normal each day.
1998 we had 39 inches of rain for the year.
March & April were the cloudiest ever in Iowa.
May 28 we had the worst hail/rainstorm that affected a 7-mile wide by 20-mile long area.
June had near record cold the 3rd through the 6th.
June was the 18th coldest and 4th wettest in Iowa.
1999 the winter was above normal temperature.
May we didn't have much rain but it was cloudy most of the month.
We have had 26 inches of rain from April to August 18.

Another sign of the wet & cool summers is that we haven't had brown lawns in August for about 10 years.
Lastly, this part of the state was originally Prairie with no trees so we are going against what nature designed for this area.
---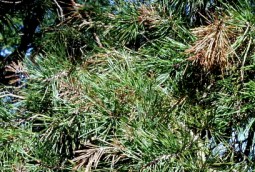 Brown spot infected needles look similar to Dothistroma infected needles.
Above is a Scots pine infected with Brown Spot.
First spray should be applied when new needles are half grown and again about a 3 weeks later on wet years.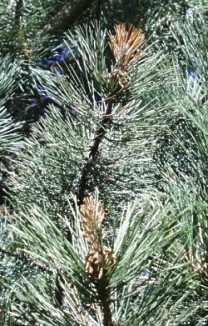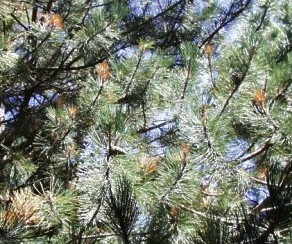 Above is an Austrian Pine infected with Diplodia.
If the new growth is dead on Ponderosa & Austrian Pine it is Diplodia.
This disease is more lethal than Dothistroma but both are becoming serious.
You need to spray the first 2 weeks of bud opening.
Once right at bud opening and the other 2 weeks later.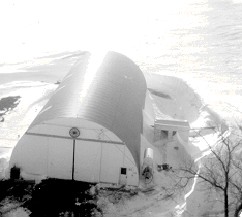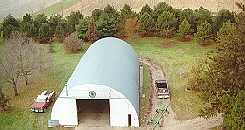 Above is a 1975 view before the new windbreak was added and the other is 1997.
Next Fungus page